When someone makes a donation to a cause it's a wonderful gesture and act of kindness. But when that happens how do you say "thank you for your donation"?
Donating is such a selfless thing to do. So a simple thank you is the least they should receive.
But it can be hard to find the right words to thank those who make donations. What can you say to express how important their donation is and what it means to you or your cause/organization.
It's understandable to struggle with this. So if you some help then the example thank you messages below should give you some ideas of what to say.
Thank You for your Donation Messages
These are general thank you messages for any and every sort of donation. Use them to let those who have donated just how much you appreciate their kindness.
Thank you so much for your donation. Your generosity will make a huge difference.
Your donation is incredibly generous and we are so grateful. Thank you.
I am overwhelmed by your generous donation. It's such a wonderful gesture and I can't say how much I appreciate it.
We thank you for making a donation of such a size. It's a testament to the sort of person you are that you would give so generously.
A donation is always welcomed warmly but yours was truly amazing. We are so grateful and appreciated your generosity so much.
You are a generous soul to have given the way you have. Thank you for making a difference.
Thank you for donating and thinking of others. It says a lot about you.
To think of those who need and give what you can is so commendable. Thank you very much for your donations.
You are selfless and generous. We are humbled by a donation like yours. Thank you.
It is with pleasure that we offer our thanks for your generous donation. You have helped immeasurably and we are truly grateful.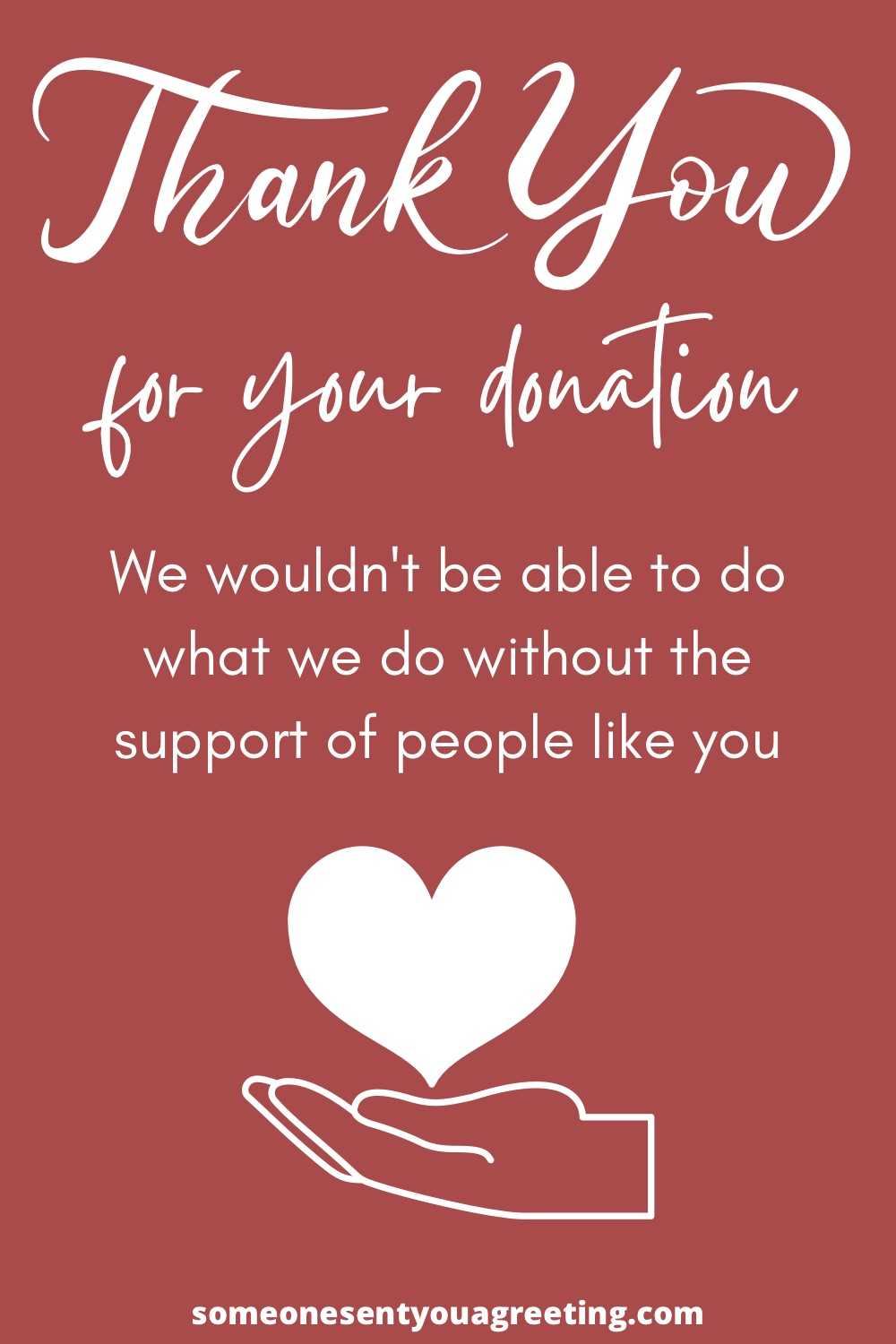 READ MORE: Ways to Say 'Thank you for your Support'
Short Thank You for your Donation Messages
If you just want a very quick thank you then the short messages below are perfect. Use them in a card or a note with some flowers.
Thank you for giving so much.
Your donation is so welcome. Thank you.
Our thanks for your generosity.
Your donation is an amazing gesture.
Thank you for donating so generously.
Your donation will go a long way. Thank you.
We feel lucky to have your donation.
Many thanks for giving such a generous amount.
We appreciate your donation greatly.
Thank you for thinking of us and donating.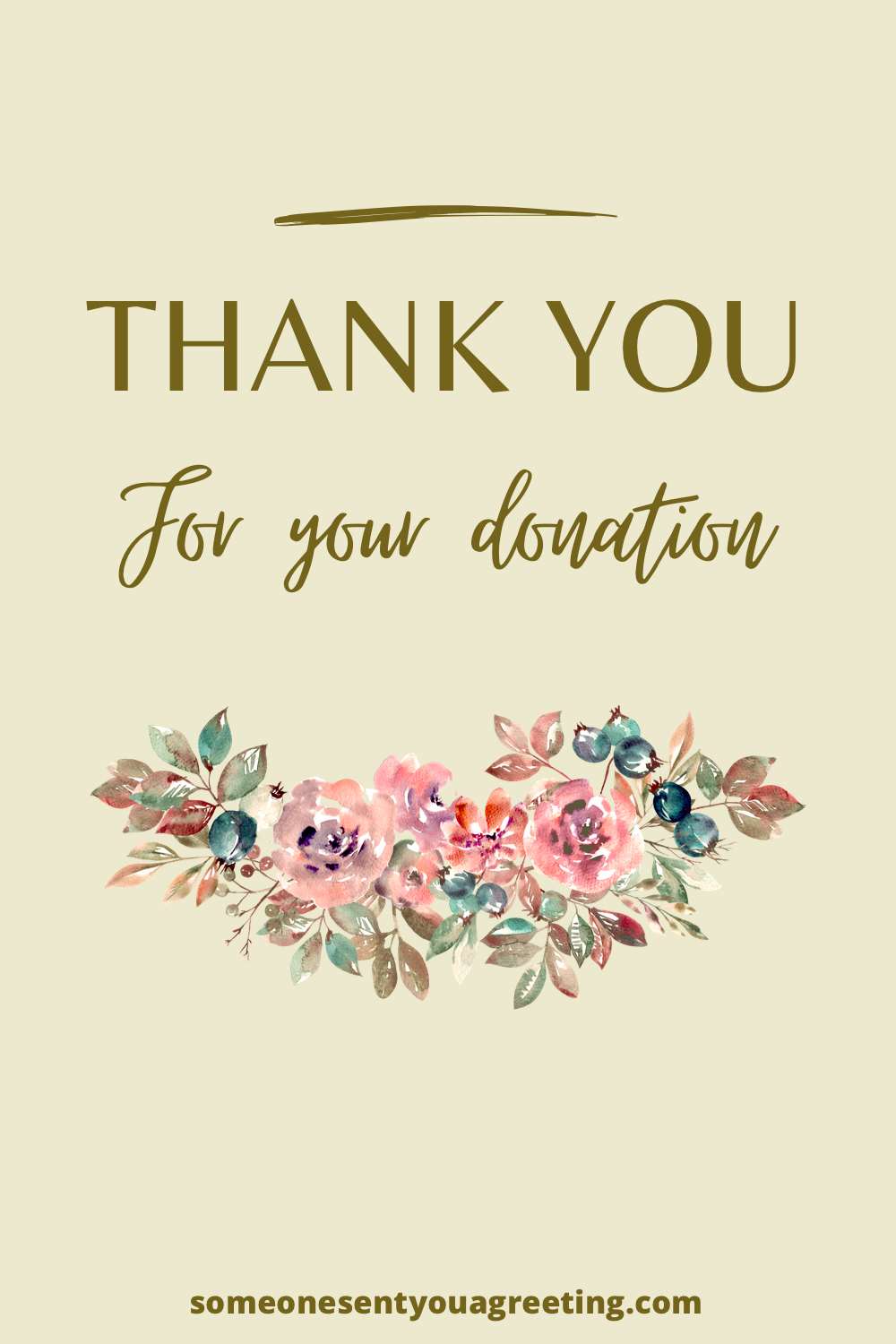 READ MORE: 39 Thank You for your Support During Our Time of Loss Messages
Thank You for your Charitable Donation
If the donation has been to a charity then the following thank you's are a great way to express your gratitude.
Donations are vitally important for the survival of our charity so we are extremely grateful that you gave so generously. Thank you.
We wouldn't be able to do what we do without the support of people like you. Thank you so much for your donation.
Your donation will help in so many different ways. Thank you for thinking of others and doing so with an act of real generosity.
We are delighted to receive such a generous donation. It will be used to help those who need it most. Thank you ever so much.
It is humbling to see you donate and give so much. I really can't express how grateful I am and what it will mean. Thank you.
A donation of such generosity is going to help and do an awful lot of good. You deserve all the thanks we can give.
This is just a quick note to say thank you for donating to our cause. It is appreciated greatly.
We take great pleasure in saying thank you for your donation. You have a truly generous spirit and one that will help so many.
With great thanks for your contribution. It is wonderful to receive so much. Ever little bit adds up and eventually with the help of people like you we will be able to achieve real change.
Without the help of the public our charity couldn't survive. That is why we are so grateful for any and every donation and yours is amazing. Thank you so much.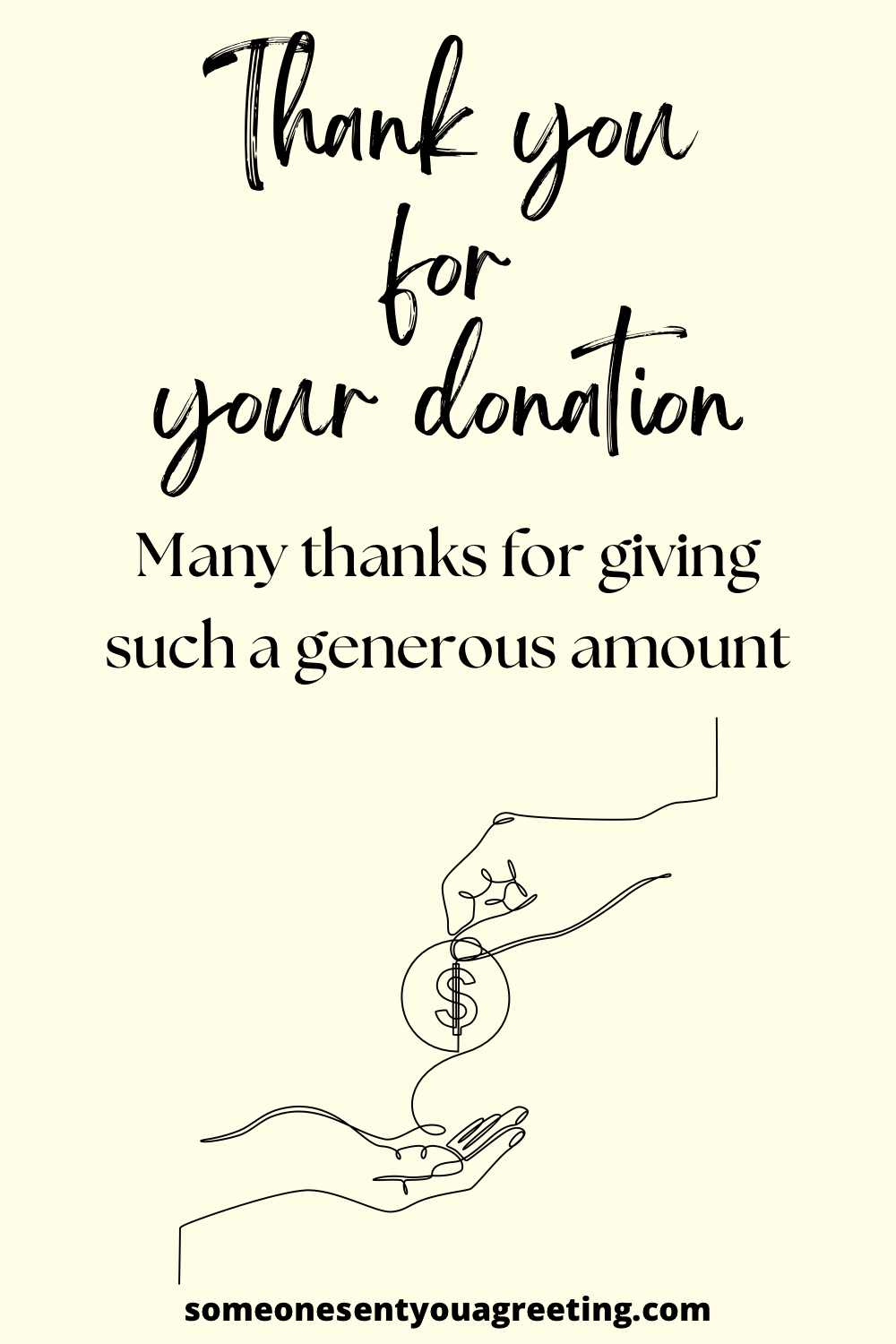 READ MORE: Ways to Say Thank You for Birthday Wishes
Thank You for your Donation to a School
If someone has donated to a school then thank them with these messages of gratitude.
Thank you for your contribution to our school. Your help and kindness will ensure every student has a brighter future.
With the help of your donation we are going to make the school a better environment for learning and to teach. All our students will benefit from the improvements and your generosity. Thank you.
Your contribution will help pay for a brand new classroom and make many children's learning that much better. Thank you.
On behalf of the school we wanted to express our sincerest gratitude for your generous donation. The future of the children is looking brighter than ever because of the kindness of people like you.
Thank you for helping us to continue to change the lives of children for the better through education. Your contribution will make achieving those goals that bit easier.
Your dedication to improving the education of children is very worthwhile and in donating to help this school you are going to let the kids who attend here have the best opportunities. Thank you.
We are very grateful for the generosity of those donated to our fundraiser. The money raised will go to helping the children of this school fulfil their potential.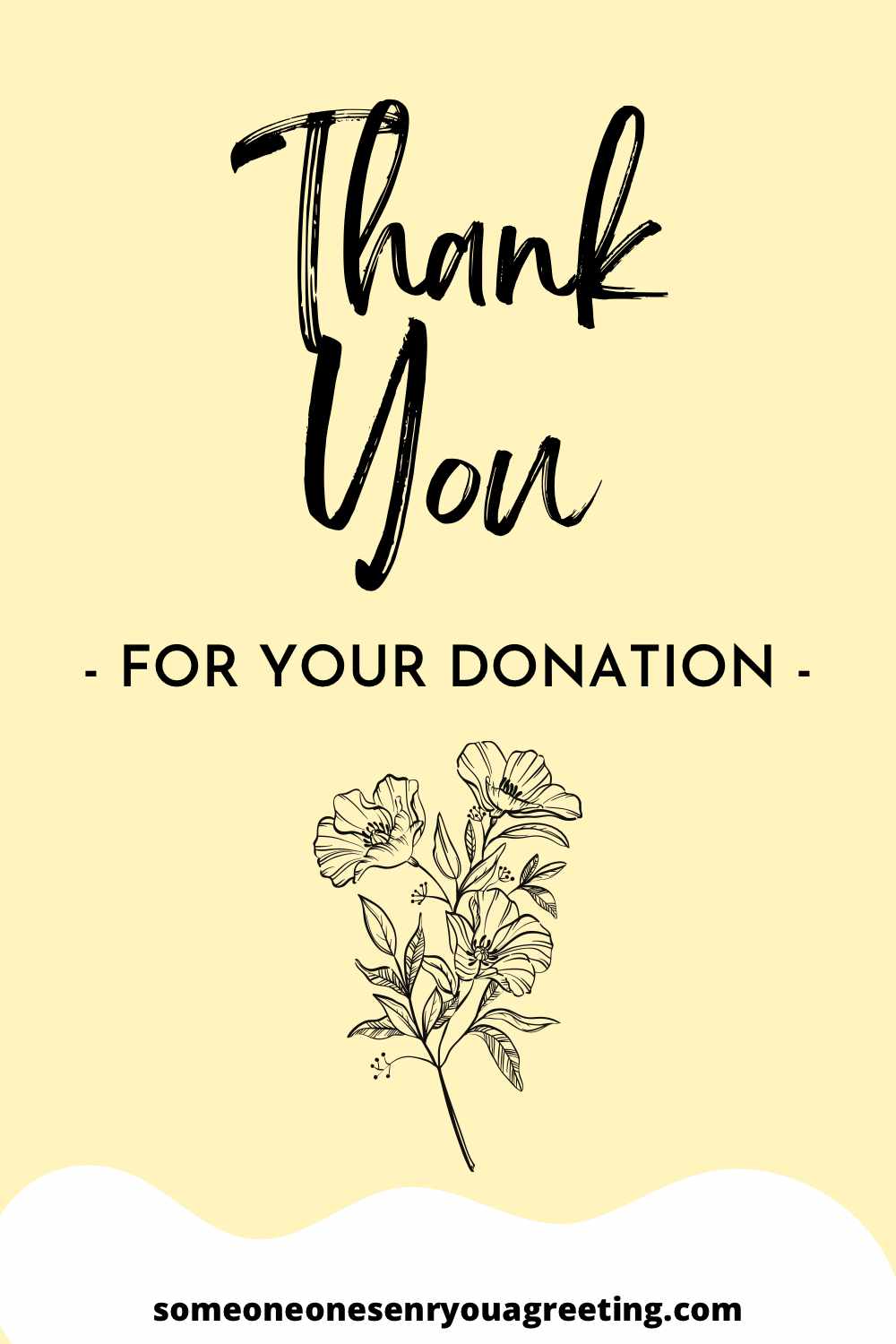 Thank You for your Donation to a Hospital
Hospitals receive a lot of donations for the great work they do and the need they have for equipment, supplies etc. Thank those who have given to a hospital with the messages below.
We extend our deepest and most sincere thanks to everyone who donated. The hospital needs the generosity of people such as yourselves and we are very grateful.
The community always comes together to help support us when we need it most and we are deeply grateful for their generosity.
A huge thank you to everyone who made donations. This kindness that we've seen has been appreciated by everyone at the hospital and we can't thank you enough.
We have seen an incredible outpouring of generosity with donations that have warmed our hearts. Thank you to everyone, we appreciate it so much.
Thank you for such kindness and generosity with donating to help the hospital and its patients.
We are incredibly thankful for the donations and want to thank each person for their generosity. The hospital will continue to treat patients to the highest standard because of your help.
From the doctors and nurses to the patients we extend our deepest thank you for your donation.
Thank You for your Donation to a Church
Churches often need donations to help them carry on doing their good work. Thank a one of or the entire congregation when they have contributed towards the churches ongoing work.
Your donation will be going to supporting the church and its mission to be there for those who need it in our community. We appreciate your kindness.
On behalf of our entire congregation we want to thank you for your contributions and kindness. The generosity you have shown will help with the church renovations and so it is greatly appreciated.
Thank you for the generous contribution you have made towards the church. It is humbling to have had so many donations and we are very grateful.
You have answered our prayers with your donations and we are humbled by the faith you've shown in us. We don't take that trust lightly and promise to do as much good as we can with the contributions. Thank you so much.
You know that we wouldn't have asked if we weren't in need and you came through with an abundance of donations. Thank you to our congregation for blessing us with your generosity.
We would like to express our most sincere gratitude for your donation and say how humbled we were. Thank you for your selflessness.
We are blessed to have received the generous donation you bestowed to us. Thank you.
Thank You Note Examples for Donations
Dear ______,
Thank you for your generous donation. It is such a kind thing to do and shows what a truly decent person you are. We appreciate it very much.
Thank you again,
–
Dear ______,
We wanted to reach out and express our gratitude for your generous contribution. It touched our hearts that you would give so much and think so selflessly of others. Thank you again for your kindness.
–
Dear ______,
Please accept our thanks for your generosity with your donation. It couldn't have come at a better time and we are very appreciative of your thinking of us. Thank you again,
–
We hope these thank you for your donation messages and notes will have helped you to thank those who have donated and deserve recognition. Giving to a charitable cause is a selfless and thoughtful thing to do so try to thank the people who put others first and want to make a difference.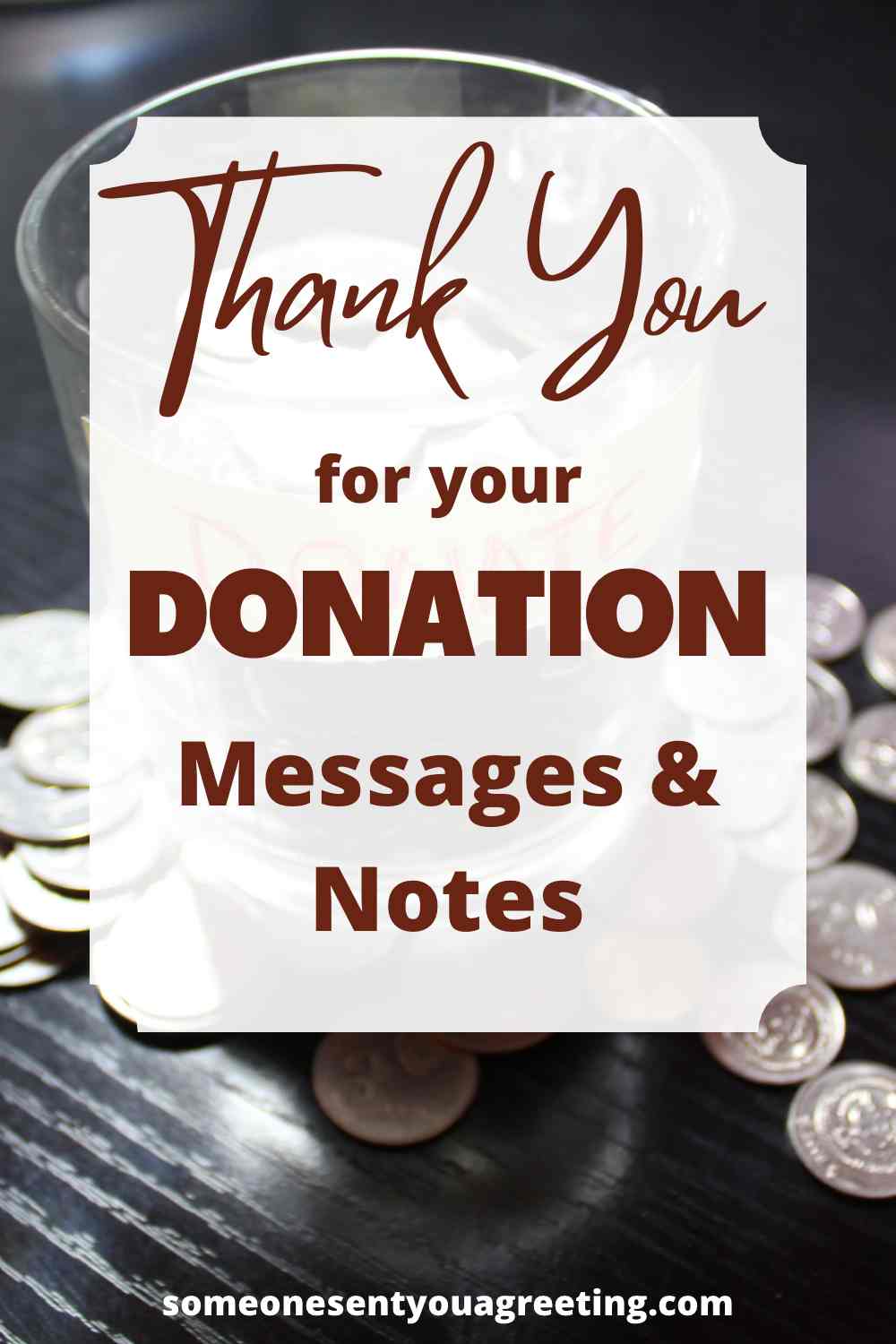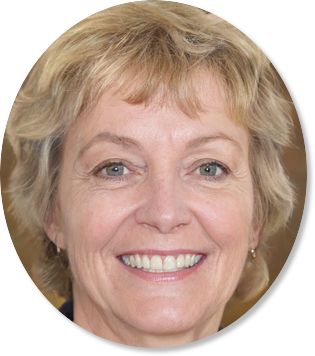 Sally Gibson is the founder of Someone Sent you a Greeting, a holiday/celebration website. Sally's writing work has been mentioned in Woman's World, Yahoo, Women's Health, MSN and more. If you have any questions get in contact with one of the team via the about page.