A mother is, alongside a father, arguably the most important person in someone's life. They bring you up, help you grow, protect and support you.
They are there for all the most important moments of your life. So the grief the loss of a mother produces will make it one the most trying and difficult times in a persons life.
When someone experiences losing their mom you may find yourself in the position of wanting to send a condolence card. But finding the right words that can somehow provide comfort or support might feel virtually impossible. And, frankly, it is.
Nothing you can say will bring her back or take away the pain of the loss. But wanting to avoid offence and striking the right tone is an understandable worry.
If that's the case then hopefully the examples below will help you to write a sympathy message for someone who has lost their mother. If you choose to write your own rather than copy one if the prewritten below then remember to speak from the heart. Be sincere and genuine and you can be sure they will appreciate the effort you've taken to try and offer them comfort during an extremely tough period.
Words of Sympathy for Loss of Mother
I'm so sorry for the loss of your mom
She was a great woman and will be missed
Your mother was a role model to everyone who knew her and a very special person
It was an honour to have called your mom a friend
She was a wonderful person with a kind spirit. Her loss has been a real shock to us all
There wasn't a bad bone in your mom. She was truly one of the nicest people you could hope to meet. I'm going to be miss her more than words can say
I'm so sorry for your loss. You and your family will be in my prayers
Please accept condolences for the loss of your mother. Her warmth and presence will be missed immensely
I'll be thinking of you during this awful time. If you need anything don't hesitate to ask
I feel blessed to have known and had your mom in my life. She was an amazing woman who can never be replaced
I admire the way your mom lived her life and the light she bought to others. She was a very special woman and I'm very sorry for your loss

Your mother was the type of person who inspired integrity in those around her; she encouraged others to be the best people they could be. That's reflected in your life
You remind me so much of your mom – warm, generous, but strong and independent. You can take solace from knowing you made her proud
Moms are special people and I know the loss is one of hardest you can experience. You have my deepest sympathies
What I remember most about your mother was her wisdom and warm-heartedness. She was patient and never seemed to speak ill of others. She will be deeply missed
Everyone who met your mom was touched by her presence. She was a truly unique and incredible person who will leave a hole in our hearts
I hope the memories of how special your mom was will give you some comfort during this difficult time
I'm so lucky to have known your mom and the positive influence she had in those around her. I know we all will cherish our time with her and remember how special she was
The heart that your mother had for others is a rare gift to the many people who had the privilege to know her and be blessed by her. Please accept my condolences
I hope you can find strength and support after such a tragic loss. Your mom was a exceptional human being and is a devastating loss to all who knew her
Good mothers hold a special place in their hearts for their children and most children hold a special place in their hearts for their mothers. I'm sorry for the hole that you have now
From what I have heard you talk about your mother, it sounds like she was a great woman. She did an excellent job raising you. I am sorry for your loss
There's a special place in all of our hearts for our mothers, just like there's a special place in every mother's heart for her children. You must continue to carry her memory in that special place in your heart. I am sincerely sorry for the loss of your mother
Moms are important and special people. I am sorry for the loss of such a valuable person in your life. My thoughts are with you and your family at this time
Your mother was the kindest and gentlest woman I have ever met. I feel so fortunate to have known her and extend my deepest sympathy to you and your family
Your mother was one of the warmest and most caring people I have had the pleasure of knowing. I am sorry for your great loss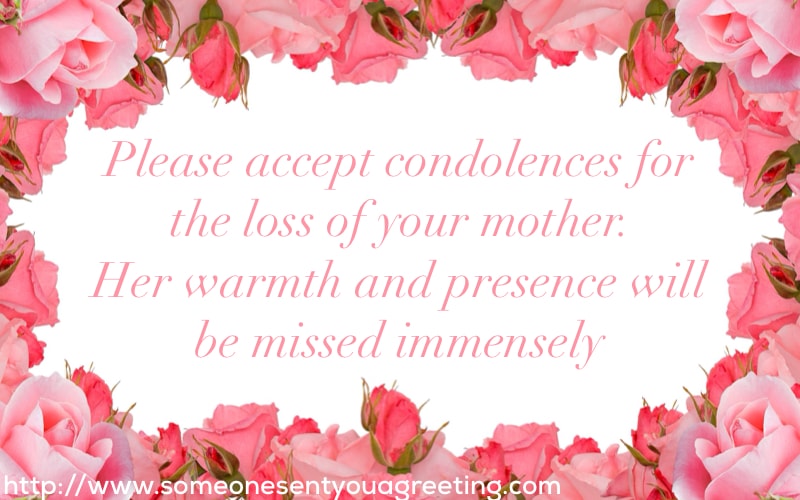 Religious Messages for Loss of Mother
No one can replace your mom, but God can comfort your heart. He knows what you need during this time much better than anyone else
Extending my deepest sympathy on the loss of your mother and praying that your faith will give you strength in this sad time
May these words comfort you on the loss of your mother. I will always remember her sweet smile and beautiful nature. May God keep you in his embrace at this difficult time
May you find peace and comfort in knowing that your grief is shared by so many. Your mom will be sorely missed. God bless you and your wonderful family
I'm praying that God grants you strength at this time, and that He gives you comfort that is as good as a mother's touch
I was saddened to hear of your loss, and I realize you have lost a blessing from God. I pray that God will bless continue to bless you in other ways and strengthen you.
May fond memories of your mother bring you comfort during this hard time in your life. Look back on all the good memories you were able to have and smile at the fact that you were able to share these before their passing. Our hearts and prayers go out to you and your family
We pray that the love of God enfolds you during your difficult times and that he helps you heal with the passage of time
Hopefully these examples will have helped you with rescuing out to someone who has lost their mother. Offering sympathy at a time of loss is a wonderful thing to do and will be greatly appreciated.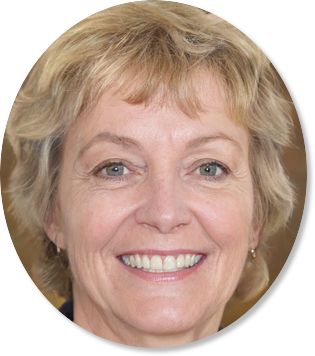 Sally Gibson is the founder of Someone Sent you a Greeting, a holiday/celebration website. Sally's writing work has been mentioned in Woman's World, Yahoo, Women's Health, MSN and more. If you have any questions get in contact with one of the team via the about page.