Thursday, more so than the other days of the week, is an odd day. At least in the way people view it. It tends to be forgotten and often overlooked. The weekend is obviously popular because it's associated with time off and fun, and Friday has similar associations because it's the end of the week. Monday is universally unpopular because it's the beginning of the working week, Tuesday also falls into the same sort of bracket and Wednesday is known for being the middle of the week. But Thursday – nothing. It's just sort of.. there. Which makes saying and quotes about it tricky. Frankly there are far less of them than pretty much all the other days.

But we've managed to find a few, so don't worry! We have a good selection of Thursday quotes and sayings, ranging from funny to inspirational through to cute and downright angry about the concept of Thursday (that sounds weird but trust us, it's possible!). You can use these Thessaly sayings in a card or eCard if you're sending one, or share them on social media like Facebook and Twitter. Maybe share some of the images with friends, again on social media, or just use some of them to inspire your own Thursday.
Thursday Quotes for Work
Use these quotes for a positive outlook on the working week. Share them with colleagues and help to inspire the people around you to have a better Thursday.
One small positive thought on a Thursday morning can change your whole day.
"As the end of the week approaches, Thursday should be a day for persistence not inconsistence." Byron Pulsifer
The only person you should try to be better than, is the person you were yesterday.
"The struggle you're in today is developing the strength you need for tomorrow. Don´t give up." – Robert Tew
"Thursdays bring a focus to our week to complete all that needs to be done" Byron Pulsifer
It's Thursday, think positive and positive things will start happening.
Effort is what is required on Thursday to finish all that needs to be done
"Thursday come, and the week's gone" – George Herbert
"Thursday is perhaps the worst day of the week. It's nothing in itself; it just reminds you that the week has been going on too long" – Nicci French
Dear Thursday: Are you sure you're not Friday? Because I could really go for it being Friday. Nothing personal, it's just been a long week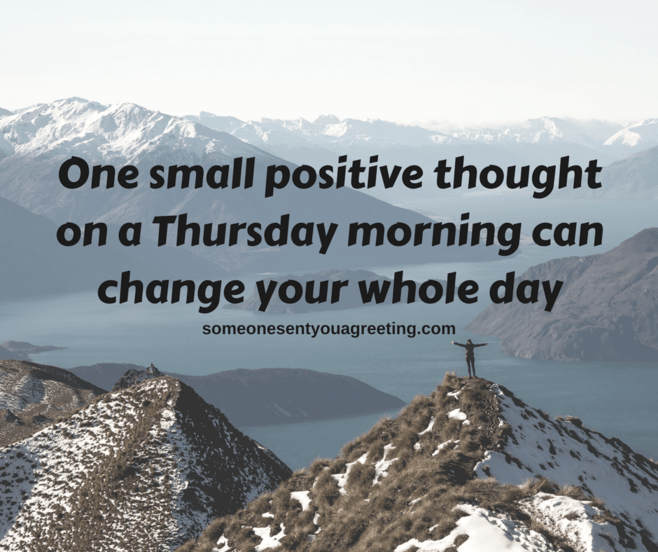 Inspirational Thursday Quotes
Find some inspiration for your Thursday with one of our inspirational quotes. Let them empire and drive you on throughout the day.
Make the most of this day! Laugh, love, read, live, learn, play, dream and just be happy! Live every moment! Happy Thursday!
You can do anything you put your heart, mind and soul into. Far more than you can imagine. Be fearless. Do it. Wishing you a happy Thursday!
It's Thursday, so think positive and positive things will start happening.
Happy Thursday! Make the most of this day! Laugh, love, read, live, love, learn, play, dream! Just be happy!
In case you have not made any plans for the weekend yet, it's Thursday. Start planning!
Never give up. Trying to do what you really want to do. Where there is love and inspiration, you can never go wrong. Have a nice Thursday!
Happy Thursday! Change your life today; don't gamble on the future, act now, without delay
Happy Thursday! If you can't find inspiration today, be an inspiration!
To find happiness focus not on what we want, rather on what we have. Happy Thursday!
When life puts you it tough situation don't say "why me" just say "try me". Have a productive Thursday
Funny Thursday Quotes
The working week can be a drag, so a good way to help pass the time and liven things up is by having a laugh. So if it's a Thursday and you need something funny to help you get to the end of the week then try these funny Thursday quotes.
Better days are just around the corner. They're called Friday, Saturday and Sunday!
Some people call it Thursday, I like to call it Friday Eve
Thursday – you're only one day away from being two days away from doing the same work you're doing right now!
Thursdays are just wannabes. They wannabe Friday but they're not
Nothing screws up your Friday like realizing its Thursday.
Friday just called! She'll be here tomorrow and she's bringing wine!
The only thing I throwback on Thursday is Scotch.
People who think Thursday is the new Friday have serious mental problems.
If TGIF is Thank God It's Friday, then today must be SHIT – Sure Happy It's Thursday.
It's Thursday… or as I like to call it… "Day 4 of the hostage situation"
Today is Thursday, which means I will be working really hard today on everything that needs to get done before the end of the week. And by that I really mean that I'll be on my computer looking up fun things to do this weekend!
It's Friday! Sorry… just practicing for tomorrow!
Hang on tight! It's almost Friday!
Happy Thursday! Sorry, but I'm saving my "Woo hoo!" for Friday.
I wait until Thursday to ask people about their weekend plans so there's a better chance they're already busy.
If 40 is the new 30 and 50 is the new 40, why can't Thursday be the new Friday?
Thursday is my favorite day to plan how I'm going to get out of the plans I already made for the weekend.
Wednesday is hump day which makes thursday 'I wonder if he'll call' day
The first 4 days after the weekend are always the hardest.
Good Morning Thursday Quotes
Spread some cheer and positive vibes with a good morning quote for Thursday. Either let those around you know it's going to be a good day or use them to brighten your own mood for the day ahead.
Good Morning! Have a wonderful Thursday. Here's a great big Hug from me to you!
Good Morning! Happy Thursday! One small positive thought in the morning can change your whole day.
Today is a new day! Today, this morning, is Thursday. Many will seize this day, and many will live it to the fullest. Why not you?
Good morning, and may God smile on you today.
Good morning. Happy Thursday be someone's sunshine today.
Set a goal that makes you want to jump out of bed in the morning.
Rise up, start fresh see the bright opportunity in each day. Have an amazing Thursday morning
If you are thankful and grateful every morning as you woke up, happiness would come out within you.
Motivational Thursday Quotes
Maybe you need some motivation or encouragement on a Thursday to make it through to the end of the week. Or you're whole office/workplace needs some help to get themselves fired up to complete a task. Whatever the reason try some of these motivational quotes about Thursday to help you through the day.
You can do anything you put your heart, mind and soul into. Far more than you can imagine. Be fearless. Do it. Wishing you a happy Thursday!
One small positive thought in the morning can change your whole day. Happy Thursday!
A new day! Be open enough to see the opportunities. Be wise enough to be grateful. Be courageous enough to be happy! Happy Thursday!
No Thursday should ever be boring as long as we are together, you and I my dearest love!
Good morning I hope your day is as amazing as you are! Have a good Thursday you deserve it!
May your Thursday be as sweet as you are.
Start your Thursday with a positive attitude. Believe – today is going to be a good day!
"Thursday is one day closer to my expectation that everything I have done through the week culminates in progress." – Byron Pulsifer
"Make it your goal to make someone smile on this Thursday by a small act of kindness, you could change a person's life in a way you may not even realize" – Catherine Pulsifer
How many things in your life do you do without realizing that they are a waste of time? Use Thursday to take the time to eliminate time-wasters." -Byron Pulsifer
Happy Thursday Quotes
Wish the people around you a happy Thursday with these sunny, cute and happy Quotes to make you feel better about life.
Happy Thursday doing the happy dance because tomorrow is Friday!
Today is "Happy Thoughts" Thursday. Think happy thoughts, because you have made it through almost the whole week and tomorrow is Friday. You're almost there!
Happy Thursday. A brand new day. A clean slate. The possibilities are endless.
"Happy Thursday! Greet your problems and decisions with peace and calm. Use your inner wisdom to evaluate and make smart decisions for yourself! You got this! " – Tracey Edmonds
"On this Thursday take nothing for granted. Look around and show gratitude for your work, your family, and your friends" – Theodore W. Higginsworth
Happy Thursday My Dear Friends. We are getting closer to the weekend!
Happy Thursday! Pay day is almost here, I can almost taste it.
To find happiness focus not on what we want, rather on what we have. Happy Thursday!
Happy Thursday! Change your life today; don't gamble on the future, act now, without delay.
May your Thursday filled with the joy of the lord and may peace follow you where ever you may go. May hope abide in your heart and may all of heavens blessings be yours