It's your girlfriends birthday so it's time to celebrate. And as her partner you want to make it extra special.
But what do you say to her to show how much you care? Something from the heart? Something funny?
If you aren't sure then use these heartfelt birthday wishes, quotes and messages as inspiration. Let your girlfriend know how special she is to you on her big day.
Birthday Wishes for Girlfriend
Share a sweet birthday message from the heart with your lovely girlfriend using these examples.
Wishing the most beautiful girl in the world a very happy birthday! I love you with all my heart.
Happy birthday to my soulmate and one true love. You've made my wishes come true so I hope all yours do as well today.
You light up my world and I am grateful every day I have you in my life. Here's to your birthday filled with all the joy and happiness you deserve.
I just wanted to let you know how much I treasure you. Not only on your birthday but every day. Happy birthday, gorgeous!
Wishing the girl who has stolen my heart a truly special birthday. I love you more than words could ever do justice!
Happy birthday to a girlfriend who brings me joy I couldn't ever have imagined. I love you more with each passing day.
Your my best friend, my partner in crime and the one who completes me. You're truly amazing. Your birthday only reminds me it's been another perfect year with you. Happy bday!
I love you, honey. Enjoy your birthday and have a great day.
I am the luckiest guy in the world to have you in my life. Happy birthday the to the worlds sweetest girlfriend!
May your birthday be one filled with laughter and good times. Let's make some memories we can always cherish. Happy birthday my love!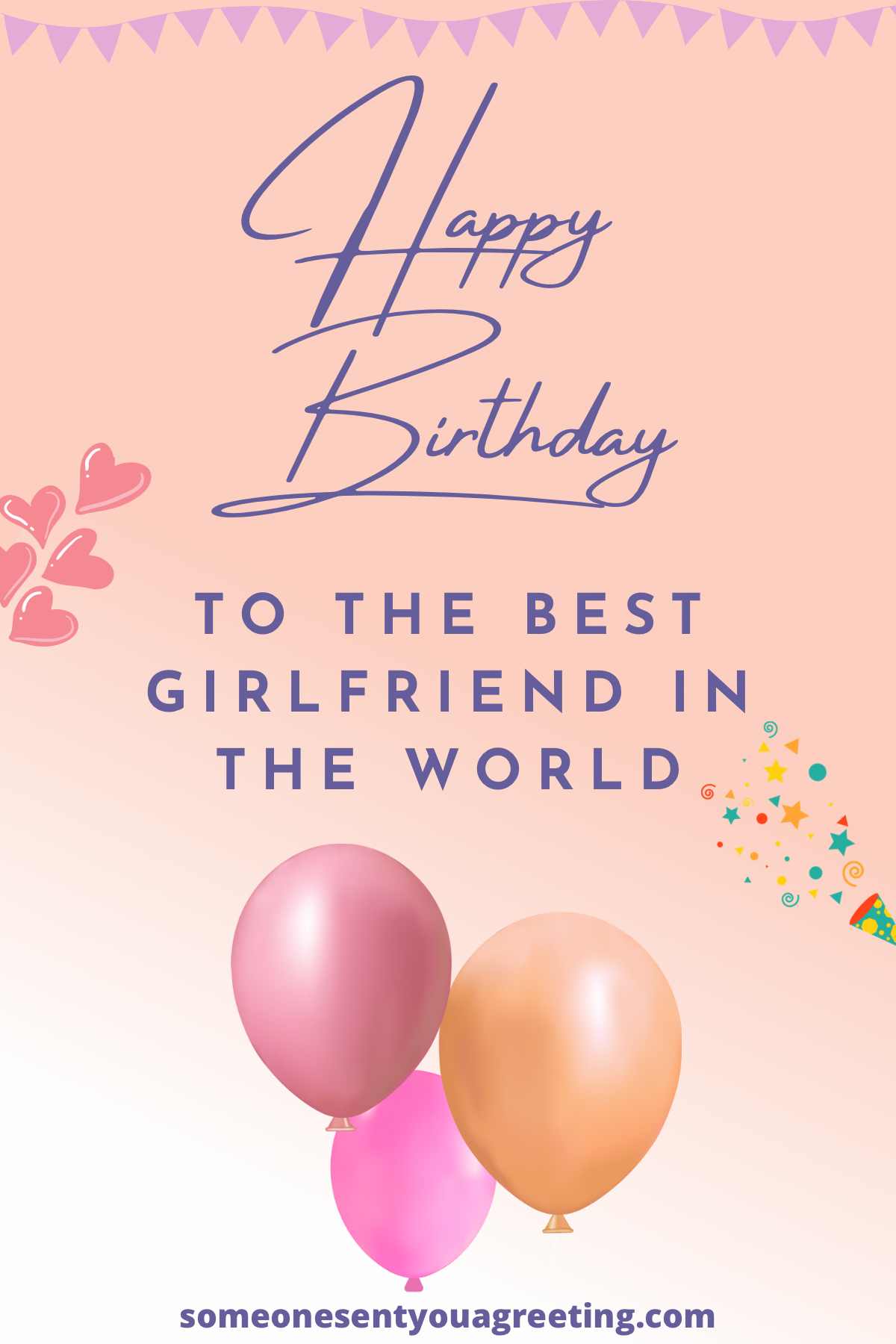 Happy Birthday Messages for your Girlfriend
A loving message will touch her heart, so use the following examples to help inspire you.
My love for you is everlasting. I will always be by your side. Happy birthday to the most important person to me.
I hope you have a birthday that is as happy as you make me! Enjoy your day.
I feel blessed to have someone as amazing as you in my life. Happy birthday and lots of love.
Happy birthday to the worlds greatest girlfriend. I love you more with each passing year.
To my soulmate – happy birthday! Every moment with you brings me so much happiness. I can't wait to celebrate your big day together.
You have taught me the meaning of true love. No one is more precious in this world to me than you. Happy birthday!
To the most beautiful girl I've ever seen – happy birthday! I'm going to make today the best birthday you've ever had.
Happy birthday to the one who brightens my day and make my heart sing. You're the best thing to have happened to me.
Wishing the happiest of birthdays to the girl who makes my world complete. I love you like I've never loved anyone else.
Birthdays may only come once a year but our love is eternal. Happy birthday, babe!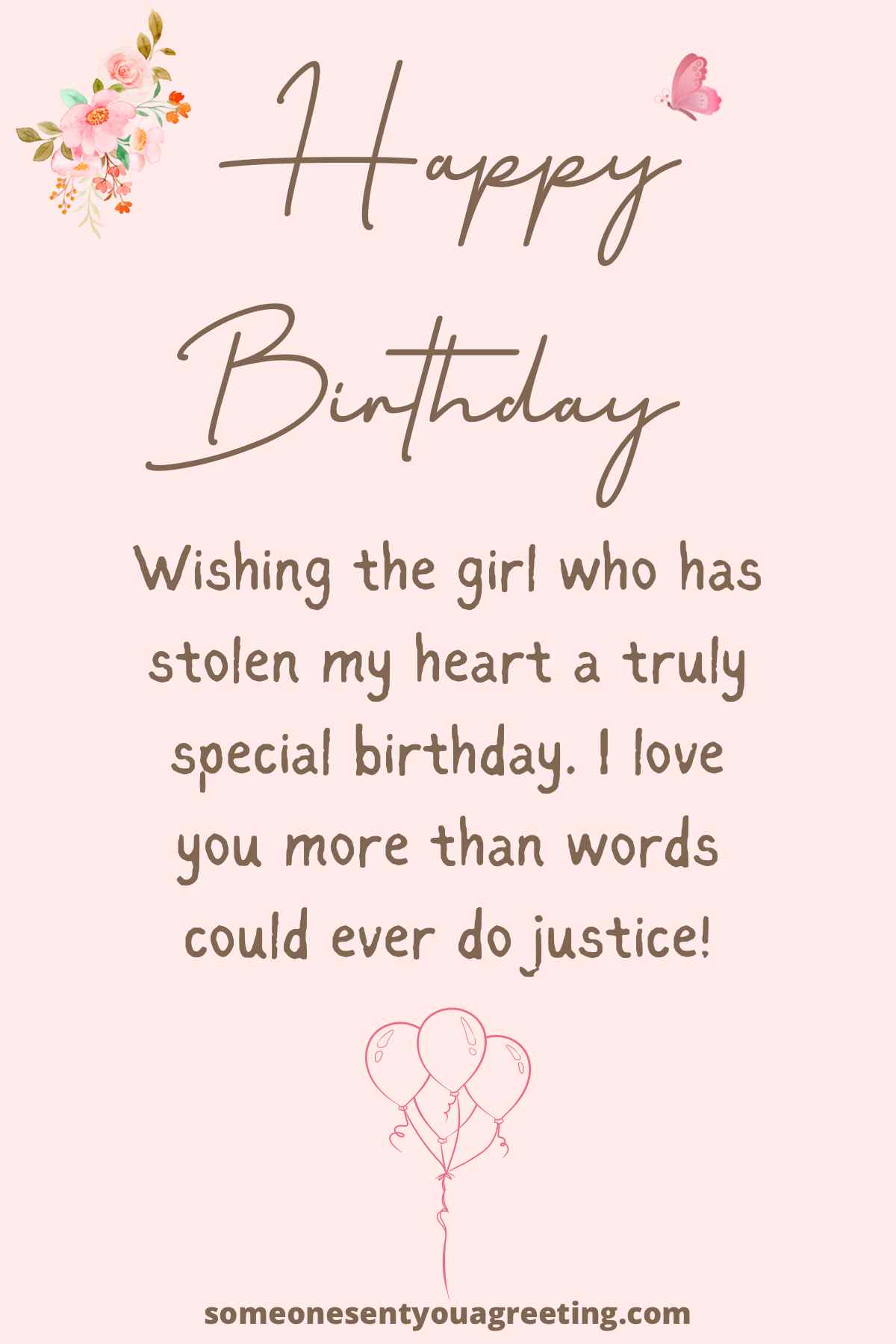 Funny Birthday Wishes for a Girlfriend
Add some humor and playfulness to the day with a funny message and have your girlfriend laughing out loud.
You're not getting older, you're getting wiser. Only kidding, you're definitely getting older. Happy birthday!
Happy birthday to the second most beautiful girl in the world! (I'm obviously the first).
Wishing you a birthday that's as lovely as you are.. so basically an average day then.
I was going to get you a really awesome gift but I thought this funny card would annoy you more. Happy birthday!
Happy birthday to the only person I would bail out of jail. Probably.. Okay fine, you'd have to owe me.
I was going to take you somewhere nice for your birthday. But instead I decided you should appreciate my company as a gift. You're welcome!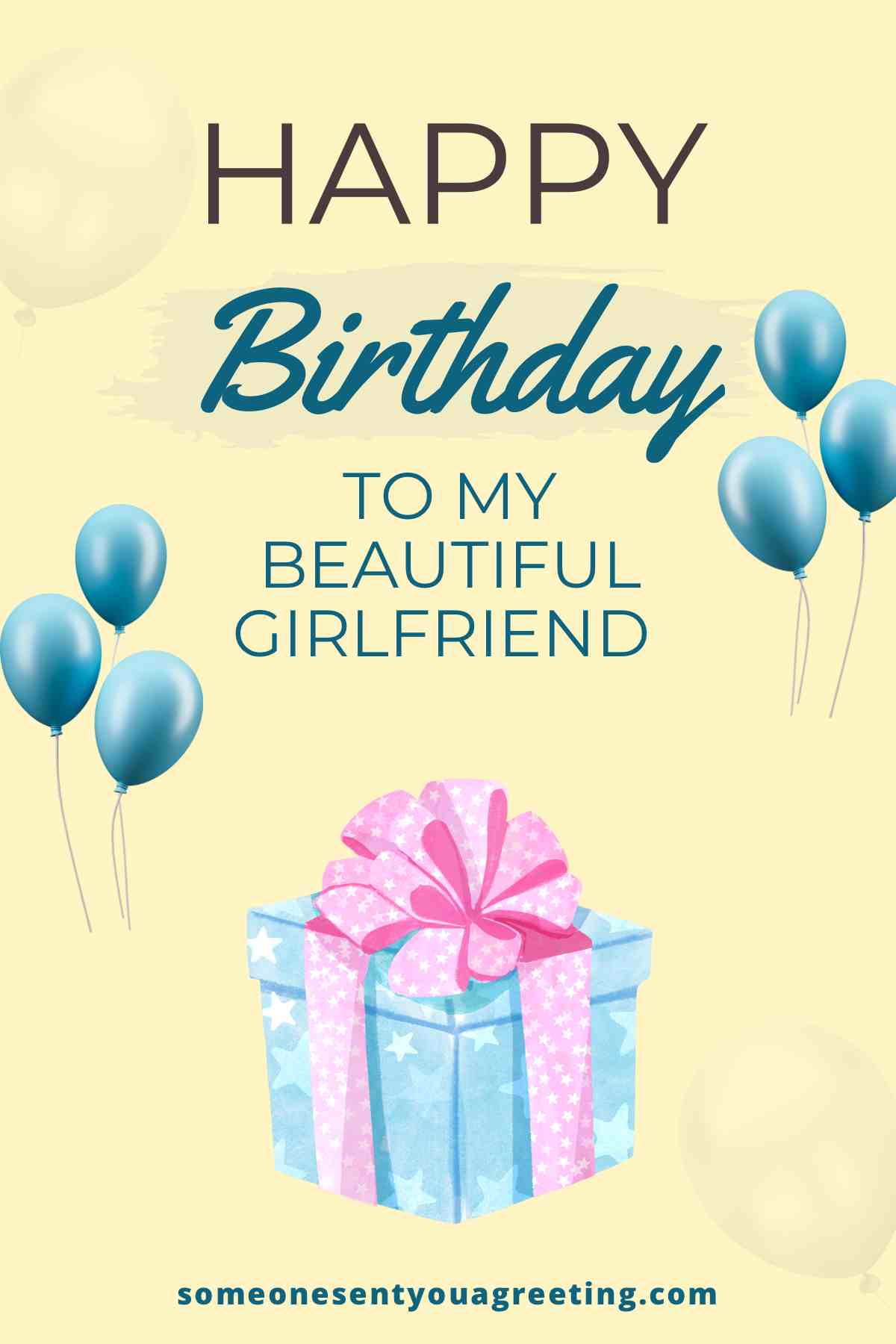 Romantic Birthday Wishes for Girlfriend
Add some romance to the birthday celebrations with these passionate messages.
Happy Birthday to the most beautiful and incredible girlfriend anyone could wish for. You make my life so much better.
On your birthday it only seems right to remind you of how much you mean to me. No one is more important to me than you are. Happy Birthday, my love.
To the woman who stole my heart – I adore you more than any words could ever express. My love will never die and I can't imagine my life without you. Have a wonderful birthday my darling.
I cherish every moment with you. You have filled my life with a happiness I never thought possible. Happy birthday.
I'm going to celebrate not simply your birthday but the love we share. I am so happy because of you. So I hope your birthday brings you somewhat close to as happy as you make me.
Birthday Quotes for your Girlfriend
These quotes express the feelings of love you have and will make your guru friend smile on her birthday.
"You are my sunshine, my only sunshine." – Unknown
"Age is just a number. You are eternal." – Unknown
"May you be given more blessings than you can count." – Unknown
"Wishing you a day filled with love and joy." – Unknown
"You brighten my world and fill my heart with joy." – Unknown
"To the world you are one person, but to me you are the world." – Unknown
"Every day with you is the best day." – Unknown
"If I know what love is, it's because of you." – Hermann Hesse
"Growing old with you is my dream come true." – Unknown
"I fall in love with you more each day." – Unknown
Belated Birthday Messages for your Girlfriend
If you've missed your girlfriends birthday then use one of these belated birthday messages to apologize and make it up to her.
I'm really sorry I'm late! But I hope your birthday was as amazing as you are. I love you and will make it up to you!
I'm so sorry I missed the big day. I couldn't get away from work. I hoped we can still celebrate together though. Happy belated birthday, my love.
Can you forgive me for the late wishes? I'll make it up to you, I promise. For now though – happy belated birthday.
No matter how late I may I'll take any excuse to celebrate you and our love. Happy belated birthday, darling.
Even though your birthday has passed you're still #1 in my heart. I know that sounds corny but it's true. I hope you don't mind it's a bit late but happy belated birthday beautiful!
I can't believe I missed your birthday. Forgive me and know it wasn't intentional. I'm going to make our belated celebrations even better than the day itself.
Better late than never, right? I know, I'm terrible at remembering these things. But you also know how much I love and care for you and didn't mean to miss your birthday. Let me make it up to you? Love you.
Sending my love and apologies for missing your birthday. I'll be with you soon though. Until then – happy belated birthday!
I hope these birthday wishes for your girlfriend have helped you to find the right words to say how much you love her on her big day.
More Birthday Wishes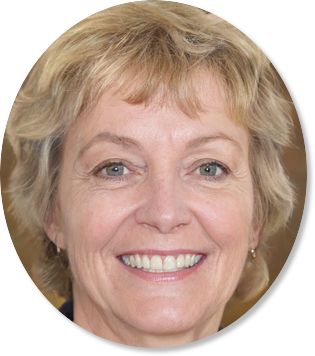 Sally Gibson is the founder of Someone Sent you a Greeting, a holiday/celebration website. Sally's writing work has been mentioned in Woman's World, Yahoo, Women's Health, MSN and more. If you have any questions get in contact with one of the team via the about page.