Christmas is about family and spending time with loved ones. As a husband it's your chance to show your wife how much you appreciate her.
So make your wife feel special this holiday with a thoughtful Christmas message. Just a few words can remind her how much you care and warm her heart.
Short Christmas Wishes for Wife
Often a short and sweet message is best for saying merry Christmas. Here are some simple ideas for a holiday message to your wife.
Wishing you a wonderful and happy Christmas, my love.
Thank you for blessing my life every day. Merry Christmas!
It's our first Christmas as husband and wife! I'm so lucky to have you.
I'm the luckiest man alive to have you as my wife. Merry Christmas!
All I want for Christmas is to spend it with you. Here's to an amazing festive season.
Wishing my beautiful wife a truly special Christmas. Love you so much.
May you be filled with the spirit of the season. Merry Christmas, darling.
I've already got my gift this year – you. Merry Christmas to the woman who has stolen my heart.
I'm the luckiest guy alive to be spending my Christmas with the woman of my dreams. Merry Christmas.
Happy Christmas to the love of my life.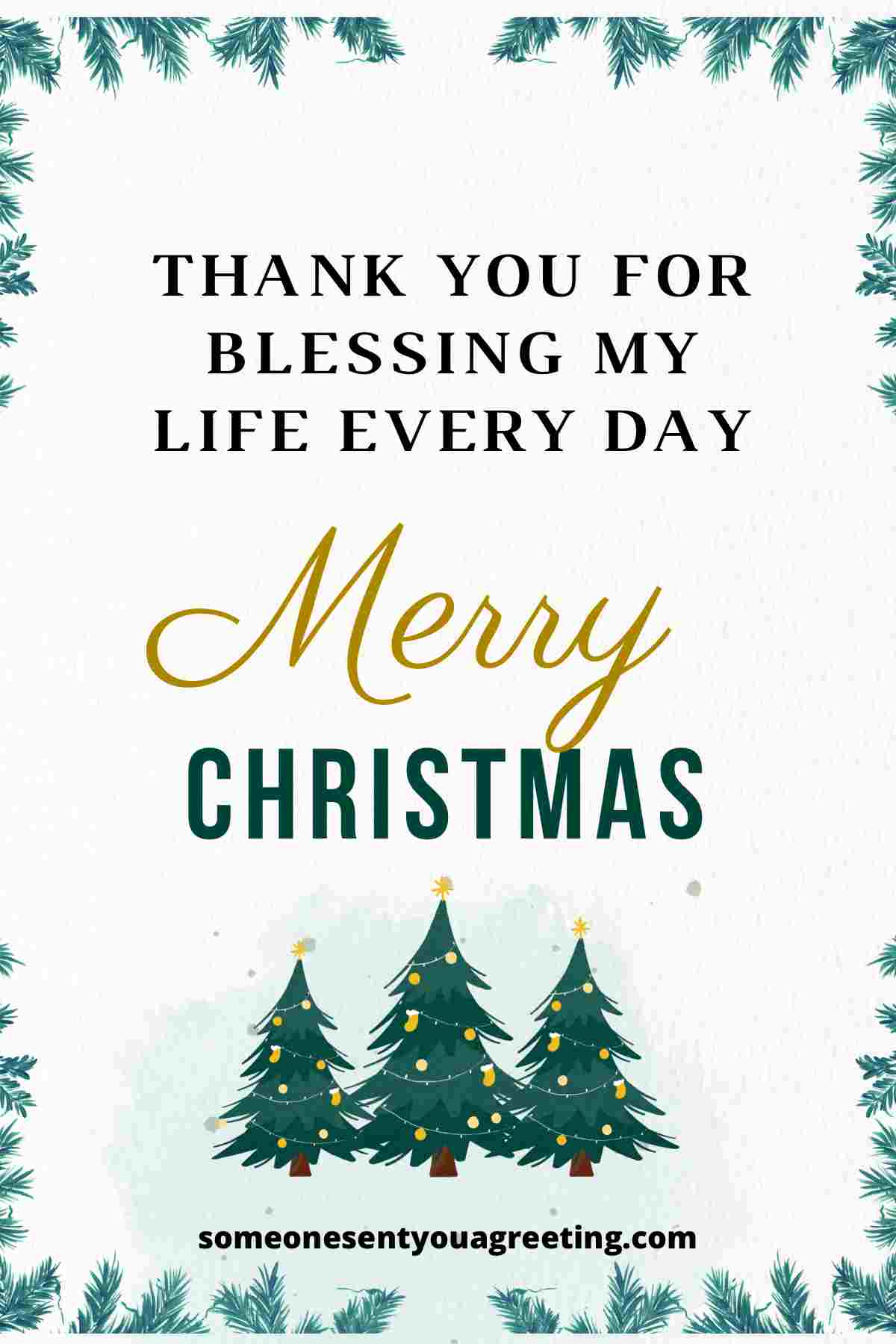 Funny Christmas Wishes for Wife
Make your wife Google with those funny Christmas messages and put a smile on her face with some holiday humor.
I may not have been good this year but you still put up with me! Merry Christmas, wifey!
I hope you get everything on your Christmas list this year, even that handsome husband you wanted. Oh wait, no need – you have me!
You've put up with me another year – that can only be described as a Christmas miracle. Love you!
Thanks for only returning some of my presents this year…
To my amazing wife: may this Christmas be as fabulous as you are and may our holiday budget miraculously stretch as far as Santa's sleigh.
Merry Christmas to my better half. Let's enjoy a peaceful and relaxing holiday… that means no in-laws!
I'm going to get you under the mistletoe and Christmas lights to enjoy some kisses.. just as soon as I finish untangling them…
Thank you for making Christmas so great, especially when I forget to buy you a present!
Romantic Merry Christmas Wishes for Wife
A romantic message at Christmas is a sure fired way to make your wife feel loved.
It's our first Christmas together as husband and wife and we get to start a whole new tradition with each other. I love you, happy holidays.
You are the gift I never expected but always wanted. Merry Christmas to my beautiful wife!
My love for you only grows with each Christmas we share together. Merry Christmas to the light of my life!
I have only one wish this year, and that was to spend Christmas with you. I love you more than I can say.
The magic of Christmas is being with you. I love you and always will do.
Every kiss we share under the mistletoe is just as magical as our first. Merry Christmas to my perfect wife.
The family and home we have made are the greatest gifts I could have ever wished for. Merry Christmas to my wonderful wife.
All I want for Christmas is to hold you close and celebrate our love. I feel blessed I get to do it every every with the woman of my dreams.
Thank you for making my Christmas special. You bring me so much happiness and I love you with all my heart.
I fall in love with you more every Christmas. I don't need a star on top of my Christmas tree as you light up my life.
Heartfelt Christmas Messages from Husband to Wife
Wishing my lovely wife a spectacular Christmas surrounded by our happy family. You are so loved by all of us.
Thank you for being an amazing wife and the way you've cared for our family. I hope this Christmas is everything you've dreamed of.
Merry Christmas to my incredible wife. I love spending the holidays with you and appreciate everything you do.
There's no one I would rather spend my Christmas with than you, honey. Lets celebrate in style this year.
Our home is filled with the warmth of your love. You make this holidays so special. Have a wonderful Christmas!
Wishing my beautiful wife a Christmas filled with lots of laughter and that you make some fantastic memories.
Christmas would be nothing without you by my side. Here's to us enjoying a wonderful holiday together.
There's no gift that is as good as having you as my wife. Thank you for all the happy years and here's to many more Christmas together.
I hope these Christmas wishes for your wife have helped you wish her a merry Christmas in the best way possible.
More Christmas Wishes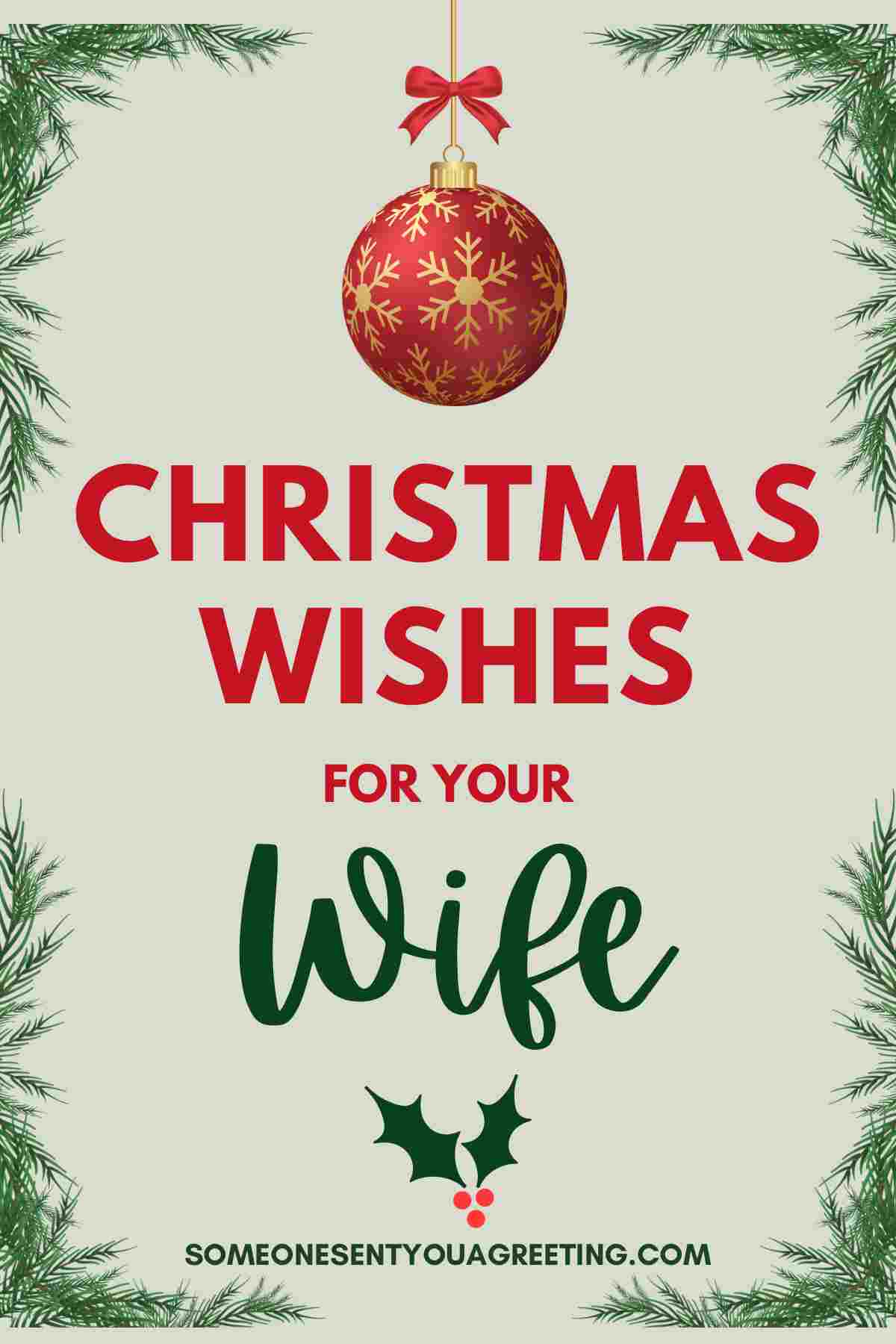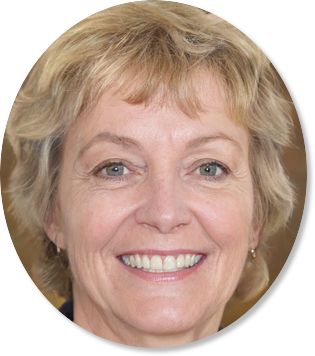 Sally Gibson is the founder of Someone Sent you a Greeting, a holiday/celebration website. Sally's writing work has been mentioned in Woman's World, Yahoo, Women's Health, MSN and more. If you have any questions get in contact with one of the team via the about page.