Thanksgiving is a time for remembering how lucky we are and giving thanks for all we have. But that doesn't mean it can't be a time for laughter and jokes too.
A funny thanksgiving quote or message can be a great way to break the ice. Or just keep your family from descending into arguing!
So that's why we've collected these – our favorite funny thanksgiving quotes and sayings. They come from some of the most famous people: writers, comedians, movies, and they all do a great job at making light of Thanksgiving.
So whether you want to joke about the food, laugh at your family or just poke fun at the holidays in general then we are sure these hilarious sayings and quotes about Thanksgiving will be perfect.
Funny Thanksgiving Quotes
Have a laugh at Thanksgiving and all it involved with these funny quotes.
"You can tell you ate too much for Thanksgiving when you have to let your bathrobe out" -Jay Leno
"The Thanksgiving tradition is, we overeat. 'Hey, how about at Thanksgiving we just eat a lot?' 'But we do that every day!' 'Oh. What if we eat a lot with people that annoy us then?'" – Jim Gaffigan
"I come from a family where gravy is considered a beverage" – Erma Bombeck
"An optimist is a person who starts a new diet on Thanksgiving Day" – Anonymous
"Cooking tip: Wrap turkey leftovers in aluminum foil and throw them out" – Nicole Hollander
"Thanksgiving dinners take eighteen hours to prepare. They are consumed in twelve minutes. Half-times take twelve minutes. This is not coincidence" – Erma Bombeck
"Vegetables are a must on Thanksgiving. I suggest carrot cake, zucchini bread and pumpkin pie" – Jim Davis
"This Thanksgiving, cherish the time spent with your family as a reminder of why you moved very far away from your family" – Anonymous
"Last Thanksgiving I shot my own turkey. It was fun. That shotgun going, BLAM! Everybody at the supermarket just staring. Why track them when I know where they are?" – Kenny Rogerson
"This Thanksgiving I hope you're able to avoid the tragedy of the different foods on your plate touching one another" – Anonymous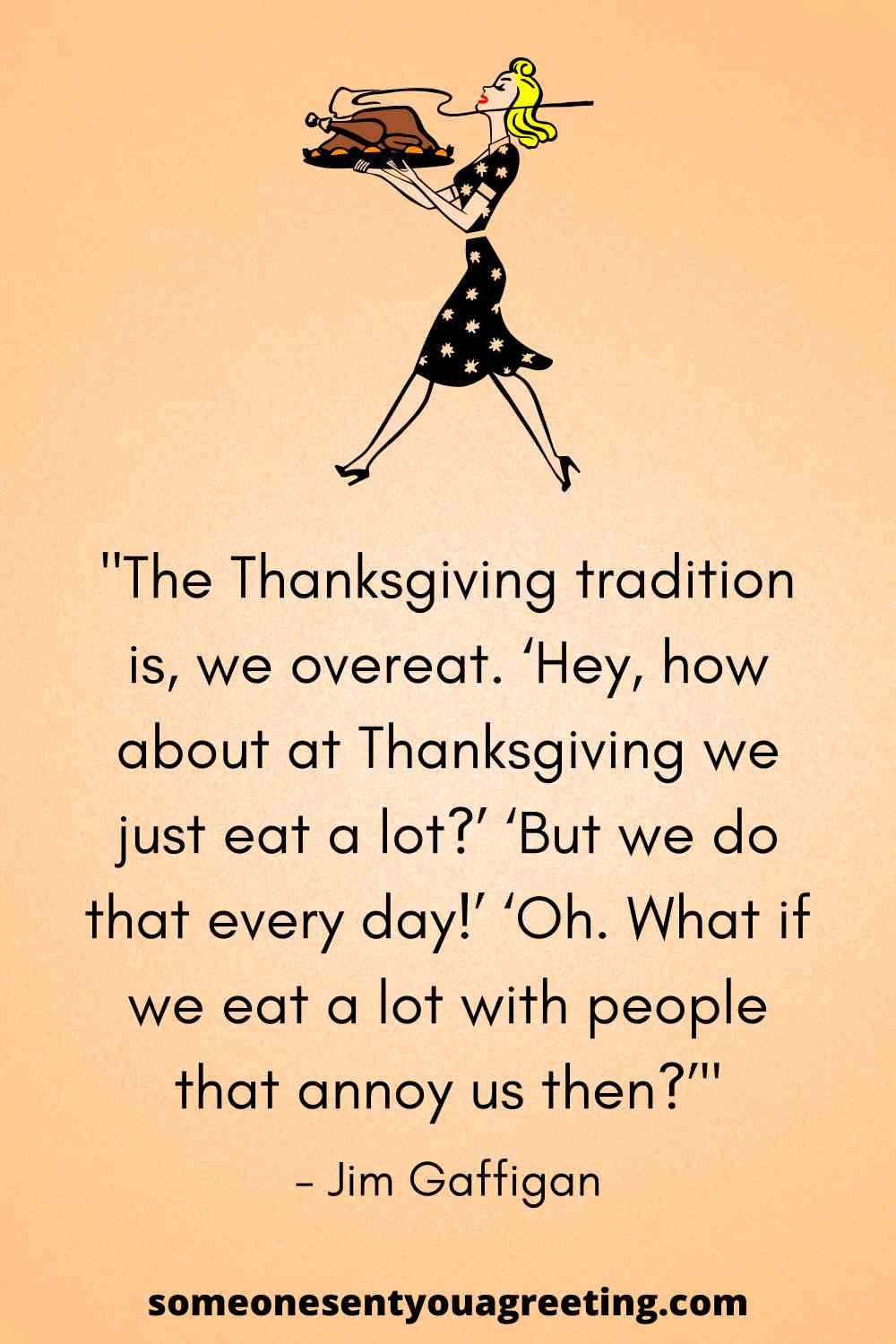 Hilarious Thanksgiving Sayings
Celebrate and enjoy the funny side of Thanksgiving with these hilarious sayings.
"Thanksgiving. Bringing out the best in family dysfunction since 1863" – Anonymous
May your stuffing be tasty
May your turkey be plump,
May your potatoes and gravy
Have nary a lump.
May your yams be delicious
And your pies take the prize,
And may your Thanksgiving dinner
Stay off your thighs!
"Happy Day after Thanksgiving! Hope you didn't forget to set your scales back 10 pounds last night" – Anonymous
"Black Friday: because only in America people trample each other for sales exactly one day after being thankful for what they already have" – Anonymous
"Toasted, roasted, baked and done! Hope your Thanksgiving is loads of fun" – Anonymous
"A new survey found that 80 percent of men claim they help cook Thanksgiving dinner. Which makes sense, when you hear them consider saying 'that smells good' to be helping." – Jimmy Fallon
"Thanksgiving is a time to count your blessings, one by one, as each relative goes home" – Melanie White
"For those of you who cannot be with family this Thanksgiving, please resist the urge to brag" – Andy Borowitz
It wouldn't be Thanksgiving without a little emotional scarring
"I suppose I will die never knowing what pumpkin pie tastes like when you have room for it" – Robert Brault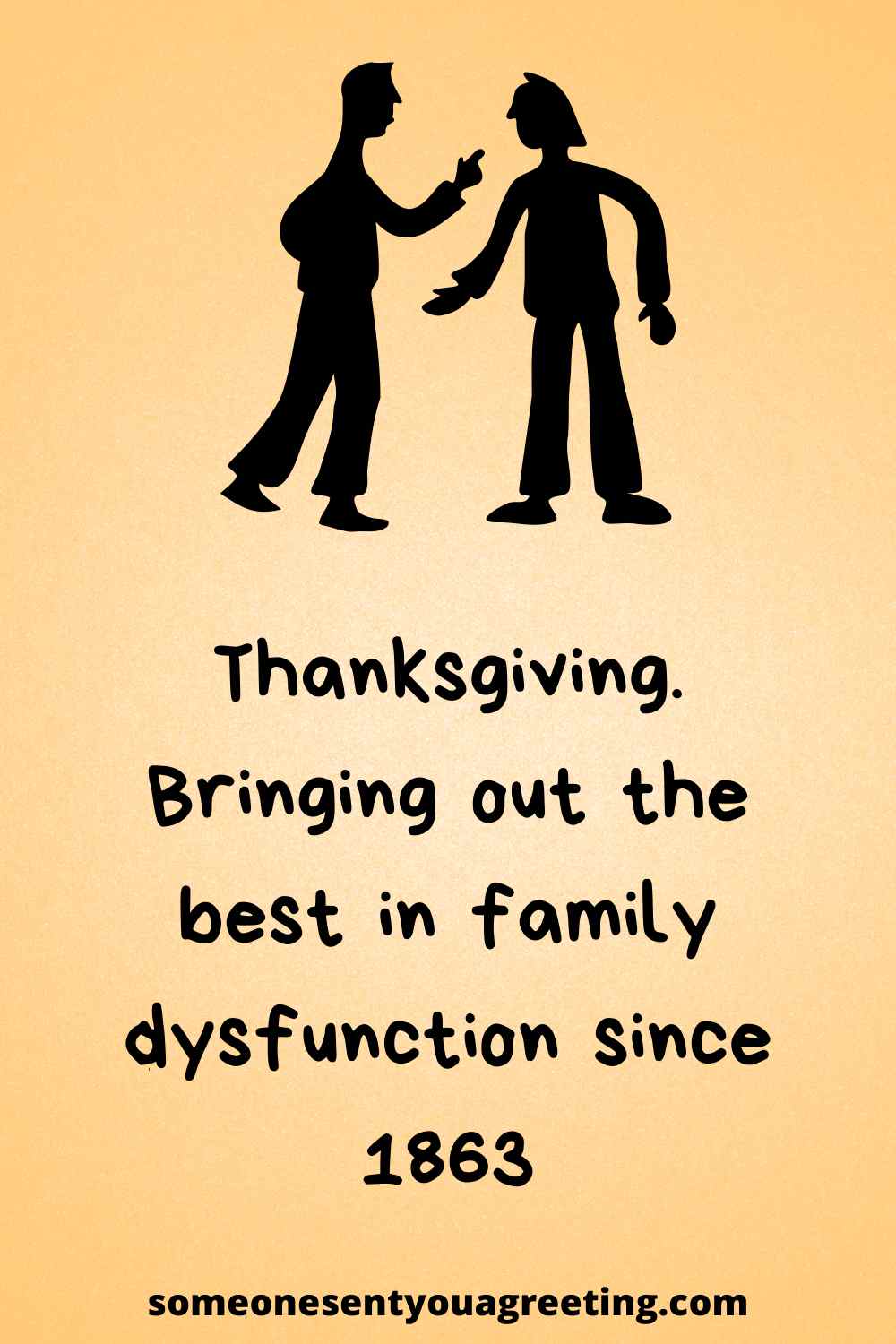 Funny Thanksgiving Puns
Want a little bit of fun wordplay for the holidays? These Thanksgiving puns are perfect.
You think Thanksgiving dinner is done? You ain't seen stuffing yet
Let's give them pumpkin to talk about
Eat, drink, and cranberry
I'm all about that baste
Wham, yam, thank you ma'am
Baste. Thanksgiving. Ever.
Thanksgiving has the tur-key to my heart
The gravy boat has arrived. Calories disembarking
Hey I just met you, and this is gravy, but here's my stuffing, so carve me maybe
It doesn't get any butter than this
Hopefully you've enjoyed these funny Thanksgiving quotes and sayings and they've added a bit of extra fun to your celebrations.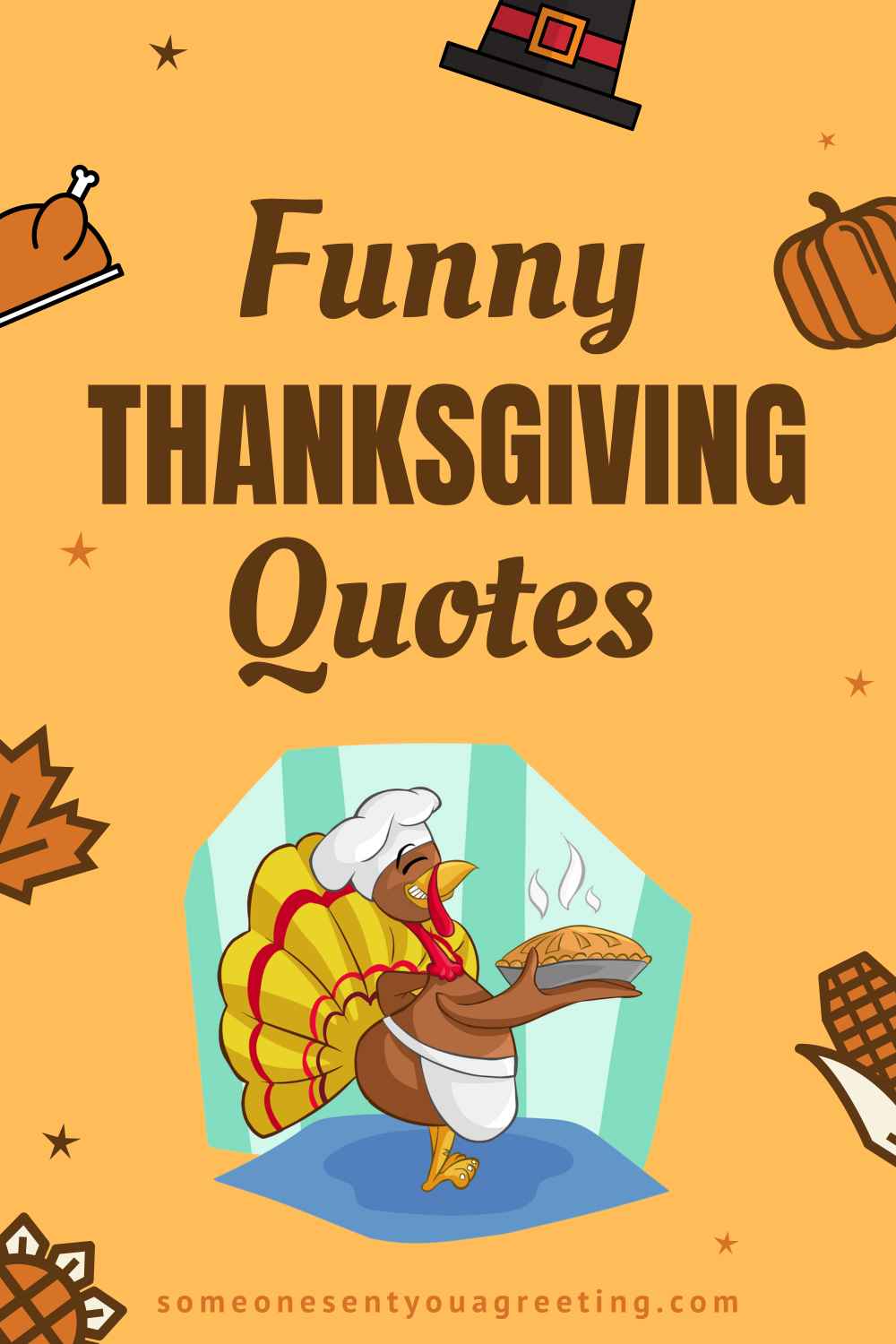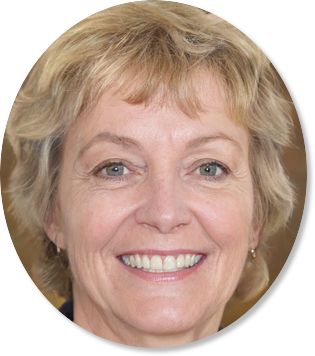 Sally Gibson is the founder of Someone Sent you a Greeting, a holiday/celebration website. Sally's writing work has been mentioned in Woman's World, Yahoo, Women's Health, MSN and more. If you have any questions get in contact with one of the team via the about page.