Graduation is a major event. When we graduate we often have the important people in our lives with us, offering their congratulations. But how do you say thank you to family and friends on graduating? And what are the right words to use for saying thanks after graduation?
Our loved ones will send their best wishes for graduating from high school or college. They might say so in person or through a graduation card.
And if they do you'll want to thank them for doing so. It's only polite!
But it's understandable if you don't know what to say in a graduation thank you note.
The focus should be on letting whoever it is know, friends or family, how much you appreciate their touching congratulations or graduation gift.
Try to make your thank you message or note sound like it was from the heart and genuine. No one wants words of thanks that are insincere.
If you received a lot of grad gifts and cards then try to make sure you send a thoughtful graduation thank you message to them all.
It can be tricky keeping track of every one but it'll be worth it. We all appreciate getting a message of thanks and some kind words.
You don't want anyone to feel left out.
So use these gradation thank you messages to let you very one know just how touched you were by their congratulations and gifts.
There are wording examples for high school, college, and even professional graduations.
High School Graduation Thank You Messages
These graduation thank you sayings are ideal if you are a high school graduate and want to say thanks.
Thank you so much for being part of my high school graduation. It meant the world to me to have you there
So glad you could make it to my graduation, and the grad party. It wouldn't have been the same without you there
Thank you or being there on my big day. I really appreciate all the support from my loved ones
It was wonderful being able to share my graduation with you. It was a fantastic day made all the better with your presence
Thank you both for attending my graduation ceremony. I felt so much love and support on the day, it made it truly memorable. Thanks again, all my love
Your generosity is so appreciated. It was a lovely graduation gift and I was delighted to receive it. Thank you so much!
I just wanted to let you know how great it was to see you at my grad party. I was so happy you could make it. It's not long until I head off to college now so I didn't want to miss the opportunity to see you one last time. Thanks again
To know I could look up and see all my friends and family, including yourself, at my graduation ceremony was just amazing. It helped settle any nerves I had and the feeling of all that support really touching. Thank you so much for coming and being there for me
Thank you for the lovely graduation card and gift. You really didn't have to it it was a wonderfully thoughtful gesture
I'm sad that I'm going to be going away to college and missing you guys but so happy I got to see you one last time at my graduation. Thanks again for coming!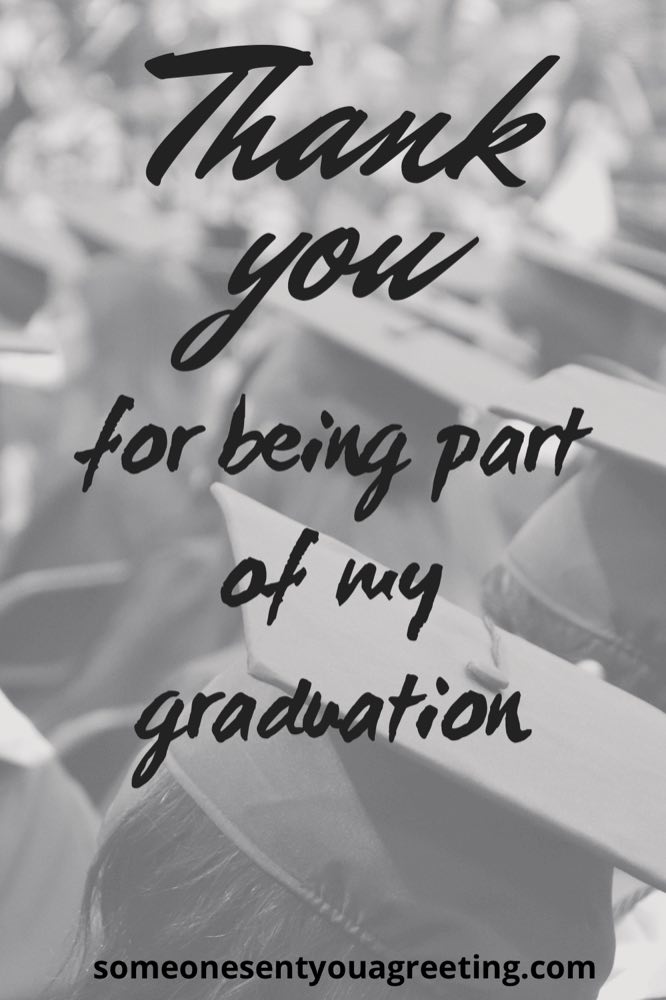 College Graduation Thank You Card Sayings
These college graduation thank you messages are all perfect for letting friends and family know how much you appreciate their support.
It was such a big day for me, graduating college, and to have you there was one of my wishes. So thank you for your support and being there
Thank you for the congratulations and thank you for everything. I don't think I could have got through it without you
Thank you for being part of my graduation and the thoughtful gift. To know my family and friends were all there with me, cheering me on whilst I graduated was just perfect. I'll always remember and appreciate it
Your never ending support and loyalty has helped me become the person I am. As I start a new journey at college I am forever indebted to all you've done. Thank you from the bottom of my heart
Thank you so much for coming to my graduation ceremony. It was wonderful seeing you there. And thank you for the graduation gift, it was a lovely gesture
Thank you to my truly wonderful family for your years of support and love. I can honestly say I wouldn't have got where I am today without you all
You're more than just a friend, you're a part of my family. Thank you for never letting me down and making my graduation so special
Sending thanks for celebrating one of the most important days of my life with me. I'll always remember you being a part of it
I can't quite believe I've made it but that's it – I've graduated! It was great having you there – thanks so much!
I really appreciate you taking the time to come and celebrate and support me on such a big day. All my thanks
No words will do justice to how much I appreciate you being in that crowd as I graduated. You really are amazing. Thank you
Having you at my big day brought me I told joy. It meant so much that you were there and I know I will fail to express it properly here. But i hope thus shows how important it was, and how grateful I am
It has been a whirlwind but gone by so fast. Having you, and everyone around me for support and care has made it that much easier. As I graduate I am forever grateful for that help, and for you being there and that final day. Thank you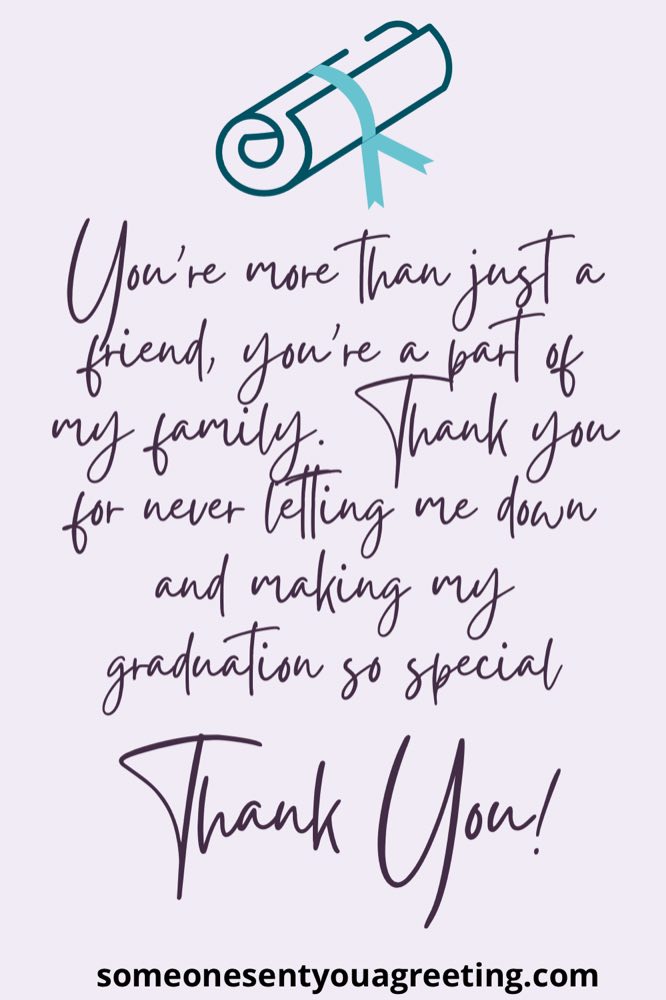 Graduation Thank you Messages for Parents
As you graduate tell your parents what it meant for them to be there over the years with these parent grad thank you messages.
You have been by my side through thick and thin. I am indebted to your love and all you've done for me. Thank mom and dad
You provided the inspiration and the motivation so I could achieve all my dreams. You are the most amazing parents, thank you for everything
This graduation is dedicated to you, my loving parents, who without I would never have made it through. Thank you for a love that never faulted
I have become the person I am because of all you've done for me. I couldn't have wished for better parents. And as I graduate, I thank you for all you have done and continue to do
For all the arguments we've had there's been far more great times. You've guided me to this success, and I will always be grateful. Thank you for helping me graduate mom and dad. I love you
For the years of effort and time you spent helping me with no reward you deserve the biggest thanks. It has lead me here and now as I gesture and head out into the world I am lost for words to tell you how much you mean to me. Just.. thank you for everything
You stood by my side and were there when I needed you most. Maybe one day I will be able to repay all you did. Until then I will just continue to thank you for being the best parents in the world
When times were hard, you were there. I can't thank you enough for that support. I love you beyond words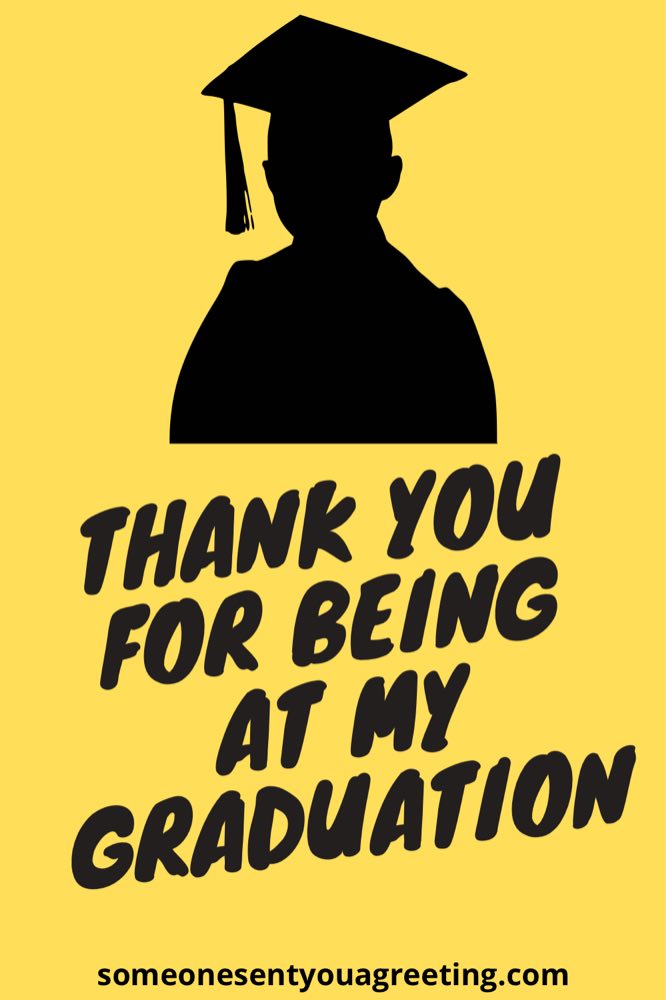 Thank You Note Wording for Grad Gifts
If you were lucky enough to receive a graduation gift then these thank you messages will show them how much you enjoyed it.
Your gift was a really special gesture and one I truly treasure. Thank you for thinking of me as I graduate
What a generous gift as I graduated. I appreciate it so much and how you thought of me
I loved my graduation gift and will cherish it. Thank you so much!
Please accept my warmest thanks for not only attending my graduation but the gift to go with it. You touched me with your thoughtfulness and kindness
I hope this note goes a little way to showing how much I appreciated my gift. You really shouldn't have! But I will think of and remember you every time I use it
You shared in my day and left me with a wonderful memento in the gift you gave me. I can't thank you enough
Your gift was fab, and I don't want to sound ungrateful, but all I really needed at my graduation was to see you! And I got to, which was one of the reasons it was such a special day. Thank you!
Thanks for your generous gift. I know it will help me throughout college. I am feeling a bit anxious about this next phase of my life but know that with the support family and friends like yourself I can do it. Thank you again
Your gift will definitely come in handy during the next few years of college. Thank you ever so much, and thank you for always being there. Love you lots
The only gift I ever need from you is just yourself! But the actual gift you got me isn't bad either! Thank you and thanks for being at the ceremony. It was important for me to have you there
We hope you've found these graduation thank you card messages helpful in sending a note of thanks after your graduation. Try to remember to be sincere and honest with your thank you's, speak from the heart and say how you feel about those you're addressing. What you say doesn't have to be perfect – just honest. If you do that then your friends and family will appreciate the effort and time you put into your graduation thank you messages, no matter the words you use.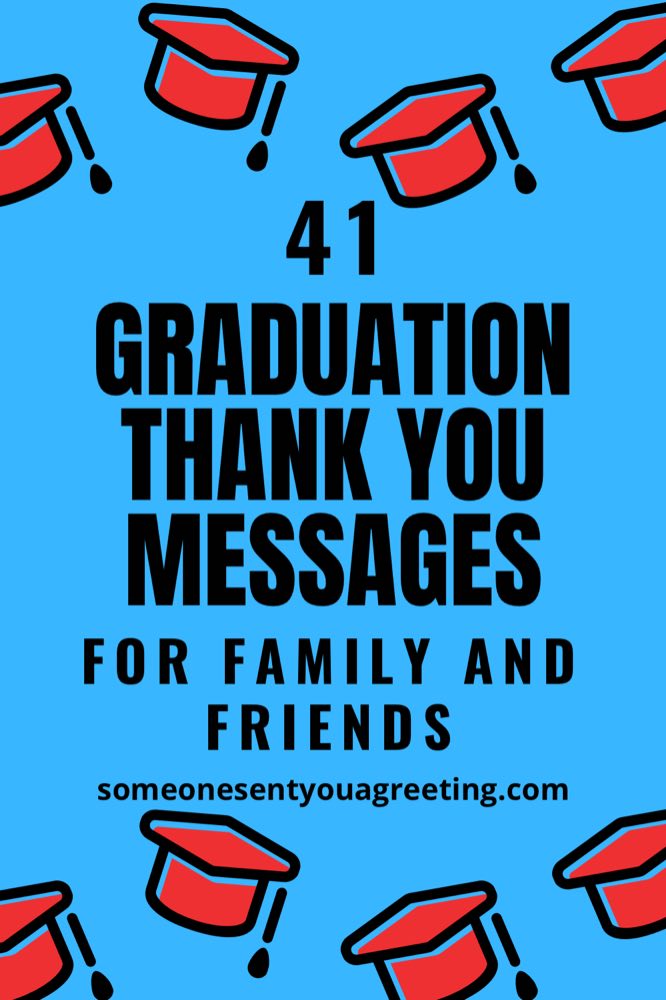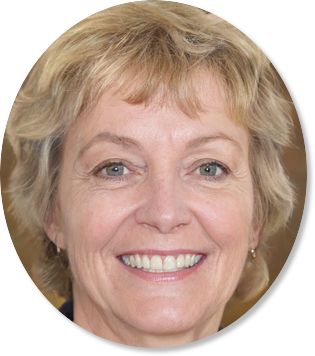 Sally Gibson is the founder of Someone Sent you a Greeting, a holiday/celebration website. Sally's writing work has been mentioned in Woman's World, Yahoo, Women's Health, MSN and more. If you have any questions get in contact with one of the team via the about page.