Are you not sure what to write in a retirement party invitation? Don't know what to include or how much detail you need?
Don't worry, you're not alone. Many people struggle with knowing how to write the perfect retirement party invitation.
But you want to get it right. Because a retirement party is a great way to celebrate the working life of someone and say goodbye and thank you to those were with them along the way.
The Invitations are important because they let guests know what time and place to attend. They also give them information about the event such as dress code, food preferences, etc.
So if you need some help with the invites then the retirement party invitation wording examples below should give you some ideas of what to include and how to word them.
Retirement Party Invitation Writing Tips
When writing retirement party invitations there are a few things you might need to think about. These tips will help you get everything just right.
What to Include
Name: it's important to include the name of whoever is retiring and the party is for otherwise those invited won't know who it's for.
Reason for Party: make it clear it's a retirement party rather than something like an anniversary or birthday party. You don't want guests arriving not sure of what they're celebrating.
Date and Time: you can't send an invite without letting the guests know day and time the party is. This also gives them the opportunity to change any plans or keep their diary clear for it.
Location: think about including directions if the location of the party isn't that well known or out of the way.
These are the main details to include on your party invitation. If there is a dress code or expectation to bring a gift then you should also make sure that's on the invite too.
Formal or Casual
If the party is going to be more formal then your language should reflect that. When addressing the invitation use the first and last name of the guest. The language should be straightforward but polite and sensible.
A casual party gives you more freedom to have fun with the invite. So a funny or jokey invitation wording is perfectly acceptable, as is using informal language and first names. The important details mentioned above are still necessary but there aren't any other rules you need to follow.
Personalization
If you can then adding some personal touches to the invites is a nice touch. Maybe have the invitation reflect the theme of the party (if there is one). Use an appropriate design with some extra flourishes. Anything that makes it a little different and stand out.
Retirement Party Invitation Wording Examples
You are invited to join us
as we celebrate the retirement of
Sarah Jones
Saturday, 19th June, 7pm
At The Kings Bar
–
Please join us in
Celebrating David Smith's Retirement
After 26 years of dedicated service
Friday, March 23rd
The Long Island Bar, 8pm
Looking forward to seeing you there!
–
The Thompson Family invites you
To a retirement party honoring
Alice Barker
After three decades of service
Tuesday, 19th October, 7pm
Patio Marylebone
London
Hoping you can join us
–
Let's give Matthew Sawyer
A retirement party he'll never forget
Please join us for a retirement dinner and drinks
Amber Tavern
123 Main Street
Columbia, South Carolina
6pm, Thursday 2nd April
–
Sam is retiring!
And in honor of his amazing career
We're having a party!
So come along and celebrate
Wednesday, 14th February, 7pm
At The Wave Bar
123 East Street
Miami, Florida
RSVP to Fiona by 4th February
–
Come wish Megan good luck
As she retires!
Join us for drinks and dinner
August 12th, 7pm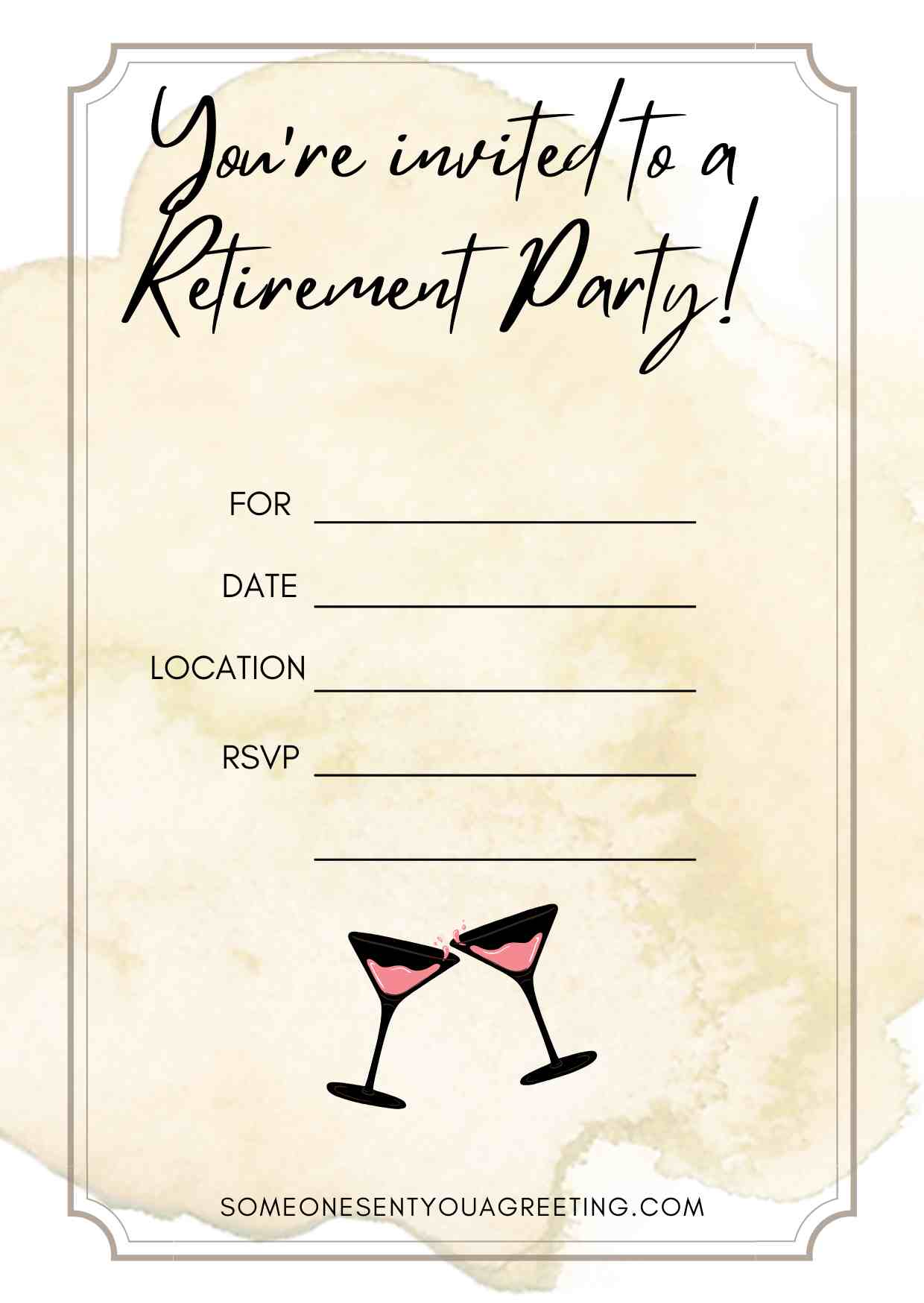 READ MORE: Retirement Party Ideas: How to Throw a Great Retirement Party
Funny Retirement Party Invitation Examples
At last, he's gone!
Let's all celebrate Dave's retirement
Saturday, April 3rd, 7pm
At his home (or new office)
Can't wait to see you there!
–
Her working days are finally through
There's nothing more left to do
Except to follow her hearts desire
Now that's she's about to retire!
Come and say goodbye at Jeans retirement party!
–
Come say goodbye to Sue James…
It's your last chance as after she retires she'll want nothing to do with any of us!
Friday, 7th July, 6pm
–
We're throwing a surprise party for Richard
The surprise being he's retiring at last!
Let's all say goodbye
On Tuesday, 28th August, 6pm
READ MORE: Funny Retirement Messages and Quotes
For a Teachers Retirement
Schools out!
And for Angela, it's forever!
So come to her retirement party
At The Punch Bowl
48 West Street
6pm, September 29th
–
Let's say goodbye to an amazing teacher
Ian is retiring and will be greatly missed
So join us for his retirement party
March 23rd, 7pm
READ MORE: Retirement Wishes for Teachers
For a Work Party
Mary Gibson is retiring!
So after 30 years of dedicated work
Let's send her off in the best way possible
At our Headquarters, Conference Room B
South Business Park, Texas
November 26th, 5pm
No RSVP is required
–
Join us to say farewell to John
After a long career he's decided to retire
So we are going to celebrate with a party at the office
5pm, Thursday, May 10th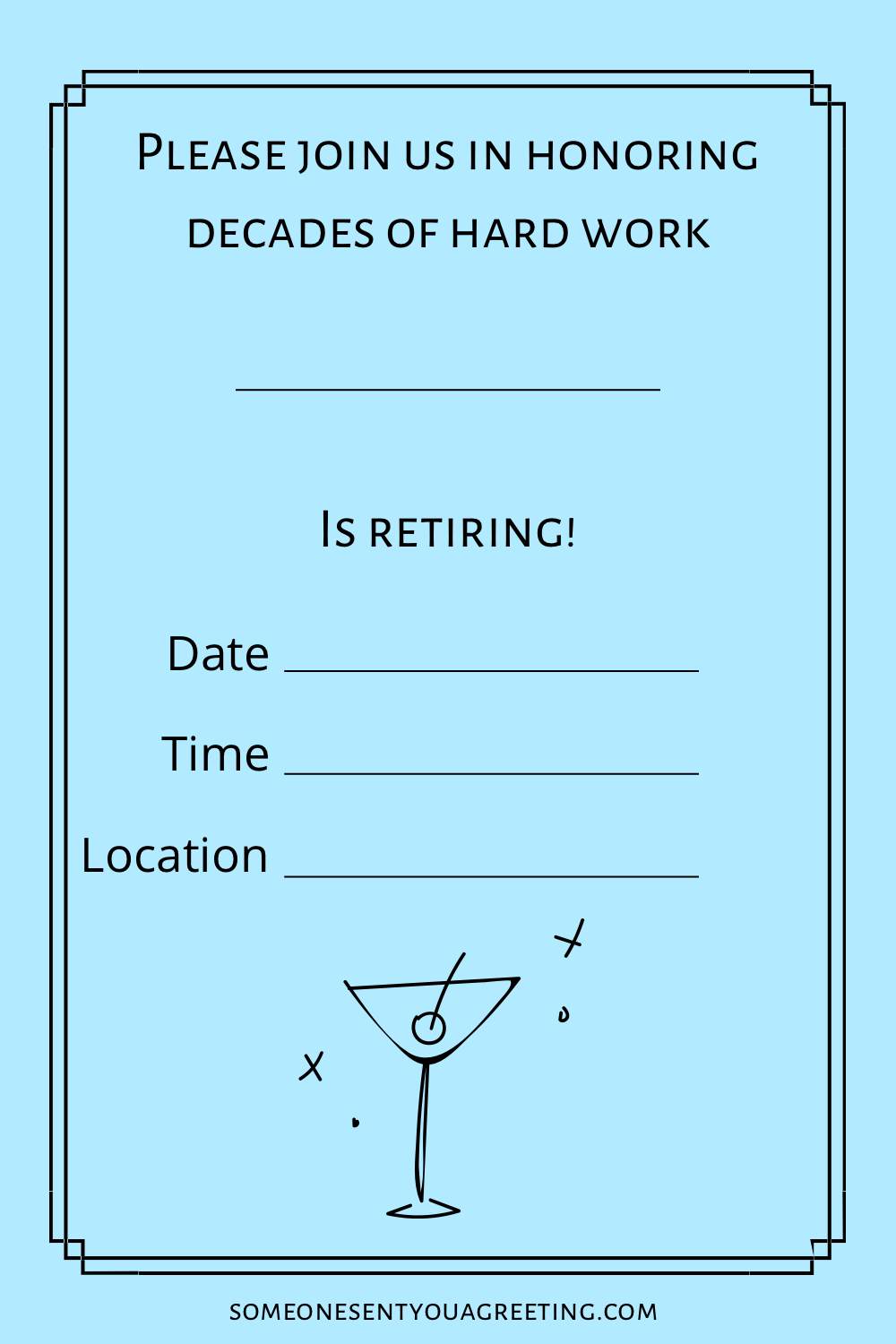 For an Army Retirement Party
At ease, men!
Captain Robert Dale is retiring
So we are having a party
Please join us at
3479 August Lane
Alexandria, Louisiana
5pm, 8th December
–
To honor the service of Major Phillips
You are invited to a retirement party
January 7th, 6pm
2375 Murphy Court
Minneapolis, Minnesota
–
Quick! March!
To the retirement party for
Sergeant Adele Stephenson
On Wednesday, 13th June
609 Passaic Street
Adelphi
Washington DC
We hope these retirement party invitation wording examples have helped you with writing your invites. Just make sure you include all the necessary details and information and you should be fine.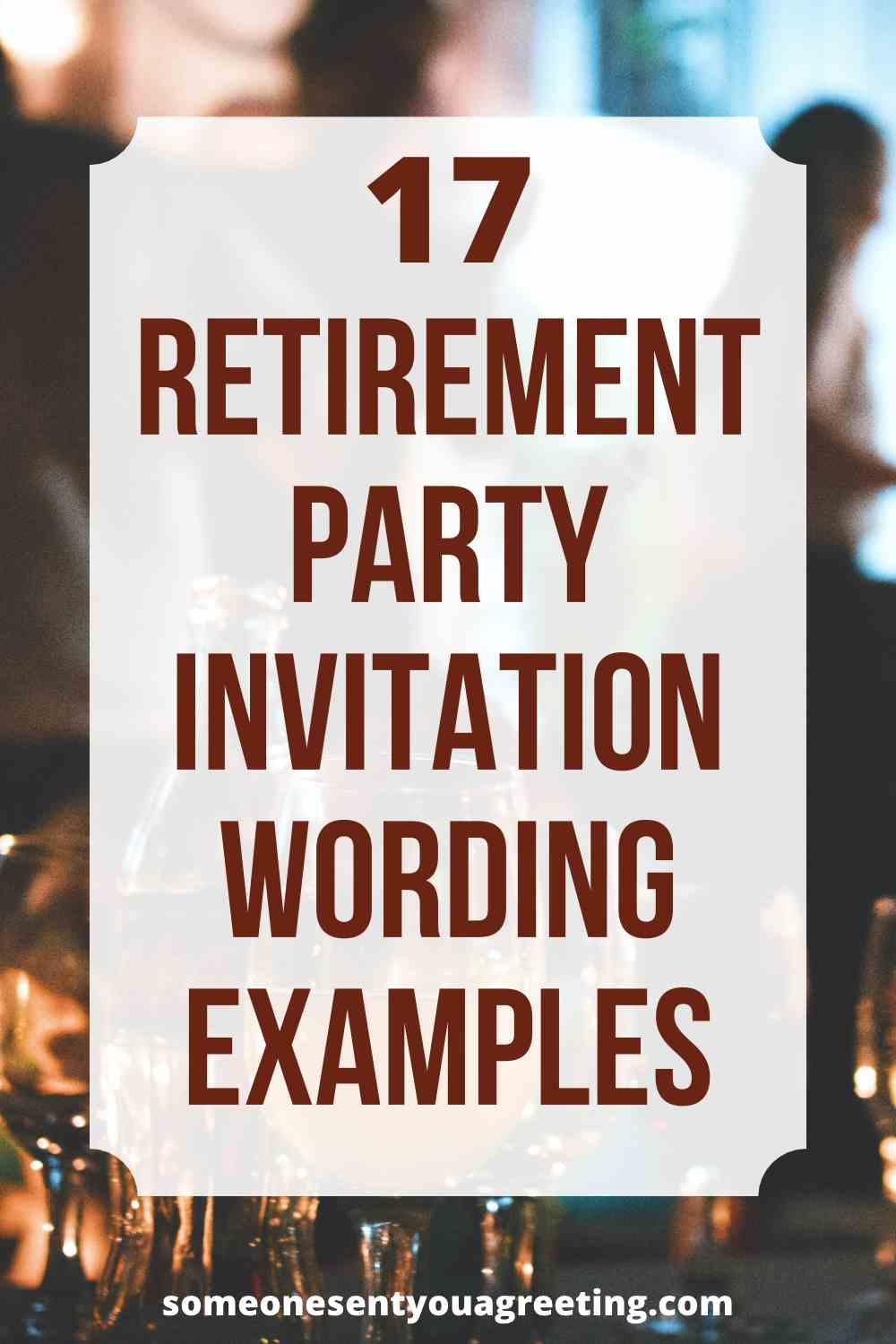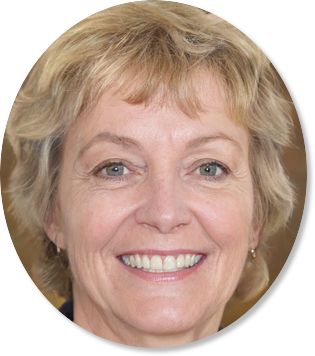 Sally Gibson is the founder of Someone Sent you a Greeting, a holiday/celebration website. Sally's writing work has been mentioned in Woman's World, Yahoo, Women's Health, MSN and more. If you have any questions get in contact with one of the team via the about page.