Has someone you know been involved in a freak mishap and you want to send them some get well wishes after an accident? Do you need some help finding the right words to comfort someone after an accident?
Then read on!
Accidents happen. They can be fairly minor things all the way through to major events that significantly impact people.
Car crashes, injuries at work, even freak accidents when playing sport or other hobbies. Unfortunately the world can be a dangerous place.
So when you know someone involved in an accident and is having to recover from it it's a good idea to reach out to them. It's always nice to know your friends and family are thinking of you during tough times.
And a few words in a card isn't asking a lot, is it? Just a sentence or two wishing them a speedy recovery and to get well soon.
So if you aren't sure what to say in a get well message after an accident then these example wishes and quotes should help you come up with ideal wording.
Get Well Wishes after an Accident
I hope you're recovering well from your accident and will be back on your feet very soon. You will be in my thoughts
I'm delighted to hear you are getting better after what must have been a very scary accident. All the best
I was so relieved to hear that your accident wasn't too serous. I know how terrible it must have been though and that you'll bounce back from it in no time
I'm so pleased your accident wasn't too serious. I was really worried for a second! Hoping you feel better soon!
Sending my loving thoughts for you to get through the tough time
Sending you hugs and my best wishes to recover grim your accident as soon as possible. We miss you so much and can't wait until we get to see you again
Listen to the doctors and do what they say. Keep resting and you won't have to be stuck in bed longer than you have to
I have never met anyone as clumsy as you! You're the only person that could trip over their own shadow and hurt themselves! I'm glad your ok though and are on course to make a full recovery
Sending positive thoughts your way for you to make a full recovery after you accident. All the best
Accidents happen, it's just they seem to happen you you more than most! Get well buddy and hope you're back real soon
Don't rush! Take as long as you need to recover and don't hesitate to get in touch if there is anything you need
Don't rush back to work. Let yourself recuperate and come back better than before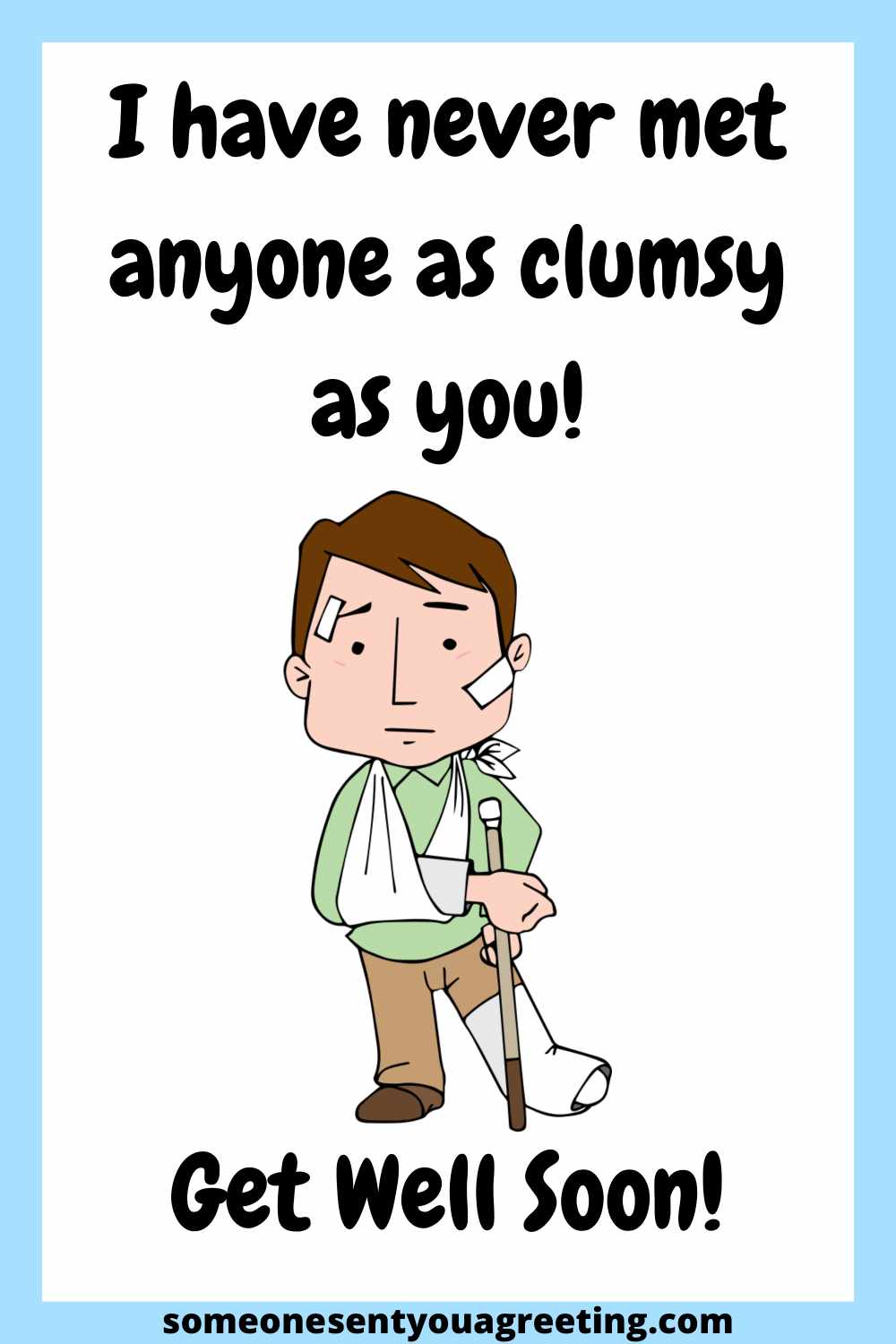 Recovery Wishes After an Accident
You will be in my prayers and my thoughts as you recover from what must have been a truly a shocking accident
I know you hate being made a fuss of but I was so relieved to hear your accident wasn't too bad. Lots of hugs and wishing you a quick recovery
Hoping you have a fast and pain free recuperation after your nasty accident. Get better soon
Everyone at work sends their love for you to get well soon. We really miss you!
We were really worried for a minute! You have to more careful! But as long as you're ok and getting better that's the most important thing. Just try to avoid so many accidents
Your accident was a big deal so take the time you need to fully recuperate and get over it
You must be the most accident prone person alive! Maybe think about wearing protective clothing, cause you clearly need it! I'm happy you're ok though and recovering well
You should wear hazard lights you're so accident prone! Glad you're ok though and looking forward to seeing you soon
I'm praying for you to heal quickly and feel better very soon
I hope you liked the flowers and they brightened your day a bit as you recover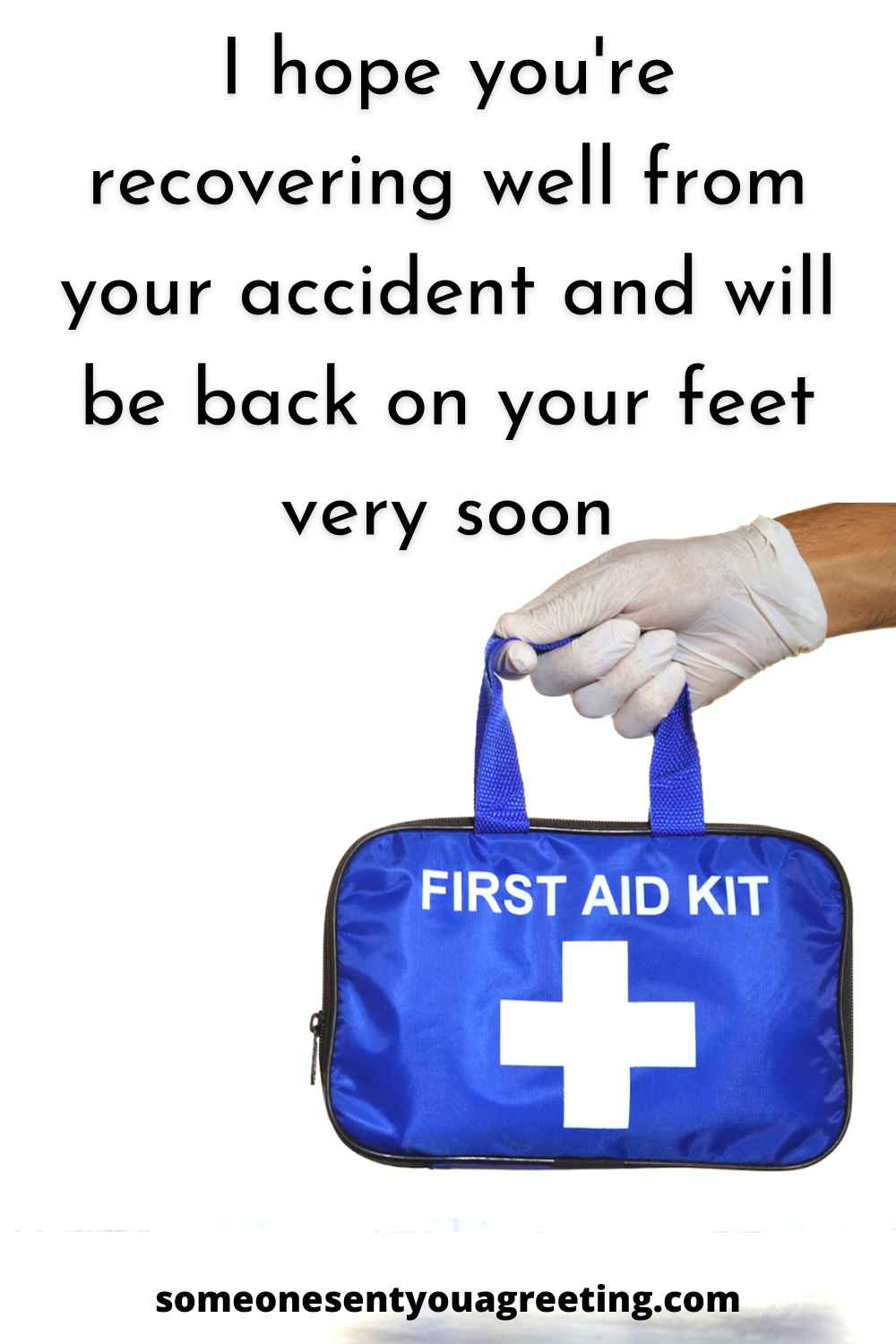 What do you Say to Someone Recovering from an Accident?
Hoping you feel better very soon
Sending my love as you recover from your accident
Wishing you a speedy recovery
Make sure you rest and take it easy after such a shock accident
I was so glad to hear your accident wasn't too serious. Feel better soon!
All the best for a speedy recovery
I am thinking of you as you recover from your accident
Keep your head up and you'll be back to your old self real soon
After such a terrible accident I'm wishing you lots of love and positive thoughts
Sending big hugs for a full recovery
Missing you lots! Get better soon!
I hope you feel better soon pal!
Wishing you better times after your accident
You're going to make a complete recovery, I promise. Love you lots
Get Well Soon Messages after a Car Accident
Use these get well messages to show your support and love to someone that's been in a car accident and you aren't sure what to say.
Even a small car crash is a terrifying experience. I'm so happy you weren't badly hurt though and I hope you're getting better each day
I can only imagine how scary a car crash must be. Really pleased to hear you are ok. Take as long as you feel you need to get better after such a shock
You've endured such a shock so take some time off and rest. You don't need to try and be a superman. Just focus on feeling right again
I was so surprised and worried when I heard about your car accident. I hope your injuries aren't too bad and you made a really speedy recovery. All my love
I was so worried you weren't going to get ok. It was such a relief to find out it wasn't too bad. If there is anything I can do to help don't hesitate to ask
Forget your car! I know it might be a write off but your health and recovery is far more important!
A car accident is really scary so I'm delighted to hear you're on the mend. Hoping you get over it soon
Glad to hear your car took the brunt of your accident rather than you! Get well soon
I genuinely thought you could be seriously injured after your car crash so you can imagine how relived I was to find out that wasn't the case. I hope the shock of it all hasn't affected you too much and you recover soon
Thinking and praying for you to recover very quickly! It could have been so much worse
Words of Comfort After an Accident
These words of encouragement for someone recovering from an accident should help them to stay positive and not be concerned about what has happened and how they will recover.
You've been through so much but you can now feel safe knowing you're over the worst and going to get better. I'm with you all the way.
I hope you can take comfort knowing that your friends are all here for you. Feel better soon.
You must be scared but I can reassure you everything is going to be fine. You'll make a full recovery and be right again very soon.
You are making an amazing recovery. It was a nasty accident but you're almost there now and can look forward to getting back to normal.
Sending my love and thoughts. You're so strong that no accident could ever keep you down for long!
May you feel better and take comfort in the outpouring of love and support you have received. Everyone cares about you so much!
An accident of any type is scary and can cause some serious damage. Hopefully the examples provided will have helped you with deciding what to say.
Reaching out to let someone know you hope they're alright and recovering well is a kind gesture and those dealing with effects of an accident will appreciate the gesture.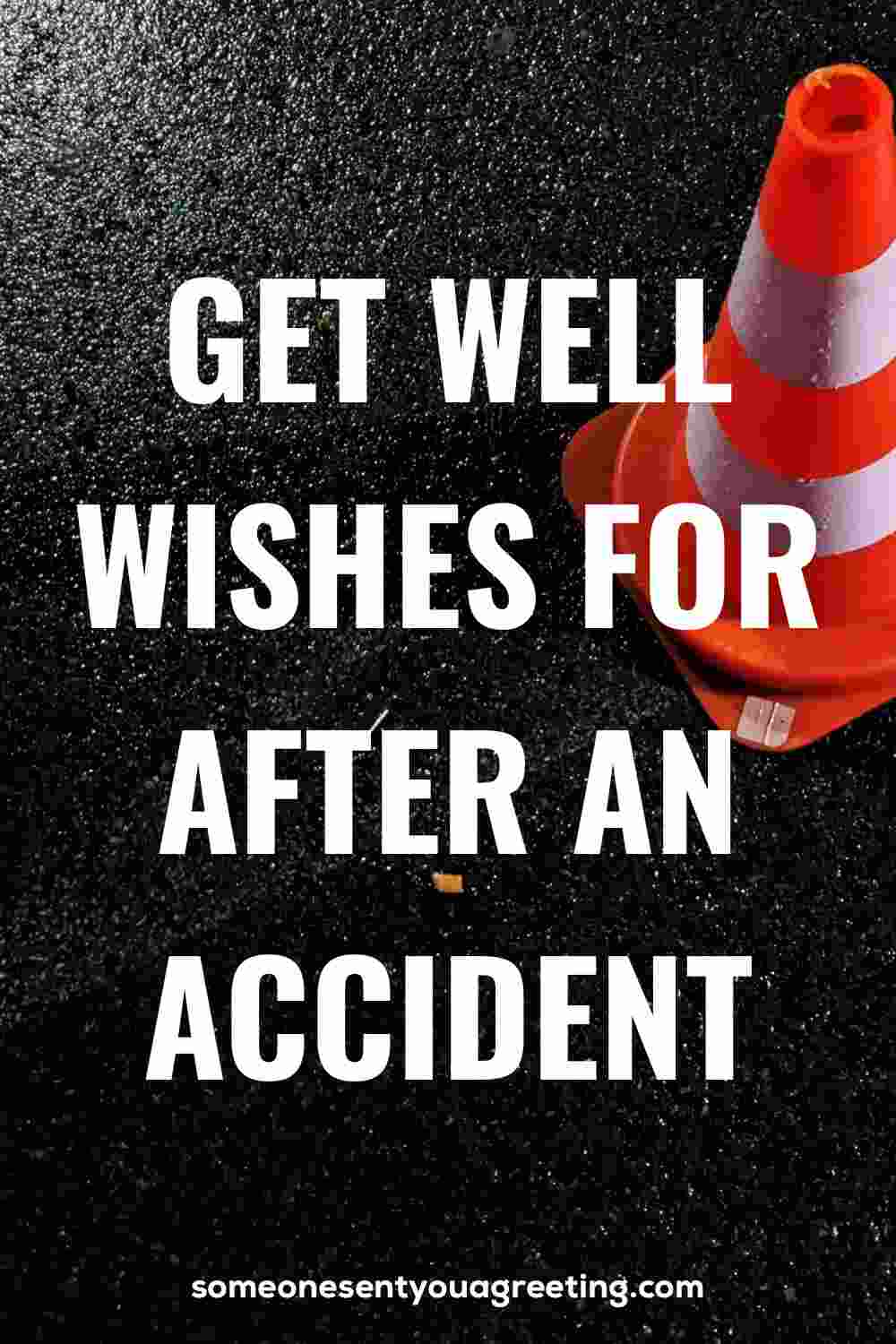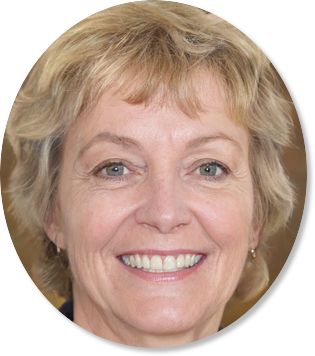 Sally Gibson is the founder of Someone Sent you a Greeting, a holiday/celebration website. Sally's writing work has been mentioned in Woman's World, Yahoo, Women's Health, MSN and more. If you have any questions get in contact with one of the team via the about page.