Your son's 10th birthday may not be as big a deal as the 1st, 16th or 21st but it's still a significant milestone.
When you son is turning 10 it's a big step in his life. Reaching double figures in years, starting to seem less like your little boy – all of these are major developments.
You will probably want to remember these years as much as you can. They're special and once they're gone you can't get them back.
So saying happy 10th birthday to your son as a mom or dad is important. Making the day memorable and celebrating his 10th year is a huge part of enjoying him growing up.
But if you aren't sure what to write in your sons 10th birthday card then don't worry.
The example 10th birthday messages we've provided here will help you find the perfect words.
So use these 10th birthday wishes for a son to show your boy just how much you care, and enjoy his big birthday.
Happy 10th Birthday Son from Mom
Happy 10th birthday my baby boy! I love you more than I can say and hope you have a wonderful birthday
You're growing up so fast! Have a great 10th birthday my sweet angel
To the worlds most amazing boy, have a very happy 10th birthday
If I try really hard can I stop you from getting any older? I just want to freeze you as you are – mommy's perfect boy. Happy birthday!
Sending you 10 birthday kisses for your turning 10 today. Enjoy all the fun!
For 10 years you've been the light of my life and I know you will be for many more to come. Have a truly awesome 10th birthday
I have 10 special years of amazing memories and I can't wait for so many more. Happy 10th birthday my darling
I couldn't be prouder of you as you turn 10 today. You are a wonderful son who means everything to his mom. Happy birthday
I feel blessed to have such a son like you. You are my world and I love you beyond measure. Have a great 10th birthday
Mommy's boy is growing up! 10 today, as soon as you know it you'll be an adult going off into the world. Until then I'll just have to enjoy every second with you. Happy birthday my special guy
[relatedposts]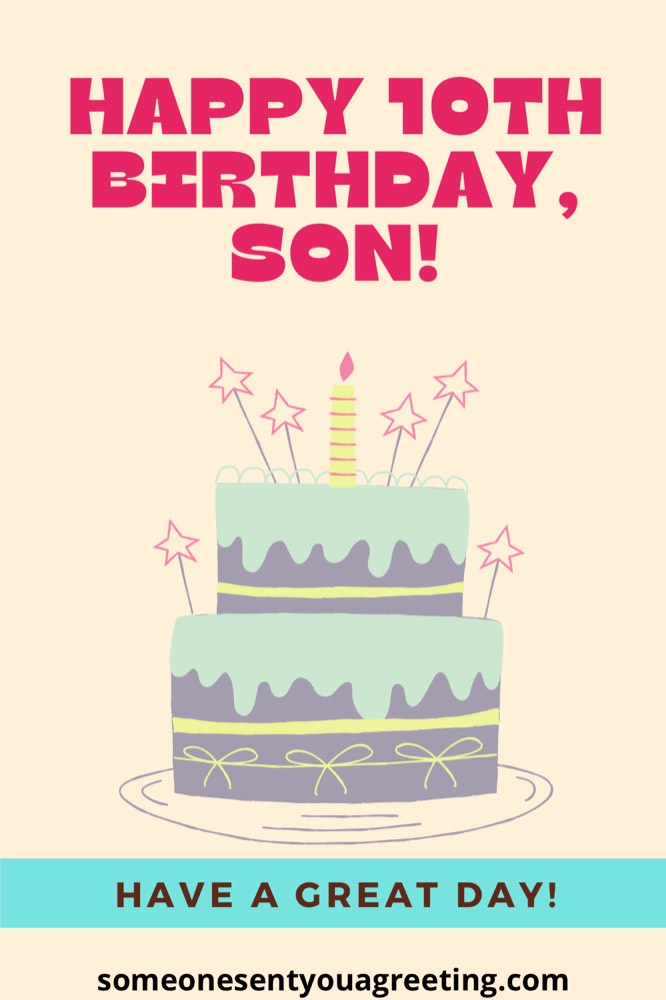 Birthday Wishes for Son Turning 10
As you turn 10 we send you our biggest birthday wishes and hugs
It doesn't matter how old you are, you will forever stay our little mischief maker. Happy birthday son
You have made our lives complete, son. We love you more than anything. Happy 10th birthday
We are the proudest parents there could be. You make us feel so lucky to have a son as wonderful as you. Happy birthday to our 10 year old superstar!
You have been a blessing and joy like no other. Happy 10th birthday son
Happy 10th birthday to the greatest son in the whole universe. You're our world!
You bring joy and happiness to our lives son. Happy birthday and enjoy turning 10
We are happy because you are happy on your 10th birthday. Enjoy all the fuss today son
Have a great day son, one filled with lots of and joy. Happy 10th birthday
To our son, today you turn 10. You are growing up faster than we could have imagined, but we wanted to say how proud of you we are. Enjoy a truly awesome birthday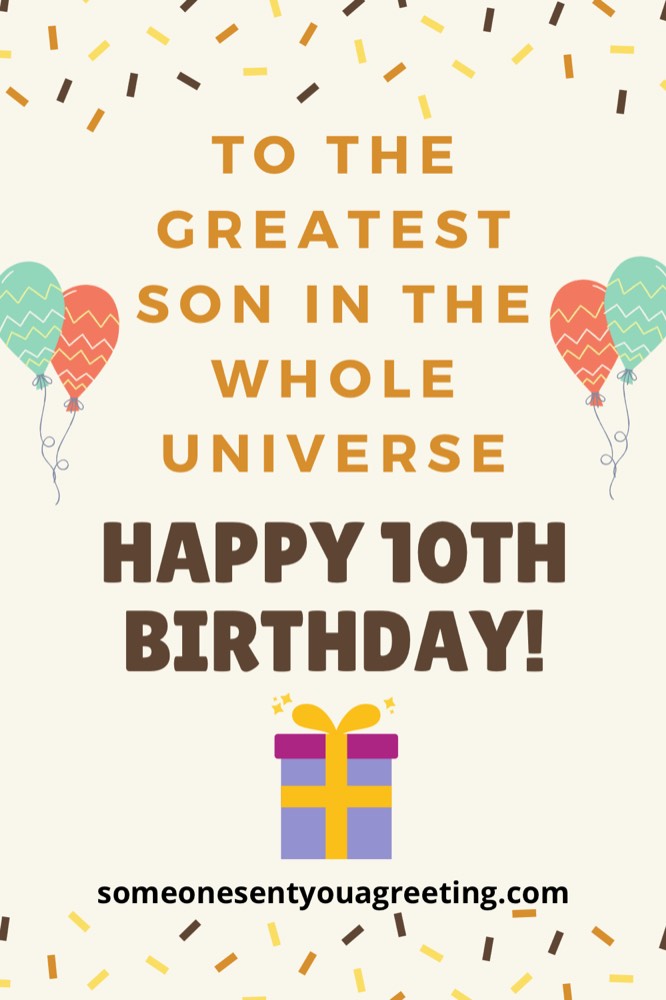 10th Birthday Wishes for Son
Turning 10 is a big day, son. You are almost an adult… but not too old for kisses and hugs! Happy birthday my angel
Sending you love and happy thoughts on your 10th birthday
Happy birthday to my dearest son. 10 today, tomorrow you take on the world!
All our biggest birthday wishes for a brand new 10 year old. Happy birthday son
Wishing you a fantastic day of fun and excitement as you turn 10, son
Woo! 10 today! Congratulations to our little man on reaching such a big age!
Turning 10 today? Well then we better celebrate. Happy birthday son!
10 years old? You're a big boy now. Happy birthday
Birthday hugs and lots of celebrating are in order for the birthday boy. Have a top day son
Birthday Wishes for Son Turning 10 from Dad
Happy 10th birthday son. It won't be long now before you're a man
Have a great day son. All the best, dad
You make your old man proud, son. Follow the same path and you have a brilliant future. Happy birthday
Happy birthday son. I've loved every second of watching you grow up. Have a great day
I'm as proud today as I've ever been. You've turned into a wonderful young man. And turning 10 years old is a big day. Happy birthday, son.
10 years old and still growing! You'll be bigger than your dad soon! Happy birthday
To my son – I hope you know how much I love you. Have a magical birthday
From father to son – I cherish every moment with you son. 10 years might not seem a lot but you've grown so much. Happy birthday
Hopefully these 10th birthday messages for a son will have helped you to say happy 10th birthday to your son. Letting him know how much you love and are proud of him as he turns 10 years old is the way to mark his birthday. Just remember to enjoy the day and savour the memories – they grow up in the blink of an eye!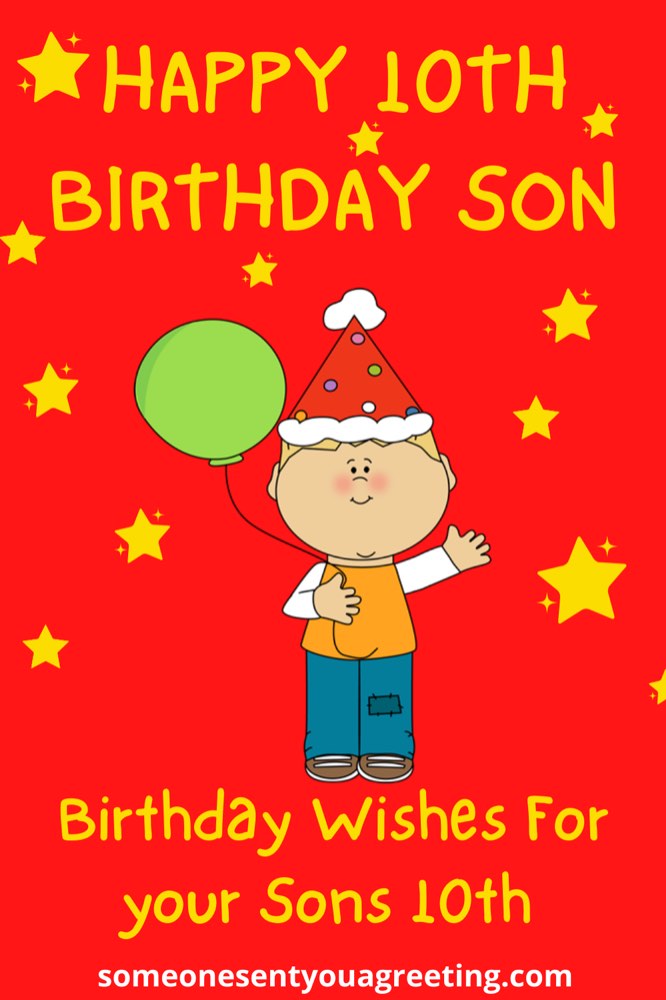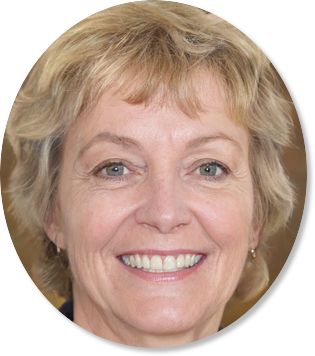 Sally Gibson is the founder of Someone Sent you a Greeting, a holiday/celebration website. Sally's writing work has been mentioned in Woman's World, Yahoo, Women's Health, MSN and more. If you have any questions get in contact with one of the team via the about page.