Struggling with how to say Happy Birthday Sister in Law? You're not alone. With your direct family the words come easily. That deep connection and bond you have tends to make things easier.
But birthday wishes for a sister in law are trickier to write/say. You may not know them as well and aren't sure what they like.
You may even be worrying about causing offence. But you shouldn't fear, as finding the right words for a touching and heartfelt birthday quote needn't be difficult.
All you have to do is think about what your sister in law means to you. Yes she may not be a traditional family member but often in laws become just as special.
You may have developed a relationship that is unlike others and a connection you aren't expecting. So if your sister in law has become a really important part of your life then say so in your birthday message.
If you're still having a hard time then we've put together a huge list of the best birthday messages for a sister in law. So if you need a little help or inspiration then read on as we're sure you'll find the perfect birthday greeting to show your sister in law just how much you care.
Happy Birthday Sister in Law Wishes
These wishes and messages are perfect for a card or to say in person. They can be used in most situations as they are fairly general but are still a great way to say happy birthday to your sister in law.
Happy Birthday sis! I'm so glad you've become part of the family and hope you have an awesome birthday
You're not just my sister in law – you're my sister, full stop. And a sister as amazing as you deserves a special birthday! Here's to it being a great one

I'm so grateful you came into my life and became more than a friend, but a sister and member of the family. Happy Birthday!

The person I always feel I can talk to and share with is you – my wonderful sister in law. I hope you have a brilliant birthday

We may have had a difficult start to our relationship but now I couldn't imagine our family without you. Have an amazing birthday sis in law!
The smartest decision my brother ever made was marrying you. Just like him we're lucky to have you in our lives. Enjoy your birthday
You're an incredible person and one I'm proud to call my sister. Let's celebrate your birthday the way we should – with drinks, cake and a big party!
When I was younger I always dreamed of having a sister, and then all these years later you came into my life. I feel so blessed and lucky to be able to call you sister. Happy Birthday!
My dreams came true when I wished for a sister like you. So when you blow those candles out don't forget to make a wish – you never know what might happen. Happy Birthday to a wonderful sister in law

We're not just sisters, we're friends. And friends throw each other kick-ass birthdays! So I hope you enjoy yours sis in law!
I know how difficult it must have been joining a new family but you opened your arms and treated us like we'd known each other all our lives. I'm so pleased and appreciate how warm, generous and loving you've been. Here's to an amazing birthday and many more
I could never have imagined how close we'd become but I now can't begin to think about you not being in my life. We're family through and through. Happy Birthday sister!
I've got you a lovely birthday gift but I must remember to give my bro one as well – he deserves it for finding and managing to convince you to marry him! I'll never work out how he managed it but am so glad you came into my life. Have a truly special birthday
You've added strength, love and generosity to our family. And maybe most importantly I've made a friend for life. Happy Birthday to an amazing sister in law

I'm just going to say it because we've all been thinking it for ages now – what did you see in my brother!? Whatever it was I'm so pleased you did though, as I've now got the best sister in law in the world. Happy Birthday girl!
To my very special sister in law: have a special birthday surrounded by friends and family
I learn and grow by having you as a sister in law. You're amazing. Happy Birthday
Being related by blood is important, but it's not everything. Sometimes you just know by the relationship you have that someone was meant to be your sister. And we're sisters through and through. Happy Birthday sis
We may not have been related from birth but the connection we have means we knew we were meant to be sisters from the start. Happy Birthday to an incredible sister in law
As today is your birthday it's the perfect time to tell you how special you are to me. Having you as a sister in law means the world to me and I look forward to many more years of having you as part of the family. Happy Birthday
My brother may be my most annoying sibling and we may not always get along, but I do love him. Now I love him so much more for bringing a person like you into our lives! Happy Birthday
SEE MORE: 15th Birthday Messages
Funny Sister in Law Birthday Messages
You may want to have a bit of a joke on your sister in laws birthday, if she's the right type. A good way to put a smile on her face is with a funny message. Try one of the witty and humorous wishes below for your card or to say in person and have a laugh on her big day.
I didn't bother getting you a gift as you have me – the most amazing, beautiful and intelligent sister you could ever need! Happy Birthday!
Don't forget to blow your candles and wish for whatever you want. Well, apart from being younger. That ship has sailed I'm afraid! Happy Birthday sis!
Lets celebrate your birthday by agreeing to spend the next year tormenting your husband/my brother! Let's face it – he deserves it!
It may be your birthday but don't forget you owe me! Remember, it's me who tells you all my bro's secrets and past mistakes you use against him!
Happy Birthday sis! Who knew I'd find someone who loved wine, gossiping and trashy TV as much as me!
Don't worry, seeing as we're sisters now I promise I won't tell anyone how old you REALLY are. So Happy '28th' Birthday!
Happy birthday to my sister-in-law. Here's to another year of surviving my brother!
Happy Birthday! Always good to know there's another kidney in the family if I need one!
I can't believe my sister in law is 25 today. Mainly because I know your real age! Happy Birthday
I smile because you're my sister-in-law, and I laugh because there's nothing I can do about it!
I'm so lucky to have a smart, beautiful, funny, and slightly older sister-in-law
You seem to attract great things. Just think! You got my brother and our whole family!
Birthday Quotes
Sister in law by chance, friends by choice – Unknown
A sister-in-law is the perfect best friend

If I didn't have you as a sister in law, I'd choose you as a friend! – Unknown
Happiness is going shopping with my sister in law. She's got the traits of my husband that I like, with the added bonus of her love of shopping!
Sisters are special, from young ones to old. God gave me a sister. More precious than gold.

Sister in laws are like "The Other Women" in a relationship
Giggles, secrets, sometimes tears. Sisters and friends through the years
There is no better friend than a sister, and there is no better sister than you!

Having a sister is like having a best friend you can't get rid of. You know whatever you do they'll still be there
Side by side or miles apart, we are sisters connected by the heart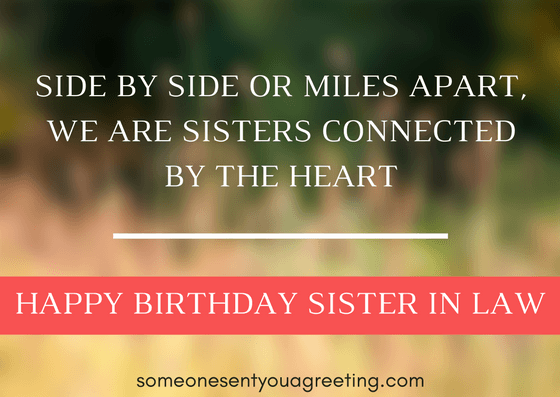 Birthday Messages for Facebook
If you're not sending a card then wishing your sister in a law a happy birthday on Facebook is the next best thing. You can use the examples below as status updates or as a comment on posts and walls.
Happy Birthday sis! Have a great day!
Sorry I couldn't be there but happy birthday to my favourite sister in law
Happy Birthday to the best sister in law in the world!
You're an amazing sis in law and deserve a wicked birthday
Happy Bday sis! Have a good one
I know it won't be the same without me there but try to have a good birthday sis!
Dance, eat cake and have an awesome birthday!
It's my sister in laws Birthday! She's amazing and won't mind I haven't got her a gift
Happy Birthday to you, my incredible sister in law. Love you!
Happy Birthday sis! May you have many, many more good years, fun times and great memories to share!
Happy Birthday Sister in Law Images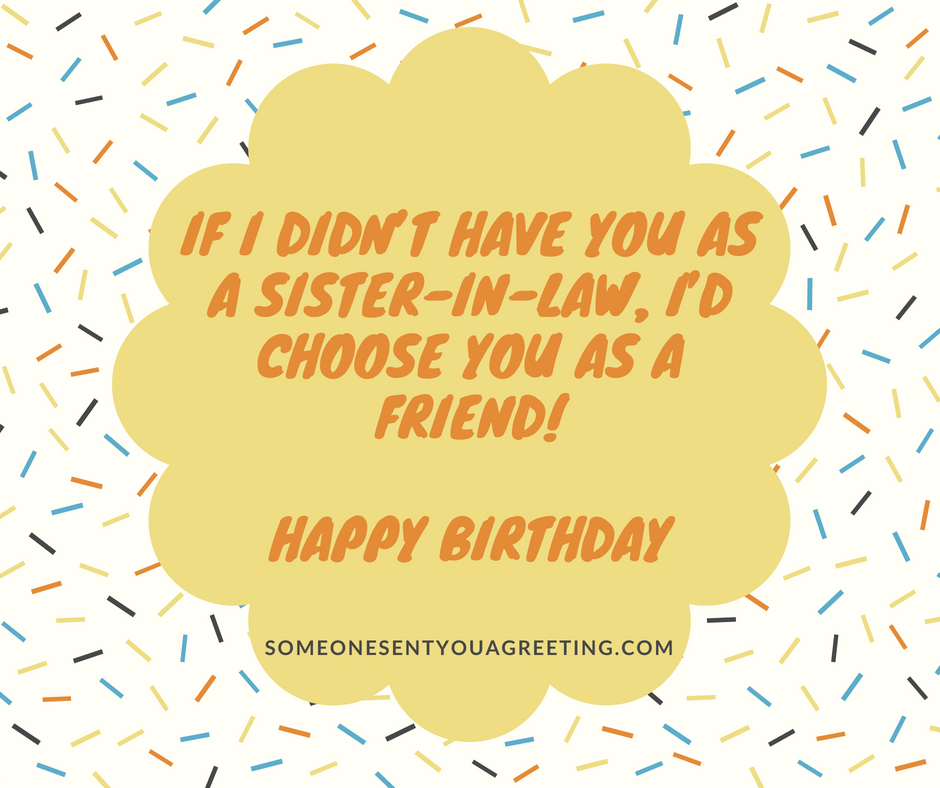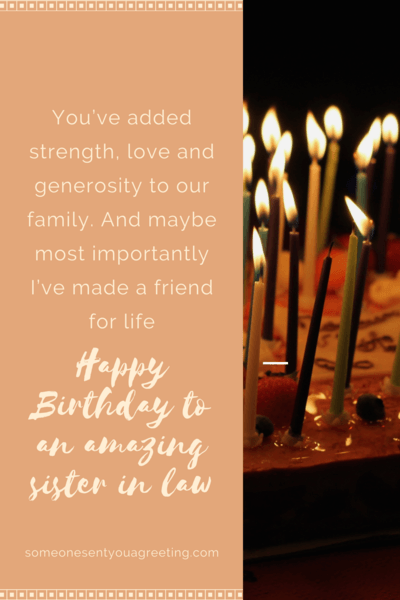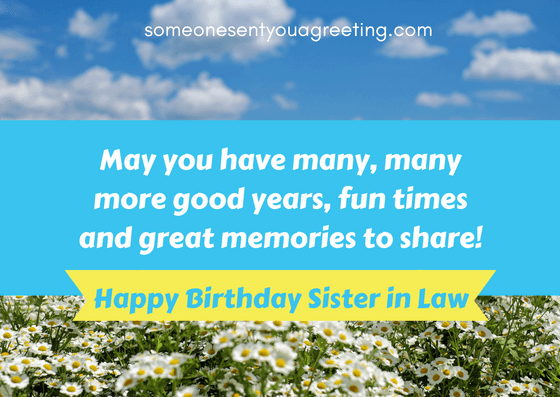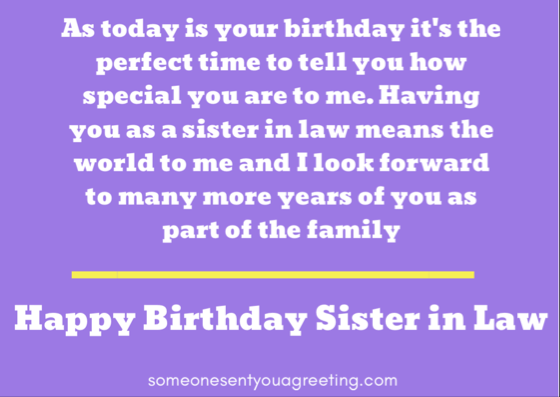 Hopefully these examples will help you to wish your sister in law a happy birthday and let her know just how special she is to you.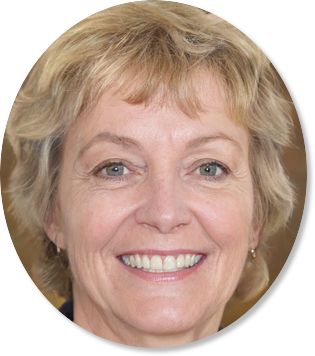 Sally Gibson is the founder of Someone Sent you a Greeting, a holiday/celebration website. Sally's writing work has been mentioned in Woman's World, Yahoo, Women's Health, MSN and more. If you have any questions get in contact with one of the team via the about page.