Law Enforcement Appreciation Day is observed on January 9th each year. It's a day when we honor the service and sacrifice of law enforcement officers.
This day gives us an opportunity to show our support and gratitude to all the brave men and women who put their lives on the line every day to protect our communities.
So wish a police officer a happy law enforcement day with these quotes and wishes and show them how much you appreciate all they do.
Law Enforcement Appreciation Day Quotes
"A hero is someone who has given his or her life to something bigger than oneself." – Joseph Campbell
"Courage is resistance to fear, mastery of fear – not absence of fear." – Mark Twain
"The wicked flee when no one pursues, but the righteous are as bold as a lion." – Proverbs 28:1
"It is not the critic who counts; not the man who points out how the strong man stumbles, or where the doer of deeds could have done them better. The credit belongs to the man who is actually in the arena, whose face is marred by dust and sweat and blood; who strives valiantly; who errs, who comes short again and again, because there is no effort without error and shortcoming; but who does actually strive to do the deeds; who knows great enthusiasms, the great devotions; who spends himself in a worthy cause; who at the best knows in the end the triumph of high achievement, and who at the worst, if he fails, at least fails while daring greatly, so that his place shall never be with those cold and timid souls who neither know victory nor defeat." – Theodore Roosevelt
"Badges don't grant extra rights." – Captain America
"We sleep safely at night because rough men stand ready to visit violence on those who would harm us." – Winston Churchill
"No one is to be called an enemy, all are your benefactors, and no one does you harm. You have no enemy except yourselves." – St. Francis of Assisi
"If you want peace, work for justice." – Pope Paul VI
"The greatest glory in living lies not in never falling, but in rising every time we fall." – Nelson Mandela
"Our lives begin to end the day we become silent about things that matter." – Martin Luther King Jr.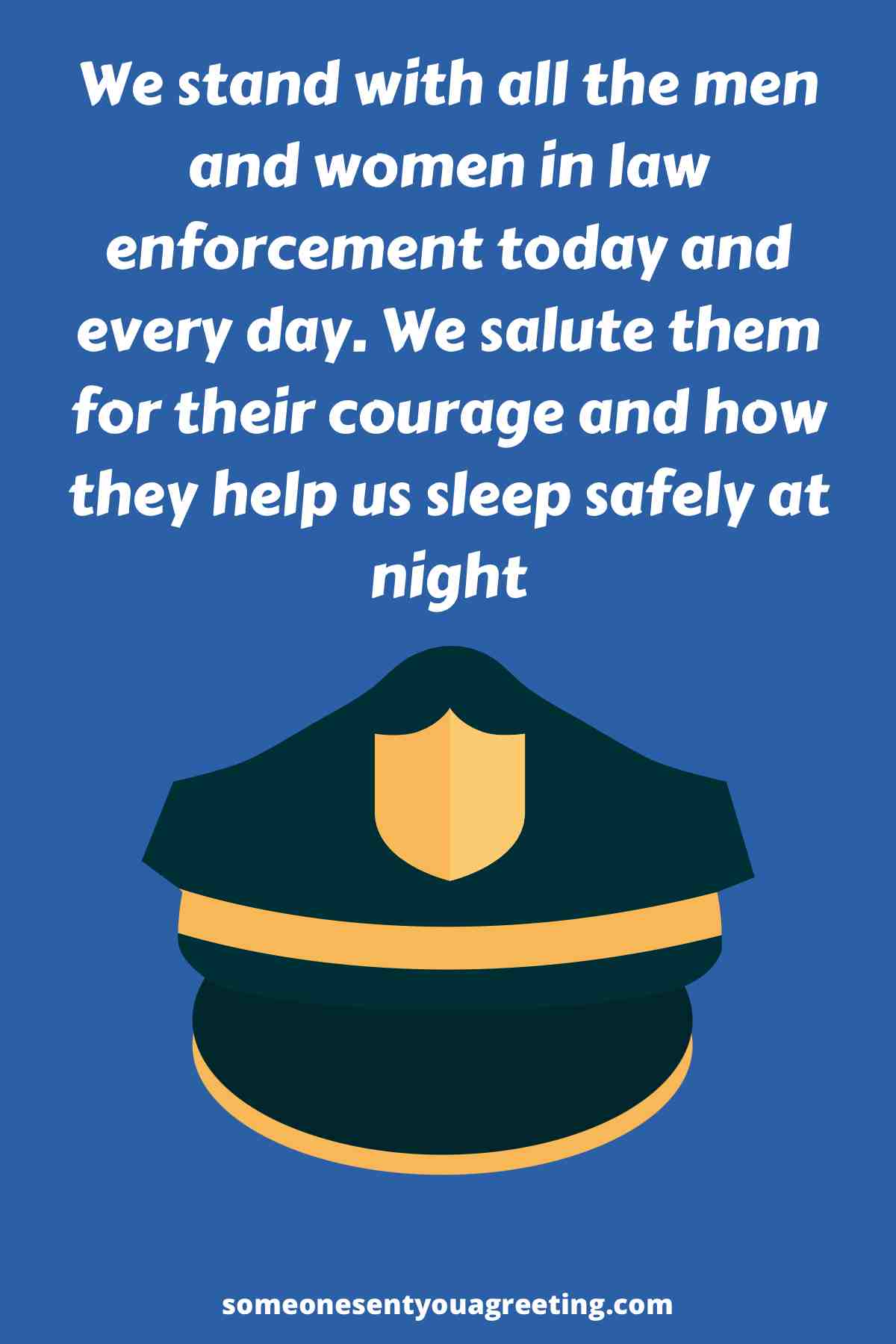 Law Enforcement Appreciation Day Messages
Thank you for your selfless service and for keeping our community safe.
Sending warm wishes to the police officers out there who are risking their lives to protect us every day. Happy National law enforcement day.
It's your bravery that keeps us all safe. A big thank you on National Law Enforcement Appreciation Day.
We appreciate the sacrifices you make every day to protect us. Today is your day.
You run toward danger when others run away – we salute your courage!
Our community is better and safer because of your commitment to serve. We are indebted to all you do.
We feel safe and have peace of mind because of your quick response in emergencies.
We are beyond grateful to those who are willing to put their lives on the line. They are true heroes.
Law enforcement officers hold a special place in our society. They are a unique and exceptional type of person who makes everything safer for the rest of us.
We stand with all the men and women in law enforcement today and every day. We salute them for their courage and how they help us sleep safely at night.
Stay safe as you selflessly protect our families and homes. We are thinking of you so much today, because it's your day, but every day as you protect all we love and treasure.
Thank you for being the thin blue line that shields us from harm.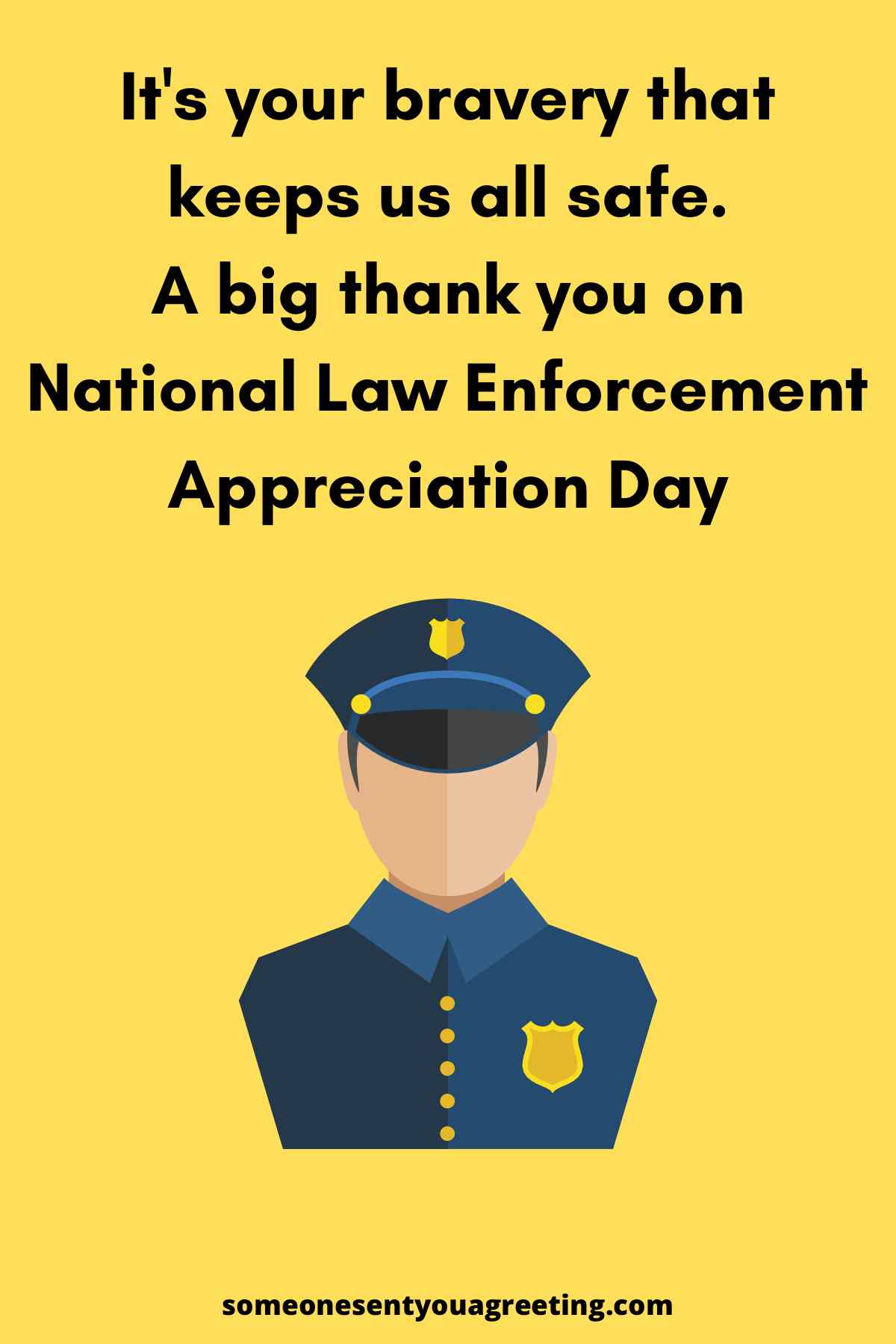 Thank You Law Enforcement Quotes
"A hero is an ordinary individual who finds the strength to persevere and endure in spite of overwhelming obstacles." – Christopher Reeve
"There are many who show up so we can have our freedoms. We can show up for them now." – Amit Sood
"A friend is someone who protects you. A hero is someone who protects everyone." – Anthony T. Hincks
"A policeman is a friend in need." – Bangambiki Habyarimana
"No duty is more urgent than that of returning thanks." – Unknown
"Better than honor and glory is still the simple duty." – Wilhelm Busch
"Always do what is right. It will gratify half of mankind and astound the other." – Mark Twain
"What we owe to to our brothers and sisters in uniform for their service and sacrifice can never be repaid. They deserve our thanks and our support." – Doc Hastings
"This nation will remain the land of the free only so long as it is the home of the brave." – Elmer Davis
"The police are the public and the public are the police." – Sir Robert Peel
Quotes for Honoring Police Officers
"Being a police officer has always been more than just a job. It is a way of life." – Anonymous
"The policeman, standing on his beat in all kinds of weather, is exposed to great danger and responsibility, yet his pay is very small. We cannot too highly honor the men who choose this hazardous work as their vocation." – Gertrude Atherton
"A policeman, as you discover, has to put up with a hell of a lot of abuse. A man in any other line of work would nail a guy who laid that kind of abuse on him. I know I would." – Kent McCord
"The legacy of heroes is the memory of a great name and the inheritance of a great example." – Benjamin Disraeli
"A good policeman, as he protects the right of the individual, likewise protects the community as a whole." – Robert F. Kennedy
"Blessed are the peacemakers, for they will be called children of God." – Matthew 5:9
"We would like to live as we once lived, but history will not permit it." – John F. Kennedy
"The police officer learns to live with doubts, uncertainties, and ambiguities, to apply discretion and judgment to conflicting choices, to carry out duties without favor or affection." – August Vollmer
"A policeman's first obligation is to be responsible to the needs of the community he serves… The citizens are his employers, his first responsibility is watchful care over their lives and property. The policeman performs his duties well when the public is his friend and when the lawbreaker fears the policeman." – J. Edgar Hoover
"They didn't want it good, they wanted it Wednesday." – Robert A. Heinlein
Law Enforcement Appreciation Day is a time to reflect on those servicemen and women who put their lives on the line to protect us. I hope these quotes and messages will help you express your gratitude for their courage and sacrifice.
On this day, and really every day, we should try to show support for law enforcement officers and honor the role the have in keeping all of us safe.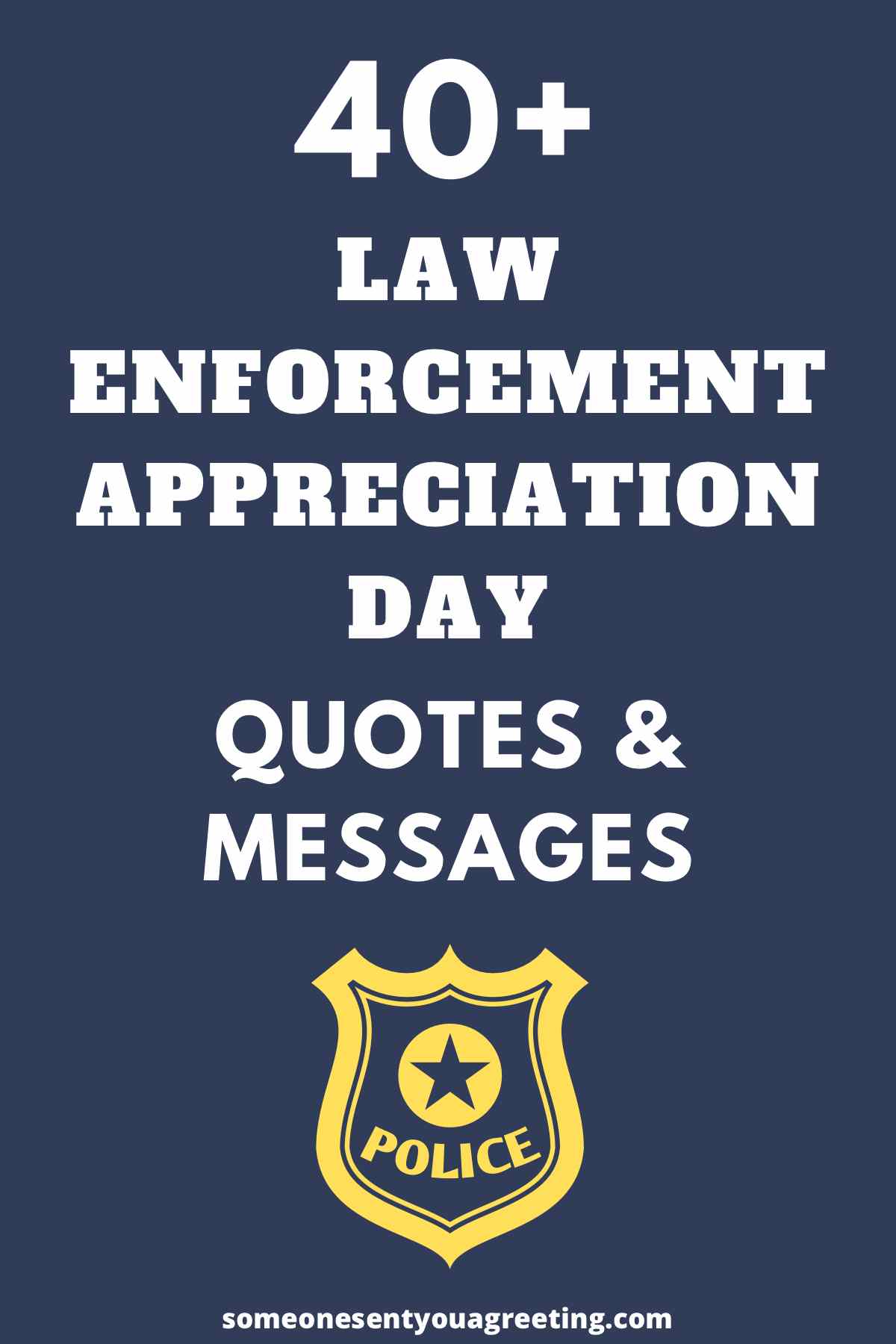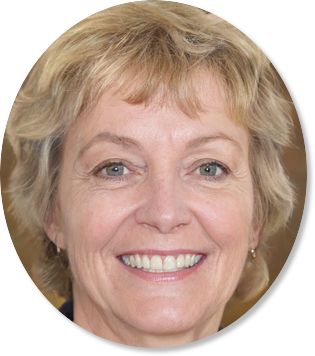 Sally Gibson is the founder of Someone Sent you a Greeting, a holiday/celebration website. Sally's writing work has been mentioned in Woman's World, Yahoo, Women's Health, MSN and more. If you have any questions get in contact with one of the team via the about page.