Boss Day? I know what you're thinking – why exactly would I want to celebrate a day for my boss? They're in charge! They get more money, have all the authority, gain more respect, and on top of all that they almost certainly order you around.
So the idea of celebrating a day devoted to them doesn't sound very popular. And yet wishing your manager a Happy Boss Day is a thing.
In fact if you're reading this you probably already know about Boss's Day. But for the uninitiated, it's a day where you show appreciation to your manager in the form of gifts, cards or just a happy greeting. There's no religious significance and you don't really get a choice in it either.
But, for all the cynicism, you might actually like your supervisor. Not every boss is a harsh taskmaster. Many are kind, helpful and good to work for.
If so then you are going to want to send them a touching or heartfelt message on their day. Try these happy Boss Day messages that are perfect in a card, to go with a gift or just to say in person.
Boss Day Messages
I just wanted to let you know what an amazing boss you are. We all look up to you and take inspiration from the example you set
You're not just a boss, you're a leader for us all. Thanks for everything you do
I should probably say it more often but I appreciate all the hard work you do for the company. You're a real asset
Ever since I joined the company you've helped me settle in and feel welcomed. Thank you for being a great boss
Only one day a year? A boss like you deserves to be celebrated every day! Thanks
Your support and dedication to your work is inspiring to everyone. Thanks for being such an outstanding leader
Happy Boss Day to a mentor and a friend. Enjoy your day, you've earned it
Your hard work and desire to see us and the company succeed is just the sort of leadership we need. Happy Boss's Day!
You really are a one in a million Boss. Have a wonderful day!
I'm so glad to have a boss and mentor like you. Thanks for all the support. Happy Boss Day!
The best part of this job? It's having you as my manager!
With you as boss I actually look forward to coming to work! I'm not sure I can pay you a compliment any bigger than that
Boss's Day gives me the chance to thank you for all your incredible work! Enjoy your well deserved day
May this just be one of many Boss Days you celebrate in a brilliant career
I've had some pretty good bosses over the years but I can honestly say you're the best yet! Happy Boss Day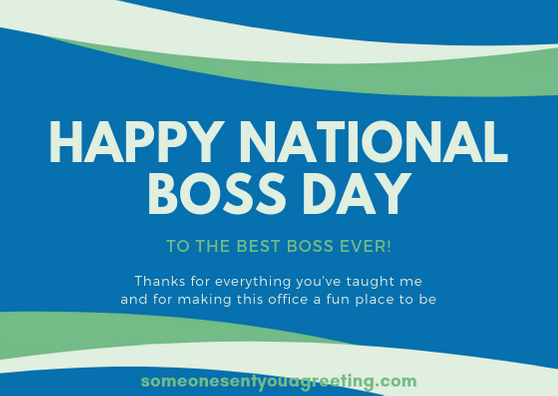 Funny Boss Day Quotes
If you're close to your boss then you might want to consider a funny message. Gently making fun of or joking with them on their day is a great way to get your manager laughing. And a boss in a great mood can only be good for the employees!
Happy Boss Day! I regret to inform you that everyone will be too busy kissing your butt today to get much work done
You're the best boss I've ever had, and I'm not just saying that because I want a raise
Happy Boss's Day from your favorite employee!
Whoever invented National Boss's Day was probably trying to suck up to their boss. With that said, Happy Boss's Day to the greatest manager who has ever lived
Somehow you manage to wade through a ton of B.S. every day and still come out smelling like a rose
"The customer is always right" must've been a typo. We all know the real quote is "the boss is always right." Happy Boss Day!
If you really think that I am going to go on and on about how great of boss you are… then you are absolutely correct!
Congratulations! You're the first boss I haven't wanted to punch in the face
"My Boss frequently gets lost in thought. That's because it's unfamiliar territory" – Unknown
"Ability is what will get you to the top if the boss has no daughter" – Unknown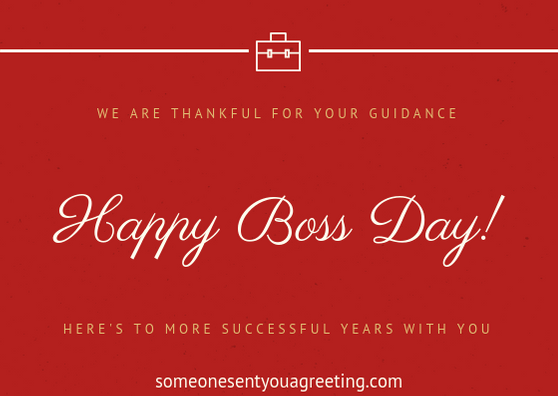 Boss Appreciation Messages
Your boss may be one who looks out for his employees and goes that extra mile to support them. If so then your your message should come from the heart and show just how much you appreciate your manager.
When I was struggling – you were there. You understood and gave me the time I needed. I can't thank you enough, you're an amazing boss. Have a great day
You're always there to help if we need it, answer a question if we aren't sure and generally support us in our work. Thank you and enjoy your day – you deserve it
I appreciate all you do as a boss, but even more as a friend
It's through your mentoring and support I've managed to achieve as much as I have. Thank you for your hard work and have a wonderful boss's day
You've guided and inspired me to new heights in my careers. I can't thank you enough and cherish working for you
Your encouragement and inspiration have been key to how well we all work together. Your role should never be underplayed and you have earned the respect we have for you
You've been tough when needed but also fair and kind when we were struggling. That support doesn't go unnoticed and we're all so pleased to have you as our boss
You not only lead but inspire. I feel blessed to have you as my boss. Thanks for everything
Some people are born to lead, and to you it just comes naturally. Keep doing such a great job!
Whenever we have faced a problem we have always had you to turn to. That doesn't go unnoticed and we all truly appreciate what you do
You're not just a boss but also a teacher and I've learnt so much from you. Happy Boss Day
You really go the extra mile for your employees and help make our lives easier. We appreciate you so much. Thanks for everything and have a wonderful day
You bring out the best of me and all everyone else who works under you. Thank you and Happy Boss Day!
Every leader can be a boss but not every boss can be a leader. You are amazing Boss as well as a leader.
Happy Boss Day!
Boss Day Quotes
An insightful or inspiring quote from someone famous is also a good way of showing your appreciation for a manager. These boss quotes are a good fit for a boss day card or to accompany a gift.
"Management is doing things right; leadership is doing the right things" -Peter F. Drucker
"The best leader is the one who has sense enough to pick good men to do what he wants done, and self-restraint enough to keep from meddling with them while they do it" – Unknown
"A leader takes people where they want to go. A great leader takes people where they don't necessarily want to go, but where they ought to be" -Rosalynn Carter
"In many businesses, today will end at five o'clock. Those bent on success, however, make today last from yesterday right through to tomorrow" –
Elbert Hubbard
"Leadership is an action, not a position" -Donald McGannon
"People ask the difference between a leader and a boss. The leader leads, and the boss drives" – Theodore Roosevelt
"A good leader leads the people from above them. A great leader leads the people from within them" -M.D. Arnold
"The ear of the leader must ring with the voices of the people" – Woodrow Wilson
Hopefully these wishes and quotes will have helped you find the perfect message to wish your boss or manager a Happy Boss Day. And don't forget – Boss Day is 16th October! Write it in your diary and at the least make sure you say a few appreciative words to your boss.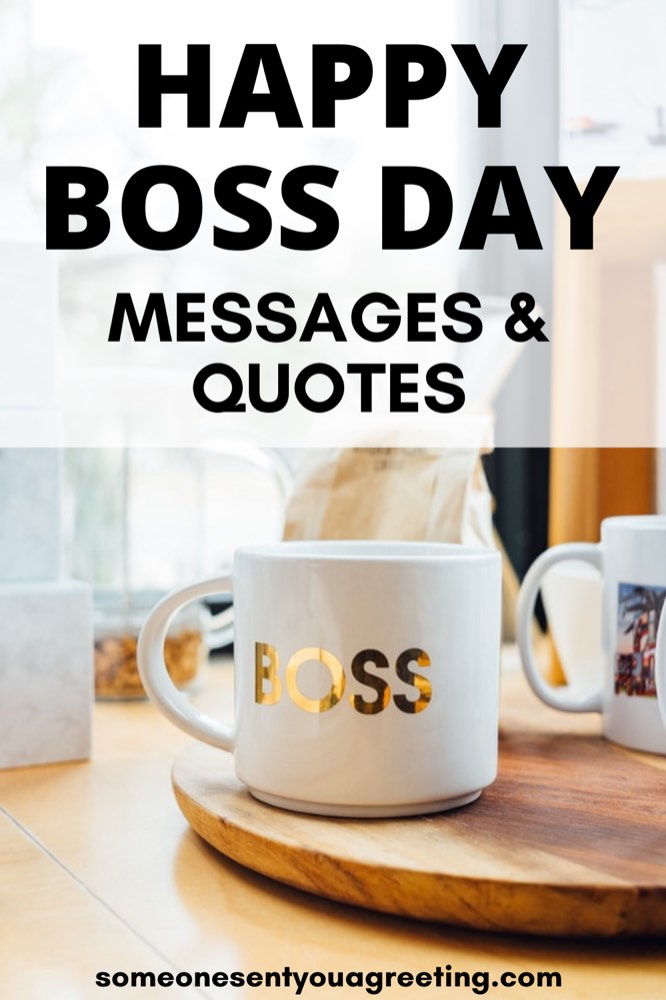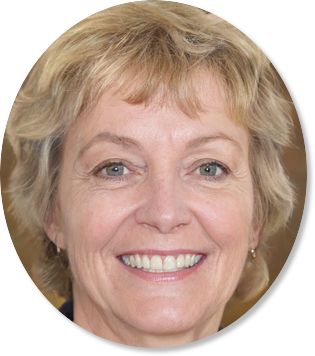 Sally Gibson is the founder of Someone Sent you a Greeting, a holiday/celebration website. Sally's writing work has been mentioned in Woman's World, Yahoo, Women's Health, MSN and more. If you have any questions get in contact with one of the team via the about page.