Do you remember that one teacher who believed in you? Or maybe you have one now. It may have been at preschool, middle or high school or even at university.
But most of us have that special teacher who made lessons come alive or started a lifetime of love for a certain subject. They may have even been the reason for the job and career you have now!
And now it might be a child of yours with a teacher who goes that extra mile for them. If so then you probably want to show your appreciation for all they do.
Dedicating your life to others, as teachers do, is a selfless act. So giving a thank you card with some words of appreciation for what they do will be hugely appreciated.
Expressing your gratitude for the time and effort they put in is a small gesture but will go a long way. And if they've inspired your child or helped them through a tough time then it's the least you can do.
So if you're not sure what to say in a thank you card or note then use the wide range of thank you messages for teachers below and find the best way to say thanks and show your appreciation.
Thank You Messages for Teachers from Parents
As a parent you will be so grateful for a teacher that inspires your child. Or one that works hard to help them reach their potential. Giving them a thank you note or card for that support is a kind way to show how much you appreciate their work. So use these thank you quotes and sayings to express your gratitude.
We just wanted to let you know we appreciate everything you do. We are lucky to have found such a fantastic teacher for our children. Thank you so much
We will forever be thankful for all the hard work and time you've spent making our child's education so smooth. We feel truly blessed to have found you
You've made such a difference in our child's life. We are so grateful for your guidance and wisdom in helping them to find their way. Thank you
Your inspiration and enthusiasm has helped our child to really come out of their shell. They've made amazing strides and we owe that to you
After struggling at school for a while we have been so happy to find a teacher that has been able to connect with our son. He has benefitted so much from you and we truly appreciate you and all you've done
At the end of this school year it feels right to express my gratitude for your continued help and diligence you've given to my child. He/she has made tremendous strides under your tutelage
Inspiration and understanding is key to reaching some children, and you're the best we've seen at getting through to them. We are super grateful that our child has you as their teacher
Love and kindness are essential to teaching and the way you look out for your students is to be admired. Our daughter is lucky to have you teaching them, and we are extremely thankful
My daughter comes home from school and all she talks about is you! Whatever it is you're doing, it works. Thank you for your enthusiasm and keep up the good work
You manage to be tough when it's needed but warm and considerate as well. You've helped my child become a well rounded person and I'm very grateful. Thank you
There's a difference between an educator and a teacher. Your perseverance and dedication to your students sets you apart and makes you a truly special teacher. I'm so thankful my son/daughter found you and the results speak from themselves. You're wonderful and I can't thank you enough
Putting a child in a good school can never compare to finding a child a great teacher. We feel so blessed that we found you. Thanks for everything!
Teachers have to deal with all the stress and problems of their students and get so little in reward. So I hope this message of appreciation for all you've done for our son/daughter goes a little way to showing how much we value all you do. Thank you
Nowadays our son/daughter comes home from school happy and upbeat. You've provided a positive environment that has enabled them to fulfil their potential. We are so very grateful
They say teachers plant seeds, which grow forever. Thanks for being such a wonderful gardener to our children!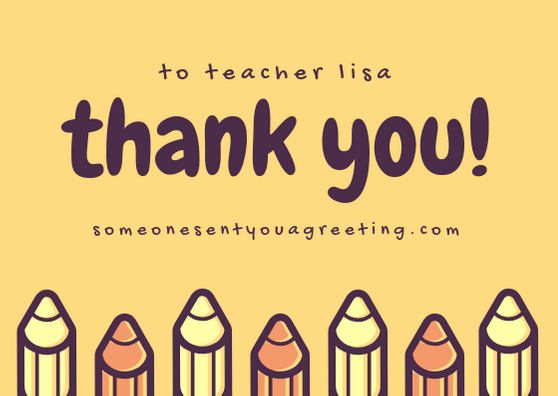 Short Thank You Messages for Teacher
Maybe you just want a quick thank you message for your teacher to go on a small note or card. These short thank you messages are perfect if that's the case.
Thanks for being such a great teacher!
You're an amazing teacher and we're so grateful to have you
Thanks for putting up with me! You're the best teacher in the world
Thank you getting me through my exams. I didn't think I could do it
You inspired me to fulfil my true potential. I'll always be grateful for that
You taught me so much and I'm so thankful to have had you as my teacher
We couldn't have wished for a better teacher. You're awesome, thanks!
To an outstanding educator – thank you for never giving up on me
Teaching is hard and you've never complained. You just did your job, and dud it brilliantly. Thank you
I will forever be thankful that you walked into my class
Teaching requires dedication and passion, and you have those in abundance. Thank you for being such an inspiration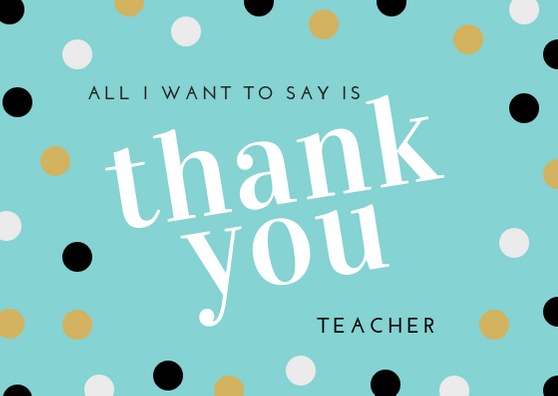 Thank You Messages for Teachers from Students
You may want to thank a favourite teacher of yours or one who has really been there to help when you've needed them the most. They will appreciate knowing they've had a positive effect on their students and played a part in helping them reach their full potential. And these thank you card messages should put your feelings into words.
You were the one teacher, over all the years, who left an impression on me. You were the best, and I appreciate it so much
I know I was a handful at times, so it may not seem like it, but I appreciate all you did for me. You were a truly special teacher and I'm so grateful to have been taught by you
Your drive, passion and determination are an inspiration to all your students. It's because of you I found my love for learning and have gone on to achieve all I have. Thank you for everything
I know I didn't pay enough attention, messed around and talked too much, but you never gave up on me. Thank you for being the one who believed, all along. I won't forget it
You've always been an amazing example for your students and we have been inspired by your achievements. Thanks for everything
I don't think I ever fully appreciated the effort and hard work you put into teaching me. Thank you for that, and for getting the lessons across that I needed
Thank you for going above and beyond and being more than just a teacher, but a mentor. We wouldn't be where we are without your guidance
I struggled so much with school until you came along. I couldn't believe just a teacher that could capture my attention and inspire me would lead to such a change. But you did it. And I'll be eternally grateful
Was the stress, long hours and dealing with annoying teenagers worth it? I hope so because you're an amazing teacher and I can't thank you enough!
Your smile and energy were such a ray of light. You made classes come alive and for that I will always remember you
Your guidance has prepared me for the world and enabled me to fulfil my potential. Thank you for all you did
These words won't fully express how I feel but hopefully they will get close to showing you how grateful I am you were my teacher. Thank you!
You always went above and beyond to make sure we could reach our full potential. From your favorite students – thank you!
Not only do you inspire me but you actually listen. When others don't really care, you do. I appreciate all you do so much. Thank you
For all you've done you will be forever in the hearts of your pupils. We want to send big hugs and wish you a huge thank you
Thank You Messages for Preschool Teachers
Preschool can be tough for young children. It's their first experience of a school-like environment. That can be really daunting. So having a kind and helpful preschool teacher can make all the difference. So if you want to thank a preschool teacher for helping your little one settle in or make friends try one of these thank you messages.
Preschool is at and end and we wanted to take the time to thank you for the amazing work you did this year. Our child has always been shy but your enthusiasm and encouragement has helped them to blossom. Thank you for being such a great teacher
We were really worried about sending our child to preschool but they are enjoying it so much. And that is all down to you. Your inclusivity and ability to help foster friendships has been the major reason for our son/daughter having such a great time. Thank you for all you do
We just wanted to tell you how much we appreciate all the hard work you do. You're an outstanding nursery teacher and we're lucky our son/daughter has you
Our little girl/boy comes home every day having learnt something new. The excitement and wonder she has is testament to your teaching. Thank you!
Your patience and understanding is what makes you such an awesome teacher. Our whole family is thankful to have you as _____'s daycare teacher
I'm delighted we found a preschool teacher like you. You've made learning come alive for our son/daughter and we are so grateful
Your dedication and joy in what you do is what inspires our children. They're lucky to have a teacher who ignites their love for learning and helps them to become better people from an early age. Thank you
It's the job of preschool teachers to guide our children as they take their first steps into education. You do that better than anyone. Thank you so much
The amazing steps ______ has made since you've been teaching him/her has been remarkable. We're so grateful – thank you!
The care and attention you show your children is clear for all to see. It makes your daycare class so popular and the children absolutely love you. As for us parents, we just appreciate someone who takes their job as seriously as you do
The difference you have made in my child's life has been dramatic and I'm thankful every day. I won't forget everything you've done. Thank you!
Please accept my gratitude for your unending hard work and contribution you've made to ______'s education. I value you so much
Our little boy/girl calls you his favorite teacher and we agree! His excitement and love for preschool is solely down to you and we are so happy you ended up his/her teacher
Leaving your child at daycare can be scary but you always make me feel so at ease. I'm so pleased so I found someone I can really trust. Thank you
To an amazing teacher – thank you! ______'s progress has been incredible since you've become his tutor and we are so pleased to see him genuinely happy at school now
Thank You Messages for University Lecturers
A university or college lecturer may not necessarily be seen as a teacher. But they do the same job. And you may want to thank them for helping you get through your degree or when you were struggling with college life. Use these examples of notes of appreciation to let them know you're grateful for their work.
I found college hard and you were patient and understanding with me whilst I got to grips with it. I really appreciate it and am grateful for having such a kind tutor
Thank you being such an inspiration and making learning come alive. I feel like I've learnt so much since you've become my teacher and look forward to learning even more
As I graduate I wanted to let you know how much I appreciate your lectures and what a help they were to me. You're a great tutor and one I'm going to really miss
I wasn't sure I was going to pass my exams and when I reached out for help you were more than happy to assist. I'll never forget that and the way you guided me through those tough periods. Thank you for being s special teacher
To my favorite tutor – you're brilliant! Thanks for all you do
Your lectures are not to be missed, you always have time when we have problems and you help inspire us to learn. You're really a special teacher. Thank you!
College can be hard, yet you understand that. You aren't just a teacher, you're a friend. And we appreciate that so much
Thank you for your inspiration and dedication. I always wanted a teacher like you and am unbelievably grateful I've now got one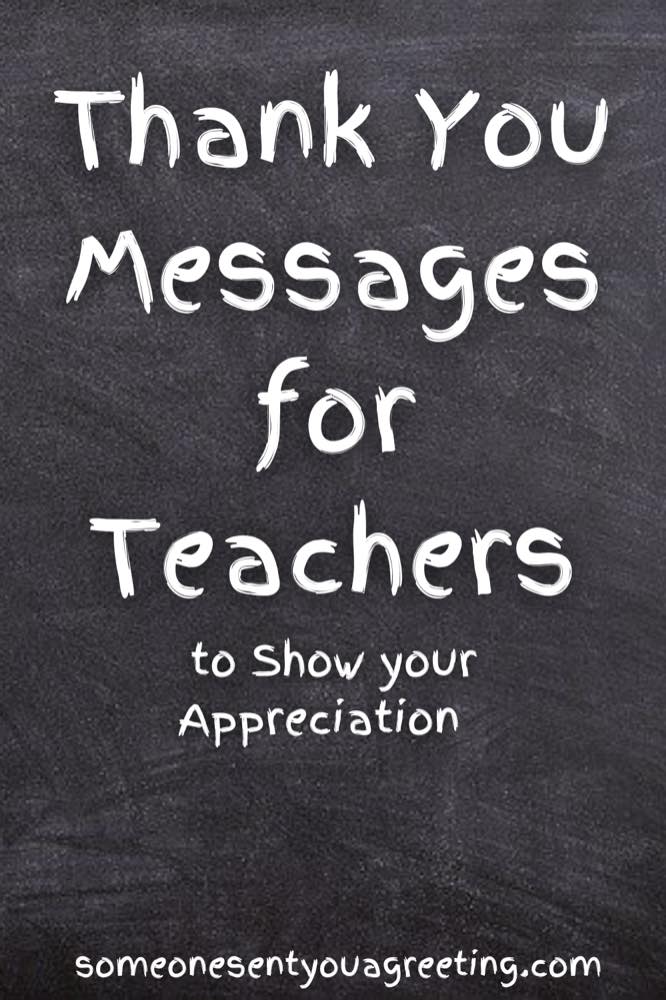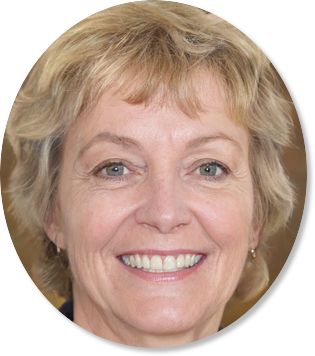 Sally Gibson is the founder of Someone Sent you a Greeting, a holiday/celebration website. Sally's writing work has been mentioned in Woman's World, Yahoo, Women's Health, MSN and more. If you have any questions get in contact with one of the team via the about page.