Are you stressed out about how to say merry Christmas to your boss? So are you in need of some sweet Christmas wishes for your boss?
Then you're in luck!
Christmas is a time for celebrating and enjoying the festive season. Parties, presents, good food and spending time with your family and friends.
And wishing each other a merry Christmas of course! But it can be tricky knowing how and what to say to certain people at Christmas time.
So in order to help find the right words we've put together some of the best Christmas wishes for bosses to help you out.
Knowing what to say in Christmas messages is harder than it might first seem. Finding the ideal wording is tricky. It's not easy to find respectful but festive wishes for your boss.
You want to make sure you don't forget to wish them a merry Christmas but it needs to be said in a way that is professional and in keeping with the workplace. Maybe you need the right wording for their Christmas card or note to go with a present you got them.
Whatever the reason use the boss Christmas wishes and quotes below to help inspire you to show your manager just how happy a Christmas you want them to have.
What do you Write in a Christmas Card to your Boss?
These sample Christmas wishes are perfect for wishing your boss a Merry Christmas. Use them in a card, with a present or even to share on social media.
Merry Christmas! Thank you for making the last year of work so enjoyable. You make the office a really fun place. Have a great Christmas
Merry Christmas and a Happy New Year! I feel lucky to have a boss like you and am looking forward to the coming year and getting stuck back into work!
Wishing you and your whole family a really great Christmas. I'm very lucky to have such a supportive boss
Thank you for such vital leadership over the last year. I don't know where the company would be without you. You've earned a relaxing and wonderful Christmas surrounded by friends and family. Enjoy!
The best gift I got this Christmas? Having you as a boss! Merry Christmas
Happy holidays to a boss that is as fair as they are fun. Have a great Christmas
Merry Christmas to a boss who's not just 'that guy in charge' but a really good friend. A happy holidays and new year to you and your family
After the amount of work we've had no one deserves a better and more relaxing Christmas than you! Enjoy the holidays
We've had an incredible year boss and so much of that is down to you. I hope you can look back on it over Christmas and take it just how much you've achieved
Happy holidays to my favorite boss! Have a great Christmas and looking forward to seeing you back at work soon
Merry Christmas and a Happy New Year! It's been a joy working for you and I look forward to many more great experiences in the coming year
I've witnessed your dedication first have and it's inspiring. Thank you for all you do. Have a wonderful Christmas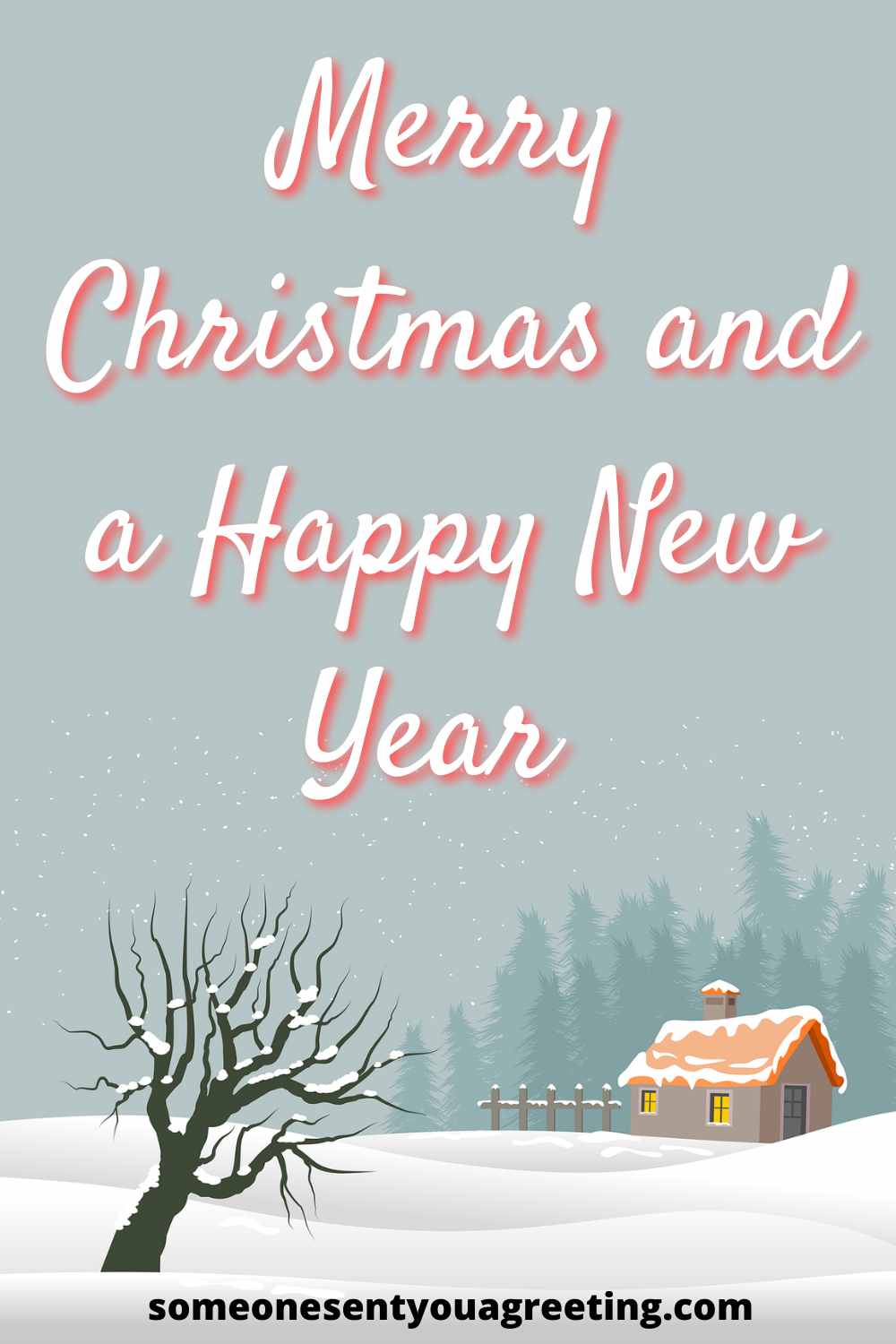 Christmas Wishes for Boss
Best wishes and a Happy New Year boss, from my family to yours
I am so grateful to have a manger that has given me as much time as I've needs to settle in. Thank you and have a Happy Christmas!
Having a boss as awesome as you is a gift that keeps on giving. I hope you enjoy a lovely Christmas with friends and family by your side
Merry Christmas boss! You've worked so hard I hope you can relax and enjoy the holidays now, and that there won't be a whole pile of work waiting for you when go back!
Having someone who leads and inspires like you do makes work so much more enjoyable. I can't wait to get back after the holidays and get stuck in! Merry Christmas
All my best wishes for a fantastic Christmas to you and your family
Let's enjoy the holiday season and try not to think of work for just a little while! I know that's easy for me to say, I'm not the boss! Merry Christmas
After what has been a year of ups and downs we've weathered those storms with you at the helm. Your leadership is invaluable and I am looking forward to more success with you in charge. Have a wonderful Christmas
I feel like one of the elves and you're Santa Claus! The jolly guy in charge! Happy Christmas boss
You have been such an amazing leader and mentor to me. I am so grateful for all your help and knowledge. Have a wonderful Christmas and New Year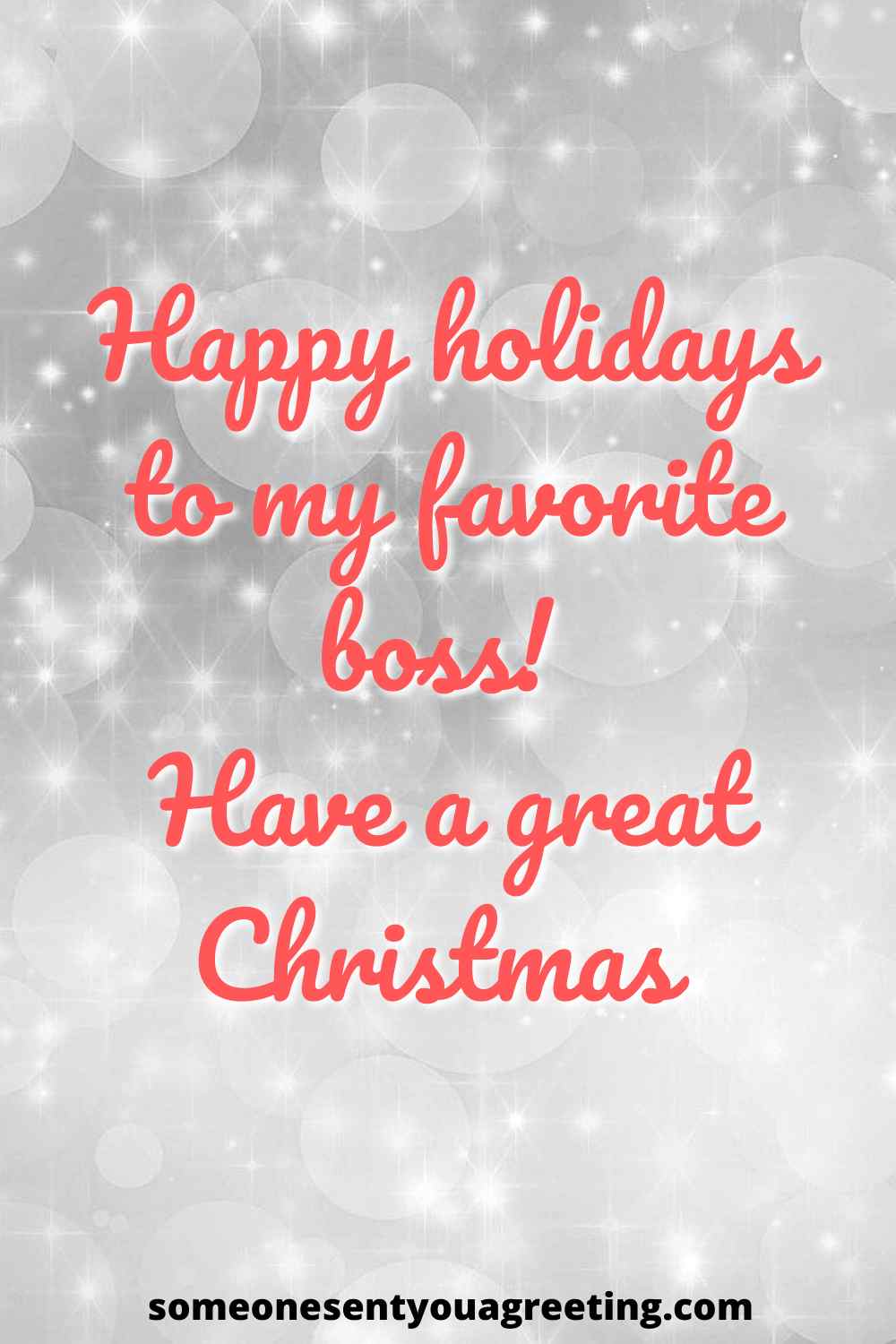 Holiday Greetings to your Boss
Share your festive spirit with these holiday greetings that show your boss how much you appreciate all they do at work.
I have an amazing family at home to celebrate Christmas with, but also a work family that mean so much to me. As our boss your the glue that holds it all together, and I know I'm not alone in saying how much I appreciate all you. Merry Christmas and a Happy New Year
Happy Holidays boss! Your commitment is unwavering and that's what makes you such a good leader. Christmas is the time for enjoying yourself with good food, friends and the best of times, so take it easy and enjoy all your success
Seasons greetings and my best wishes for a joy filled Christmas for you and your family
Seeing the work and effort you have put in over the last year – you have earned a long Christmas break and lots of presents! I hope all your Christmas dreams come true
Merry Christmas to a manager that keeps us in line but is always fair!
May your Christmas be just as amazing as you are and looking forward to seeing you again at work. Enjoy the holidays!
Every day in the office with you is like all my Christmases come at once! Ok, maybe that's a slight exaggeration but you're still pretty great! Happy Christmas
Merry Christmas to the best boss I could have ever asked for
May you have a happy and joyous Christmas surrounded by friends and family. Let's test now as we'll be back working soon enough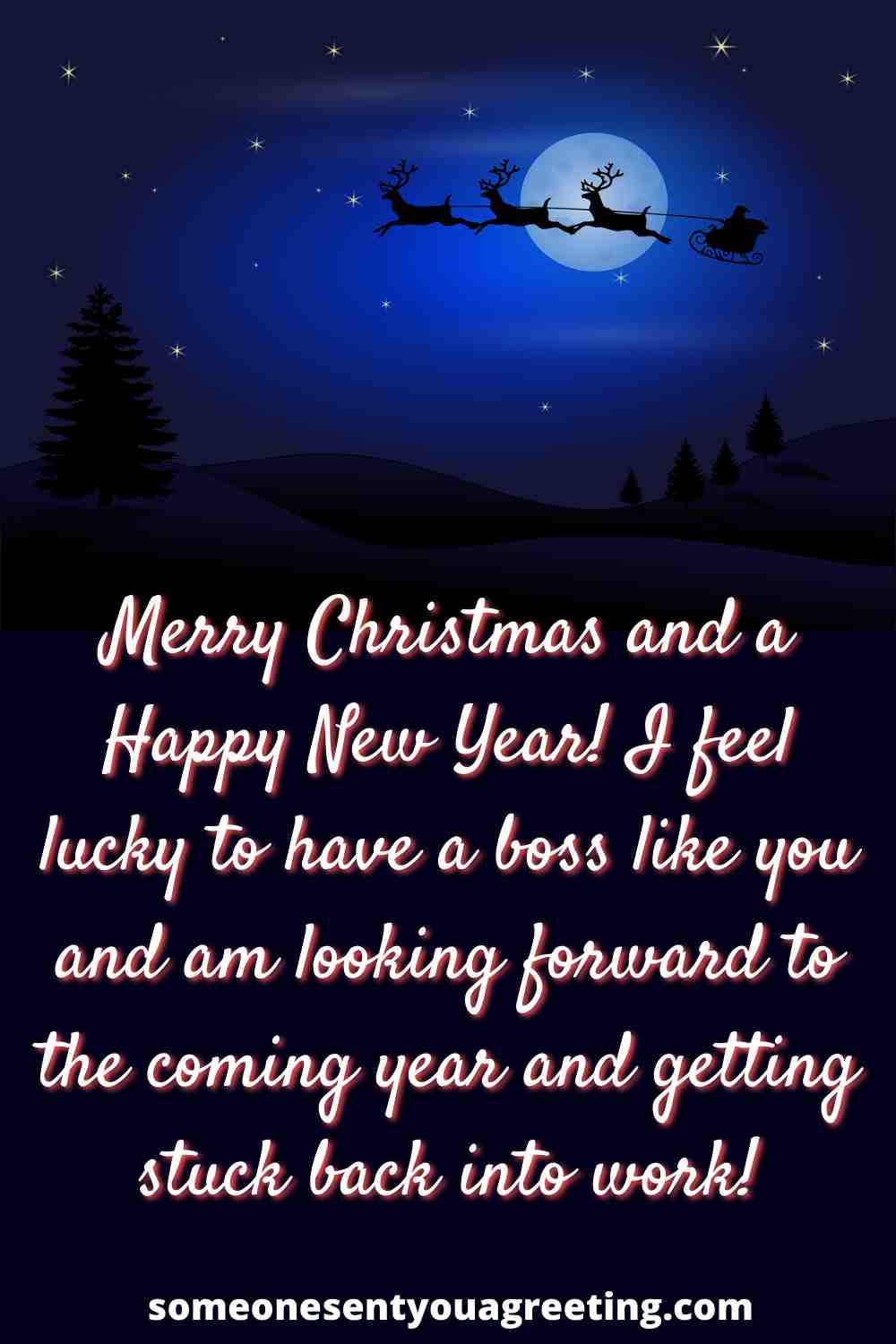 Christmas Wishes for Boss from Staff
If you're sending a card or gift to your boss from the entire office or staff then use these messages to wish them a happy Christmas from everyone involved.
We are delighted to get to work for someone like you. Your leadership inspired us all and we feel confident the next year will be even more productive than the last. Happy Christmas boss
We are grateful for all you do and feel blessed to have a boss that really goes the extra mile for his staff. Thank you and Merry Christmas
We appreciate all you do to help us succeed. It's your management that has seen us become so productive. You deserve a really amazing Christmas. Happy holidays
Our team has so much to thank you for. We wish you an outstanding Christmas full of joy
It feels like we've become a family at work and Christmas is when you appreciate your family the most. So thank you for all you do and for making it such a brilliant place to work. We really respect and value you so much. Merry Christmas
We have already had our Christmas gift this year – you as our boss!
From everyone in our team we just wanted to wish you a Merry Christmas and a Happy New Year
Our performances have improved, our work ethic is better and our enjoyment of the job as high as it's ever been, all thanks to you. Happy Christmas to a fantastic boss
We all agree that to have a boss that is as understanding and kind as you is by far away the best part of our job. We wish you and your family all the best for the holiday season
Wishing your boss a Merry Christmas might at first seen tricky – it can be hard to know what to say to those in a position of authority.
But hopefully these example messages and Christmas wishes will have helped you find the perfect words to express just how important your boss is or you and how much you hope they enjoy the holiday season.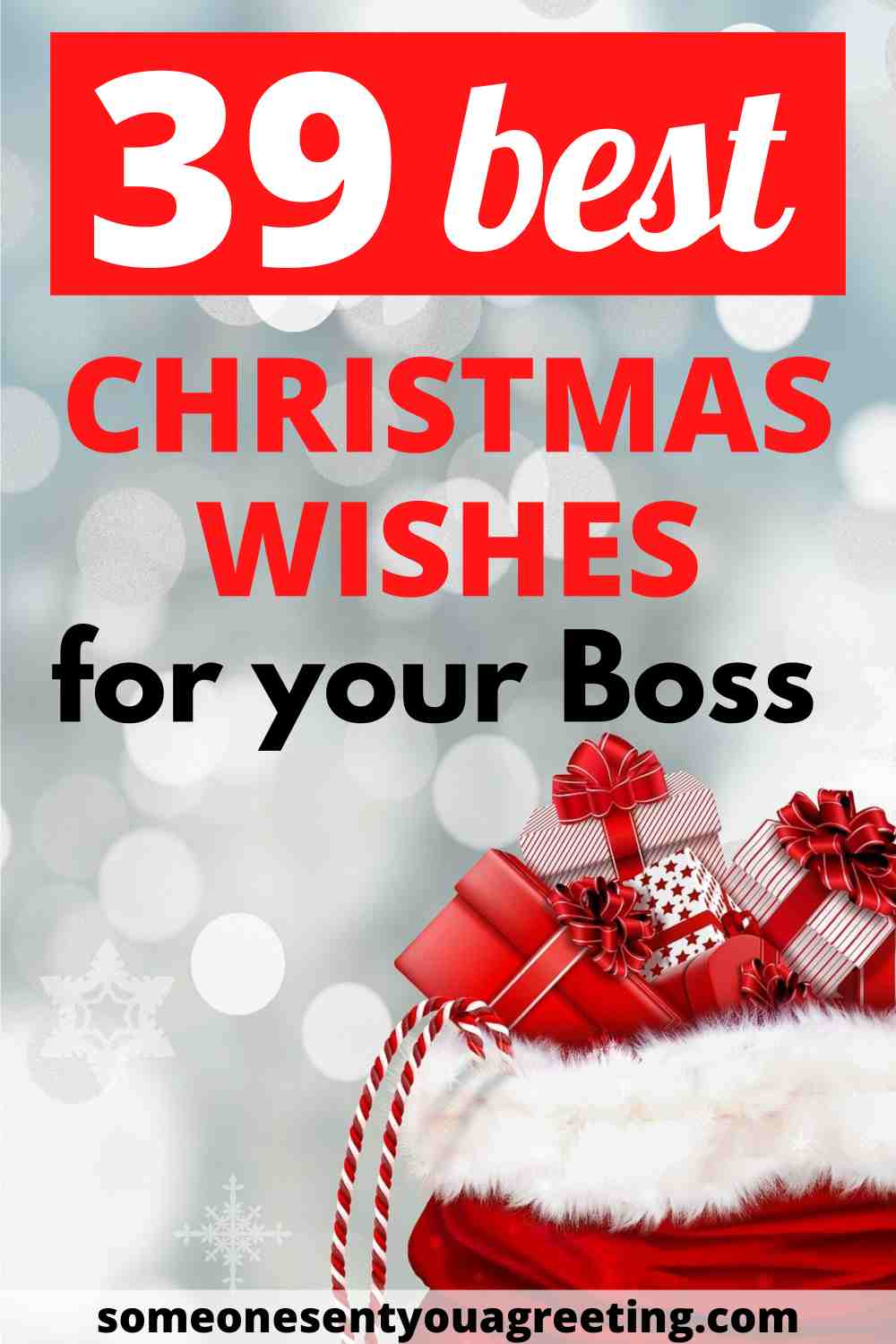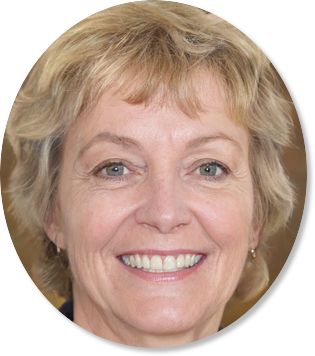 Sally Gibson is the founder of Someone Sent you a Greeting, a holiday/celebration website. Sally's writing work has been mentioned in Woman's World, Yahoo, Women's Health, MSN and more. If you have any questions get in contact with one of the team via the about page.