It's a big day for the whole office or company when the boss retires. To see the person who's been in charge retiring after years of service is quite a moment for them and the business.
Bosses have bad reputations – overbearing, giving out orders, harsh deadlines – but quite often they're fairer than we think. It can be hard to be the one in charge. And so even if you're relationship with your boss wasn't that great you should try to wish them a happy retirement.
But what do you say to a boss who is retiring? As an employee what is the right thing to say in a retirement message for your boss?
Well if you're struggling then these example retirement wishes will give you some inspiration and ideas for how to wish your boss a happy retirement.
Retirement Messages for Boss
Happy retirement! Wishing you lots of love and good times as you enjoy a well earned rest
To a boss that has always been there for us – enjoy your retirement
Wishing you a retirement that is filled with laughter, family and great memories
Enjoy your retirement boss! I will never forget what a brilliant manager you were
I will always remember my first day here and how you helped me settle in and not be overwhelmed by it all. Since then you've been the person I could turn to with any problems. I'm going to miss you as a boss, but also as a friend. Goodbye
Aren't you too young to retire!? Only joking, hoping your retirement is a fantastic time
Congratulations on an amazing career. You have done it all and now get to enjoy the fruits of your labor
We wanted to send our best wishes for your retirement. We hope you get to do all the things you've dreamed of and it becomes the best time of you life
The office is going to be a poorer place without you there. I will miss you so much and want to thank you for being a really caring boss
Not a day will go by when I won't be thankful for your leadership and experience. I don't know how we will cope without you! Goodbye and think of us when you're enjoying all that lovely free time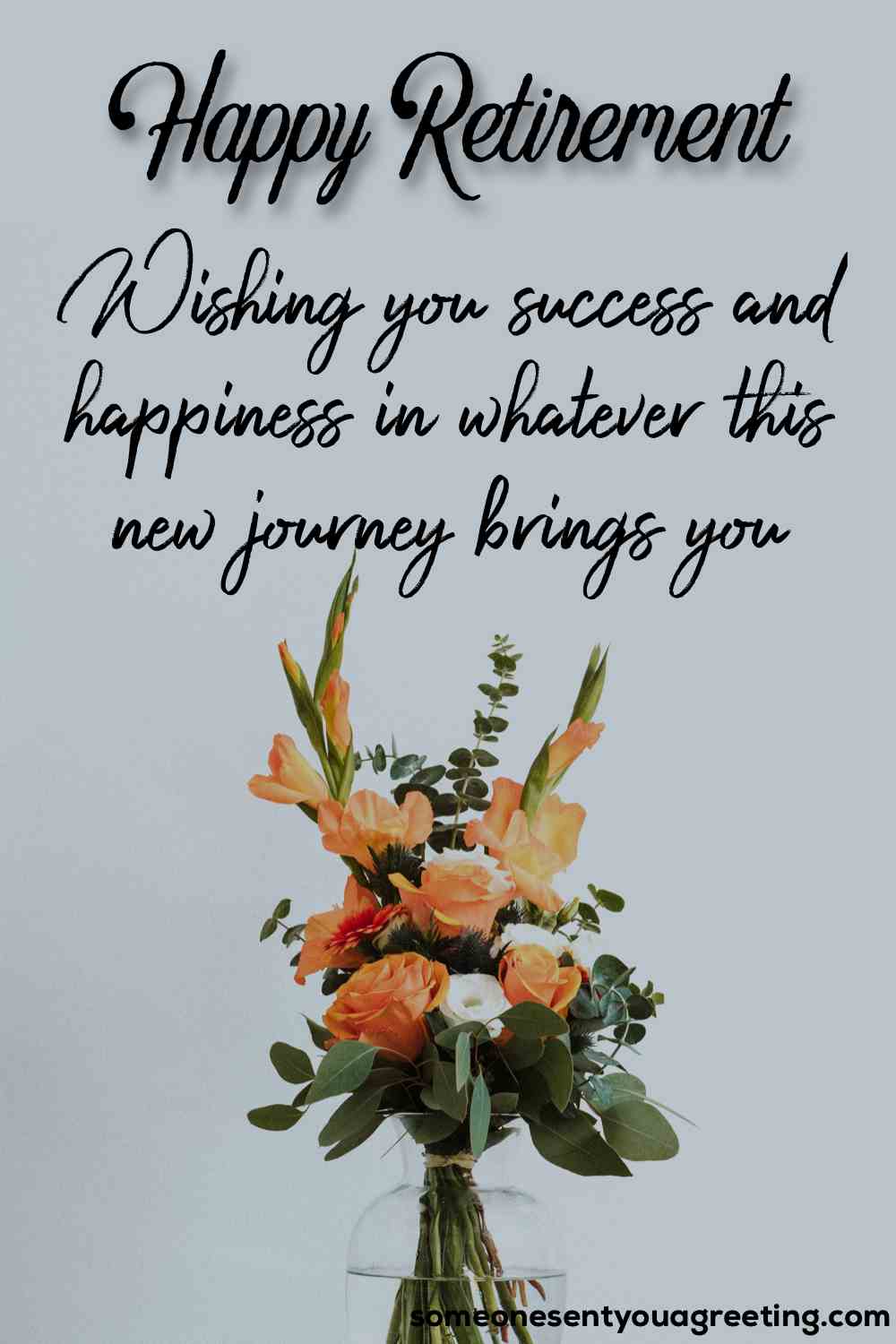 SEE MORE: Retirement Messages for your Brother
Funny Retirement Messages for Boss
Happy retirement boss! We're really going to miss doing all of your work for you!
I've got say, I'm actually glad that you're finally retiring as now I'll be able to tell you anything I want to without worrying about getting sacked! All the best
As you leave we can finally admit the truth… we really did enjoy annoying you as much as we could!
Until now you may have thought that life's biggest battles are fought in the boardroom… but as you retire and spend more time at home, you'll realize that they're actually fought in the kitchen!
For putting up with a colleague like me for so long retirement doesn't feel like enough of a reward!
Retirement means spending much more time at home with the wife… and I think we know who the boss is there!
Most managers hate to retire. Because without a staff, it marks the pivotal point when they actually have to start doing all their work themselves!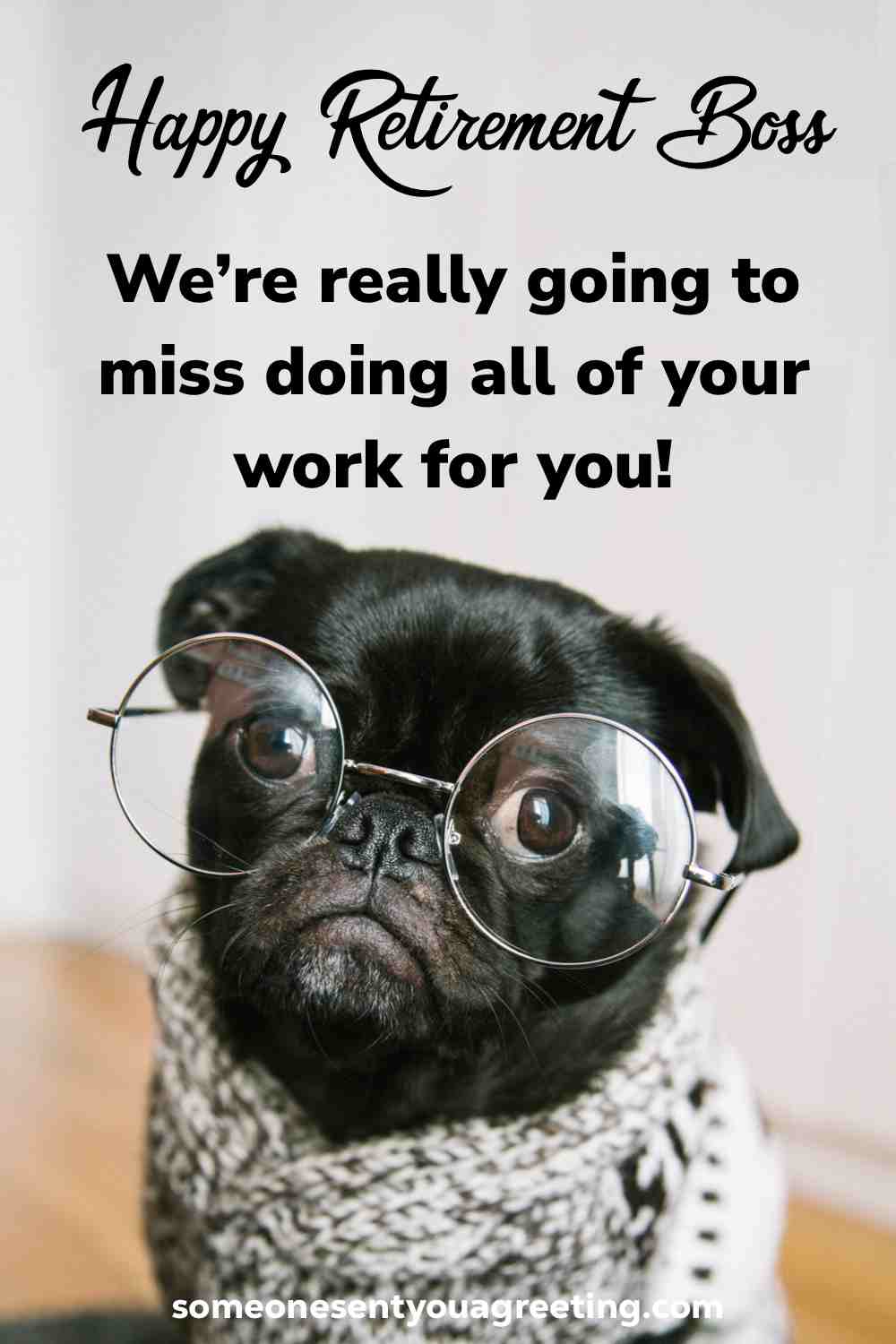 SEE MORE: 45 Funny Retirement Messages and Quotes
Retirement Appreciation Messages for Boss
We appreciate all your hard work and dedication. You have been an amazing boss. Good luck for the future and whatever you do next
I always felt like I had a safety net under me with you as the boss. It was such a relief and made getting work done that bit simpler. I will miss you so much, all the best as you retire
You made our office such a fun and great place to work. I won't ever forget you or your incredible work. Happy retirement
We feel very luck to have had a boss like you. Please keep in touch!
We are grateful to you for being such a great boss. No one will be able to replace you. Have a wonderful retirement
No one will appreciate your hard work and dedication more than us. You have been an amazing example to us all and we will do everything we can to continue your legacy. Happy retirement
Your contributions and the work you did to push the company forward have been so helpful. We can't express just how much we appreciate you and how big the hole is you will be leaving behind. Enjoy your retirement
You are an inspiration to all the employees. Replacing you will be near impossible and we hope you know just how appreciated you are. Happy retirement
I have looked up to you for years and always strived to emulate your success. As you retire I am sad about losing a mentor but wishing you the best as you enjoy the rewards of your hard work
I'm not sure we will ever have a boss as good as you. Sad to see you go but wishing you a great retirement
SEE MORE: 41 Retirement Messages for Dad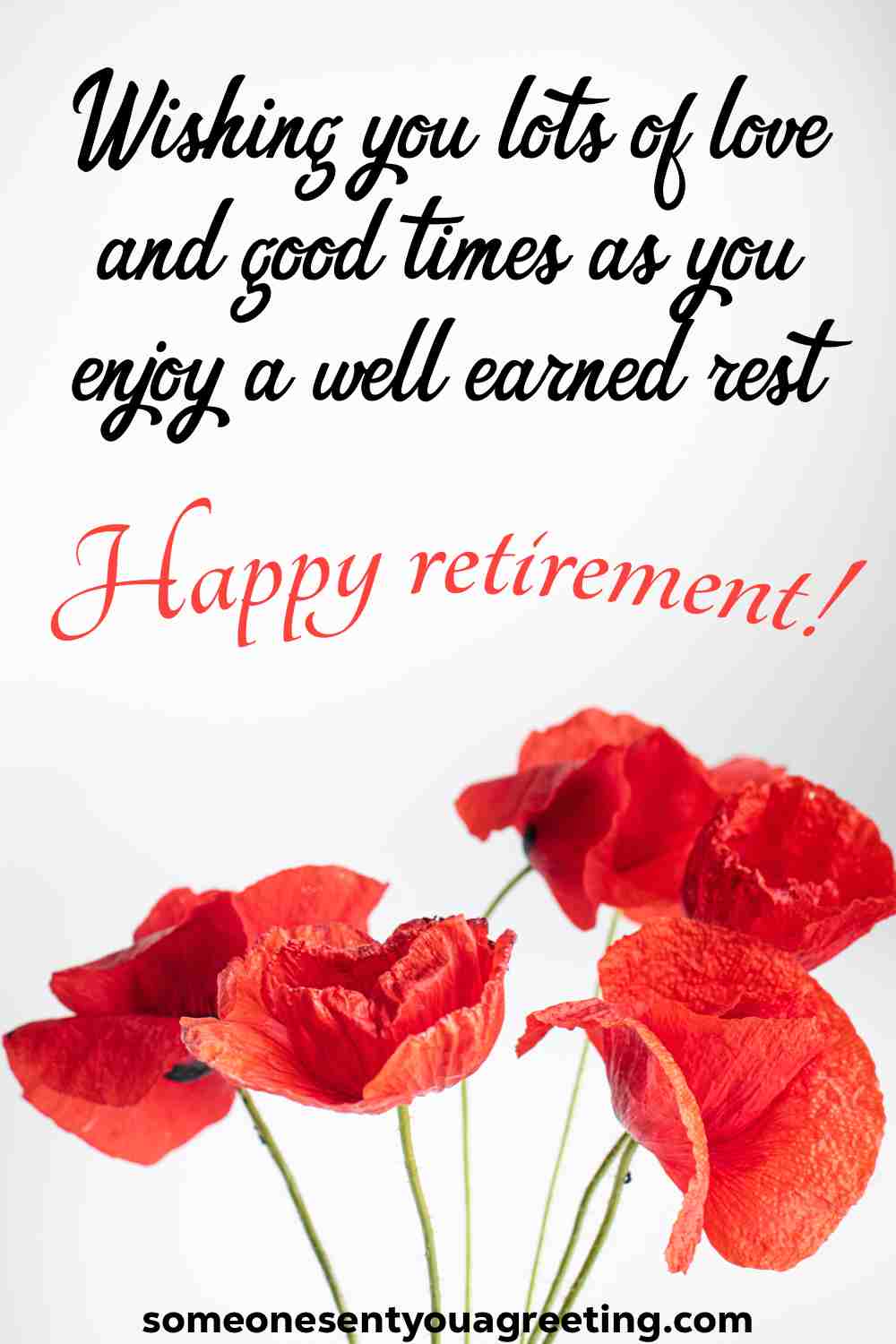 Retirement Messages from Employees to Boss
To best boss this company/office has ever had. Congratulations on your retirement!
Your career's biggest souvenirs are your colleagues' best wishes. Happy retirement
What made you such a great boss was that you didn't just give us instructions, you gave us inspiration. Happy retirement
Your dedication and your guidance was the inspiration we needed to always go the extra mile. But you weren't only 'the boss' to us, you were our mentor and our friend. We are really sad to see you leave. Happy Retirement to you
I am forever grateful to have had a boss like you at work. Thank you for your advice and support. Your warmth and kindness will be greatly missed
We have mixed feelings about you retiring. On the one hand we are glad for you, but on the other sad because you are a one-of-a-kind boss who we won't ever be able to replace. You're going to really be missed
It has been an honor to work under you. Congratulations on your retirement and thank you for everything
Congratulations on your retirement! Your accomplishments and contributions to the company are invaluable and we greatly appreciate all you did for us as employees. Wishing you all the best in your retirement
It has been wonderful working with you – your work will be remembered for years to come. Congratulations and best rushes on your retirement!
It's impossible to imagine work without you! We're going to have to get by but I'm not sure how. Enjoy your retired life and come back to see us soon!
SEE MORE: Retirement Messages for Uncle
Happy Retirement Boss
As you retiring from your work today, I wanted to wish you all the happiness in the world for the future. Thank you for being such an amazing boss
Congratulations on your retirement. Wishing you nothing but joy and good health in your retirement
Wishing you success and happiness in whatever this new journey brings you. May now be the time to to do whatever your heart truly desires. Happy retirement!
You have been both a great friend and top boss. Cheers to a well-earned and well-deserved retirement!
Thank you for always inspiring us with your hard work. We are going to really miss you! Congratulations on your retirement!
Working with you has been a great pleasures. I feel lucky to have been blessed with an understanding and boss. Congratulations, you will be missed!
I still can't believe that you're really retiring. But you leave having given me so much wisdom and knowledge that will stay with me forever. Wishing you happiness after your retirement
The office just isn't going to be the same without you – there are so many great memories I'm not going to ever forget. I'll miss you. Happy retirement!
You have been a role model to all of us at work. Your endless diligence, team work and efficiency have set such an amazing standard. Thank you and congratulations
It's hard to find the right words to say how much we will miss someone like you. Thank you for being the one we could turn to. Enjoy your retirement
Hopefully these retirement messages for your boss will have helped with wishing them a happy retirement.
For more example retirement messages try our retirement wishes for employees or retirement messages for coworkers.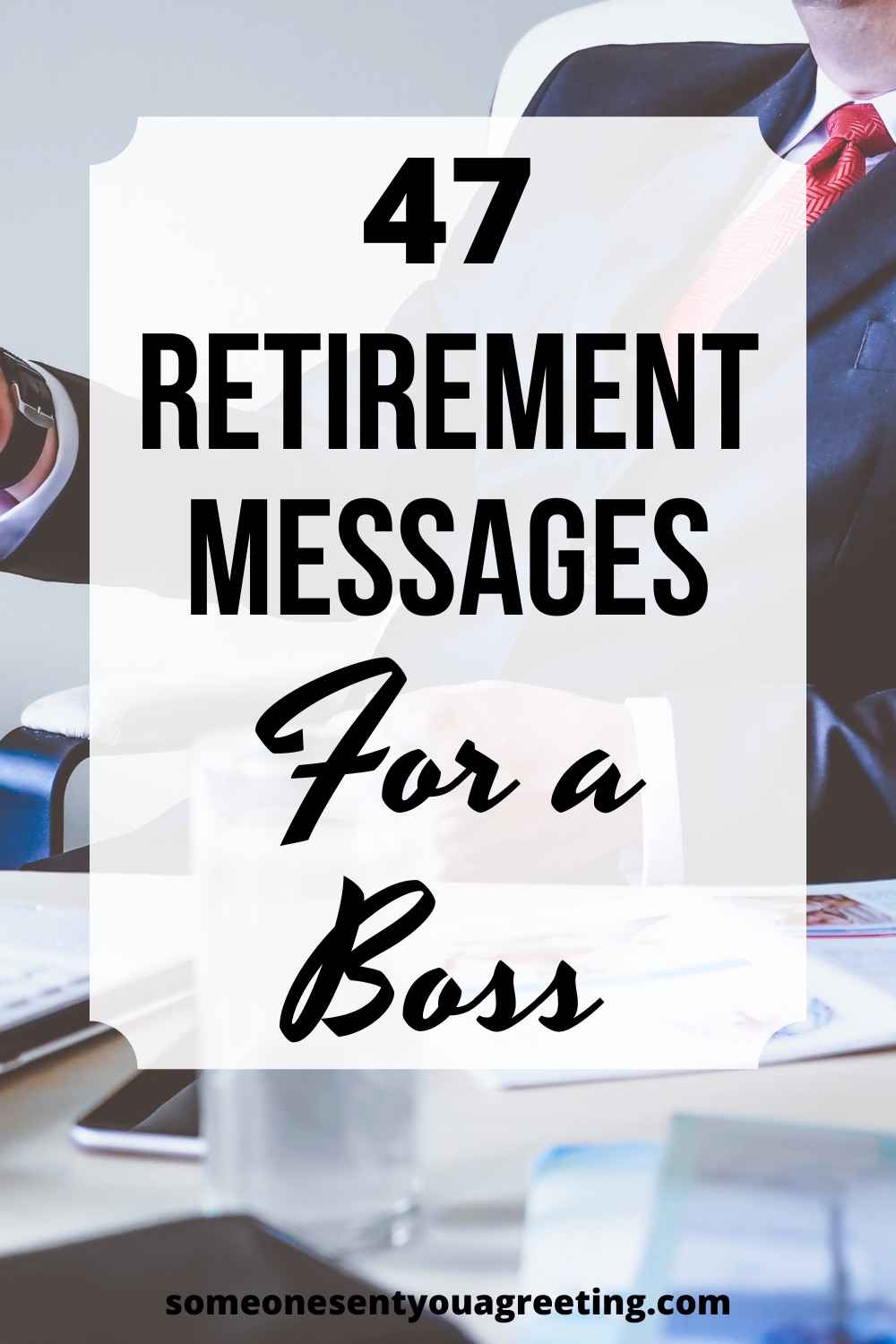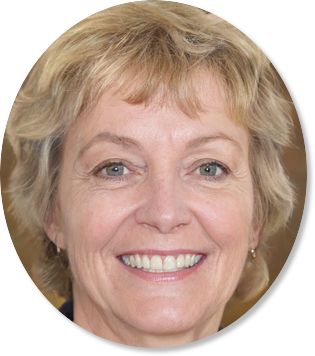 Sally Gibson is the founder of Someone Sent you a Greeting, a holiday/celebration website. Sally's writing work has been mentioned in Woman's World, Yahoo, Women's Health, MSN and more. If you have any questions get in contact with one of the team via the about page.