Nothing beats rockin' out. Letting go and having a great time to your favourite songs. Surrounded by friends and family. We are all a bit of a frustrated showman at heart, although some of us rock a bit harder than others! And when is it best to get down and have a good time? A big party or celebration. Maybe something like a birthday.
If someone you know is having a birthday and is a bit of a wannabe rockstar, or aging rocker, an appropriate birthday message is required. One that rocks!
To help out here's a great choice of rockin' birthday wishes. You can put them in a card, send in a text message or simply post online somewhere.
Have a rockin' birthday!
Happy Birthday! Still rockin' after all these years
To my favourite rock star – have an awesome birthday
Happy birthday and keep on rockin'
True rockers never really age! Happy birthday
_______ years old and still rockin' it. Enjoy your day
You may be getting older but you're still racing against the rock! Happy birthday
Happy Birthday my friend. Hope won't be feeling verse for wear after tonight
Try not to get into too much treble on your birthday
To my friend who still dreams of being a rockstar – have a great birthday and never give up those dreams
Another year of raging against the machine? I hope so! Happy Birthday ______
Heres to another year of rockin' like a dude! Have a good one
Have suitably LOUD and raucous birthday. Never stop rockin'
Birthdays are just an excuse to rock-the-**** out! Don't let us down
Throw up your rock hands up and start moshing! Happy birthday to the best rocker
I'm raising my goblet of rock to toast you today. Happy birthday
At your age you might have to Rick out in your rocking chair! Enjoy your birthday
You've got an excuse to do your Elvis impression today! Have a great day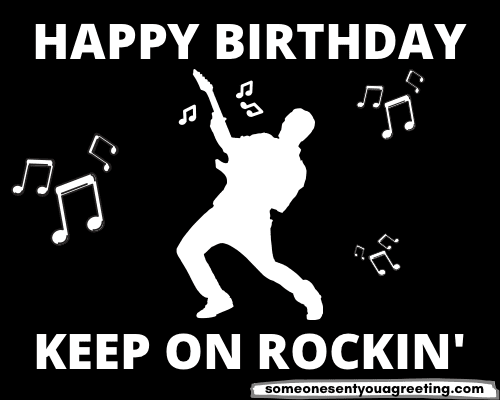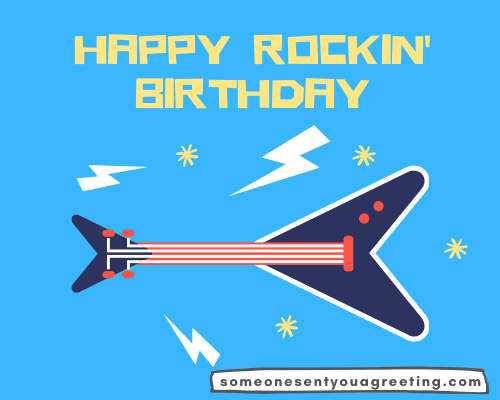 ---
For a Child
Happy Birthday to my little rock star!
Hope you have a great time rockin' out on your birthday!
Wishing you a happy birthday and that in the future all your rockstar dreams come true
Next time I'll get you a guitar or drums. Happy birthday you little rocker
Congratulations to the little mosh monkey. Have a great birthday
Happy birthday to a special little punk guy/girl. Don't cause too much mischief!
Don't let the man hold you down! Happy birthday, rockstar
Start rockin' out young! Happy bday
Have a rock-tastic birthday with loads of cake and presents!
Rock-a-bye baby? Rock-a-boy's birthday!
To a baby bopper – have a wonderful birthday
Happy birthday to a mini Mick Jagger. Soon to be rockin' all over the world
You rock little man! Have a fantastic day