When a child turns 3 it's a big day. But what do you write in a birthday card for a 3 year old? And how do you say happy 3rd birthday to a boy or girl turning 3?
It's can be tricky finding the right words for children. But if you're struggling then read on.
A 3rd birthday is an exciting time. For both parents and the child turning 3 it's a day of fun and happy memories.
For the birthday boy or girl it could be one of the first things they remember. It's something that in years to come they will probably reminisce about – having a really great day with all their friends.
So gifts and a big party are a must. But also a card and some happy wishes.
If you're a parent or family member of the child turning 3 then a sweet birthday message in a card is essential.
So if you're not sure what to say or write then use the example birthday greetings below to wish them a really happy 3rd birthday.
Birthday Wishes for a 3 Year Old
Happy 3rd birthday to the cutest member of our family!
You mean the world to me my little one. Have a great 3rd Birthday.
3 years old? Wow, you're growing into such a big boy/girl!
You are my world little one, and I'm so happy to see you turn 3 today. Happy bday!
Happy birthday to the coolest 3 year old in the world!
Don't grow up too fast! 3 is just the start of you becoming an adult!
You will always be my darling little boy/girl. Happy birthday
Happy 3rd birthday. Today is the beginning of you taking on the world and making all your dreams come true. I believe in everting your do and can't wait to see all you achieve.
Enjoy a fantastic day and all the amazing memories you will make. Happy bday
We're going to make your third birthday unforgettable! You deserve every moment of it
I hope you gets lots of birthday treats and have an amazing day. Turning 3 deserves that and more!
You always make me smile and I'm wishing you a truly special birthday
We feel so lucky to have you in our lives and seeing you turn 3 makes it even more sweeter. Happy Birthday to our darling child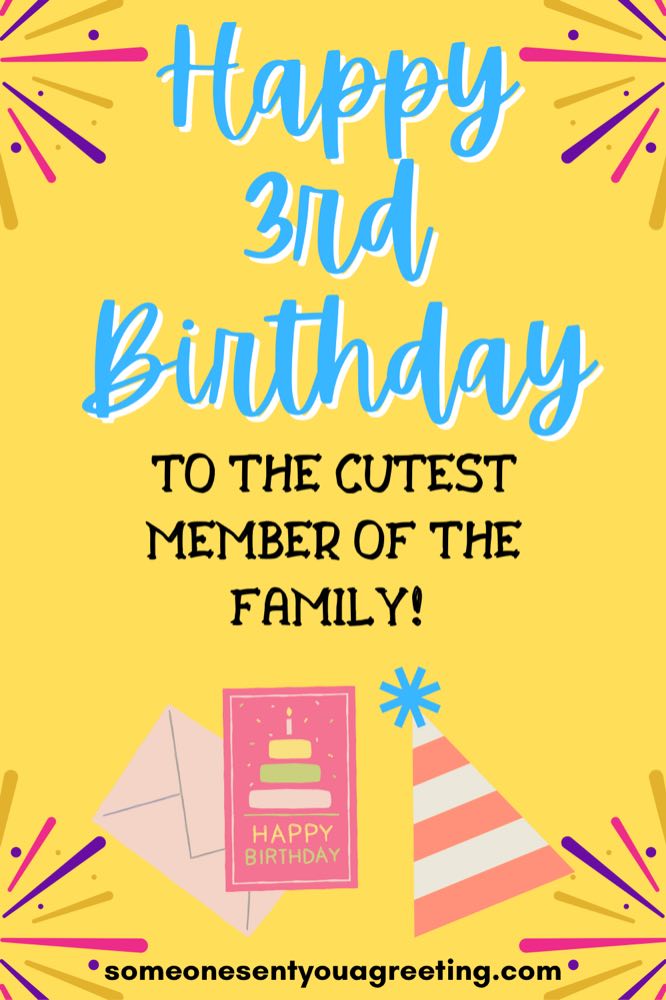 3rd Birthday Wishes for a Boy
Happy 3rd birthday little man! Have a great day.
I hope all your birthday dreams come true and you get lots of brilliant gifts
Here's to the best birthday ever! Enjoy a fun filled day
To a special guy who's having a big birthday today – congratulations on turning 3
You're the man! Have a rockin' birthday!
3rd Birthday Wishes for a Girl
To a darling little princess, you get more beautiful each year. Happy birthday
I can't wait to make even more treasured memories to hold onto on your third birthday. Enjoy your day my little girl.
Little girls have the best birthdays! And your third one is going to be no different!
Princesses like you deserve a birthday to match, so I hope you get the biggest cake. Happy bday
To a special girl who's turning 3 years old today – big birthday hugs and wishes for a great day!
For Son
To my wonderful little man – happy 3rd birthday
Have an amazing 3rd birthday my special guy
You are the light of my life. My baby, my son – the most important thing to me. Have a wonderful 3rd birthday
Happy birthday my little angel. Today you turn 3 and I am so excited to see you growing into such a strong man!
You are an amazing son and make me so proud. Happy birthday my little boy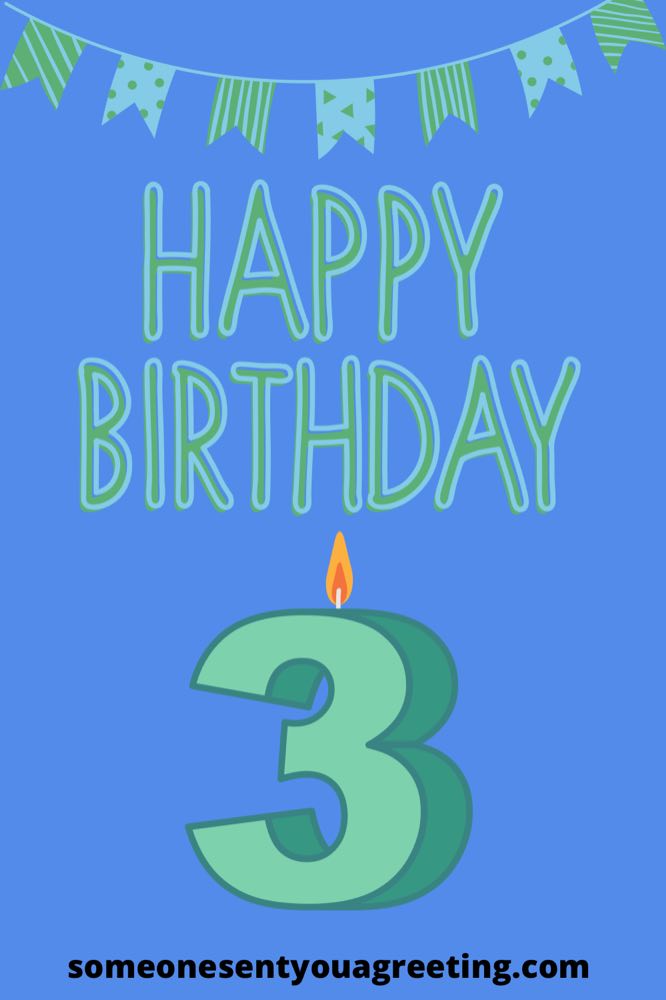 For Daughter
To my wonderful little daughter, I still remember the day you were born and the joy it brought me. 3 years later and I love you even more. Happy birthday
Nothing is more important to me than my baby. Every time you smile it makes my heart explode. Happy third birthday my angel
May your 3rd birthday bring you as much happiness as you bring me
Today is your day to have fun and enjoy yourself. Have a great birthday with lots of cake and amazing presents!
You are the cutest, most perfect daughter anyone could wish for. Wishing you a very happy 3rd birthday
For Grandson
Happy third birthday to my perfect grandson. Hope you have a great day and all your wishes come true
To my wonderful grandson – wishing you a very happy 3rd birthday with all the presents that you were hoping for
Happy birthday to a grandson who is smart, funny, kind and just the best!
To the most awesome and amazing grandson, have a brilliant 3rd Birthday
To my special grandson, you mean so much to me and I hope you have an amazing third birthday
For Granddaughter
A beautiful girl like my granddaughter deserves a third birthday better than any other one! Happy birthday honey
To my granddaughter – never forget how much I love you. As you turn 3 today I want you to always follow your dreams and believe in yourself. Have a wonderful birthday
Wishing you a third birthday that is just as beautiful as you are!
May your birthday be spectacular and your whole 3rd year just the same.
You make me the most proud grandparent in the world with everything you do. Happy birthday
For Nephew
Happy birthday to my awesome nephew. May all your birthday wishes come true
Happy 3rd birthday to my favorite little nephew. You're awesome, smart and super talented.. you must take after me!
I hope you get lots of awesome gifts and have a really great day! Happy birthday my cool little nephew
Everyone wishes they had a nephew just like you! Happy birthday
3 years old and getting bigger every day! Hoping your day is full of fun and excitement!
For Niece
Happy 3rd birthday to a niece who is just perfect in every single way
You're growing into a lovely young lady and I hope this birthday is just a step on your journey to achieving so much in your life. Happy birthday my sweet niece
You can't spell niece without nice! And that's just what you are – the nicest little girl in the world. Happy third birthday
Happy birthday my niece, May your 3rd birthday be filled with laughter and joy
You are a special little girl and someone I'm proud to call my niece. Have a great 3rd birthday
Funny 3rd Birthday Wishes
Don't forget to blow out all your candles, because one day when you get older there will be so many you won't be able to!
3 years old? You're getting a bit old now, you'll be catching up mommy and daddy soon!
Now you're a big, grown up boy/girl you don't need presents anymore, so I didn't get you one.. only kidding!
You're special today because it's your birthday.. actually you're just special every day!
Happy birthday and here's your gift.. me!!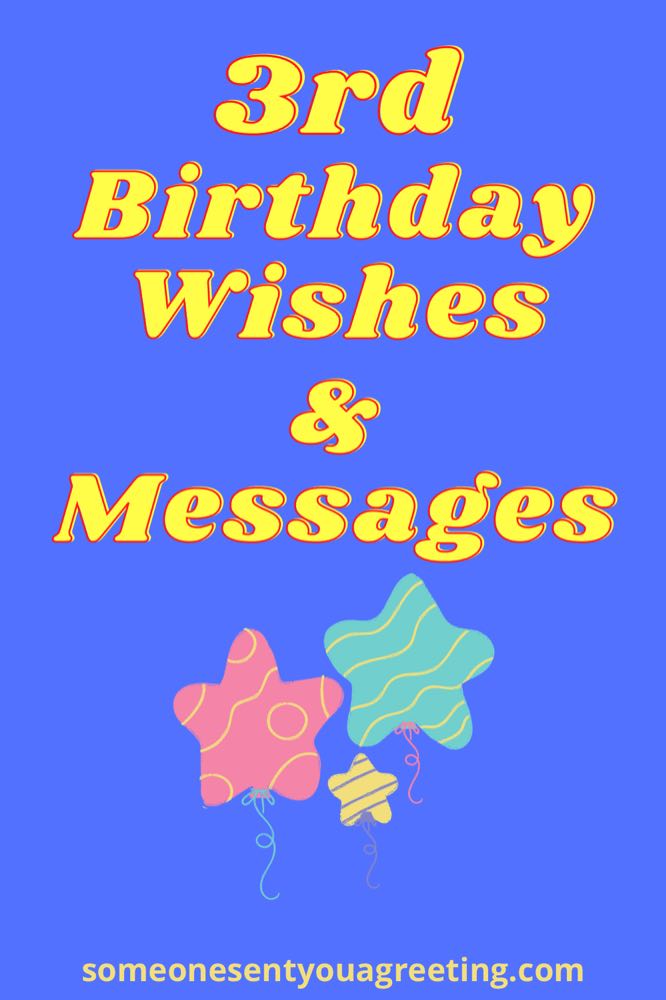 We hope these 3rd birthday wishes have helped you to say happy birthday to a 3 year old in the sweetest way. Remember to be upbeat and fun, there what children like, and the more exciting the better. But mainly just focus on telling them how happy you are they're turning 3 years old.. and then get them a really big gift!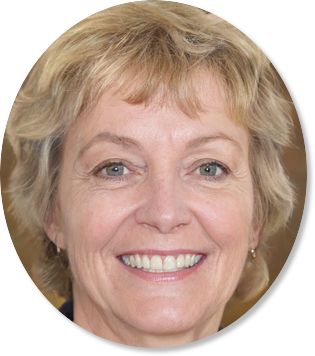 Sally Gibson is the founder of Someone Sent you a Greeting, a holiday/celebration website. Sally's writing work has been mentioned in Woman's World, Yahoo, Women's Health, MSN and more. If you have any questions get in contact with one of the team via the about page.