Father's are often underappreciated. We probably gravitate towards our mother's for more help or when we're in trouble.
But in so many cases it's the fathers that are the rock that holds everything together. So wishing your dad a Happy Father's Day, maybe giving him a gift and card, is the least you can do to show your appreciation for such an important person in your life.
But it's normal if you aren't sure how to express the love and feelings you have towards him. Being able to take what you're feeling and put it into words can be incredibly difficult.
So if you're sending your father, father in law or step dad a Father's Day card you might be struggling with what to write. Thankfully you've come to the right place!
Below you will find a large collection of Father's Day wishes, messages and quotes. Ranging from sweet and touching to funny and insightful, we're sure you will find the perfect message that says exactly what you're feeling. You can copy them as they are or use them as inspiration to write your own greeting.
Happy Father's Day Messages
These Father's Day messages are quite general and should fit most situations. You can use them in a card, on Facebook or other social media websites or you can say them to your father in person.
You're the best dad! Have a wonderful day
Wishing the best dad in the world a happy Father's Day!
I couldn't have asked for a better Dad. Thank you for always being there for me.
Thank you for being such a positive role model and influence on my life. Have a great day, you deserve it!
No words can describe how much I cherish you! Happy Father's Day
Happy Father's Day to the best dad in the world!
Lots of love to the most wonderful and special dad on the earth as I could not get a better friend than you are to me. Happy Fathers Day!
This day is not about ordinary people, it is about special people – it's about you! I love you daddy.
You always gave me hope, and you vowed never to stop. Thank you for everything. Wishing you a Happy Father's Day
Before Superman, Before Spiderman, Before Batman, You were my true Superhero! Happy Father's Day DAD-MAN!
You have seen me at my lowest, you have given me my highest. I love you daddy
Not only are you Dad but you are my friend. In fact you are the most special person in my world. I love you so much.
You're my one and only dad, and I'll always have a special place in my heart for you
Im not sure one day is enough to thank you for all you've done, but it'll have to do! Happy Fathers Day
Sit back, relax and enjoy your day dad!
Sending you loads of hugs and kisses, and special Father's Day wishes.?Have a great day, dad! I love you lots!
Happy Father's Day to the man who showed me the power of love through the good times and through the bad times.
It is not possible to be a great father until a person becomes a great human being, and dad, you are both. Thanks for everything.
God gave me such a good gift when he gave me you for a father
Thank you for everything you have done, you are one in a million. Happy Father's Day to you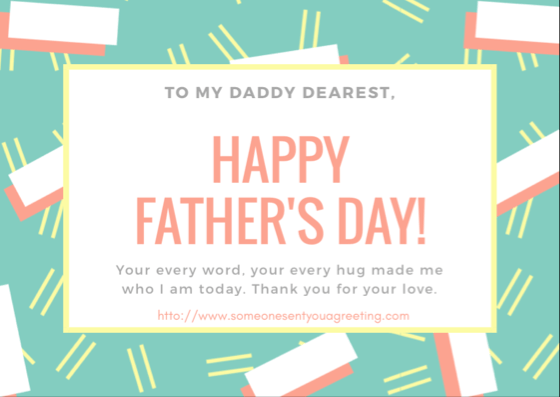 Quotes
There have been many inspirational quotes and sayings about dads by some of the most famous and respected people. You can use one of these quotes in your Father's Day card if you feel they've said what you're feeling better than you could.
"To a father growing old nothing is dearer than a daughter" – Euripides
"My father gave me the greatest gift anyone could give another person, he believed in me" – Jim Valvano
"My dad is my best friend, my father, and my boss. When I do something that is exciting and he likes it, it feels three times as good as you can imagine" – David Lauren
"You don't have to deserve your mother's love. You have to deserve your father's" – Robert Frost
"Anyone can be a father, but it takes someone special to be a dad, and that's why I call you dad, because you are so special to me. You taught me the game and you taught me how to play it right" – Wade Boggs
"It is a wise father that knows his own child" – William Shakespeare
"It doesn't matter who my father was; it matters who I remember he was" – Anne Sexton
"My father used to say that it's never too late to do anything you wanted to do. And he said, 'You never know what you can accomplish until you try.'" – Michael Jordan
"One father is more than a hundred schoolmasters" – George Herbert
"When a father gives to his son, both laugh; when a son gives to his father, both cry" – Unknown
Funny Messages
Want to give your old man a laugh? Try a funny message and put a smile on his face this Fathers Day.
Dad, thanks for working so hard to pay for the TV that actually raised me
"Fathers Day, when you get that lethal combination of alcohol and new power tools." – David Letterman
I smile because you are my father. I laugh because there is nothing you can do about it
Happy Father's day from your little mistake which seems to be growing big every year. Only joking!
"My Father had a profound influence on me – he was a lunatic." – Spike Milligan
"When you're young, you think your dad is Superman. Then you grow up, and you realize he's just a regular guy who wears a cape." – Dave Attell
"At the very least, Fathers Day should mean unlimited channel surfing." – Melanie White
I love how we don't even need to say out loud that I am your favourite child
Dad, you've always been like a father to me
Dad, I promise that one day I give you grandchildren, who will annoy me as much as I annoyed you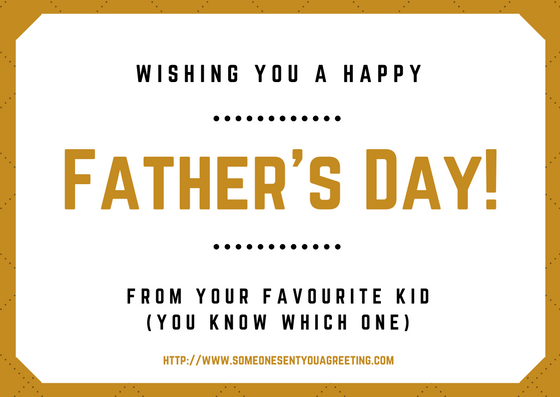 From Daughter
If you're the daughter to a dad then you can talk about how important he's been to you, how he's protected and provided for you. Use these sentiments in your card by taking a look at the messages below.
Daddy, you're guidance and support has been invaluable and made me the woman I am today
As a Dad, you gave me the greatest gift by believing in me. Happy Father's Day!
Thank you for being there every day with just the love and guidance I've needed
You taught me so many of the important things I know – including a few choice words for certain situations! But without your guidance I don't know where I'd be. Thank you for everything dad
Love you Dad for being the best mentor and supporting me in whatever I do. Though I may not be the best daughter but you are a perfect father for me. Happy Father's Day daddy.
I love to be called daddy's girl because that's exactly who I am. Happy Father's Day to my hero and role model
Happy Father's Day to the man who put the fear into all my homecoming and prom dates.. and who still treats me like a princess!
No matter how many boys come into my life, Daddy you will always be the first man I have ever loved. I love you so much. Happy Father's Day
You've kept all my secrets; saved me from mom's scolding and helped me with matters of the heart. Thank you for being the most incredible dad!
Behind every great daughter is a truly amazing dad.
From Son
As a son your dad has probably been a role model and someone you've looked up to as you've grown. This is the sort of thing to let him know on his special day, so use the wishes below.
Thank you for everything, you are the best dad a son could ask for. Have an amazing day, I love you.
Every day you made growing up fun, dad. Thanks for being such a brilliant dad and even better friend.
When I fall and hurt myself, you're there.
When I'm happy, you're there.
When I score the winning points in a game, you're there.
When I need you the most, you're always there.
To the best dad in the world – Happy Father's Day, Dad!
I'm truly proud to be your son. Have a wonderful day
Since I've had children of my own I've realised how much you did for me and how hard it is. Thank you for the work and sacrifices you made
From the first day I met you, I had no idea how you would change my life. Thank you for giving me life, Dad. Happy Father's Day!
Happy Father's Day! I may be taller than you now, but I still look up to you.
Even though I mess up A LOT, you find a way to make things better. And that is why I know you are the Best Dad Ever. Happy Father's Day, dad!
You are our pillar of hope, you have held this family together, and I'm forever grateful to be your son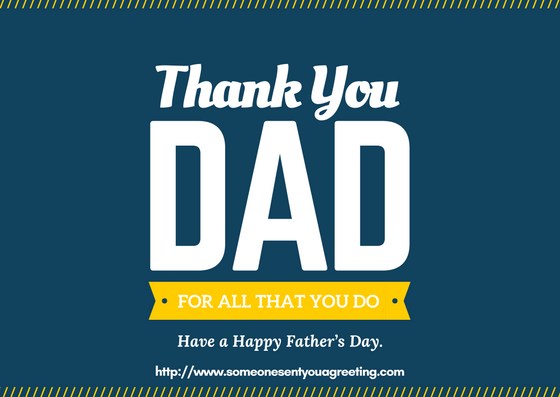 For Husband
You can wish your husband a happy Father's Day and celebrate how wonderful your family is and great a day he's become for your children.
Happy Fathers Day to my wonderful husband and amazing dad to our children. Have a great day!
Every time I see how much our children love you, look up to you, and cherish their dad, makes me love you even more than I already do
You're not only a hero to our kids but to me as well. Enjoy your day
Thank you for being a wonderful dad and making our family so happy. I love you so much
Turns out, it IS possible for a man to look hot carrying a diaper bag. I know because I'm married to you
I can't imagine a better husband or dad. You're truly one in a million
Thank you for all the ways you go above and beyond every day for our family. The kids and I are so lucky to have you
Every day I'm reminded how lucky I am to have a man like you. The best husband and father in the world
Please remember, even if I don't always show it, just how grateful I am to have you. Me and kids are so lucky and love you more than words can say
It's been a crazy few years and now our family is complete I just wanted to let you know how happy I am you've been by my side throughout
For Step Dad
A step dad may not be your biological father but they have been there when you've needed them and stepped in to fill that void. They deserve to be wished a Happy Father's Day just as much as any other dad!
Anyone can be a father but it takes someone special to be a step dad.
Even though you're my step dad you have made me who I am, and I am grateful for having you in my life. Happy Father's Day to you.
I never got to choose you. You just became my 'dad.' So I'm grateful to my mother for the great taste that she had
Thank you for proving all the shady stereotypes about stepdad wrong. You're my best friend. Happy father's day.
Family isn't always blood. It's the people in your life who want you in theirs. The ones who accept you for who you are. The ones who would do anything to see you smile, and who love you no matter what
To my stepdad, thank you for your courage, humility and patience. I look forward to our newfound relationship. Happy Father's Day!
I know I haven't always said, how I appreciate what you do, so I'm saying now, how blessed I feel, to have a step Dad just like you.
You're not just my stepdad but you've become one of my closest friends. Happy Fathers Day
It's not about who was there in the beginning, it's about who stays there until the end
Happy Father's Day to the man who stepped up when I needed someone the most
For Father in Law
A father-in-law can become just like a second dad. The relationship can really develop and flourish. So wish your father-in-law a Happy Father's Day with one of the messages below.
You are the best father-in-law in the world because you never let the words 'in-law' get in-between our relationship
Sometimes I'm not sure where father and father in law begins because there's not much difference, anyway. Thank you for being a father to me. Happy Father's day to the best father in law!
You've become a true friend and just like a dad to me. Have a wonderful day
You lead your family with strength and love, and you have my utmost respect. Enjoy a well earned Father's Day!
Thank you for the special role as our spiritual father. You give of yourself in so many ways to guide and nurture us in our spiritual lives. Wishing you a Happy Father's Day!
Thank you for always being there for your family, and for me. Happy Father's Day
Hoping that your special day is filled with all the things you love the most! Happy Father's Day to a Dad that's one of a kind!
Happy Father's Day from your biggest fan!
Some fathers are just the regular dads but you're a dad who is a father figure for me. Wishing you a very Happy Fathers Day
Hope you spend today doing everything you love most. Have a great time and Happy Father's Day!
Father's Day Poems
A lovely and touching poem for your dad is a great way to show you care. But if you're not Robert Frost then you might want to take a look at our poems rather than trying to write your own!
Daddy, I love you
For all that you do.
I'll kiss you and hug you
'Cause you love me, too.

You feed me and need me
To teach you to play,
So smile 'cause I love you
On this Father's Day.

There in every memory
See his love and care
Strength and hands to count on
Freely he does share
Provider, toil so faithfully
To make our dreams come true
Give strong and tender discipline
Though it is hard to do
A Father is God's chosen one
To lead the family
And point it to His will for life
Of love and harmony…
Sue Skeen
My Dad
When I was just a tiny kid,
Do you remember when,
The time you kissed my bruises,
Or cleaned by soiled chin?

You scrambled for the balls I hit,
(Short-winded more than not,)
Yet, every time we'd play a game,
You praised the "outs" I caught.

It seems like only yesterday,
You wiped away my tears,
And late at night I called your name,
To chase away my fears.

Though time has changed your handsome grip,
Your hair is snowy white,
You gait's a little slower now,
Thick glasses help your sight.

Oh, do I thirst for years gone by,
To be that growing lad,
Re-living all of the memories,
Of growing with my dad.
Father's Day Text Messages
If you prefer to send a text message instead of or alongside a card then try one if these quick and snappy Father's Day messages.
To the world's best dad 🙂 HAPPY FATHER'S DAY!!!!
I love my dad with all my heart
Here's a great hug and lots of kisses too. Each one says – I love you!
A Father means so many things: An understanding heart, A source of strength and support right from the very start. Happy Father's Day
Fathers are angels sent from heaven
Any fool can be a Father, but it takes a real man to be a dad!!
My strength and my friend, I am today what I have become because of you. Thanks, Dad. Happy Fathers Day!
Happy Father's Day Images
You can use these Father's Day images to share on Facebook or Twitter and celebrate your love for your dad with the world!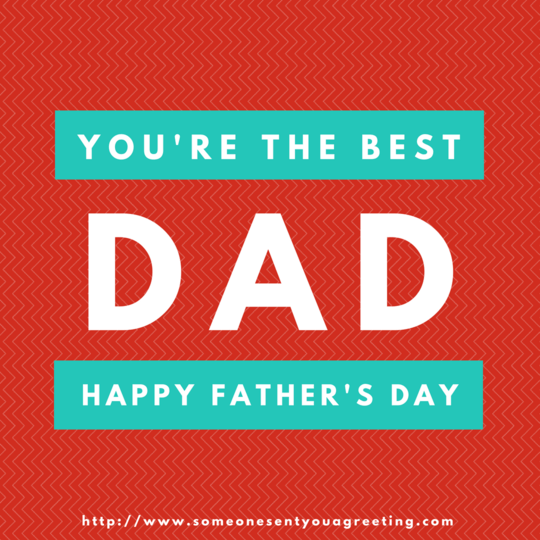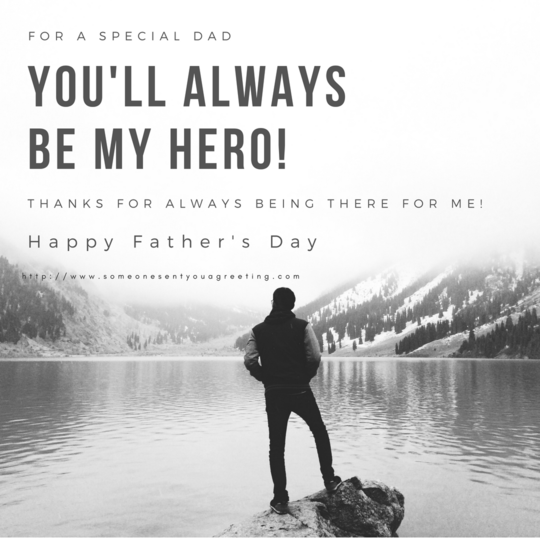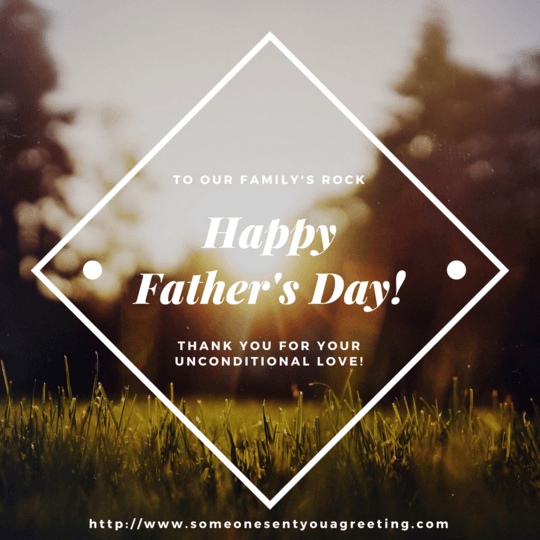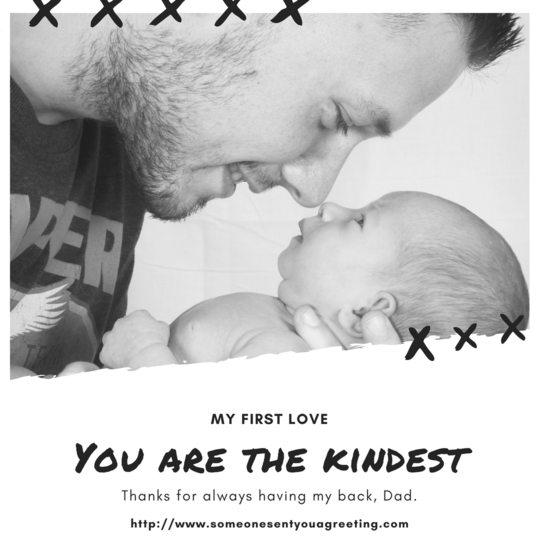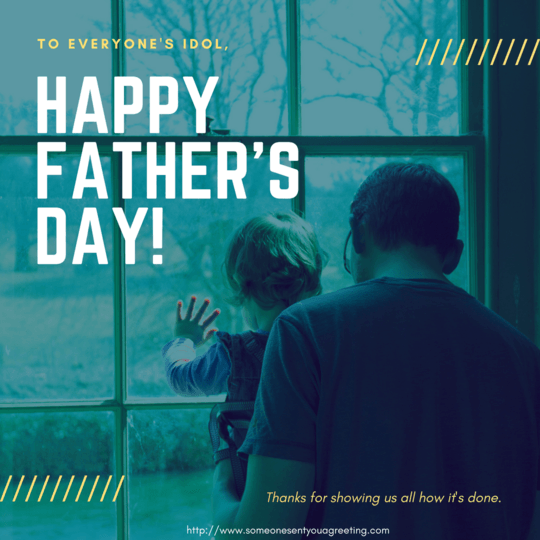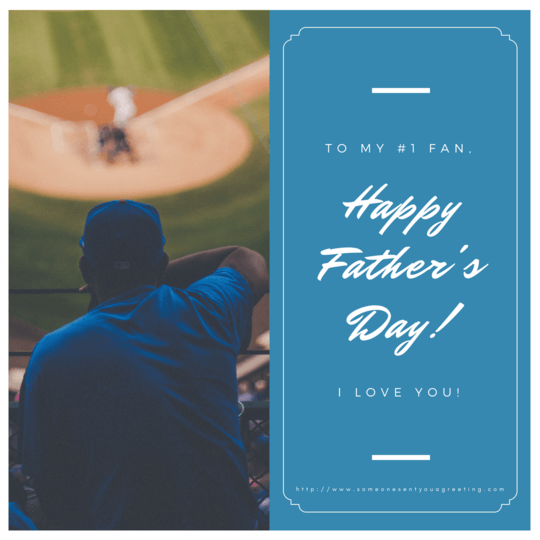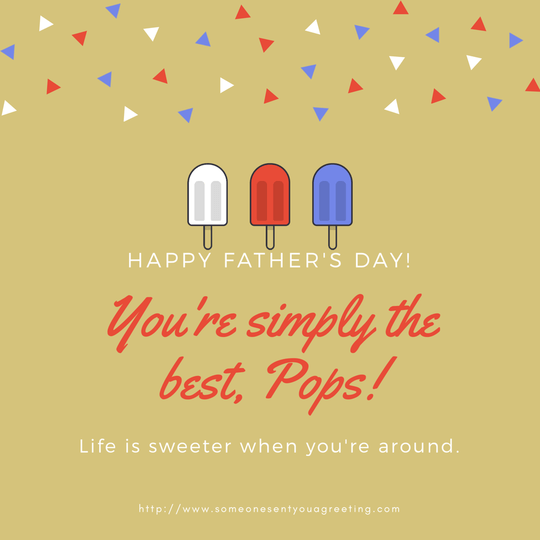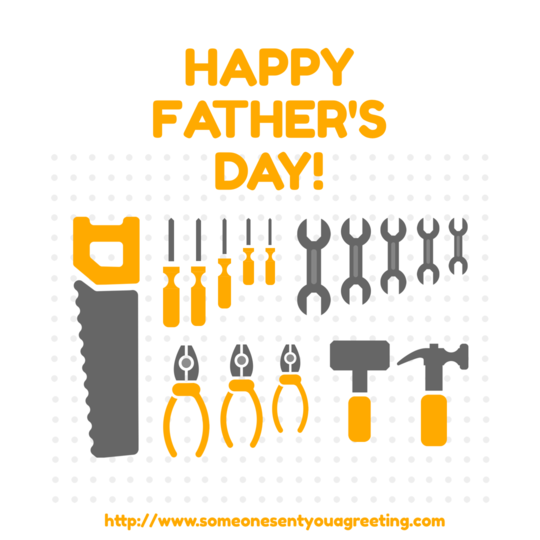 We hope these wording examples helped you tell your dad just how special he is to you and wish him a Happy Father's Day.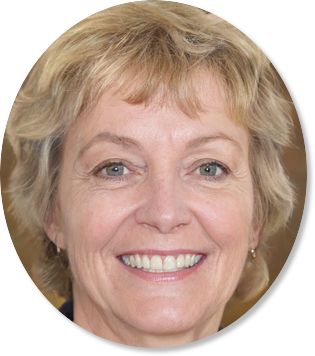 Sally Gibson is the founder of Someone Sent you a Greeting, a holiday/celebration website. Sally's writing work has been mentioned in Woman's World, Yahoo, Women's Health, MSN and more. If you have any questions get in contact with one of the team via the about page.