When you retire you often get retirement gifts, cards and a retirement party thrown for you. Colleagues and friends make an effort to send you off in the best way possible.
And when they go to all that trouble you should thank them. Offer your thanks for a card, gift or party with a simple thank you note or message.
So use these retirement thank you notes to say thank you to everyone who has made to retirement and final days of work special.
Retirement Thank You Note Examples
These general retirement thank you notes are perfect for thanking friends, family and colleagues for their retirement well wishes, gifts and more.
Thank you for the wonderful retirement party last night. I was so touched by all the kind words, gifts and memories everyone shared with me. I had a fantastic time and really appreciate all the hard work and effort that went into it.
I can't thank you enough for the beautiful watch you gave me for my retirement. You really shouldn't have! But I'm so grateful and it will be a treasured keepsake of our time working together.
That retirement scrapbook you made captured so many special moments. I'm going to enjoy looking through it and reminiscing about all the fun we had over the years. Thanks for thinking of me.
I appreciate you honoring my retirement with a donation to my favorite charity. Choosing a cause close to my heart was a perfect choice and I'm really touched.
My retirement cake was delicious! Thank you for such a sweet treat to celebrate my retirement.
It was so touching to receive a book of memories and well-wishes. I will enjoy reading all the kind messages.
Thank you for the generous retirement gift. I'll be using the gift card for some home improvement projects I've been working on. It will really help so thank you.
Thanks so much for the farewell speeches and video montage. My party was already amazing and they just made it even better. I will treasure all those memories.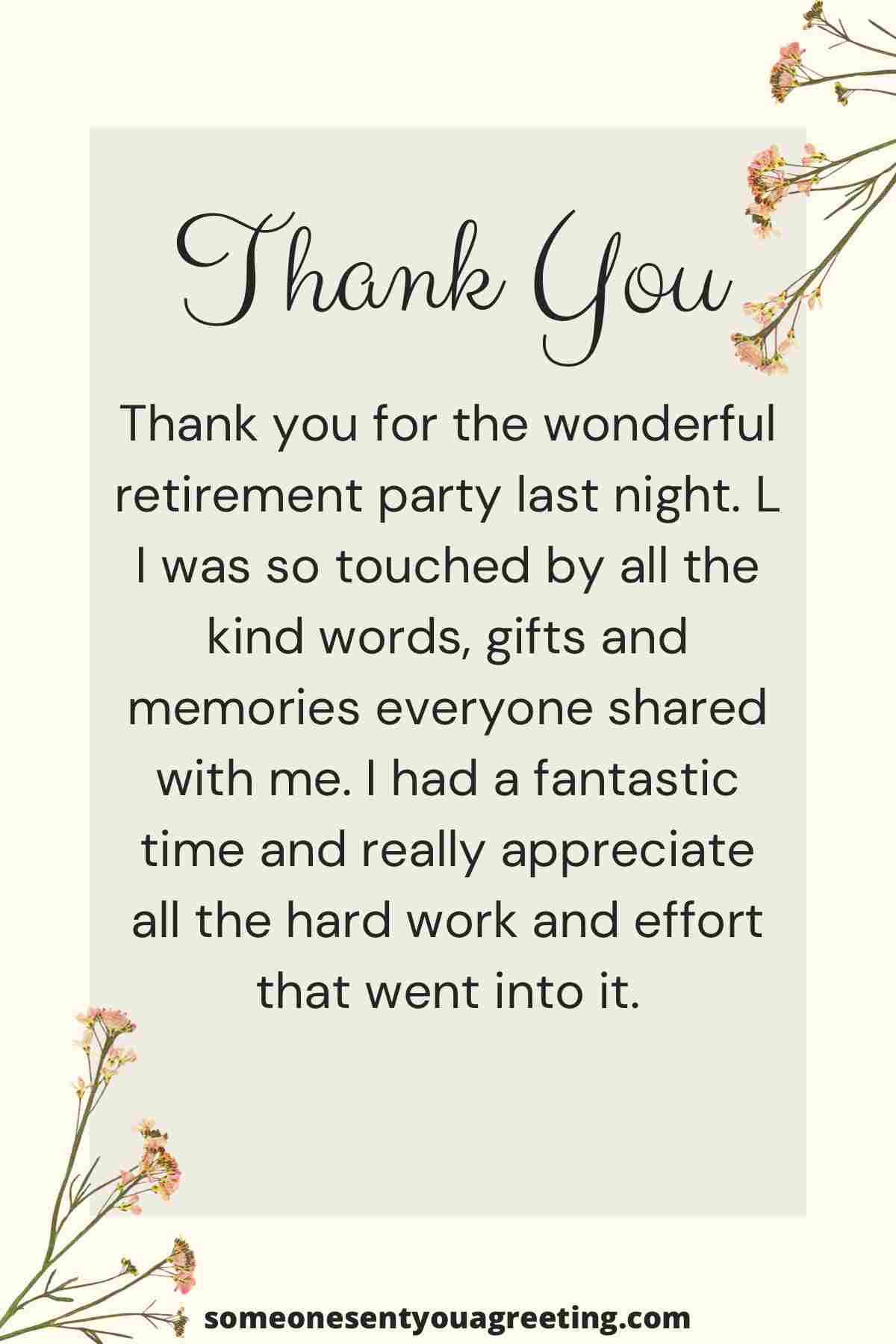 Retirement Thank You Messages
Thank you for the thoughtful message before I left. I am going to miss you.
I appreciate the beautiful retirement plaque commemorating my years of service. It will have a special place in my home.
I appreciate the card and touching tribute. Your thoughtfulness means so much as I embark on new adventures.
Thanks for the heartfelt card and kind words about our time working together. I will always cherish those memories.
Thank you for celebrating my retirement with dinner at my favorite restaurant. The evening was absolutely perfect.
The photo collage was such a special gift. It will always remind me of such fantastic memories I have of my career, all I achieved and the people I met. Thank you.
That gift basket of my favorite food – you know me so well! I look forward to indulging in it. Thank you
Thank You for Retirement Gifts
Receiving a retirement gift is a lovely gesture. So thank everyone who made the effort to give you one with these thank you messages.
The photo album commemorating my career was such a thoughtful gift. It was so kind of you to put that together and must have involved a lot of work. I really appreciate it.
Thank you for the beautiful watch to mark my retirement. I will wear it proudly and think of you whenever I check the time.
Thank you for celebrating my retirement with a donation to my favorite charity. Having my legacy honored in that way is very touching and means the world to me.
Your card and kind words were so touching. Over the years your friendship has meant an awful lot to me. I'm really going to miss you.
Thank you for the lovely retirement plant. It will serve as a pleasant reminder of this special milestone.
Thanks you for a brand new set of golf clubs. I can't wait to put them to use and use all my free retirement time to improve my golf game!
I can't say how touched I am by the scrapbook of memories from work you made. It is a wonderful reminder of the great years I had and will always treasure it.
Thank you for the generous gift card to my favorite restaurant. I look forward to enjoying many delicious meals in retirement.
Thank You Messages for a Retirement Party
If you've been thrown a retirement party then thank the organizers with these messages.
Thank you for throwing such a wonderful retirement party for me. It's hard to put into words how grateful I am. You really made it a special way to retire.
Thanks to everyone who attended my retirement party and made it such an evening to remember. I'm overwhelmed by your generosity and support.
I can't thank you enough for the beautiful decorations, delicious food and drinks and all the fun gems at my retirement party. Everything was just perfect.
I'll forever be grateful to have worked with such thoughtful colleagues like you who would celebrate my retirement with such a brilliant party. Thank you all.
I'm so touched that you would throw a surprise party to celebrate my retirement. I had no idea and you kept it a secret so well! I won't forget how much thought clearly went into it.
Well that was truly a way to go off into retirement in style! Thank you for an incredible party. I don't deserve it but absolutely loved it. Thank you for making my final day such a happy one.
Thank you for such generous gifts and heartfelt toasts. I'm overwhelmed by the outpouring of kindness I've received.
You brought me so close to tears with that video montage of memories over the years. Those memories are ones I will always cherish and the people I made them with will be in my heart forever. Thank you for such a wonderful gesture.
Retirement Thank You to Colleagues
Say thanks to your colleagues and the people you've worked with for years with these heartfelt notes.
Thank you for the heartfelt card signed by everyone. I will miss working with such an amazing team.
Thanks to everyone for the lovely messages and retirement cake. It was so thoughtful of you all.
Thanks for celebrating my retirement with a happy hour toast. Cheers to you all!
Thank you for the farewell lunch in my honor. I will miss working with you all but wish you all the best.
Thank you for the framed team photo and thoughtful note. It will go straight on my mantelpiece and be proudly displayed.
Thanks to the best colleagues in the world. I'm going to miss you all so much. Thank you for a wonderful send off. I promise we will keep in touch.
I've had such lovely messages from you all and can't believe really leaving. Thank you and farewell.
Many thanks for the kind words and well wishes as I head off into retirement. You have all been fantastic coworkers and I'll miss seeing you all everyday.
Those examples should have shown you the right way to say thank you for a retirement party, gift or message.
More Thank You Messages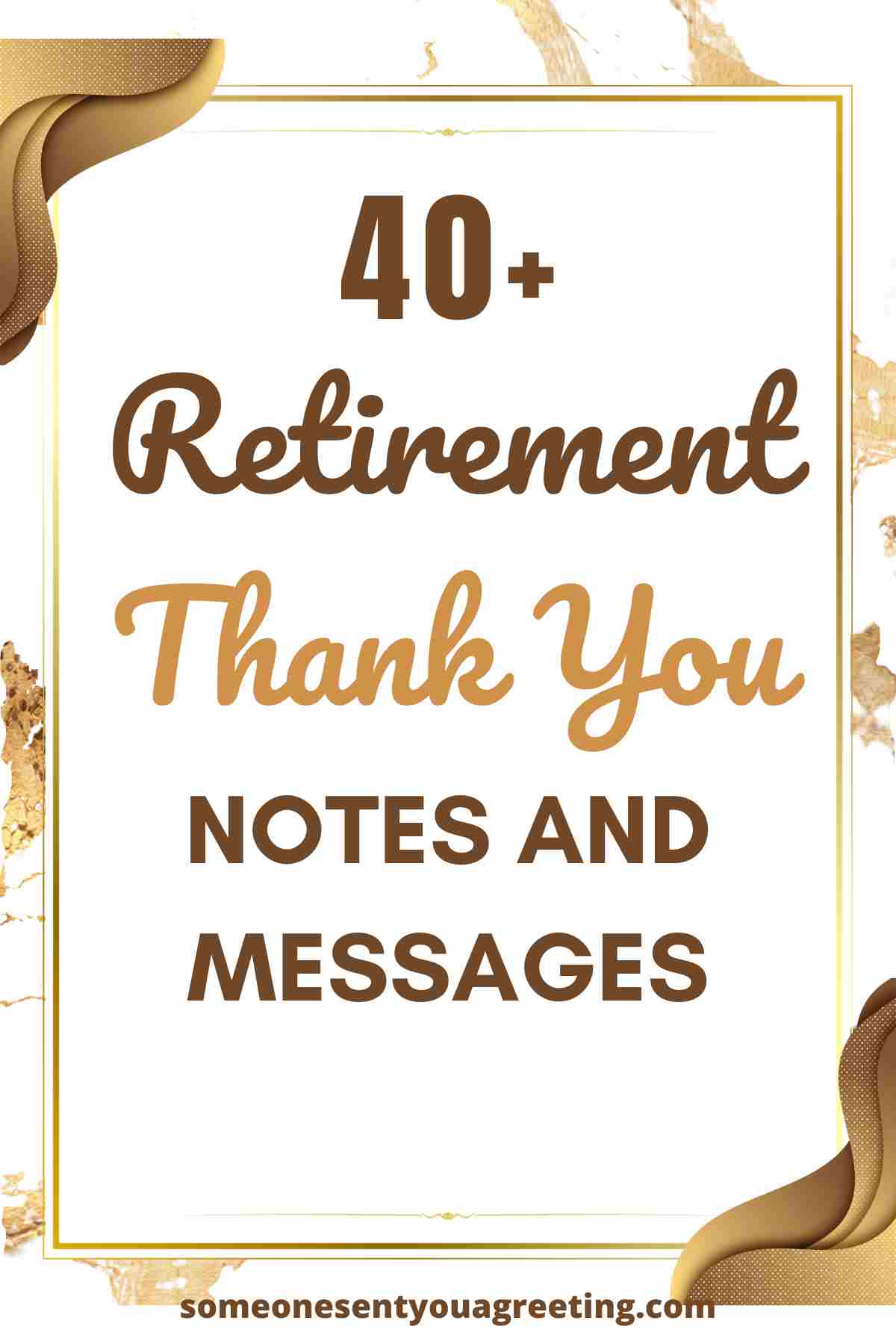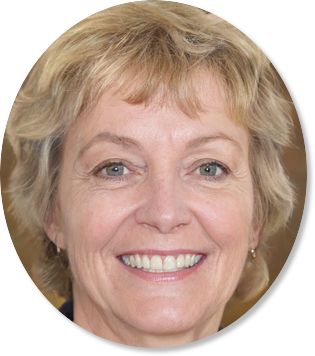 Sally Gibson is the founder of Someone Sent you a Greeting, a holiday/celebration website. Sally's writing work has been mentioned in Woman's World, Yahoo, Women's Health, MSN and more. If you have any questions get in contact with one of the team via the about page.