Are you looking to say Happy Birthday to someone but want to make it quick and simple? Not too many words, nothing overly elaborate or wordy? Or are you in a rush and had forgotten to send someone a card? What you need is a short Birthday message!
A short Birthday greeting is ideal for a birthday card but also the perfect way to wish someone a happy birthday on websites like Facebook, Twitter, Instagram and Snapchat. These social media sites are designed for simple and short bits of information.
Twitter, for example, has a maximum character limit of 144 characters, which is just right for a short Birthday message.
If you are sending a regular card or eCard though, and you have the time, then a normal length message may be more appropriate.
But short wishes have their place, and if that's what you're looking for then our huge collection below should have exactly what you need. From cute and sweet to funny and touching, we're sure you will find what you need.
Short Happy Birthday Wishes
These messages and wishes should be suitable for most occasions and situations. You can use them as they are or change them to fit whoever you are sending them to.
Wishing you a very Happy Birthday
Best wishes on your special day
I hope all your birthday wishes come true
Happy birthday! I hope you have a wonderful day filled with joy and happiness
Best wishes on your birthday – may you have many, many more
I wish you a lovely celebration of your birthday and all the best for the year to come
I'm so happy to share this remarkable day of with you. Happy Birthday
Another year older is another year wiser my friend
It's your Birthday! Let's celebrate!
Enjoy your day and remember to eat lots of cake!
Wishing you a very happy birthday and many more to come. Hope it's a good one.
Congratulations on another year well lived
May your Birthday be filled with lots of wonderful memories
You do so much for others, I hope you find time to do something for yourself on your birthday
I hope you treat yourself to something special on your birthday – you deserve it!
Best wishes to a fantastic person on your birthday
I wish you a wonderful, joyful and fun-filled happy birthday
Wishing you the happiest of birthdays
May your birthday be filled with graces, blessings and favours of the Lord
Birthdays are a time to celebrate so kick back and enjoy your wonderful day
I wanted to send you something awesome for your birthday but nothing is as awesome as the gift of you
I hope your day is full of fun and celebration. Happy birthday!
Although I cannot be with you on your birthday, know that you are in my thoughts today and every day
I hope all of your hopes and dreams come true on this very special day. Happy birthday to you!
Sending you warm birthday wishes and a big warm hug on this very special day
Happy birthday to you! Let's break out the cake, candles… and don't forget the fire extinguisher!
It's your birthday! I hope it is filled with happiness and plenty of love
Celebrate, laugh, dance, and cheer because your birthday only comes once a year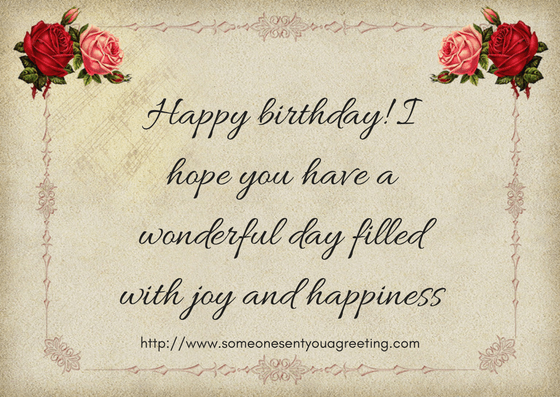 SEE MORE: Happy Birthday Messages for Niece
Short Funny Birthday Wishes
Making someone laugh or putting a smile on their face during their Birthday is great thing to do, so use these short funny Birthday wishes to bring some joy to the Birthday celebrations.
You're going to need a bigger cake for all those candles!
Older, wiser, AND sexier? You're obviously doing something right!
I hope everyone remembers your birthday, but forgets how old you are
Getting older sucks, but you make it look easy
I hope you have low expectations for your meal and cake this year, I hear dad's having a go at being the chef. Happy Birthday!
Happy Birthday. You're one step closer to diapers being mandatory!
If you counted your birthday in dog years, you'd now be a teenager! Happy Birthday.
Party like it's 1959, when you could still dance and drink alcohol without ending up you to the hospital.
I'd tell you to spoil yourself today, but you're already pretty rotten!
Here is a hug! Happy birthday!!!! PS: I'm broke!
There's something in the air today.. I think it's an old fart
You may not be over the hill yet, but you have a great view!
It has been scientifically proven that too many birthdays will kill you.
You have reached the age where all compliments will be followed by "for your age."
Some words of wisdom for your birthday: "Smile while you still have teeth!"
Birthdays are nature's way of telling us to eat more cake.
Better to be over the ground than under it. Happy Birthday!
I made you a birthday cake to celebrate, but I couldn't light the candles. It turns out the fire department requires a permit for bonfires.
Some say the glass is half empty. Others say the glass is half full. It's your birthday, so just drink whatever is in the glass.
Just imagine the things you'd want to hear on your birthday and assume I said them. Happy Birthday!
Old enough to know better.. young enough to still do it!
Another year, another new place that aches.
When I heard it was your birthday I decided to send you something special but I wasn't allowed to mail myself!
Your birthday brings with it a special glow. The glow of so many candles, so hurry and blow them out!
SEE MORE: Happy Birthday Aunt Wishes
For a Friend
Wish a friend a Happy Birthday with one of these short, quick and simple messages that show them how much you care.
I'm so pleased to have you in my life. Happy Birthday!
Whether times good or bad, you can always rely on me to be by your side. Happy Birthday
I am looking forward to many more years of friendship and birthdays with you. Have a fantastic birthday!
I count myself lucky to have you as a friend and as we celebrate this day in your honour. Happy birthday
I hope you know how much joy your presence brings. Happy birthday my dear friend
I wish you love, hope and everlasting joy and happiness. Thank you for being my best friend!
Thanks for another year of being an awesome friend. Happy birthday dear friend!
Words can never quantify my joy for celebrating with you on your birthday, may this celebration bring you happiness and joy
I want to wish you all the love and happiness in the world, all of which you deserve. Happy birthday my friend!
Although I am far away, you are in my heart today on your very special birthday
SEE MORE: Happy 70th Birthday Wishes
Quick Birthday Messages for Brother
Need a short and simple birthday wish for your brother? In a hurry and want to be easy but heartfelt? Then take a look at the short messages below that are perfect for your bro's birthday.
Today I'm old enough to finally appreciate what a fantastic little brother you are
Happy Birthday, brother. Okay now that's done. Let's go party!
No treasure compares to the love of a brother. Wishing you a wonderful birthday, brother
I am so lucky to have you as my brother and my best friend. Wishing you love and more love on your birthday!
To everyone else you may be my elder brother, but to me you are simply my hero. Never change
Age before beauty, brother. Age before beauty. Happy Birthday!
Happy Birthday brother! Thanks for doing everything wrong first.
Nothing compares to the love of my dearest brother. Happy Birthday!
May every day of your life be blessed with rays of hope, joy, love, and sunshine. Happy Birthday, Brother!
A great brother deserves nothing but the best, today and always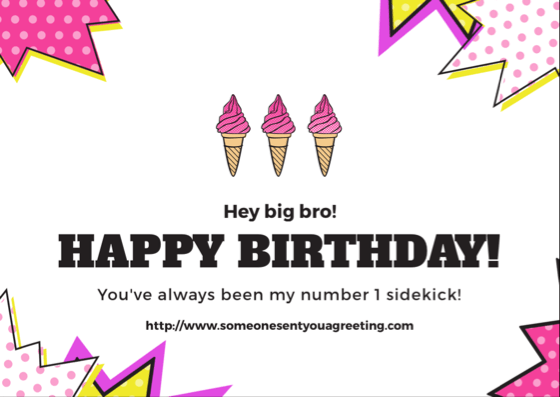 SEE MORE: Happy Birthday Beautiful Sexy Lady
Short Birthday Wishes for Sister
Much like with a brother, as above, if you need a short bit heartfelt and sweet birthday message for your sister then try one of the many below.
Have an amazing Birthday, sis!
We might fight but I hope you know how special you are to me. Happy birthday sis!
I am so thankful to have a sister like you in my life. Celebrate your birthday in a big way!
Thanks for taking all the good looks in the family- oh and Happy B'day.
Our parents made us siblings, we became friends on our own. Happy Birthday Sis.
It's so great to have such an amazing sister like you in my life. Happy Birthday!
Happy birthday to my lovely sister! Wishing you lots of happy memories!
Happy birthday to the coolest sister ever!
The most heartfelt wishes to my incredible sister! You mean so much to me!
My dear sister, on your special day I'd like to wish you an exciting life, full of great discoveries and joyful surprises!
You have always been my partner in crime, but you are going to have to do this getting older thing all by yourself. Happy Birthday.
Today, on your birthday, I want to make you smile the way you've always made me smile. Wishing you a very Happy Birthday.
The warmest wishes to my wonderful sister that makes my life so colourful and exciting!
SEE MORE: Happy 3rd Birthday Wishes
For Boyfriend
Say how much you love your boyfriend and wish him a happy birthday with a cute, short birthday message. It's a quick and simple way to let him know how much you care in his special day.
Happy Birthday to the best boyfriend in the world!
They say it's the thought that counts. So I thought I'd save my money instead of buying you a gift. Best wishes, happy birthday!
Each kiss I give you represents the many reasons why I love you. Happy birthday, baby!
Best wishes on a year full of great opportunities and happiness.
You may be a manly man, but you are as sweet as can be. Have a great birthday!
I would just like to wish a happy birthday to the most amazing boyfriend ever! You make my life complete
My boyfriend, you work hard all year round. Time for a little birthday fun with your one and only sweetheart
My handsome boyfriend, I want you more than I want that birthday cake
What would I do without you? You hold me together. You are the better half of me. Happy birthday, baby.
You get hotter by the day! Have an awesome birthday
I'm always looking for reasons to shower you with love. Today is no exception, happy birthday
SEE MORE: Love Paragraphs for Him
For Girlfriend
If it's your girlfriends birthday then better make sure you wish her a happy birthday! But it doesn't have to be too over the top. Something short, to the point and showing much you love her is absolutely fine. Try one of the messages below.
Happy birthday to my best friend and love of my life
You are the best thing that has ever happened to me. I want nothing but the best for you today. Happy birthday, my love!
Happy birthday to the girl who taught me life is so much bigger and beautiful than I knew! I love you!
Dearest girlfriend, may today bring you joy and laughter, love and hope.
Happy Birthday to the most beautiful girl in the world
I thank the stars every day you're in my life. Have a special Birthday, love
Here's to the woman whom I owe my entire happiness to! Happy birthday, my love!
Birthday hugs and kisses to the love of my life. You make my days so much more enjoyable!
Every time I look into your eyes I'm reminded how lucky I am. Happy Birthday honey
My heart will always be yours. Happy Birthday to my world
SEE MORE: Happy 22nd Birthday Wishes
For Husband
If it's your hubbies birthday then give him a quick message to let him know you're thinking if him on his birthday.
To my husband – have an amazing Birthday!
You're the glue that holds our family together. Happy Birthday darling
To the best husband in the world, have a brilliant Birthday!
Thank you for making my life complete. Happy Birthday hubbie
Darling, you are my not only the best husband, but also the great friend of mine. Happy Birthday
You're the most amazing man I've met. Have the best Birthday!
To everyone else you are just another person, but to me you are my world
Never change, you'll always be perfect to me. Happy Birthday
Wishing the smartest, best looking and most inspiring person in world a very happy Birthday
Thank you for being everything I could ever need in a husband: lover, provider, and friend. I hope your birthday is just as phenomenal as you are.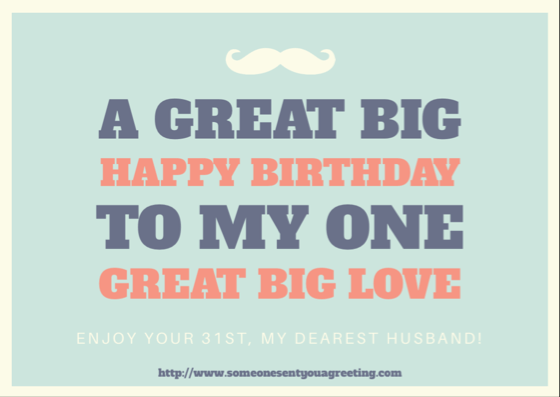 Short Birthday Wishes for Wife
Wishing your wife a happy birthday is something you obviously should do, but should also want to do! It doesn't always have to be long love sonnets that go on for days. Sometimes something short and sweet is more than enough. If that's the case then use one of the short wishes below.
To the worlds most incredible wife – I hope you have the best Birthday
Thank you for putting up with me! Have an amazing Birthday
Smile. It makes my heart beat faster. Happy Birthday, beautiful.
On your special day, dear, I'd like to tell that my love for you is never ending and I feel so happy to have you by my side!
Words alone can't express what you mean to me. You are my one true love. Happy Birthday!
You light up my world. Happy Birthday, sunshine
Put your feet up and enjoy your special day. You've earned it!
Thank you for making my dreams come true and being part of our perfect family. Happy Birthday darling
Happy birthday to the most beautiful woman, the sweetest mother and the most amazing wife! I love you so much
Happy birthday to the woman that has stolen my heart, to the light of my life, to my darling wife!
These examples will have hopefully helped you find or write the perfect short birthday message.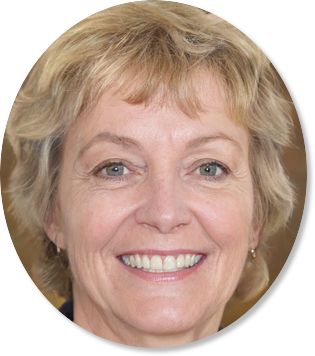 Sally Gibson is the founder of Someone Sent you a Greeting, a holiday/celebration website. Sally's writing work has been mentioned in Woman's World, Yahoo, Women's Health, MSN and more. If you have any questions get in contact with one of the team via the about page.