Being invited to and served a delicious meal is a wonderful thing. It could be home cooked in someone's home, out in a restaurant or at a party.
Whatever the occasion or event we can agree not much beats a great meal. But after you've enjoyed your food you need to find a way to say thank you for dinner.
Saying thank you for a meal is not only good etiquette but something you should want to do. It's a nice gesture to let those who invited you for the meal and provided such lovely food know that you enjoyed it.
You can do so with a thank you note or card. That's the traditional way and most people will appreciate receiving a few short words of thanks in a card or note.
You could also send an email or text message if you're not going to be seeing them or pushed for time. It's not as personal but they will still appreciate it.
So use these thank you messages for dinner to express your gratitude and let whoever it is know how much you enjoyed your meal.
How To Say Thank You For Dinner
Thank you so much for the wonderful dinner last night. It was a fantastic evening surrounded by good friends and even better food. I had a great time, thanks again!
I'm really grateful for the amazing dinner I had at yours last night. You are a brilliant host and I left with a smile on my face and a very full belly! Thank you.
I just wanted to say how much I appreciated dinner at the weekend. Any time I get to spend with you is worthwhile and you probably noticed as licked the plate clean how much I enjoyed the food! Thank you for a lovely evening.
This is just a note to say how much I enjoyed dinner with you last week. You're a really great cook and I haven't laughed so hard in ages. Thank you for a lovely evening, it was a real joy.
You went out of your way to make our meal together as enjoyable as possible. The food and wine, the ambience, it all made for an unforgettable night. I'm extremely grateful and wanted to thank you for making me feel so special.
We don't have many chances to get out at the moment so we were very grateful to be invited to dinner at yours. We had such a good time and can't remember when we laughed as hard. The food was outstanding and all in all it was the perfect evening. Thank you for hosting us and we look forward to having you over to ours in the future.
Thank you for dinner last Friday. I can't believe I never knew how good a cook you are! The meal you served was better than most I've had in expense restaurants. I'll definitely be twisting your arm for the recipe! Thanks again for such a good time.
Many thanks for a brilliant evening. Dinner was mouth-wateringly good and the atmosphere so relaxed and fun. I hope we get the chance to do it again very soon.
Thank you for having our family over to yours for dinner. We felt so welcome from the first second and the kids had just as much fun as we did. You have a lovely home and beautiful family. We are so grateful to have been invited and are checking our diaries to see when we can have you over to ours!
It was great to catch up over dinner at the weekend. It had been far too long! I don't know when you became such a good cook but I'm planning on spending a lot more time at yours after that incredible meal! Big thanks for having me over and let's not leave it quite as long before getting together next time!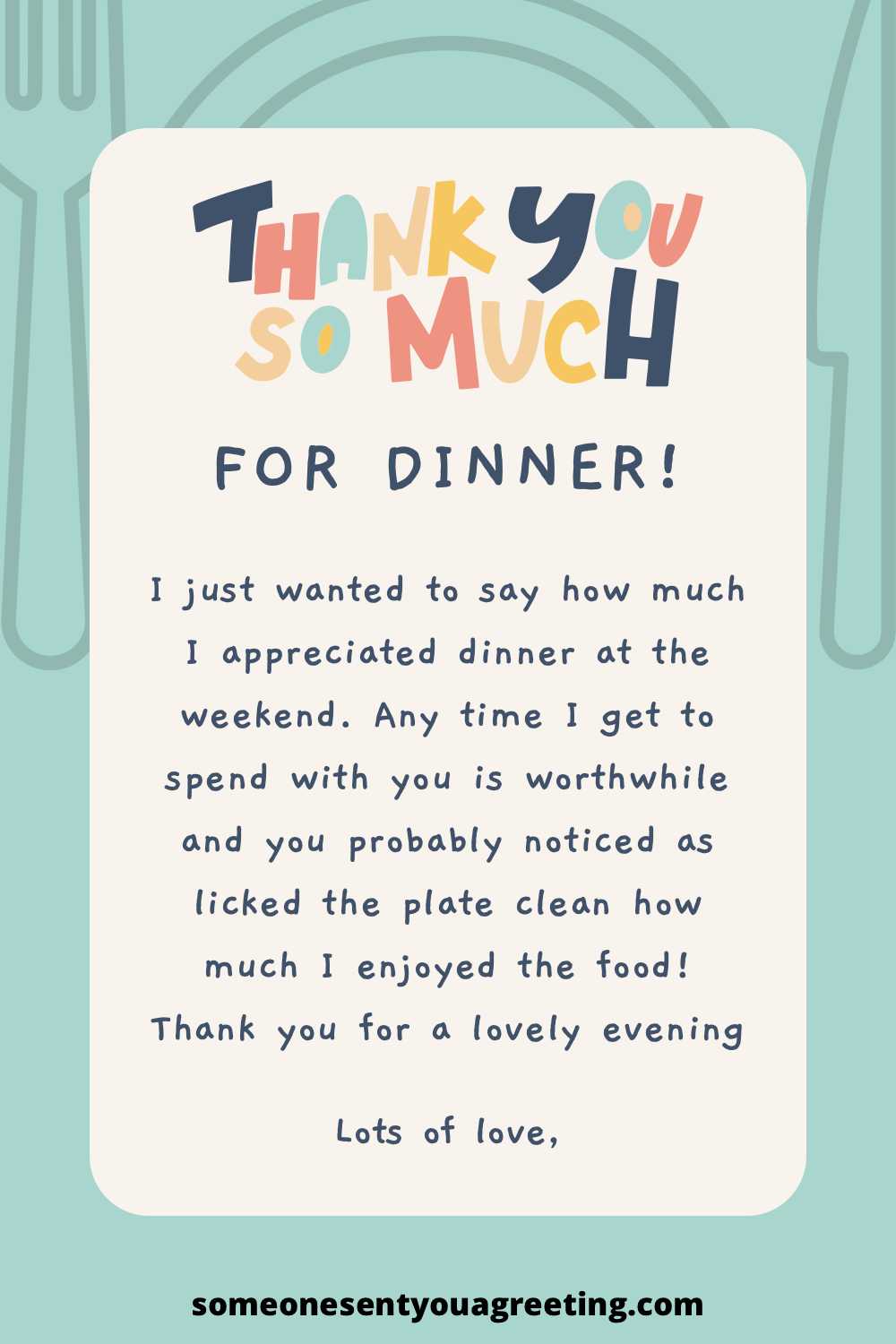 Thank You for a Wonderful Meal
Sending my thanks for such a fantastic meal. I haven't eaten that well in a long time! It wasn't just the food though, the entire evening was a huge success, one which I won't forget in a hurry.
I was really impressed by the dinner party you threw last week. I knew you would be an outstanding host but the meal was so impressive. Thank you for such lovely hospitality and a magical evening.
The meal at yours last Friday night was the best I've had in years. It was so enjoyable to get together with such good friends and it helped remind us not to wait long before seeing you again. Thank you for the meal, the time and effort that went into it and your warm hospitality.
Thank you for a marvellous meal! I particularly loved the dessert – it was so luscious. It really made my day and put a smile on my face. I'll have to have you over and cook for you soon.
I hope you know how much I enjoyed your party last weekend. The decorations and entertainment were spot on. But the food was especially divine. And I just wanted say thank you for having me.
Thank you for going out of your way to host a wonderful night at your house. There's no word to describe the food other than remarkable. It was just amazing. It will take a lot to match up to you now! Thank you again.
Thanks for providing such a special meal. I know it couldn't have been easy but you made it so perfect. I'm really touched and can't express how much I appreciate it. Thank you!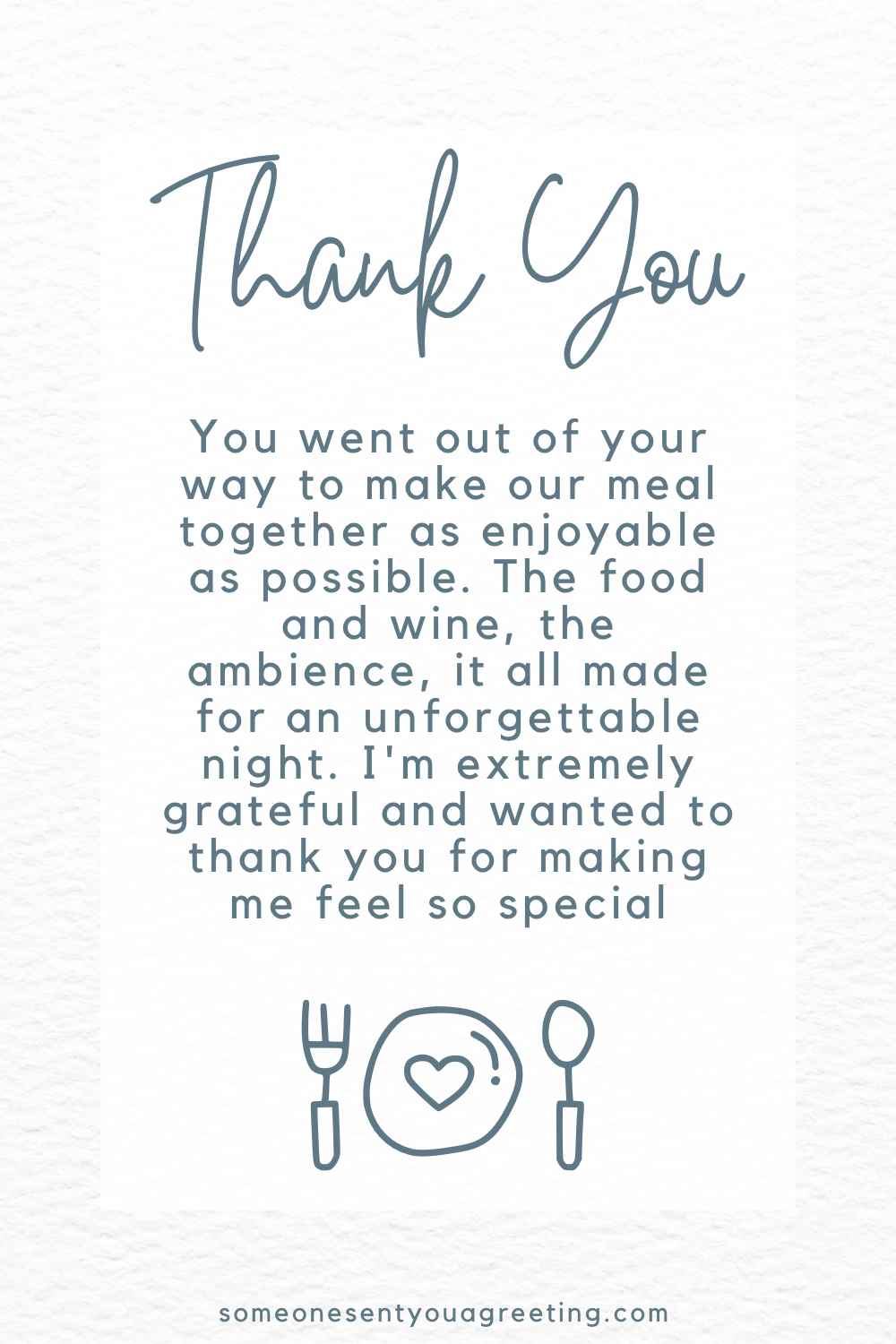 Thank You for Inviting Me for Dinner
Thank you ever so much for inviting me to dinner. Getting to see lots of old friends and meet some new ones was just what I needed. I'm really pleased you invited me and had a great night.
Thanks for inviting and having me over on Saturday. Dinner was sublime and getting to see you again was such a joy. I'll make sure you come to mine next time.
We are very grateful for the invite to yours last night. It was as great to have a big catch up with you and everyone. The delicious meal was the icing on the cake. Thanks for a top night.
I was delighted to be invited to yours for dinner. Thank you for opening your home to me and playing host, I had a terrific time.
I feel very lucky to have been invited to yours and then received the meal I did. It was absolutely delicious and only made better by the amazing company. Many thanks for a perfect night.
Dinner was a major success! You nailed it – the food was as good as it gets and I enjoyed myself immensely. We really should get together far more often as I always have the best time. Thank you so much for having me and the fantastic meal.
Food can be subjective but there's no doubt in my mind that last nights meal at yours was 10 out of 10! I'm still savoring the flavors today! Thank you for inviting me.
Thank you for an awesome night and even better meal. I would have been kicking myself if I'd missed it. So I'm really pleased to have been invited.
My belated thanks for inviting me to dinner a few weeks ago. It was a great night and I'm sorry I was slow in saying thank you. But I really enjoyed myself and that's all down to you hosting a lovely event.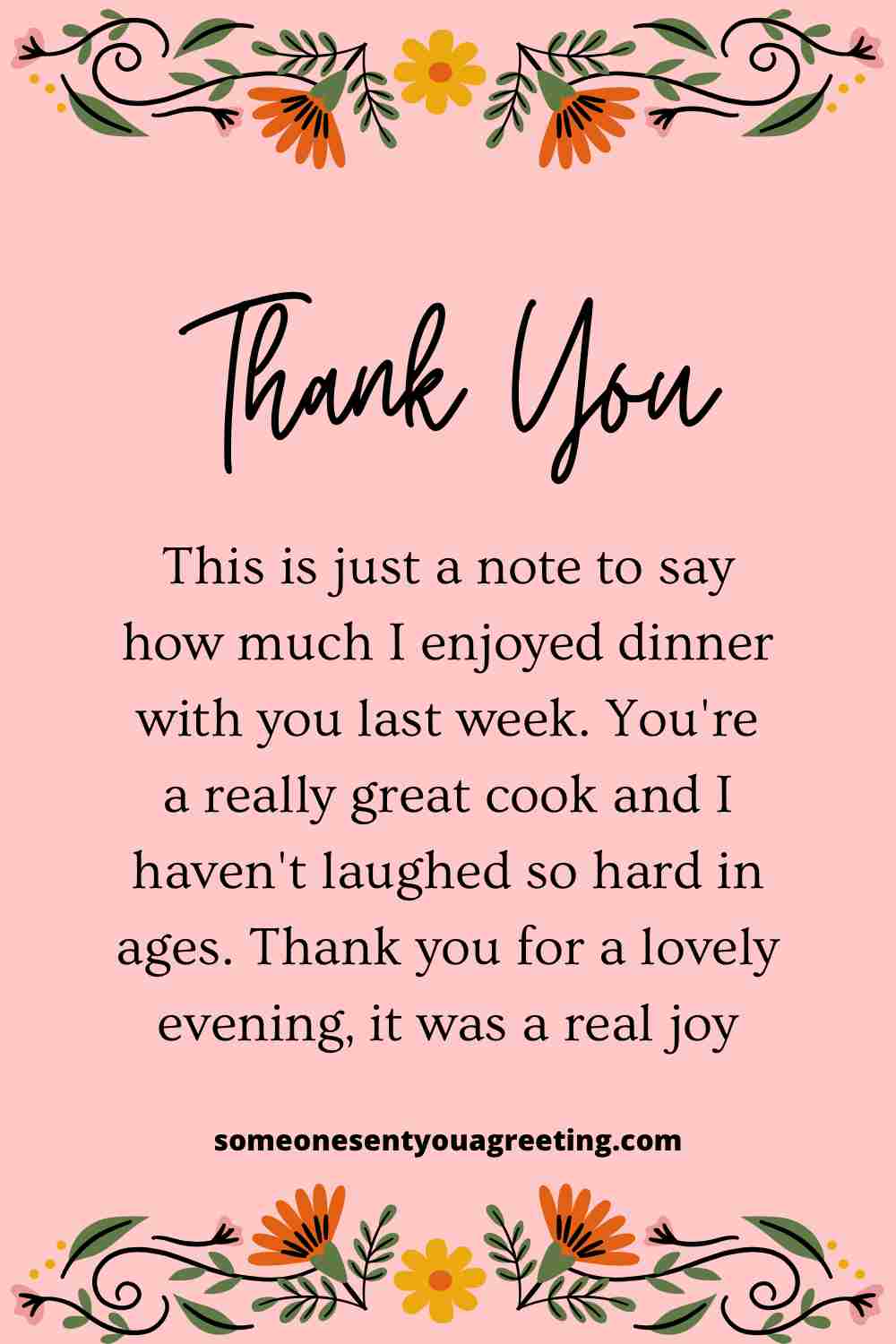 Thank You Message To Host After Dinner
Thank you for hosting such a fabulous evening. You should consider a career in party planning because it was a total success and I know everyone loved it. So here's to a truly special host!
You opened up your home to us for an amazing dinner party and we couldn't appreciate it more. It was a pleasure to spend time with you and hope to do so again very soon.
We had an absolute blast at your BBQ yesterday. It was so much fun to be around friends and just kicking back and enjoying ourselves. Thank you for having us, you're both excellent hosts.
Whenever I've thrown a dinner party I've burnt the food, forgotten the wine and my dog has peed on someone's expensive dress.. but yours was flawless!! I had such a good time I can't even find it in me to be jealous! So congratulations on a wonderful night and thank you for being an amazing host.
Good food? Check! Good company? Check! First class host? Double check! What more could anyone want. Thank you for putting it all together. You did an superb job.
What an awesome night! Exquisite food and some of my favorite people. I am so grateful to have been invited and feel the need to repay you now. Next time you're coming to mine! Thank you.
Hosting duties are never easy and yet you made it look like child's play. It was a magical evening and all because of you. Thank you for doing such a good job.
You deserved a wonderful dinner party after the effort you put into arranging it. And that's what you got! Thank you for an amazing dinner and for having me.
Thank You Notes for Dinner
Send these notes to someone when you've had a really lovely evening with them and want to show your appreciation. They will be pleased to receive a dinner thank you note and see that their hard work was recognized.
Dear ______,
I wanted to reach out and say thank you for dinner the other night. I appreciate you taking the time to have me and everyone round to yours, as well as the stress that goes into preparing and hosting a dinner. The food was wonderful and catching up with old friends was a joy. The whole night was just great and I had such a good time.
Thank you again,
***
Dear ______,
I just wanted to send this note as a quick thank you for dinner last Thursday. It was great to get out of the house and have a night with friends. I really needed it! Thank you for having me and being such a good host.
With love,
***
Dear ______,
We were delighted to be invited to dinner and spend the evening with you and your family. It was a blast meeting lots of new people and getting the chance to let our hair down. Thank you for making it a brilliant night and for thinking of and including us.
Yours,
***
Dear ______,
I had an amazing time last night. Everything was awesome – the setting, the food, the company. It made for a wonderful night that I know everyone enjoyed. So thank you for having me and putting on a great event.
Regards,
***
Dear ______,
Thank you for throwing me a birthday dinner. I was touched that you went to so much trouble to get it just right, from inviting all my closest friends to having my favorite food. It was an amazing night and I'm so grateful. You're a true friend. Thank you so much!
With love,
***
We hope these example notes and ways to say thank you for dinner have helped you let someone know how much you appreciate the meal they put on for you and say thanks for a dinner party or event.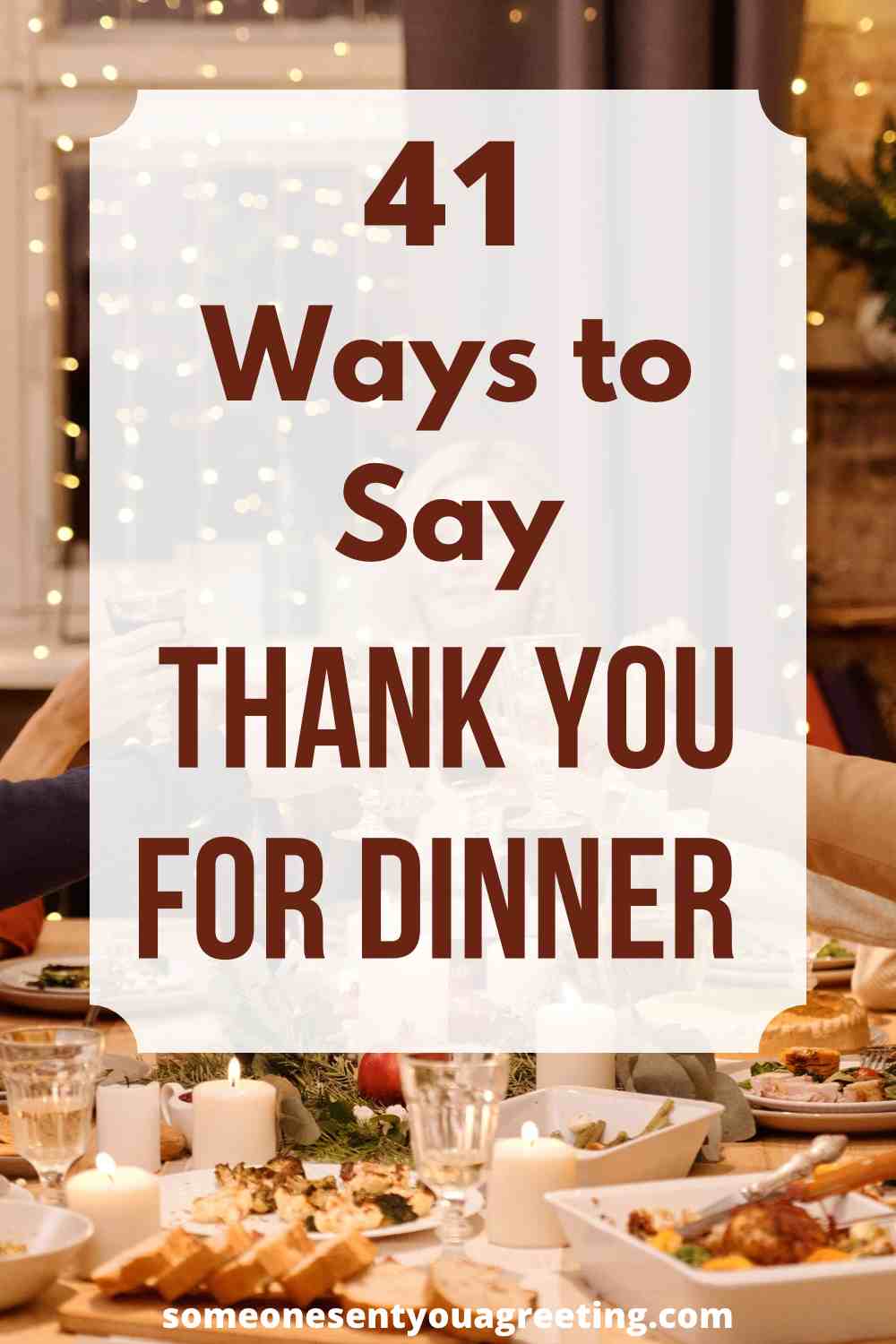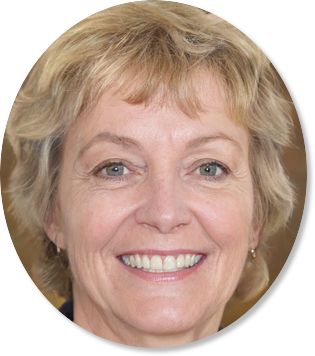 Sally Gibson is the founder of Someone Sent you a Greeting, a holiday/celebration website. Sally's writing work has been mentioned in Woman's World, Yahoo, Women's Health, MSN and more. If you have any questions get in contact with one of the team via the about page.