Reaching the milestone for an anniversary is always cause for celebration. Even a one month anniversary is an achievement and something to be admired.
But anniversaries go all the way through newlyweds, families and onto the more mature couples who are hitting the big milestones like silver, ruby, gold and diamond. Love that sustains and remains through all the testing times life brings should be cherished and respected.
The way you can celebrate the anniversaries of others is to send an anniversary card. This gives you the opportunity to express the way you feel about their big day.
Maybe you want to offer them congratulations, pay tribute to their enduring legacy of love, recall a funny anecdote involving the couple or just wish them a happy anniversary. But choosing the correct words is sometimes easier said than done. Some people find writing their feelings or emotions difficult, others just aren't sure what sort of words to use.
So if you're struggling with what to write in an anniversary card then below you'll find a selection of anniversary wishes and card messages. They cover all the different types of anniversaries and recipients, from family and friends to your spouse and big milestones.
We're confident you'll find exactly what you need to inspire you to write your own wishes or find the most appropriate example for your card.
What to Write in an Anniversary Card
If you're intent on writing your own anniversary wishes and messages then you can follow a few tips to make sure you hit all the right notes.
Try to handwrite it. Sending a text, email or even a printed message has it's place but for something as important as an anniversary then stick to writing it yourself. It's not too much effort to use a decent pen (one that doesn't blob or leak!) and some lovely stationary or card.
Think about including your anniversary message as a letter or note within a card. A card on it's own is fine, but for your spouse or someone special you might want to write a bit more. So consider including a longer message on a separate piece of paper inside your anniversary card.
Don't panic about what you're going to write. Speak from the heart, try not to feel embarrassed about what you're saying and remember it will come across far better than you're probably imagining in your head. If you're still worried then you can do some rough versions first to test the sort of words you're planning on using. Then pick your favourite to use as the final version.
When writing your message go into detail. Use anecdotes or past experiences that are personal to the recipient. You want it to seem personalised and as if only you could have written it, rather than sounding generic. You can also try to be funny or cheeky if that comes naturally.
Be effusive. Now isn't the time to get shy or feel silly about what you're thinking or saying. Try to let go and say whatever it is you're feeling. The recipient is probably a loved one so you can be gushing about them without fear of it coming across as over the top.
Finally – enjoy it! Anniversaries are special times so enjoy the magic of a wonderful day.
Try some of the examples below to give you some inspiration when writing your own.
Anniversary Wishes and Messages
Congratulations on your anniversary!
Warmest wishes to an amazing couple. Happy anniversary!
Heres to many more years of your happiness!
Congratulations on another year. You two were made for each other
It doesn't surprise me we're celebrating another of your anniversaries. You two are perfect together! Congratulations
Happy anniversary! Have a wonderful day
Take the time to remember all the special memories you've made over the years. And enjoy your special day
Wishing you the very best anniversary
Congratulations on another successful year. And no doubt many more!
Congratulations to a brilliant couple. You're an inspiration to us all.
Never let go of the beautiful love that binds you. Warmest Anniversary Wishes
Your Anniversary Day is a special day. Best wishes and enjoy it!
Best wishes to an amazing couple. Have a really wonderful and happy anniversary
Warmest wishes on a very special anniversary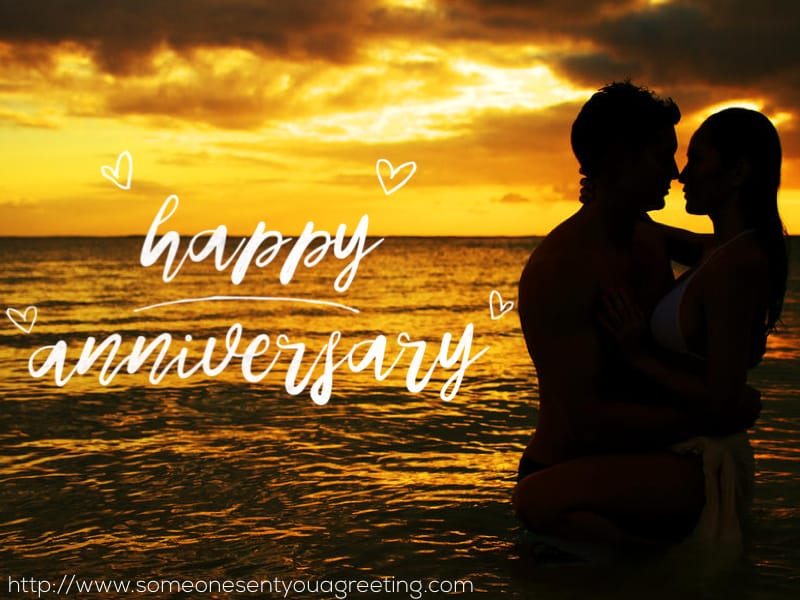 For Your Partner
If it's your own anniversary then write from the heart and express exactly what your partner means to you. Don't worry about sounding silly or getting it wrong. If you are concerned then use the examples below as a guide on what to say.
I love you just as much as the day we met. Happy anniversary angel
Still together after all these years, still as happy as could be.
I feel so lucky your in my life. Marrying you was the best decision I ever made
My love for you continues to grow no matter the years we've spent together
[Five] years ago today you made me the happiest man alive. That feeling hasn't and never will pass. I love you
Each year I find things that make me love you more and more
Happy anniversary to you, my love, my rock, my everything.
To the sweetest guy a girl could hope to meet. Happy anniversary!
I never thought it was possible to love you more. But somehow, each year I'm proven wrong
It's fun to look back on all the events and changes we have experienced together, but not as fun as thinking about our future together. Happy anniversary
Never in my wildest dreams could I imagine I'd be this happy. Thank you for another year of making my dreams come true /li>
Happy first year anniversary! It's been the best year of my life. Here's to many, many more
Our love is not about how many days, months, or years we've been together. It's about how much I love you every single day
I know I don't say it enough but I love you more than words can say. Thank you for sticking with me through the good and bad times. Happy anniversary my love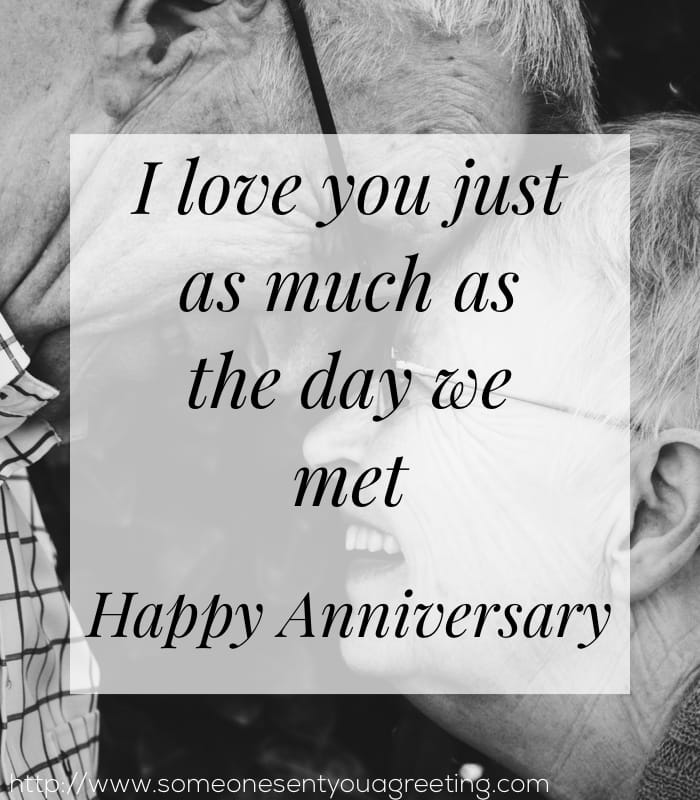 SEE MORE: 7 Year Anniversary Quotes
Major Milestones
Major milestones like a 20th, 30th, 40th etc. anniversary is a huge achievement and so should be celebrated as such. Use the examples below as inspiration for your message.
Happy Golden anniversary. 50 years! What an incredible achievement
You're both an inspiration to us all. Love truly conquers
A huge congratulations on reaching an amazing milestone.
40 years and still going strong. Enjoy your Ruby anniversary
After 60 years of marriage you still make it look so easy! Congratulations on your anniversary
Happy Silver anniversary! Enjoy your day and the lovely gifts
Wishing you so much happiness on this amazing day. A golden day for the golden couple /li>
You've achieved so much together in your 30 years. A wonderful life lived by two wonderful people
I hope I make it to 50 years! You deserve all the happiness in the world, both of you. Congratulations
10 years of love and joy. May the next 10 be just as happy
Tip
Make sure you know which anniversary it is your sending your card for. They can sometimes be confusing and knowing which is which for the appropriate year can be easily mixed up. So, for avoidance of doubt here are the most common and major milestones:
Silver – 25th
Ruby – 40th
Gold – 50th
Diamond – 60th
For Family
Take the opportunity to let family members know how much they mean to you and how much of an inspiration they are. Grandparents and older relatives may have had long marriages and set examples to the rest of the family. Or you may just want to let newer family members know how much you enjoy having them as a member of the family.
Congratulations on your anniversary mom and dad!
The love you've both shown each other has had such a positive impact on me throughout my life. I couldn't have asked for more loving parents. Happy anniversary
I can't believe my little sister is already celebrating her 1st marriage anniversary! Congrats!
It's so great to have you as part of the family. Enjoy your anniversary
I'm blessed to be able to watch your love grow day by day. Thank you for sharing it with those in your life. Happy Anniversary
Wishing you the most special day celebrating your anniversary
You're an inspiration to the whole family, and such wonderful grandparents. Happy anniversary
Happy anniversary bro. Still can't believe you managed to find someone willing to marry you!
I hope you know how special you are to me and the whole family. Congratulations on your anniversary
Happy anniversary to 2 wonderful grandparents! When I think of love I think of you both
You make a perfect team. I just hope I can find someone to love me as much as you love each other. Happy anniversary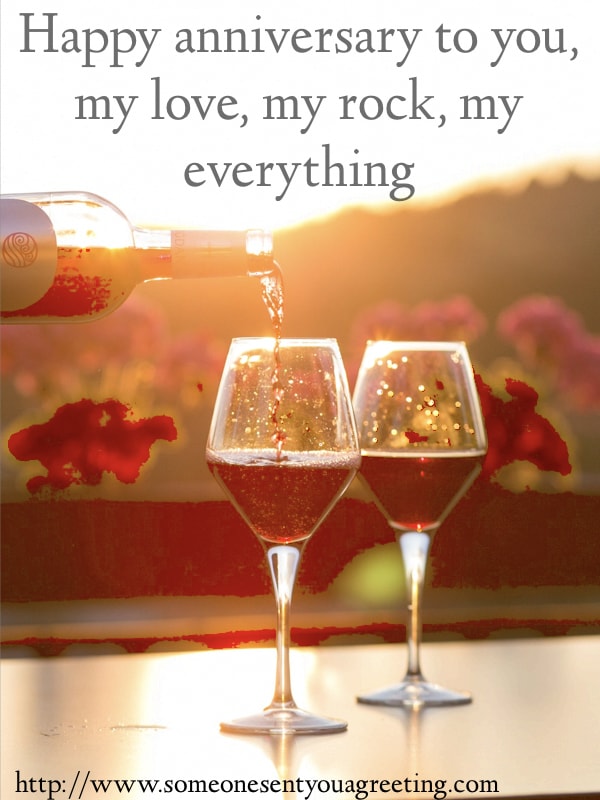 For Friends
Join in the celebration of a friends special day by sending them a warm message of congratulations. Be that simply wishing them a happy anniversary or something more personal like an anecdote from your past that only you share with them.
Here's to a special couple! Happy anniversary guys, enjoy!
To my dearest friends – have a wonderful anniversary.
You two are an inspiration. Enjoy your anniversary
You guys are the perfect couple and we're so pleased you're in our lives.
Wishing you two a brilliant anniversary.
If there were ever an example of the perfect marriage it's you. Congratulations and happy anniversary
You're some of our favorite people and it's great to see you celebrating another anniversary. Enjoy it!
It feels like only yesterday you got married and yet here we are 4 years later. Here's to 40 more years! Happy Anniversary
Wishing you a lovely day and many more. Happy anniversary
We've shared so many good times together we're forever thankful you're in our lives. Have an amazing anniversary!
Funny Anniversary Wishes
An anniversary is a time of joy and celebration, but can also be a time of laughter. You can use these humorous and witty wishes to put a smile on the couples face.
Marriage is a relationship in which one person is always right and the other is the husband! Happy anniversary
Happy anniversary! Here's to another year of pain and suffering.
I'll love you even when you're old and wrinkly!
Today we celebrate your most difficult accomplishment, staying married to me all these years!
Love means commitment. Of course, so do most mental illnesses! Wishing you both a Happy Anniversary.
Marriage means commitment. Of course, so does insanity!
Happy Anniversary! Now if I can just remember your birthday this year.
Well, we made it another year without one of us either ending up dead or in jail. I call that a win. Happy Anniversary
The longer you're with someone the more you rub off on each other. So I don't expect that at this point there is much of you left as individuals.
God proved his sense of humor when he matched us. He also proved he's a genius
I thought that a condolences card was more fitting for you for our anniversary.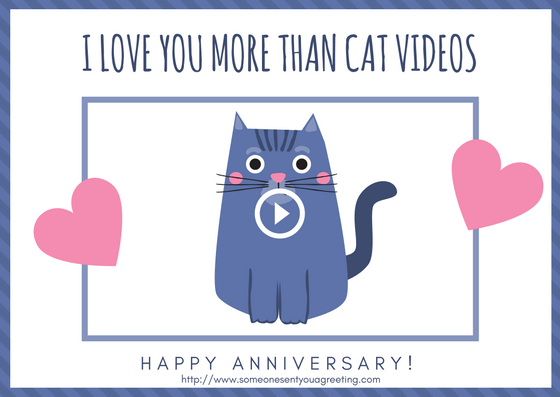 Tip
Be certain that the couple you are sending your anniversary card to is open to receiving a funny message. You might risk offending them or coming across as not taking it seriously. If you are confident about their sense of humour then go ahead with the funny message but if you are in any way unsure then it would probably be advisable to avoid doing so.
We hope you now feel a lot more confident about what to write in an anniversary card. Use the steps and examples here to send a lovely anniversary message to whoever is celebrating or marking their anniversary.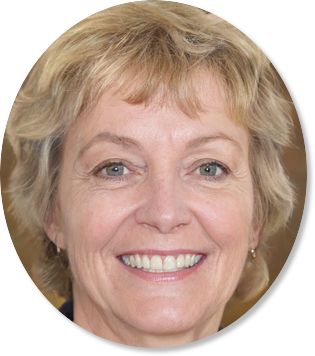 Sally Gibson is the founder of Someone Sent you a Greeting, a holiday/celebration website. Sally's writing work has been mentioned in Woman's World, Yahoo, Women's Health, MSN and more. If you have any questions get in contact with one of the team via the about page.