Reaching a significant milestone at work is a notable achievement. It demonstrates longevity, loyalty and the skill or ability to do whatever job it is well.
Let's face it, if you've managed 5 or 10 years with the same company you must be doing something right! But whilst reaching an anniversary at work isn't as important as something like a big retirement, it's still worth celebrating. If only through a small gesture.
And one of the most common ways to acknowledge a big milestone like this is with cards and work anniversary quotes or messages for your colleague or friend.
A funny or touching card and message is a great way to let someone know how proud or pleased you are of them for their work anniversary. But knowing what to write and say in the card can be a little tricky.
Which is why we've put together this resource of the best work anniversary quotes and wishes. Use the large collection below to wish a friend, colleague or boss congratulations on their anniversary.
You could even buy them a small gift to go with your card. Or if you feel like that's too much then you can use one of the quotes below on their Facebook page or just to say in person.
So take a look below at the work anniversary messages below and we're sure you'll find what you need to let whoever it is know just how pleased you are for them.
Work Anniversary Wishes
Use one of these wishes and messages to congratulate anyone on their anniversary at work.
It only feels like yesterday that you started working with us. Yet here we are, a year later. Congratulations on a brilliant first year
Big congratulations on such a fantastic 10 years. I'm sure the next 10 will bring even more achievements and success
Happy anniversary! You work so hard so deserve this recognition
Here's to many more years of success. Congratulations on your work anniversary
If there were an award for worker of the year – you'd win it! Congratulations and best wishes on your anniversary
20 years of working for the same company! Truly amazing! Congratulations on what is a real achievement
Your dedication and hard work are an inspiration to us all. We're so happy to call you not only our coworker but our friend. Congratulations
Keep up all the good work! Happy anniversary and here's to many more
Being comfortable and happy in your work is all anyone can ask for. And after all these years you clearly fit working here like a glove! Congratulations on so many amazing years of work
Congratulations! I think all your hard work calls for a party!
Congratulations and best of luck for all your work years ahead
To my partner in crime and desk buddy – congrats to another year in the rat race. Have a happy work anniversary!
Works a pain but you make it look so easy! Well done and best wishes on your amazing dedication
We wish you all the best for your 10. Anniversary and hope that you will stay for another 30 to 40 years. Happy anniversary!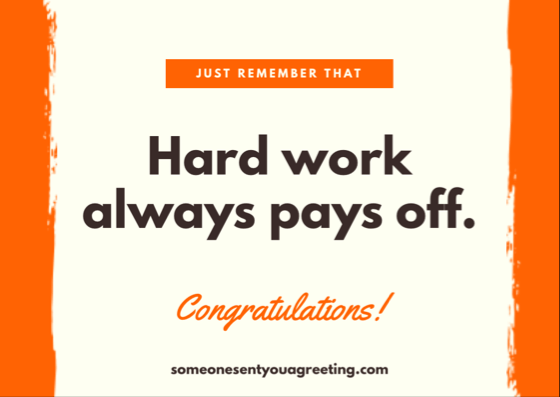 Work Anniversary Quotes For Friends
Celebrate with your friend on their work anniversary. Tell them just how valued they are at work and what a big achievement it is to have reached this anniversary.
Work brought us together but we've become more than just colleagues. You're a true friend I'm happy to congratulate you on your amazing dedication to both the company and your profession
Even through all the tough times I've always had you by my side. Congratulations on your work anniversary
Having know you since we were kids I can barely believe you managed to get a job, let alone reach a 10 year anniversary in it! Congrats to my best friend
A work anniversary sounds like a good reason for us to have a party! Congratulations, let's celebrate all your success
I can't imagine you get much work done considering how often you're on Facebook! But I guess your bosses don't care! Congrats on your anniversary
Wishing you a great work anniversary and just wanted to let you know how proud of you I am
We're celebrating your anniversary today but it won't be long until we're congratulating you on that big promotion!
I was going to suggest a party but I guess you're too busy working! Happy anniversary
Your continued success just makes me look bad! Only joking, big congratulations on a special anniversary
It's time to celebrate the special moment, that moment that comes once a year. Happy work anniversary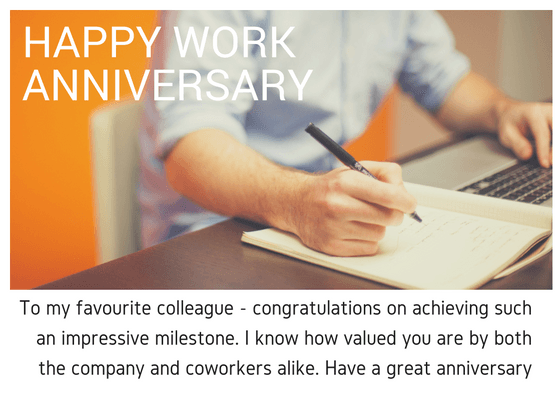 Work Anniversary Congratulations for Colleagues
You probably work alongside lots of successful and hard working colleagues. When they reach a big anniversary at work then use the wishes below to congratulate them.
You're dedicated, never miss a deadline and are always on time. Frankly you're making the test of us look bad! Congratulations though, and happy work anniversary
When I think of why the company runs so well your name instantly comes to mind. Your responsibility and constant striving for success inspires us all. Congratulations on your tremendous service
Success comes from hard work and never giving in. That's why you're destined for success. Congratulations and happy anniversary
I know we only met last year but I wanted to congratulate you on your first year of working here. Keep going – your doing great!
You're an inspiration and success pushes me to do better. I'm so pleased to have you as a colleague and wish you all the best on your work anniversary
Today we celebrate you and all your achievements. Keep up all the hard work and reaching for the stars! Happy anniversary
Enjoy your day and maybe have a break. You work so hard the other 364 days you've earned a rest! Congratulations
To my favourite colleague – congratulations on achieving such an impressive milestone. I know how valued you are by both the company and coworkers alike. Have a great anniversary
You might be new to the company but I've been really impressed with all your work. So I'm happy to wish you a happy anniversary with us
Your cool head and ability to deal with pressure are huge assets to us and we're so pleased to being wishing you a happy work anniversary. Hopefully there will be many more to follow
Congratulations on your anniversary with the team! Looking forward to many more successful years with you!
Work Anniversary Messages for Boss
They might be your boss but reaching a big work anniversary deserves congratulating and celebrating even if they are in charge. Let them know there's no hard feelings for bossing you around with one of these quotes.
You can be a real taskmaster but we're all really happy for you. Congratulations boss
Seeing as it's your anniversary today how about going a little easy on us? Congratulations!
You make everything tick, keeping us all on track. You deserve all your success and I'm really glad for you. Congrats
To the best boss in the world – happy work anniversary!
Let's hope this is just the beginning if even more success for you. Enjoy your day
We understand it's sometimes difficult being the boss and having to make the tough decisions. But we think you're great and are so pleased to celebrate your anniversary with you. We'll be hoping there's many more to come
From all of us, thanks for every act of kindness, every soothing word, everything you've done to make our world a gentler place. Happy Anniversary
You've made coming to work that bit more fun and enjoyable. Thank you for everything and have a wonderful anniversary
May you continue to inspire us for many years to come! And may you always remember how much you are needed, respected and valued! Happy Anniversary
You are terrifically tireless, exceptionally excellent, abundantly appreciated and magnificent beyond words! So glad you're part of our team! Happy anniversary
Funny Work Anniversary Quotes
Congratulations on surviving another year at your job. Lesser mortals would have gone insane by now
I hope you have a great first anniversary at work and that this means i never have to remember it again
Always remember that you are absolutely unique. Just like everyone else. Happy Work Anniversary!
Congratulations! I think all your hard work calls for a party!
Happy work anniversary! Don't you dare think about taking another job – but if you do, please take me with you
Happy anniversary from someone you're probably shocked knew it was your anniversary.
People like you make this company what it is. And I mean that in a good way – really!
Today is your anniversary and you've been here for 2 years? Wow… it feels like a lot longer!
All the best for your work anniversary! Oh, by the way, the best time to think about changing the job is before your boss decides the time has come
SEE MORE: 48 Funny Work Anniversary Quotes
Work Anniversary Quotes for Yourself
Happy anniversary to me! It's amazing I've been here 5 years now, and I'm so happy. Here's to many more years working where I love
Congratulations to me for 10 years of work! I am delighted to celebrate it with my friends and colleagues and look forward to helping the company reach new heights
Happy work anniversary to myself! It's a great day to remember how much I love where I get to work and what I do. I am very lucky
Congratulations to me for another year of work. I am honored to work alongside some wonderful people and feel so loved and valued here. I'm looking forward to even more years of professional growth
The motivation and support of my coworkers has helped me to hit even more milestone, and as I celebrate another anniversary of working here I am truly grateful to everyone
We hope these work anniversary wishes have shown you how to wish someone a happy work anniversary and congratulate them on their years of service.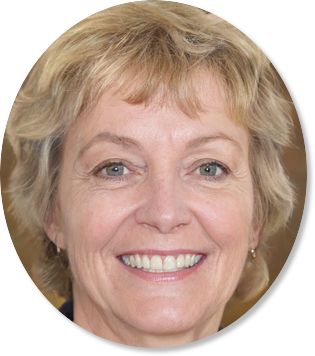 Sally Gibson is the founder of Someone Sent you a Greeting, a holiday/celebration website. Sally's writing work has been mentioned in Woman's World, Yahoo, Women's Health, MSN and more. If you have any questions get in contact with one of the team via the about page.