The anniversary of someone's passing is a hard time for all who knew them. Sometimes the pain of loss fades and an anniversary can bring it all back very quickly. Others like to use an anniversary to remember the passing of someone, perhaps visiting their grave and laying flowers. Often it is supportive to send a card on the anniversary of someone's death to let them know you are also thinking of them.

If you are struggling with what to say in a card for the anniversary of someone's death, or you want to write a message and celebrate the passing of someone special from your own life, use the quotes and messages below.
Death Anniversary Quotes
These quotes are both an insightful and touching take on death and its impact on people. They can be used in an anniversary card for someone's passing or on social media like Facebook to let someone know you are thinking of them on what will be a tough day.
"In your life you touched so many, in your death many lives were changed" – Melinda Jones
"Perhaps they are not the stars, but rather openings in Heaven where the love of our lost ones pours through and shines down upon us to let us know they are happy" – Unknown
"Sometimes
I just look up,
Smile, and say
I know that was You"
– Unknown
"While we are mourning the loss of our friend, others are rejoicing to meet him behind the veil" – John Taylor
"Although it's difficult today to see beyond the sorrow, May looking back in memory help comfort you tomorrow" – Author Unknown
"Those we love don't go away, they walk beside us every day. Unseen, unheard, but always near; still loved, still missed and very dear" – Anonymous
"They that love beyond the world cannot be separated by it. Death cannot kill what never dies" – William Penn
"The life of the dead is placed in the heart of the living" – Cicero
"To live in the hearts of those we love is never to die" – Thomas Campbell
"Love grows more tremendously full, swift, poignant, as the years multiply" – Zane Grey
"Death is nothing to us, since when we are, death has not come, and when death has come, we are not" – Epicurus
"When he shall die,
Take him and cut him out in little stars,
And he will make the face of heaven so fine
That all the world will be in love with night
And pay no worship to the garish sun" – William Shakespeare
"To live in the hearts of those we love is never to die" – Hazel Gaynor
"A grave is braced not just by a tombstone but by angels as well" – Adabella Radici
"It's not always the tears that measure the pain. Sometimes it's the smile we fake." – Unknown
"When a great man dies, for years the light he leaves behind him, lies on the paths of men" – Henry Wadsworth Longfellow
"Good men must die, but death cannot kill their names" – Proverb
"Those who have lived a good life do not fear death, but meet it calmly, and even long for it in the face of great suffering. But those who do not have a peaceful conscience, dread death as though life means nothing but physical torment. The challenge is to live our life so that we will be prepared for death when it comes" – Unknown
"Life is eternal, and love is immortal, and death is only a horizon; and a horizon is nothing save the limit of our sigh" – Rossiter Worthington Raymond
"They that love beyond the world cannot be separated by it. Death cannot kill what never dies" – William Penn
One Year Death Anniversary Quotes
An anniversary of a passing is tough at any time but the first year anniversary is one of the toughest. The pain is still raw and the memories at their most vivid. If you are wishing someone well on the anniversary of a death or remembering one of your own these quotes are a good way to try and make sense of it all.
It's already been a year and I still can't believe you're gone.
I still miss you every day and even after a year I'm not strong enough to accept you're really gone
You are missed and more and more each day
"I remember the first day without you… I've never been the same" – Jennifer Ross
Every single second we spent together was was a wasted opportunity to tell you I love you
Death Anniversary Messages
These messages are written to let someone know you are thinking of them on the anniversary of the death of a loved one.
The saddest moment is when the
person who gave you the best memories, becomes a memory
You never stop loving someone, you just learn to live without them
Remembering you is easy
I do it every day.
Missing you is heartache
that never goes away
Grief is the last act of love we can give to those we loved. Where there is deep grief, there was great love.
Goodbyes hurt when the story is not finished and the book has been closed forever
Sadly missed along life's way, quietly remembered every day. No longer in our life to share, but in our hearts, you're always there.
May knowing you're in the hearts and thoughts of others help you and yours through this time of sorrow
I know that no words will help or ease the pain but know that you are in our thoughts and prayers
May you find strength in the love of family and in the warm embrace of friends
I hope these words, however small, offer some comfort on what I know is a tough day. Wishing you peace and strength
Wishing you the deepest sympathies on this anniversary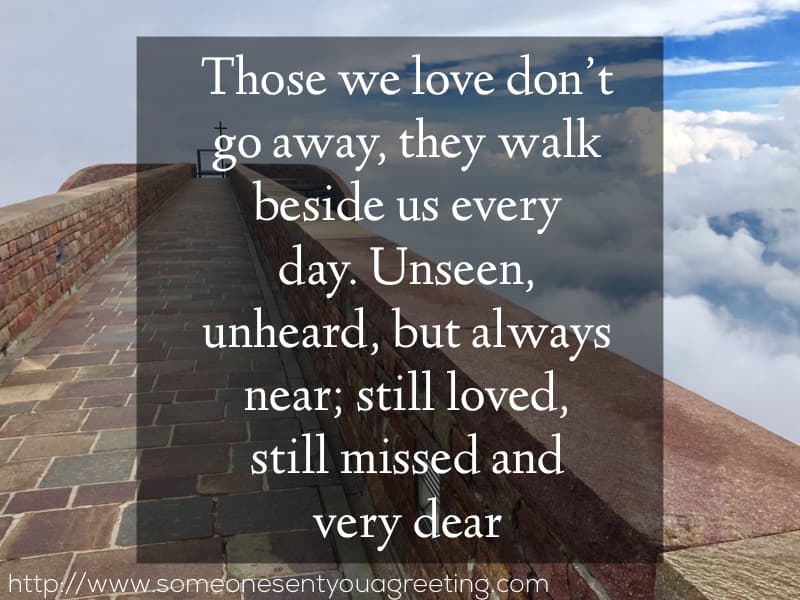 For Father
If you've lost a Dad then these messages are perfect for remembering his life age how important he was to you and everyone he knew.
Your father's memory may bring tears to your eyes today. I hope you'll honour these memories with a smile someday
You will forever remain alive in our hearts and memories Dad
When I think of those
I know and love
I can't think of one
You tower above

You are better by far
Than all the rest
These four words say it all
"Dad you're the best"

A thousand words won't bring you back. I know because I've tried; neither will a thousand tears, I know because I've cried
Sadly missed along life's way,
quietly remembered every day
No longer in our life to share,
but in our hearts, you're always there
For Mother
Like the loss of a father the loss of a mother is a profound and deeply painful time. Use these messages to remember your mom or comfort others remembering theirs.
Everyday I miss you and it hurts like the first day you gained your wings
I have wept, I have cried, I have grieved for you. My heart is in pain, I miss you so much mom
Remembering you is easy, I do it everyday. Missing you is a heartache that never goes away. I miss you mom
You are near even if I don't see you. You are with me even if you're far away. You are in my heart, my thoughts, my life, always
I still see your face before me
Your voice I long to hear
I miss and love you dearly
God knows I wish you were here
Tears fall freely from my eyes
Like a river filled with grief
My only comfort now is that
From pain you've found relief
Missing you Mom
For Friends
The loss of a good friend can be just as devastating as a family member. If you've lost a close friend or know someone who's anniversary it is these messages can provide support.
Many caring thoughts are with you today
When someone you love dies you never quite get over it. You just learn to slowly go on without them. But always keeping them tucked safely in your heart
The hard part wasn't losing you. It was learning to live without you
Because someone we love is in heaven there's a little bit of heaven in our home
"While we are mourning the loss of our friend, others are rejoicing to meet him behind the veil"