When a friend or loved one is sick, maybe in hospital, you may want to reach out in some way. The best thing you can do is to visit them, but if that isn't possible then sending a get well soon card and possibly gift is a great way to let them know you're thinking of them and wishing them a speedy recovery.
A lovely card with a touching get well message can help to lift their spirits and be a reminder that people are thinking of them. It may seem like a small gesture on your part but when someone is ill then even the smallest gesture can have a big impact.
And keeping a positive attitude whilst ill is important, so don't underestimate the influence your card or gift can have.
However, when it comes to writing your message or get well wishes, knowing what to say can be tricky. You want to offer them support and make them feel better but at the same time not offend or say the wrong thing.
Not to mention finding the right words that express exactly what you're feeling. All of this can be quite challenging. So if you're struggling with it then you might want to follow our guide on writing your own, and how to do so.
Alternatively you can have a look at the example get well soon messages and wishes below, as well as some get well soon quotes and images if you want to use something a little different.
What to Write in a Get Well Card
If you want to write your own message or get well note then there are some rough guidelines you might want to stick to.
Begin your card with a greeting. The usual way to start a Card is "Dear [name]" but if you are closer to the recipient, maybe a friend or family member, you can use something less formal.
The next part is to include your get well message or wishes. Stay positive in what you say, be caring and thoughtful. You can try to inspire, offer support or cheer them up. You may want to be funny if you feel it is appropriate.
Next let them know you are thinking of them during this tough time. Just knowing friends and loved ones have them in their thoughts can be comforting.
This is optional but you may want to offer support. This may not be possible for you but if you can help out in some way, maybe taking their kids to school, doing the grocery shopping etc. then you can include your offer of support in a card. Ensure you follow through with your offer though.
Finish with a warm closing. Something as simple as "thinking of you" or "wishing you the best" is perfect.
What to Avoid Saying
Try not to be too negative. They are likely to already be feeling down so stay positive and upbeat.
Don't use a religious message or saying if they themselves don't have strong religious feelings. Mentioning something like "you're in my prayers" is fine but anything more could be offensive or uncomfortable to the recipient.
Don't treat whoever is ill any differently than usual. They don't want any real special treatment or to be seen as a special case. Try to be as normal with them as you were before.
Never say anything like "everything has a reason"! This could be deeply offensive and hurtful and will almost certainly not be the way they are feeling.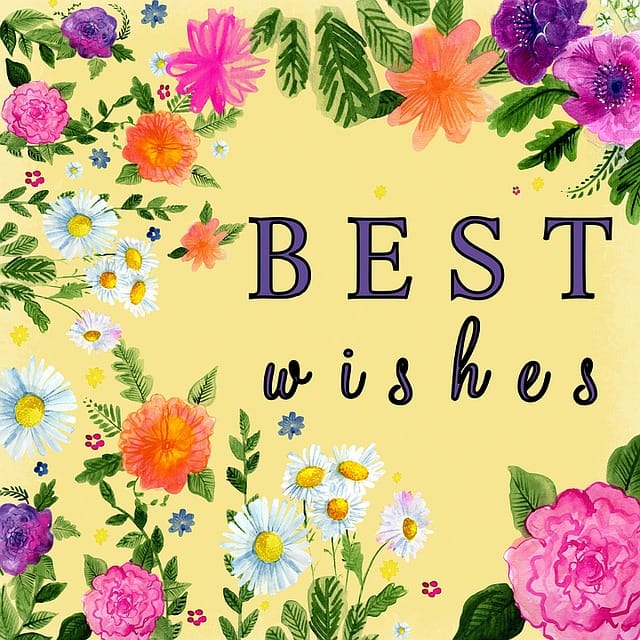 Get Well Soon Messages and Wishes
Sending you wishes for a speedy recovery
Hoping you get well quickly and we see you again soon
Wishing you happy and healthy thoughts
Take the time to test and full recuperate. I can't wait to see you soon
Keep drinking all those fluids! I'm sure you'll be back on your feet real soon
Really sorry to hear you're feeling poorly. I'll be wishing you a fast recovery!
Know that we're all here to support you in getting back on your feet. If there's anything I can do don't hesitate to ask
Sending hugs and kisses! Hope you feel better soon
It's not the same without you around. We're all missing you and wishing you a speedy recuperation
I know how strong you are and you'll have this beaten in no time. Get Well Soon pal
All my thoughts and prayers for a fast and healthy recovery
I know the flowers aren't much but I hope they brighten your mood a little. Get well Soon!
If I could I'd take away all your pain and sickness. Wishing you so much love and health, get well soon
Hoping you feel much better soon. Can't wait to catch up!
May good health envelop you, spurring a fast and easy recovery.
May your recovery be a quick and painless one. Enjoy the time off and we hope to see back on your feet again soon
Sending you strength and best wishes during this tough time.
Take it one day at a time, draw strength from your loved ones and we're sure you'll be healthy again in no time
I hope this small gift will bring you a little joy at this difficult time. Feel better soon!
So sorry to hear you're unwell. I'm hoping you feel much better as soon as possible
I hope each new day brings you closer to a full and speedy recovery!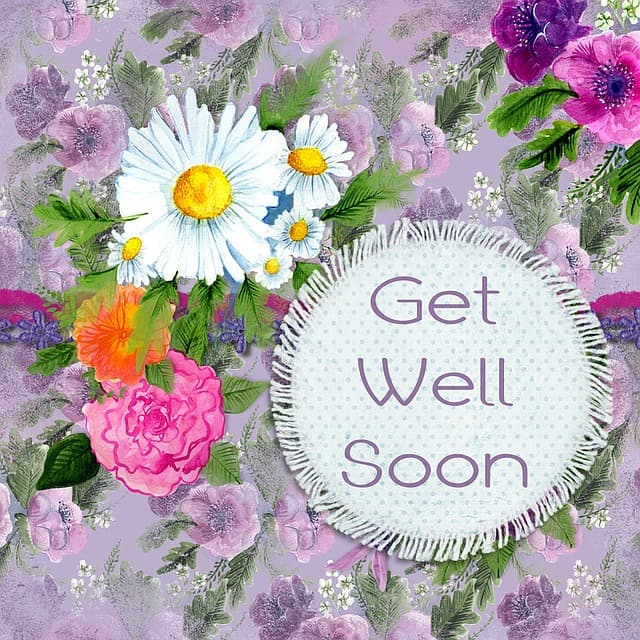 Get Well Soon Quotes
A profound or thoughtful quote can also be used in a get well card. These can often express what you're feeling better than your own words. They can also work well to inspire and give strength to whoever is sick.
"There is no medicine like hope,
no incentive so great, and no tonic so powerful as expectation of something tomorrow." – Orison Swett Marden
"Be careful when reading health books; you may die of a misprint." – Mark Twain
"Your never know how much they care until you are under the weather." – C. Kohler
"I wonder why you can always read a doctor's bill and you can never read his prescription." – Finley Peter Dunne
"It always seems impossible until its done." -Nelson Mandela
"Although the world is full of suffering, it's full also of the overcoming it." -Helen Keller
"This too shall pass." -Persian Sufi Poets
"Hardships often prepare ordinary people for an extraordinary destiny." -C.S. Lewis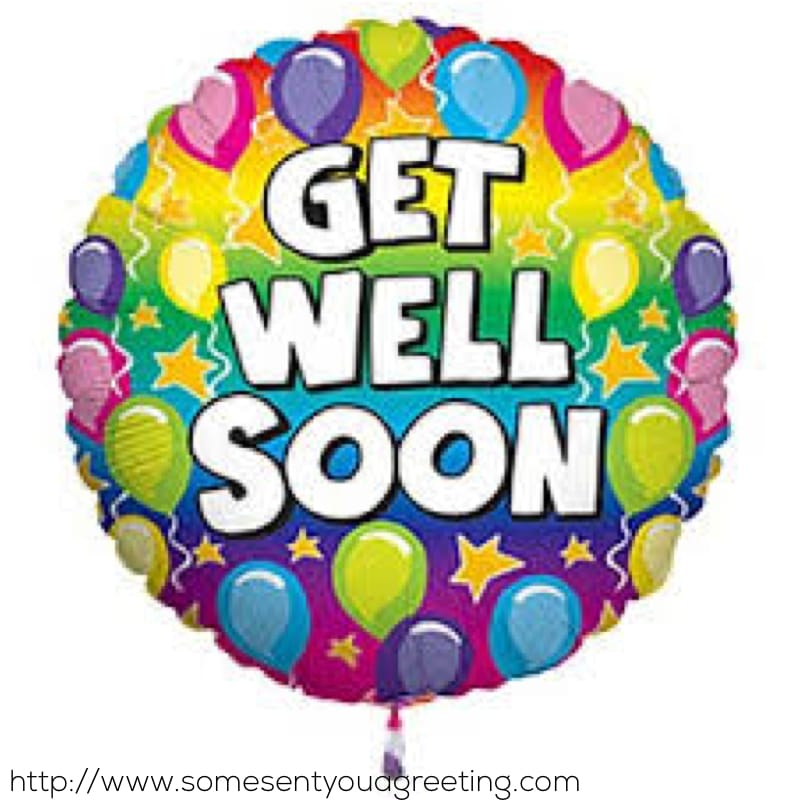 Funny Get Well Soon Messages
Humour may not seem appropriate at a time when someone is ill but it's been proven that laughter can help you recover. Also when someone is feeling unwell then something to make them smile or laugh can help to lift their mood. So whilst you should be a little cautious about sending a funny message, and feel certain they won't be offended by it, it's definitely a good option to consider. If you do want to then you can use one if the funny messages below:
Just like everyone else even the germs find you irresistible! Get Well Soon!
In case you're wondering, I sent those flowers for the pretty nurse, not for you! Just kidding! Hope you feel better soon by seeing them!
"I enjoy convalescence. It is the part that makes the illness worthwhile." – George Bernard Shaw
I've known that you were sick for a very long time, but this isn't the kind of sick I was thinking.
Get well cards are like analogies. They are poor, distorted, oversimplified examples of what we really want to say. Get well soon!
Hope you fast recovery soon Mom, because in the meantime, we have to eat dad's cooked food!
Please let me know if there's a thing I can do to help you from getting me sick!
Hoping for your complete recovery, because I don't want to come to the hospital for a second time!
Get Well enough to return to picking up my slack at work soon
Missing your annoying and bad sense of humor, so feel better soon!
For more examples try our 39 Funny Get Well Wishes and Messages
Get Well Soon Images
If you want something a little bit more than a message you can send an image on social media or via email. These can range from something touching and sweet through to funny images and memes. Feel free to use any if the images below.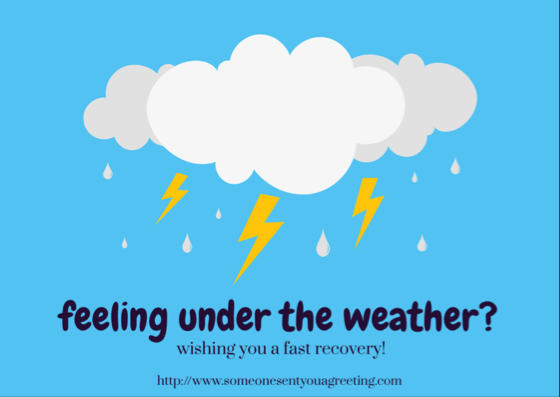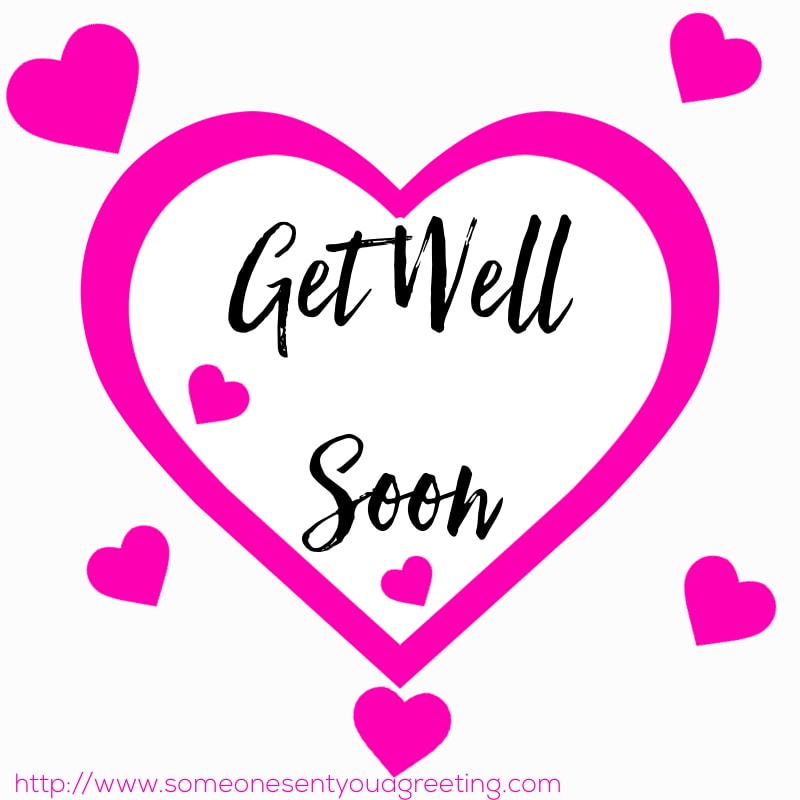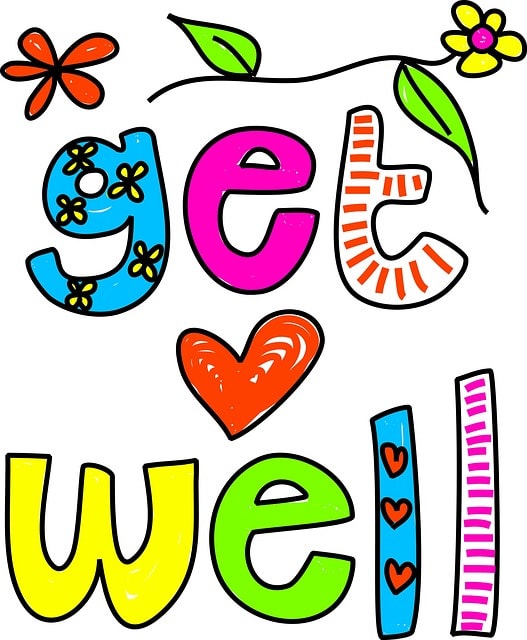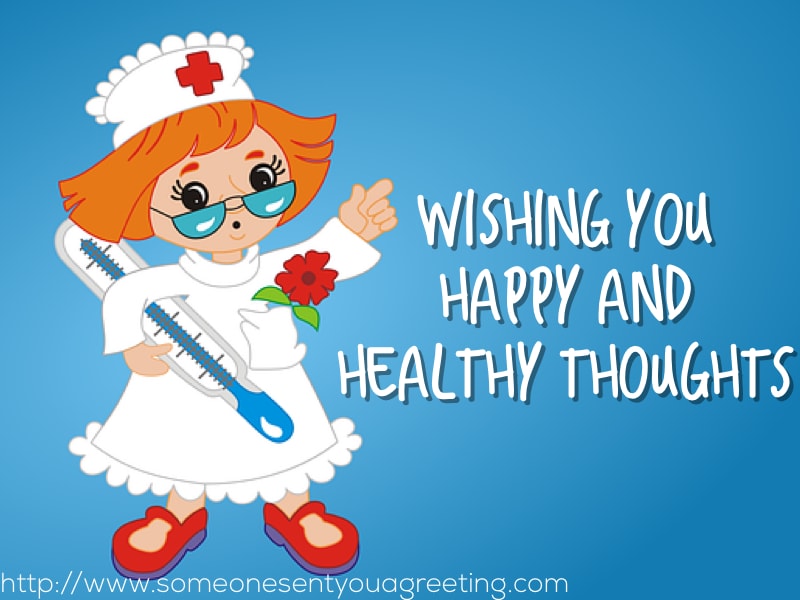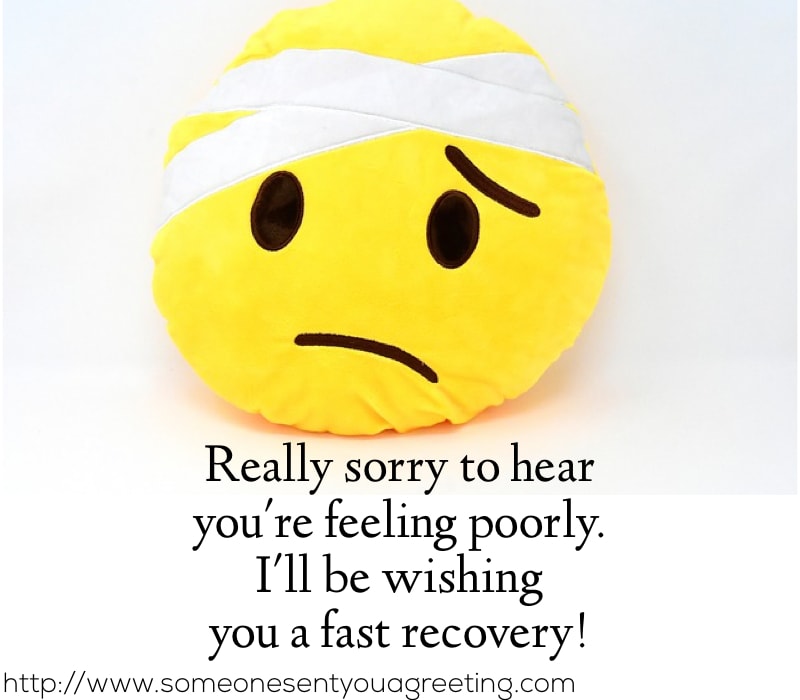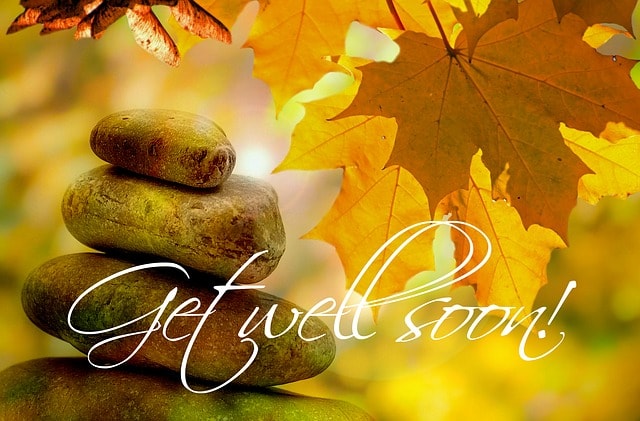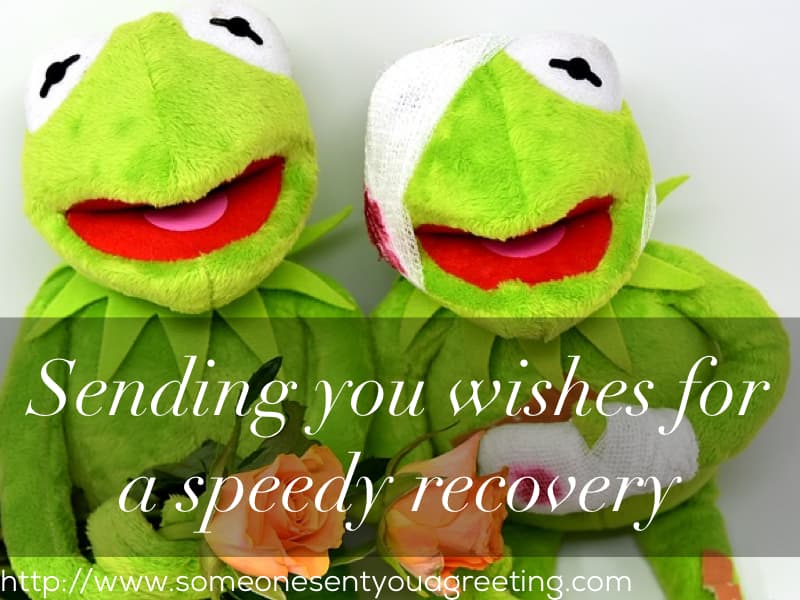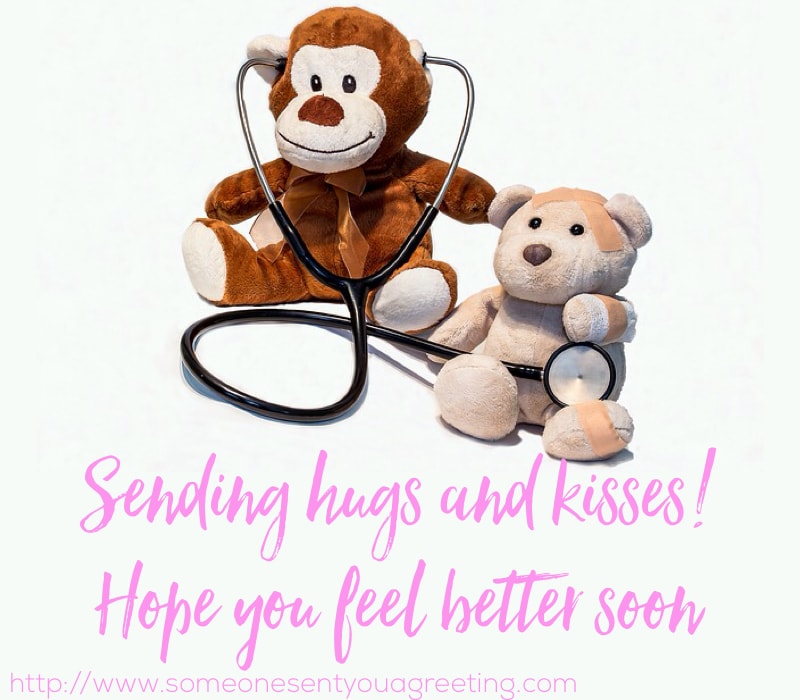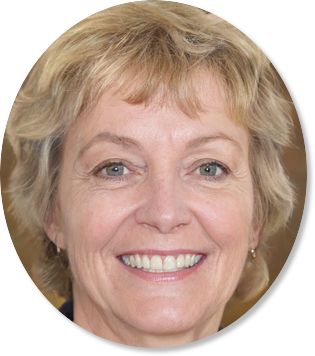 Sally Gibson is the founder of Someone Sent you a Greeting, a holiday/celebration website. Sally's writing work has been mentioned in Woman's World, Yahoo, Women's Health, MSN and more. If you have any questions get in contact with one of the team via the about page.