Are you struggling to write some baptism wishes? Aren't sure what to write in a christening card? A Baptism is a special day so you will want to have a touching message or inspirational quote for the baby.
This guide will show you how to write your own baptism wishes and give you some examples you can use in a card or say to the parents on the day.
Deciding on Your Baptism Wishes
You will want your christening or baptism wishes to be from the heart. Getting baptised is a time for celebration. It's a rite of passage that signifies your commencement to God and Christ. And just a really big moment for the whole family.
That's why you should reach out to whoever it is involved with the christening to offer your blessings.
What to Write in a Baptism Card
Writing baptism messages are trickier than they might first seem. It can be tough to know how to express how you feel to the person involved. Even more so if you're very close to them. And you don't want to write anything that might be offensive, which is possible when it comes to religious matters.
You can try wishing the child themselves well and offer some words of wisdom that they can read when they get older. Or you can address your card to the parents and let them know how happy you are that their young one is entering into the arms of the Lord.
Baptism Wishes
These sample baptism wishes are more general in their tone so can be used for most situations. They should do a good job of expressing your congratulations in a short and simple way.
I hope this wonderful day gives you memories for years to come. Congratulations on your baptism.
You are about to start on an incredible spiritual journey and I'm so pleased I was there to see it. Congratulations on your baptism and beginning your Christian life
I hope this day brings you and your family so much joy and peace. Have a very happy christening
May you find strength and hope through the blessings you receive on your Baptism. Remember to let God's light guide you and stay true to Him
Best wishes for the first steps on your road to a life full of faith and love. Congratulations and have a truly special day
May the Lord bless your life with love and happiness. Congratulations on your Baptism
May the blessings on this wonderful day fill your life with joy and peace forever. Have a lovely Baptism and congratulations
I hope this special day brings you Gods love, that he enters your heart and blesses you with his good graces. Congratulations on your Baptism
A baptism is a massive commitment and one that embraces your Christian faith. We know that it will be your first step on the road to a life filled with the love of God.
God will protect and watch over you, guiding you towards a life of faith and love. He will bless you on this special day of baptism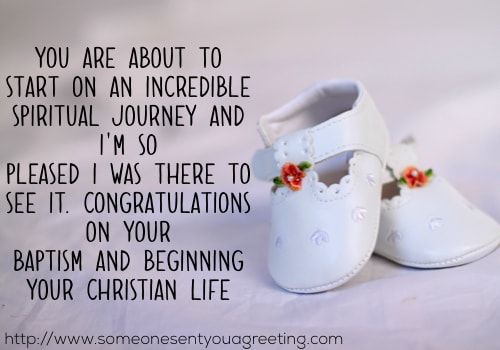 For a Baby Boy
Wish the family of a baby boy all the best for his christening with these messages.
Today is the start of a blessed life, filed with the love of God. All our best
We give thanks to the wonder your little boy is about to begin in his journey with God. Congratulations
May your little boys baptism be the start of a long and happy life
Sending our best wishes for your baby boy's Christening. May he find the love of God all encompassing and enduring
I hope your little one enjoys his big day and his life is blessed with happiness and peace
May God grant your little baby boy many blessings and good health and well being
For a Baby Girl
If it's a little girl being baptised then these wishes are perfect for showing her happy you are for her and the whole family.
May your little girl be blessed and find eternal happiness. Congratulations
Hoping the light of God fills your darling girls life and provides her with love, courage and strength
Your baby girls christening is a wonderful occasion and we know she will be blessed with a fantastic future
Sending our best wishes to your little girl and the whole family for a truly special day
Congratulations and happy blessings as you see your baby girl entering into the world of God. Today is a truly glorious day
Your little daughter's christening is the beginning of a special chapter in her life. She will be blessed with love and happiness
To the Parents
You can choose to wish the parents of the child being baptised congratulations and let them know how pleased you are their baby is beginning his or her journey of faith. The messages below are perfect for doing this in a card.
I hope this baptism brings your child a life full of blessings and love. Best wishes and congratulations
I was so happy to be invited to your child's christening. Congratulations
I just know today will be made if memories to be cherished for years to come. Congratulations
May your entire family be blessed with the love of God on this special day. Enjoy a wonderful baptism
Wishing you all the best on this big day. Gods love will surely fill your baby girl with faith and happiness she deserves
As you present to God, may he/she be blessed with love and happiness surrounded by their family. Gods love will guide them to a life of faith and devotion.
Congratulations on what must be such a special day. A baptism is a joyous event for all the family and marks the beginning of your baby boy/girls Christian life
May your child always walk in the company of angels.
Wishing you all the best on this happy day! Have a lovely christening.
All the best christening wishes! On this special day may your little one be showered with love from above.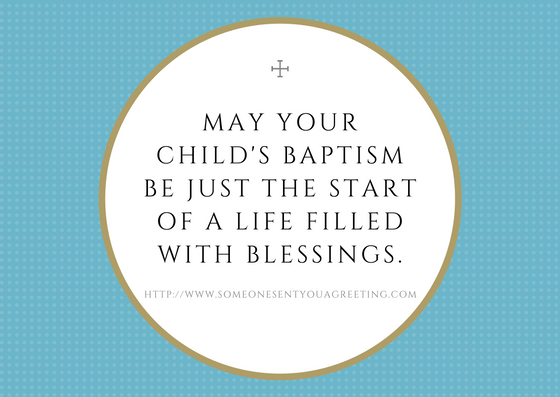 From Grandparents
We love you more than anything and are delighted to see you getting baptised. No matter what your grandparents will always be there for you
On such an important day remember that your grandparents love you. We are so happy seeing you joining your life with God's
Congratulations to our wonderful grandson/granddaughter. Your life is just beginning but you've taken the first steps to happiness and love
All our love to our little grandchild on their big day. May the love of God full you with blessings and peace
We celebrate your christening today and wish you so much happiness for the future. May all your dreams come true
From Godparents
If you are the godparent, or godparents, to the child being baptised then your card is seen as more important than the others. Being a godparent is a special honour, one where you are chosen to help with the child's spiritual journey. With this in mind you will want your wishes for a baptism to be extra special as the young one may look back on it in years to come to reminisce on a momentous occasion in their life.
Dear _____,
I've been entrusted to help you grow and maintain your faith, enabling you to become the best person you can be, and I promise I won't let you down. Best Wishes
Dear _____,
We feel blessed to have you in our lives. Remember that we will always be there for you, no matter what.
Dear _____,
As Godparents we are so pleased to be part of this special day. We will always be there for you.
Dear _____,
I hope your christening finds you blessed, and the grace of God grants you happiness and peace.
To my darling Godchild, this marks the beginning of a life built on faith and love. As your Godparents we will be there to guide and help you with whatever you may need.
I hope your baptism today is the start of a wonderful life. Enjoy it!
I pray that the good Lord looks over you and you never have to feel scared or alone. As your Godparent I will always be there for you
I pray that our dear Lord, blesses you with a lifetime full of happiness and peace, and a bright future, which I can't wait to be a part of.
We feel honoured and touched to be your Godparents and will do all it takes to support and love you through thick and thin.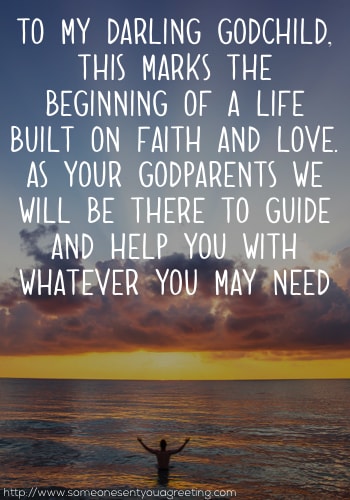 To Adults
Some people find God later on in life and so choose to be baptised then. These messages are written with adults in mind.
You are taking a truly amazing step, a wonderful choice to give yourself to God. We are all so proud of you
Congratulations on such a momentous and life changing decision. You will find such happiness and peace in the arms of God
Best wishes for your christening. I know how happy it will make you
You will be blessed with such joy after your baptism. It is a truly life changing moment and one I know you will cherish forever
Today I wish you so much love. Your baptism will be something you look back on as something to be treasured. Congratulations
Baptism Quotes
"Baptism is an outward testimony of an inward transformation. It's the first step of obedience for a disciple of Christ"
"The lord is my strength and my shield" – Psalms 28:7
"If we are truly in love with Christ and if we sense how much he loves us out hearts will light up with a joy that spreads to everyone around us"
"For you are God's masterpiece created in Christ to do good works which God prepared in advance for you to do"
"Lord cleanse me of anything that breaks your heart"
"Baptism is an outward testimony of an inward transformation. It's the first step of obedience for a disciple of Christ"
Inspirational
"Don't be afraid to start over. It's a new chance to rebuild what you want"
"God sometimes takes us into troubled waters not to drown us but to cleanse us"
"The most beautiful things in the world cannot be seen or touched, they are felt with the heart"
"Your baptism is a step of obedience, a leap of faith and the beginning of a walk with the Lord that will last forever"
"Baptism is faith in action"
"It takes a lot of courage, to be baptized in his name, to die to the old self and be forever change. May God bless your life for stepping out for him, proclaiming unto others the faith you have within" – M.S. Lowndes
Bible Baptism Verses
If you prefer you can use a bible verse or quote to celebrate a baptism or as a christening message. These verses come directly from the bible and show the real meaning of baptism and why it's so important.
"Whoever welcomes a child in My name, welcomes Me." – Luke 9:46-48.
"This water symbolizes baptism that now saves you also—not the removal of dirt from the body but the pledge of a clear conscience toward God. It saves you by the resurrection of Jesus Christ." – 1 Peter 3:21
"Whoever believes and is baptized will be saved." – Mark 16:16
"Now when all the people were baptized, it came to pass, that Jesus also being baptized, and praying, the heaven was opened, And the Holy Ghost descended in a bodily shape like a dove upon him, and a voice came from heaven, which said, Thou art my beloved Son; in thee I am well pleased." – Luke 3:21
"John answered them all, "I baptize you with water. But one who is more powerful than I will come, the straps of whose sandals I am not worthy to untie. He will baptize you with the Holy Spirit and fire."- Luke 3:16
"For by one Spirit are we all baptized into one body, whether we be Jews or Gentiles, whether we be bond or free; and have been all made to drink into one Spirit." – 1 Corinthians 12:13
"I have no greater joy than to hear my children are walking in the truth." – 3 John 1:4
"And I knew him not: but he that sent me to baptize with water, the same said to me, On whom you shall see the Spirit descending, and remaining on him, the same is he which baptizes with the Holy Ghost" – John 1:33
Conclusion
A christening is a joyous occasion. It represents a truly special time and should be marked in a fitting way. So when reaching out make your words heartfelt and sincere.
We hope if you're attending a baptism or sending a card and aren't sure what to say then these baptism wishes and messages will have given you some help.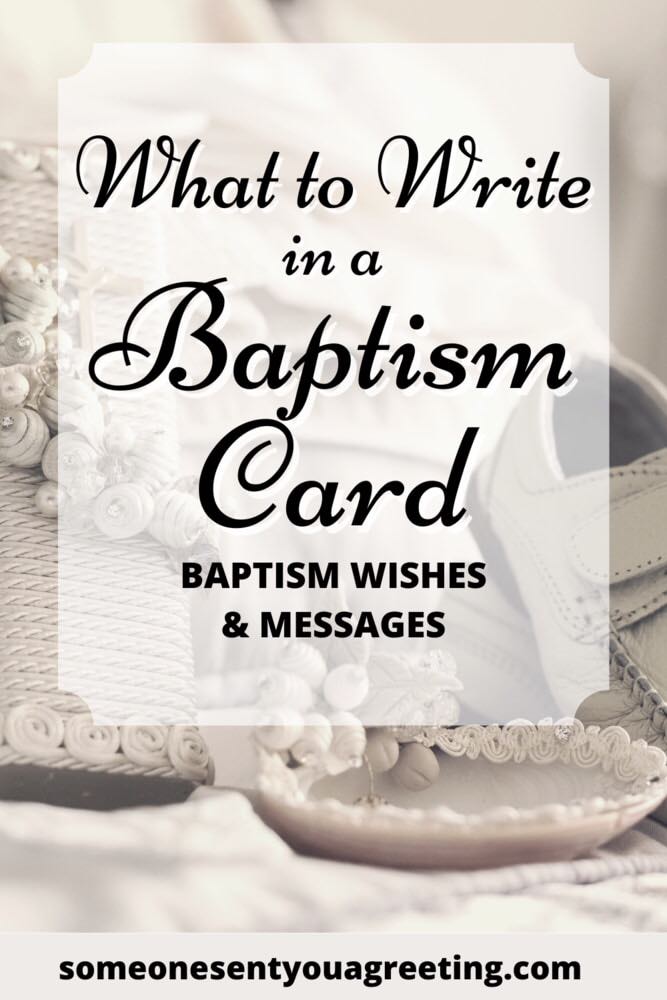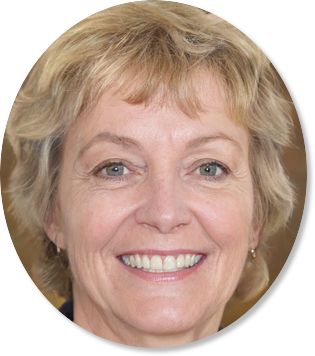 Sally Gibson is the founder of Someone Sent you a Greeting, a holiday/celebration website. Sally's writing work has been mentioned in Woman's World, Yahoo, Women's Health, MSN and more. If you have any questions get in contact with one of the team via the about page.