On your best friend's birthday you'll want to say a few words. Whether it be in a card or in person you'll definitely want to say happy birthday to someone so special to you.
But if you're not sure what to say, or how to express how much they mean to you don't worry. These birthdays wishes and messages will help you to find the perfect words to make your besties big day extra special.
Birthday Wishes for your Best Friend
These are some heartfelt and warm birthday messages to help you share your love for your best friend.
To the most amazing best friend – have a birthday that is as awesome as you are! I love you!
Thank you for being the person I can turn to, confide in and who always makes me smile. Happy birthday to my best friend, forever!
This message comes with big hugs and even bigger birthday wishes for my favorite person! Happy birthday bestie.
Happy birthday to my best friend in the whole world. I don't know what I'd do without your friendship.
You're more than just a friend to me, you're family. And so I'm wishing you all my love and so much happiness today for your birthday and always.
My life got so much better the day you were born. I'm forever grateful that we met and became the best friends we are. Happy birthday to my BFF!
Wishing you the happiest birthday. You make my life so much brighter, I can't imagine not having you in it. Thank you for being such a good friend.
No one gets me like you. We have a bond that is truly special and on your birthday I'm reminded of how much I treasure your friendship. Happy birthday my best friend.
You are such a positive influence on my life, I can't believe I'm lucky enough to have a friend like you. I hope you have the best birthday possible.
Love you so much, bestie! You're awesome and deserve a brilliant birthday. I'm looking forward to celebrating with you.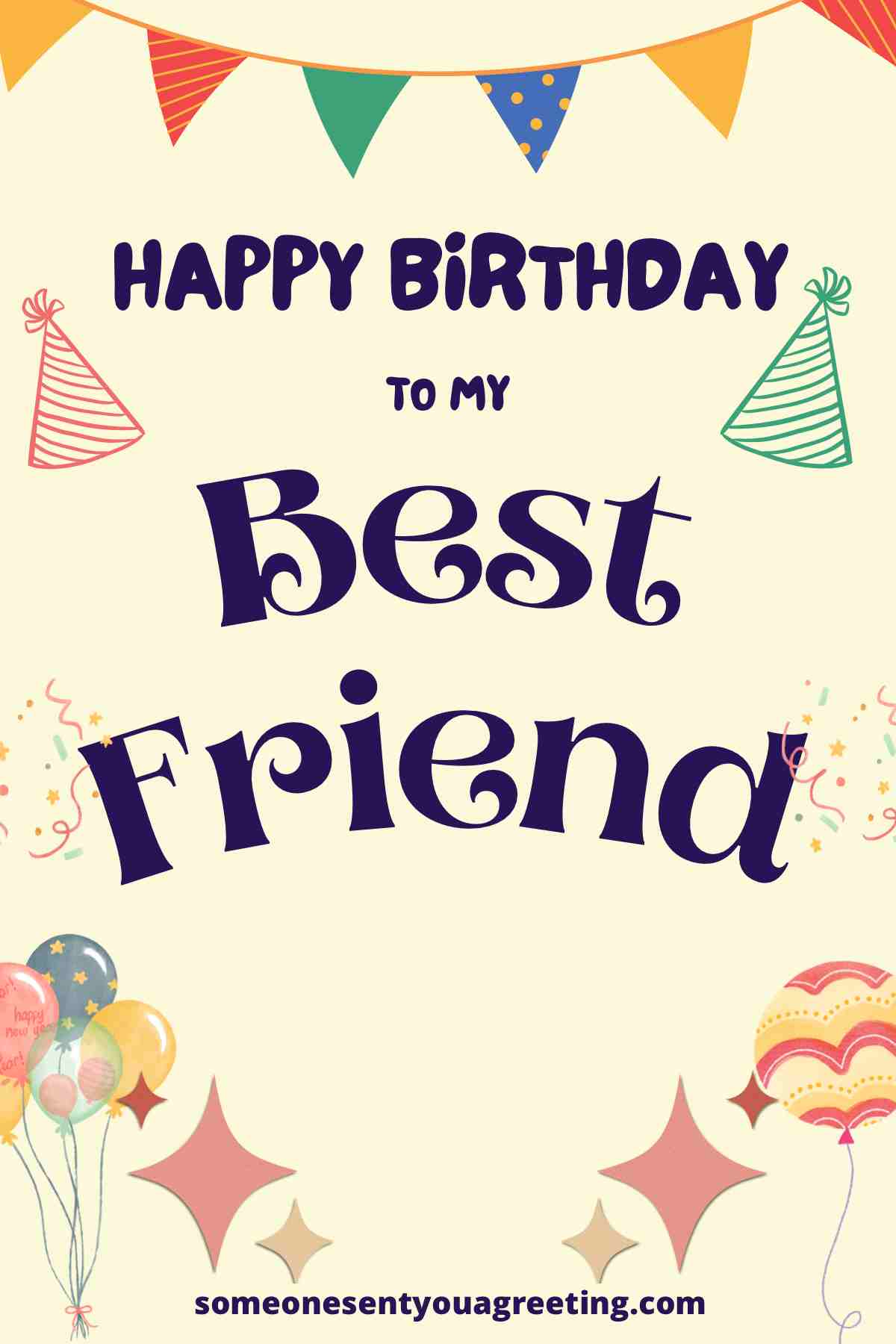 Heartfelt Happy Birthday Messages for your Best Friend
These are some sincere and moving birthday messages that express what your best friend means to you.
No one makes me laugh or smile like you do. You've brought so much joy into my life – thank you and have a truly happy birthday.
Through all of life's ups and downs knowing I can always count on you is something I am forever grateful for. Happy birthday to my amazing best friend.
Thank you for getting me more than anyone else. I love that we can be 100% ourselves with each other. Happy birthday to the greatest friend anyone could wish for.
I'll never take our friendship for granted. You mean the world to me. Happy birthday.
My heart is bursting with love for you today and every day. Happy birthday to the best friend I could ever ask for!
I wish I could put into words how much your friendship means to me. Just know I love you so much and always will. Happy birthday.
There will never be a better friend than you. Happy birthday and best wishes for a wonderful day.
Your friendship makes me a better person. You lift me up and help me believe in myself. Happy birthday and thank you.
You don't judge and accept all my flaws. Thank you for loving me as I am. Happy birthday!
I hope this birthday surprise puts a big smile on your face – just like how you can always put a smile on mine!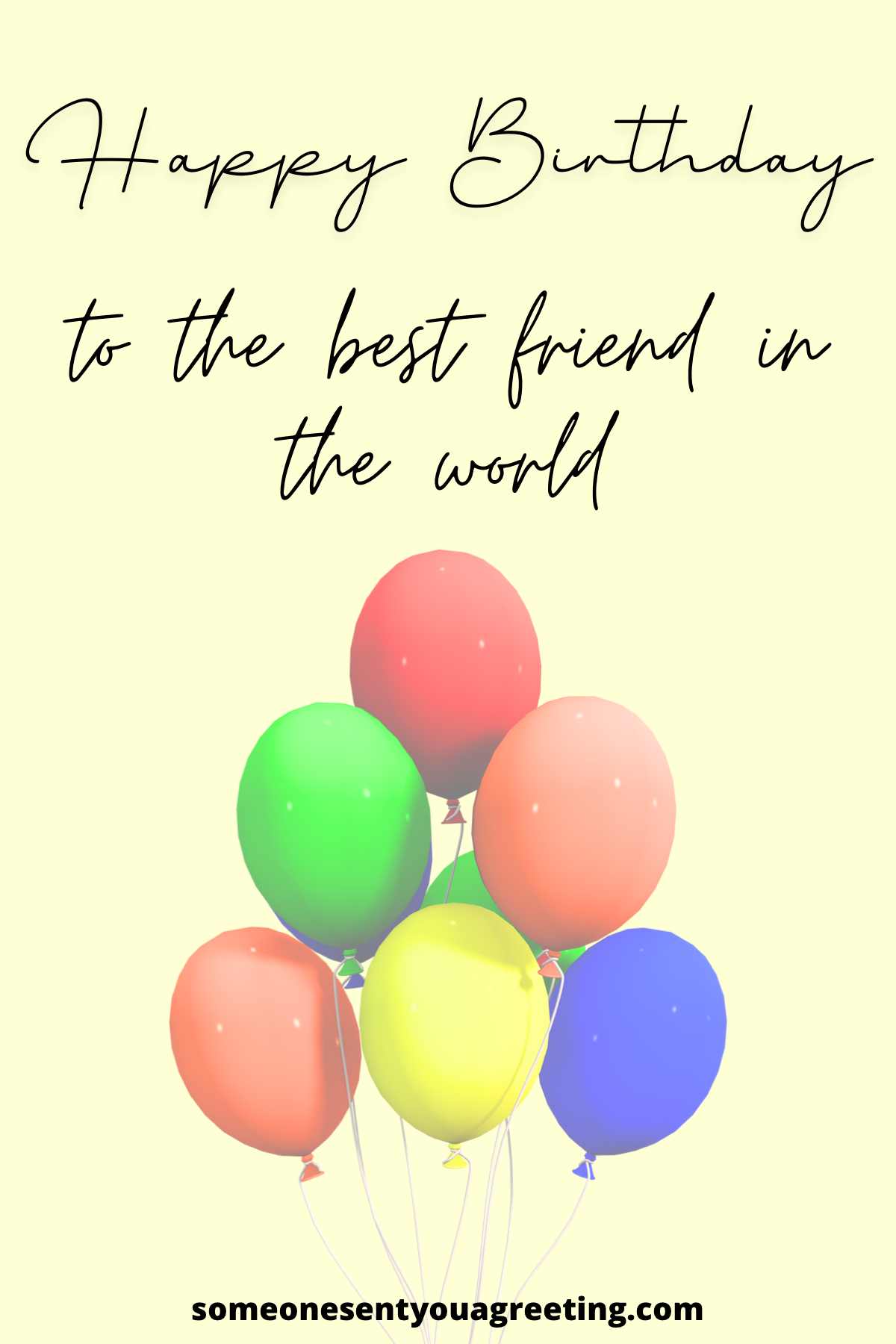 Funny Birthday Wishes for Best Friend
You can use a sarcastic or silly birthday message to make your friend laugh too.
I got you a birthday card, but I decided I'd rather spend the money on myself. Hope that's cool. Happy birthday!
Happy birthday to my partner in crime! It won't be long before we both need wheelchairs. Still, at least as we can race them down the halls together.
I got you the best birthday gift ever – getting to spend more time with me! You're welcome. Happy birthday.
Happy birthday! Remember, age is just a number.. that makes everyone else feel better about their own number
You've manages another year without dying. Wow, good on you!
Your birthday is the perfect time to think about all your wonderful qualities, including the fact that you're older than me.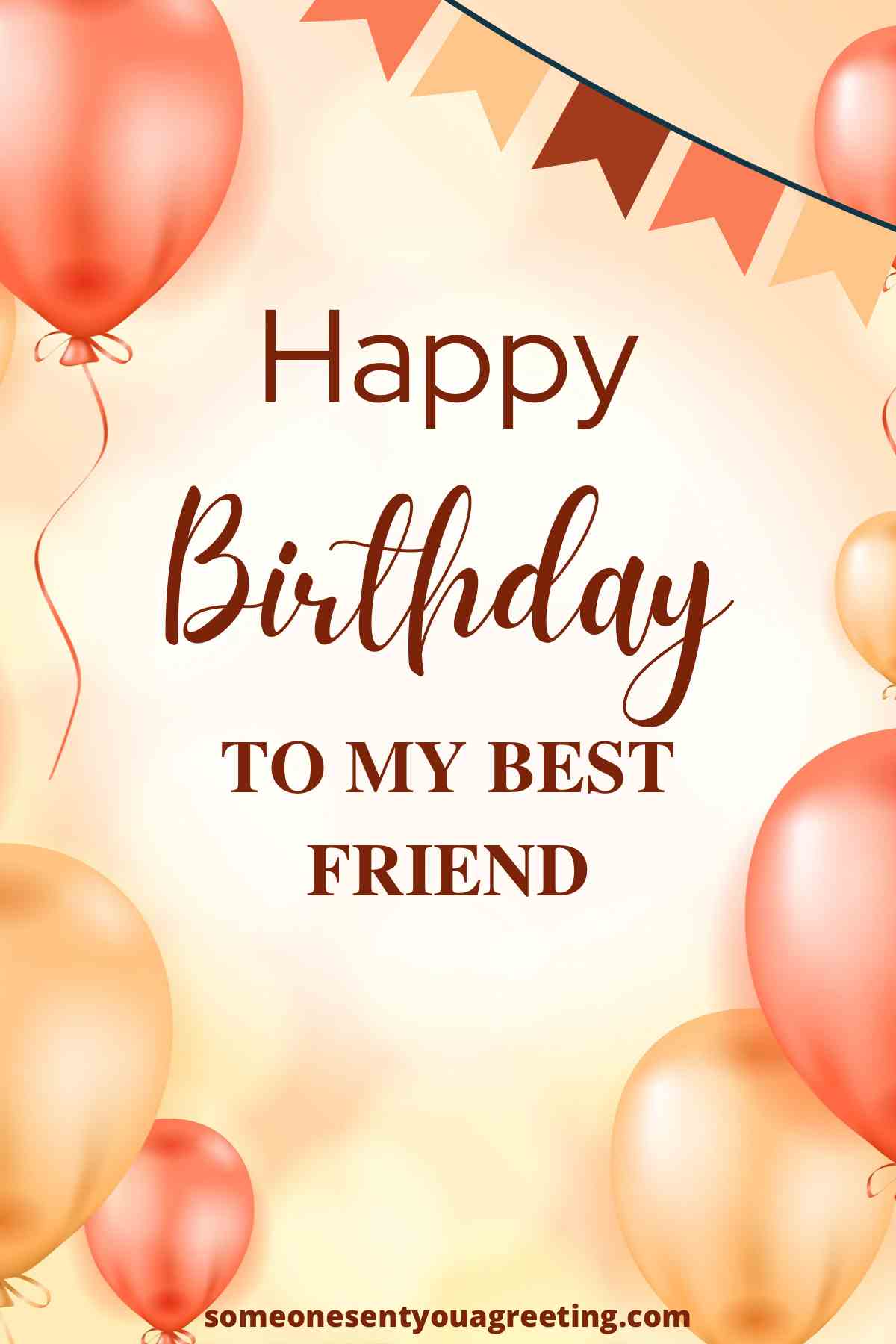 Birthday Quotes Celebrating Friendship
A quote can really capture what friendship is all about, especially for a best friend. So use these quotes as part of your birthday greeting.
"A friend is one that knows you as you are, understands where you have been, accepts what you have become, and still, gently allows you to grow." – William Shakespeare
"There is nothing better than a friend, unless it is a friend with chocolate." – Linda Grayson
"Friendship isn't about who you've known the longest. It's about who walked in to your life and said 'I'm here for you' and proved it." – Unknown
"True friendship comes when the silence between two people is comfortable." – David Tyson
"Best friends: it's the friends you can do anything and nothing with and still have the best time." – Unknown
"A good friend knows all your stories. A best friend has lived them with you." – Unknown
"Best friends don't care if your house is messy. They care if you have wine." – Unknown
"A best friend is someone who makes you laugh even when you think you'll never smile again." – Unknown
"There's not a word yet for old friends who've just met." – Unknown
"A friend who understands your tears is much more valuable than a lot of friends who only know your smile." – Unknown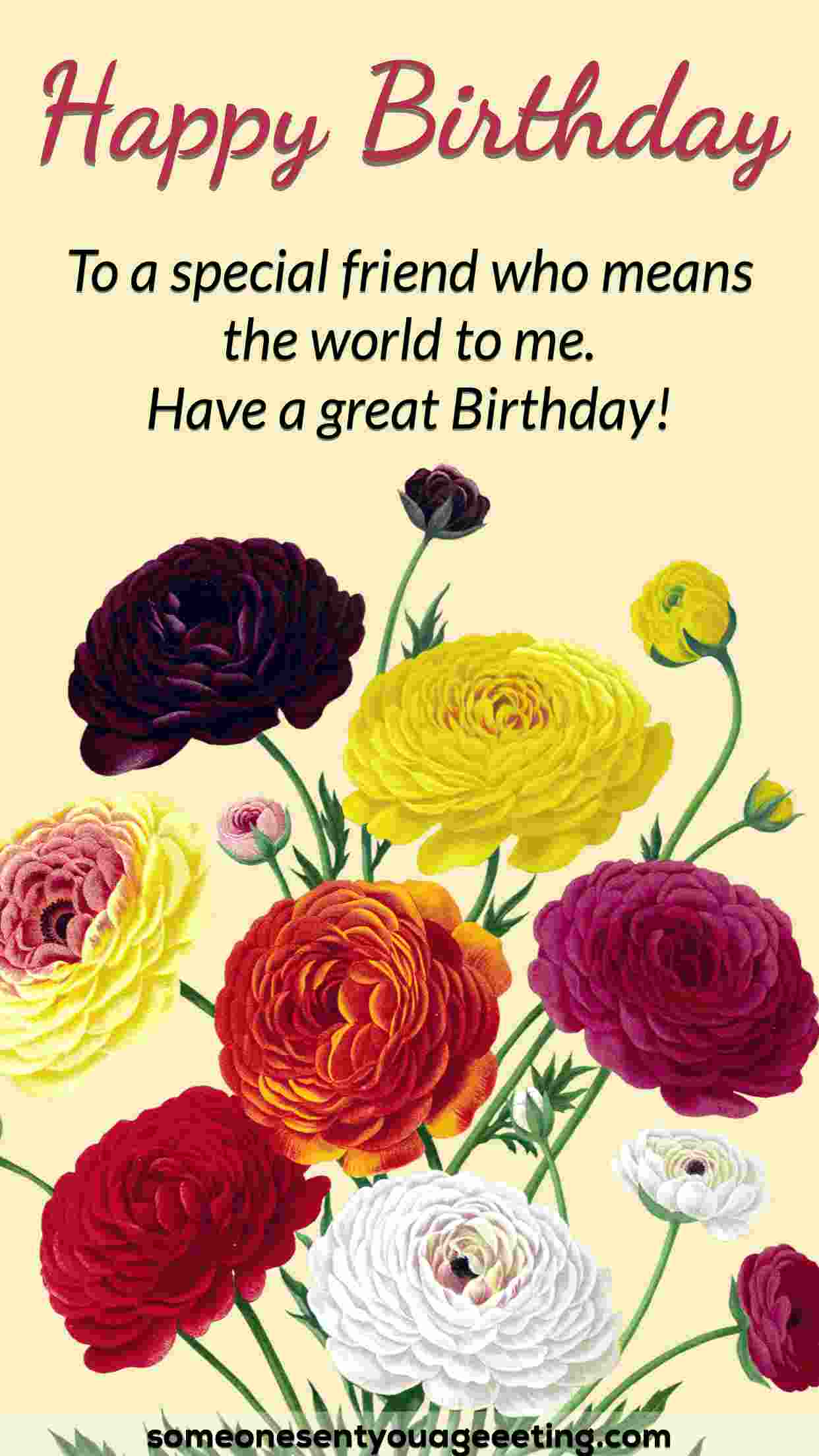 Belated Birthday Messages for your Best Friend
If you forgot or missed your best friends birthday then these thoughtful and apologetic messages are perfect for a late birthday wish.
I know it's no excuse but life got crazy and your birthday just slipped my mind. Please forgive me – you know how much you mean to me! Happy belated!
I'm kicking myself for missing your birthday! I'll make it up to you with a night out, I promise.
What kind of friend am I, missing your big day? I'm really sorry! I'll be making this up to you for a long time. Happy belated birthday.
I know you know how much I love you even though I forgot on your birthday. I suck – will you forgive me? And while you're thinking about it I'll wish you a late happy birthday.
My heart dropped when I remembered that I missed saying happy birthday to you. You know I'd if never do it on purpose. Still, I'm really sorry and hope I can make it up to you. Happy belated birthday.
Sorry for the late birthday wishes! Would you believe me if I said I'd been wrapping your gift for days?
Work has been super busy so I wasn't able to be with you on your birthday. I'm so disappointed but I promise we will celebrate together soon.
Better late than never, eh! I hope your birthday was as special as you are even if I'm sure you missed my message.
I'm the worst for forgetting your birthday. I'll find a way to make it to you. Until then all I can say is I love you and wish you a (belated!) happy birthday.
Apologies for the late message. I would give you some lame excuse but seeing as you know me so well you'll see right through it. I messed up and I'm really sorry. Happy birthday though.
I hope the birthday wishes for best friends found here have given you some ideas for what to say to your best friend to celebrate their birthday and show them how much they mean to you.
More Birthday Wishes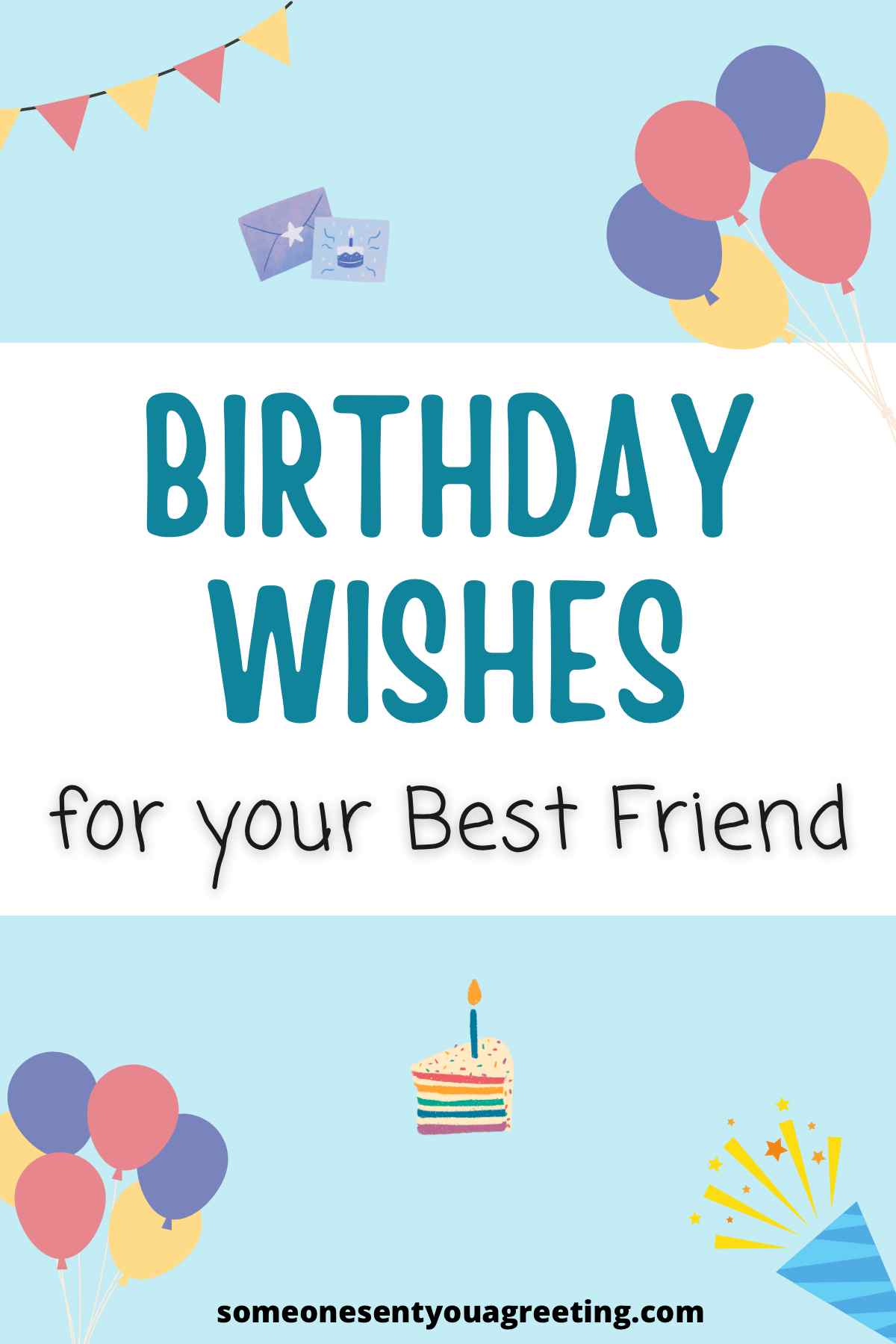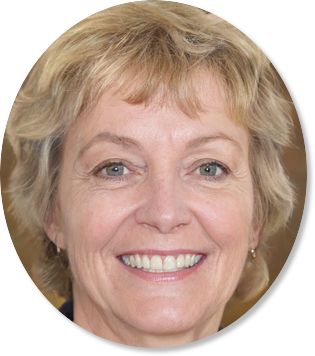 Sally Gibson is the founder of Someone Sent you a Greeting, a holiday/celebration website. Sally's writing work has been mentioned in Woman's World, Yahoo, Women's Health, MSN and more. If you have any questions get in contact with one of the team via the about page.