Teachers play a huge role in shaping our lives. So on their birthday it's nice to show your gratitude for all they've done for you.
But if you're not sure what to say then these example birthday wishes should help. Use the birthday messages and quotes here, from heartfelt to funny ideas, to celebrate a teachers special day.
Birthday Wishes for a Teacher
There are some sincere birthday message examples to show your teacher how much you care.
Thank you for being such a wonderful teacher! Have an amazing birthday.
I hope your birthday is as special as you are to us. Thanks for making learning fun!
Happy birthday to my favorite teacher! I'll never forget the lessons you have taught me and I've learnt from you.
You shaped not only mine but so many lives. You're a true inspiration. Enjoy your well deserved day!
You're not just a great mentor, you're a friend. Happy birthday.
We are so grateful for your dedication and hard work. Have a fantastic birthday.
Wishing you a very happy birthday filled with joy and laughter. Here's to another year of your amazing teaching.
Thank you for being such an attentive and hands on teacher. I know how much progress I've made with you as my teacher. So I hope you have a truly brilliant birthday.
You're the best teacher I've ever had. Thank you for all you do and have a really lovely birthday.
Dear sir, we all hope you have a really awesome birthday and enjoy yourself. With lots of love from everyone in class 6C.
May you enjoy a fantastic birthday but more importantly get a break from all of us! Happy bday.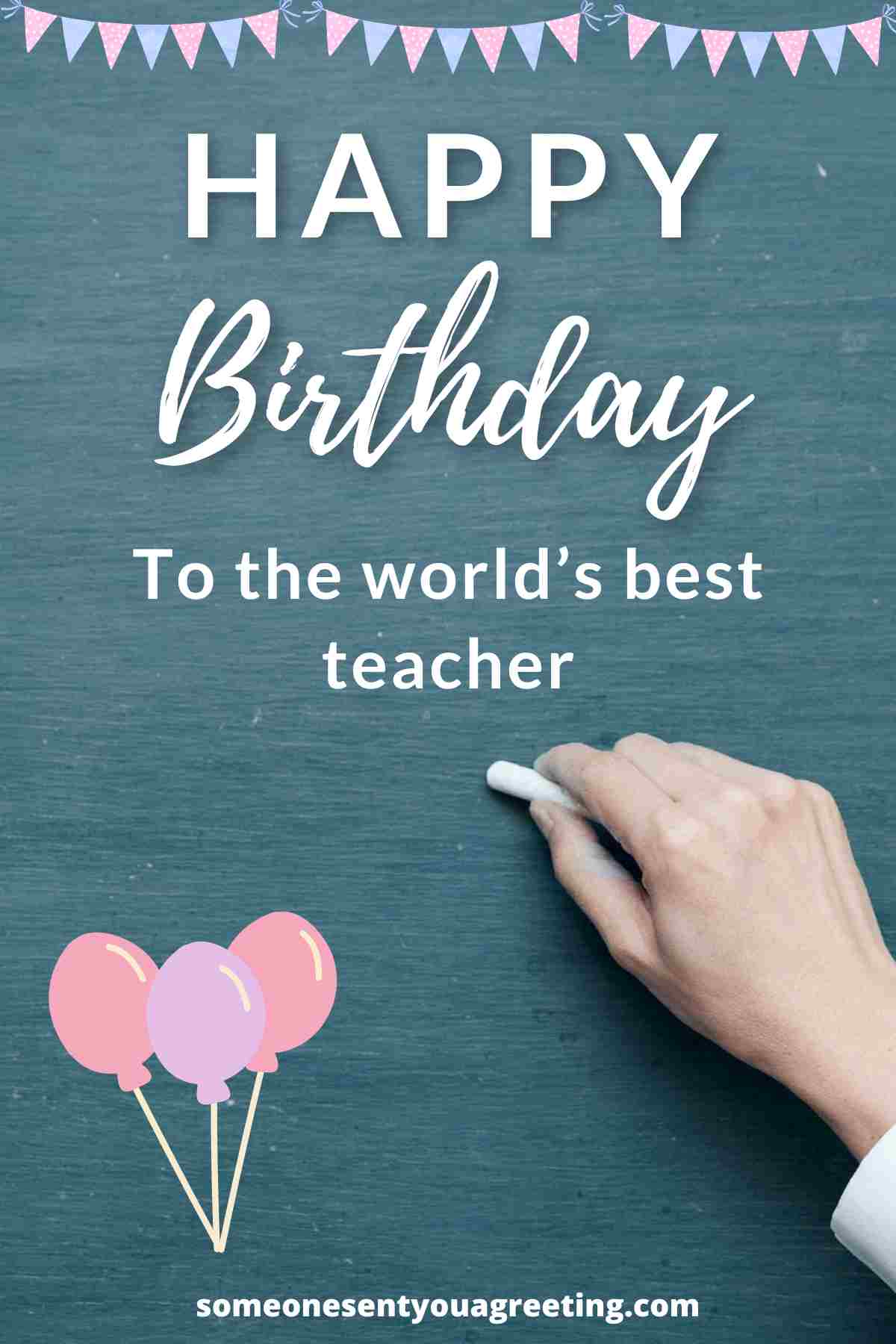 Happy Birthday Message for your Teacher
These are some happy birthday message ideas your teacher will really appreciate in a card or said to them in person.
To the teacher who went above and beyond for me – have a very happy birthday! From your student who will never forget all the hard work you put in for me.
Here's to a teacher whose kindness and wisdom have touched the lives of so many. Happy birthday and may you continue teaching for years to come.
Happy birthday to a remarkable teacher! You have never let any of your students down and continue to inspire more each year. Have a great day.
Here's to a teacher who makes learning a joy. Happy Birthday, and thank you for all you do!
May your special day be as wonderful as the impact you've had on all of us. Happy birthday!
No one has as much passion for teaching as you do. It's so great to have a mentor who can inspire like you do. I hope you have a very happy birthday.
Happy Birthday to a teacher who not only teaches from the books but also from the heart. We are beyond grateful to have an educator like you.
May your birthday remind you of how much you're appreciated. Happy Birthday, and thank you for being an incredible teacher!
Sending you the warmest birthday wishes. Your kindness and enthusiasm to teaching is unrivalled. We are lucky to have you.
Happy birthday to a very special teacher. You come in every day and never let us down. That commitment is so admirable and so on your birthday you deserve a wonderful day.
Have a fantastic birthday and enjoy some well earned fuss and attention. You always put others first and so today it's your time to have some fun.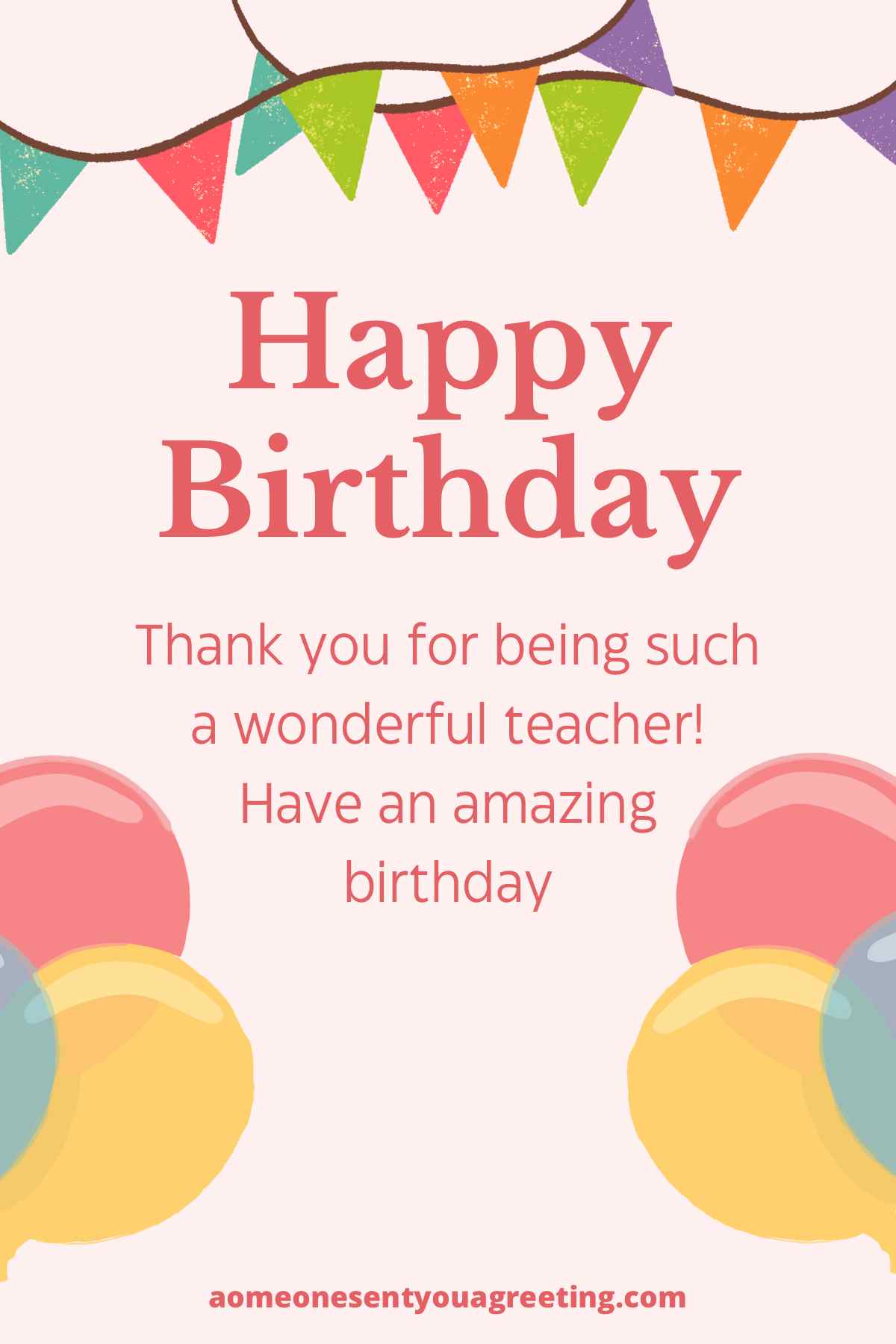 Funny Birthday Wishes for Teachers
Give you teacher a laugh with these hilarious birthday messages.
After teaching us for a year you deserve a wonderful birthday and maybe some time off! Happy birthday!
Happy birthday! What better way to celebrate than by not assigning us too much homework today.
Happy birthday! May you get an A+ for having an amazing day.
May all your birthday wishes come true! Unless one of them is more homework.
Here's to a teacher who's aging like fine chalk dust! Happy Birthday.
Here's hoping your birthday has fewer essays to grade and a lot more cake to eat!
Wishing you a super fun birthday. But please, no pop quiz!
Wishing you an amazing birthday. Unless you give us a quiz tomorrow – then all bets are off.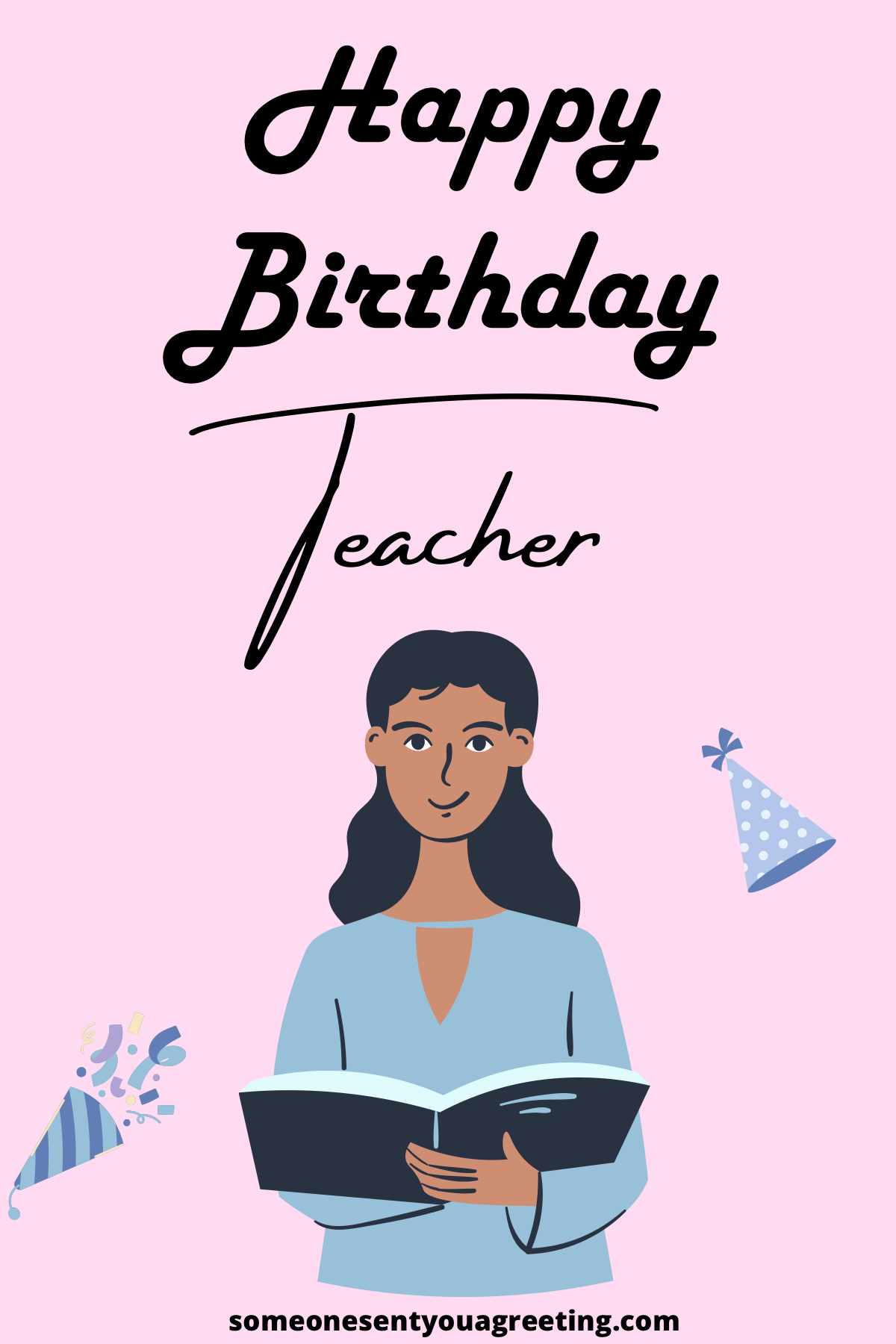 Birthday Quotes for a Teacher
Adding a thoughtful quote about teaching or teachers is a great way to show how much you appreciate your teacher on their birthday.
"A good teacher can inspire hope, ignite the imagination, and instill a love of learning." – Brad Henry
"Teachers who love teaching, teach children to love learning." – Robert John Meehan
"Teaching is a work of heart." – Unknown
"The dream begins with a teacher who believes in you." – Unknown
"A teacher affects eternity; he can never tell where his influence stops." – Henry Adams
"The whole art of teaching is only the art of awakening the natural curiosity of young minds." – Anatole France
"Teaching is the greatest act of optimism." – Colleen Wilcox
"One looks back with appreciation to the brilliant teachers, but with gratitude to those who touched our human feelings." – Carl Jung
"You have to grow from the inside out. None can teach you, none can make you spiritual. There is no other teacher but your own soul." – Swami Vivekananda
"No greater talent, no greater skill, no greater gift exists than that of a great teacher." – Denis Waitley
Belated Birthday Wishes for your Teacher
If you missed saying happy birthday to your teacher then a belated message is a good choice.
Sorry I'm late! But I hope you had an excellent birthday.
My apologies for the late wishes. But I'm sure you had a great birthday either way.
I'm sorry I'm late with your birthday wishes. Although considering how often I'm late to class you can't have been that surprised!
Big belated birthday wishes to my favorite teacher. It sucks I forgot to wish you a happy birthday on the day but hopefully you won't hold it against me!
Please accept my heartfelt but late birthday wishes. I hope your big day was everything you wished for!
Sorry for the delay! But I'm wishing you a very happy belated birthday week and hoping you got to enjoy a wonderful day.
I was so busy doing the homework you gave me I completely forgot your birthday.. that's what I'm sticking with, anyway! Happy belated birthday to the best teacher.
Wishing you a delightful belated birthday week. You deserve to be celebrated!
My birthday wishes may be late but that's better than never, right? Happy belated birthday and all the best for a wonderful year.
I hope you enjoyed a fun birthday week surrounded by family and friends. Sorry my wishes are tardy!
I hope these birthday wishes for your teacher have helped with choosing the right thing to say to them.
More Birthday Wishes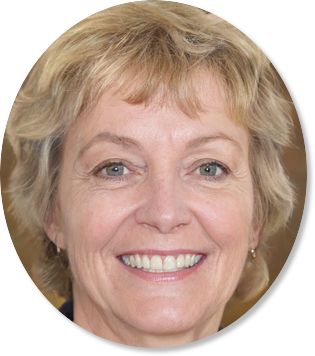 Sally Gibson is the founder of Someone Sent you a Greeting, a holiday/celebration website. Sally's writing work has been mentioned in Woman's World, Yahoo, Women's Health, MSN and more. If you have any questions get in contact with one of the team via the about page.