It's fun to celebrate having the same birthday as someone else. And sharing your special with a loved one makes it extra special.
So you might want to say happy birthday to two people at once. If so then the following birthday wishes and messages for two people should help you celebrate their big day.
Happy Birthday to the Both of You
Wishing the two of you a very happy birthday! Enjoy the day and I hope it's filled with lots of laughter and fun.
To my favorite birthday twins – I hope you don't mind sharing today! Happy birthday to you both.
Happy birthday to two of the most amazing people I know. You both deserve a wonderful day.
I hope your double birthday is twice as nice. Sending lots of love and birthday cheer to you both!
To two special people born on a special day – happy birthday times two! Hope you both have a great day.
I hope your double birthday is as amazing as the two of you! Happy birthday to both of you.
Birthdays are always better with someone to share them with. You two can enjoy your big day knowing someone else is celebrating too. Happy birthday to you both.
Happy shared birthday to two of the most important people in the world to me. I can't wait to celebrate with both of you.
We're going to have double the celebrations for the two of you. Cause what's better than one birthday? Two!
Happy birthday to you both. Wishing you lots of fun and good times on your big days.
Birthday Wishes for Two People on Same Day
I can't think of two better people to share a birthday. Happy bday to you both! Have an awesome day.
Birthday's are fun at the best of times but getting to celebrate two together is just greedy! Happy birthday you two, enjoy your day!
To the birthday twins – have a fantastic day. Here's to you having double the fun and double the presents!
Happy birthday to the pair of birthday buddies! Make this your best one yet.
Hope your shared birthday is twice as amazing as usual. Sending lots of birthday love!
I guess as there's two birthdays today I need to send double the wishes. Happy birthday and happy birthday again to two brilliant people.
Big birthday wishes for you two. Hope your day is filled with lots of fun and you make some great memories.
You're two peas in a pod, two chips off the old block… or however you want to say it you're quite the pair! Happy birthday to you both.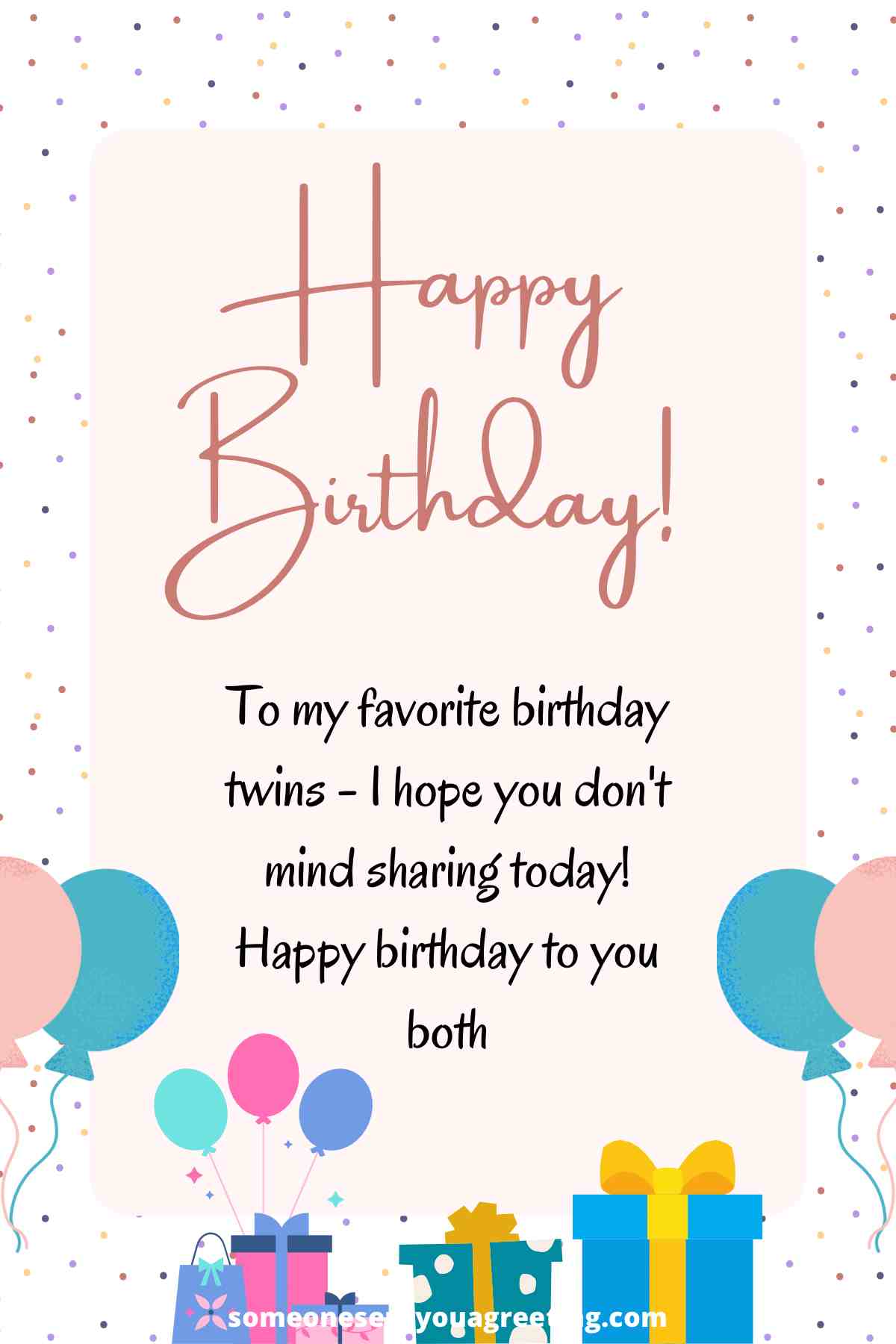 Birthday Messages for a Birthday on the Same Date
Two cakes, two friends, one great day! What more could you want? Happy birthday to you both.
You have co-birthdays! I'm not sure if that's a good thing but happy birthday to you both anyway!
It might be annoying to have someone steal half the attention on your birthday but it does save me time by only having to send one birthday message. So happy birthday!
They say good things come in pairs – and you two are living proof. Happy birthday to my favorite duo!
A single candle couldn't handle all that birthday magic – good thing there are two of you to share the love today! Happy birthday.
Wishing two very special people a double dose of birthday magic. Enjoy your day and remember to wish each other a happy birthday!
Are you ready for double the celebration, two cakes and twice the fun!? Cause that's what your getting!
What are the chances two amazing people like you would be born on the same day? Happy birthday to you both.
Happy Birthday To Us Wishes
There's no one else I'd rather share my special day with. Happy birthday to us!
We've shared so much more than our birthday – laughter, memories and friendship. It's been a wild ride and looking forward to many more years. Happy birthday to us!
We're so lucky we get to share this special day year after year. Happy birthday to us, twin!
Same day, same age and double the celebration! Lets party together and enjoy ourselves like only birthday twins can.
It's pretty amazing that we share this birthday. So let's make this the best one yet for us!
Birthdays are tons of fun but having a birthday buddy makes it even better! Here's hoping your special day is as awesome as mine is going to be.
As fellow [date] babies we have to celebrate in style. Happy birthday to us!
I love that I have a birthday twin. It makes celebrating the special day all the more exciting and fun. Happy birthday.
Sharing a birthday with someone special is a real gift. So use these messages to make either two people you know or your shared day that little extra memorable and fun! No matter your age embrace the chance to celebrate together.
More Birthday Wishes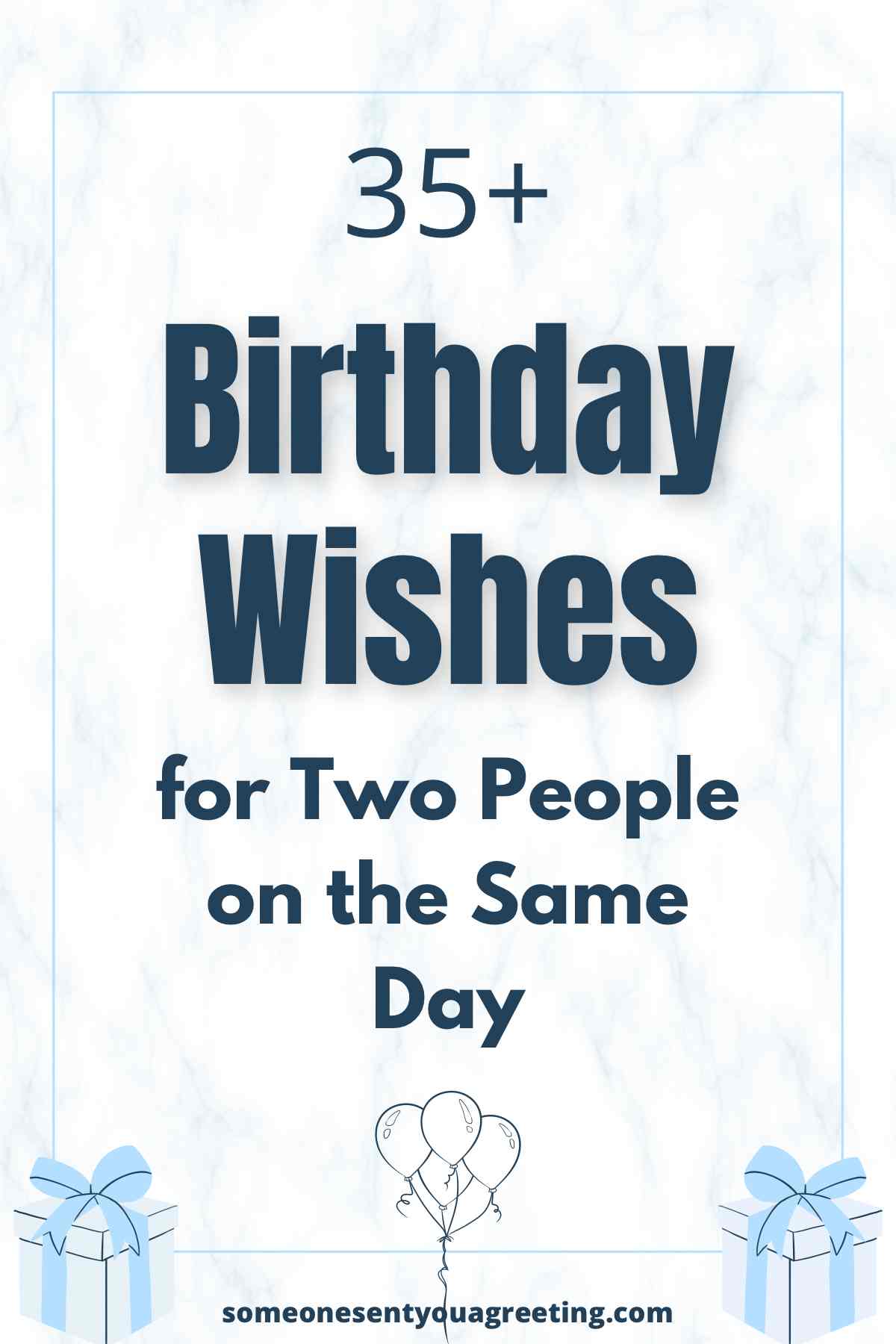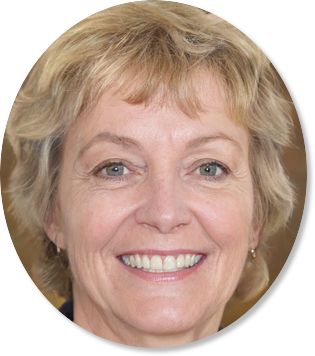 Sally Gibson is the founder of Someone Sent you a Greeting, a holiday/celebration website. Sally's writing work has been mentioned in Woman's World, Yahoo, Women's Health, MSN and more. If you have any questions get in contact with one of the team via the about page.