The holidays are here! But if you work in an office or have lots of coworkers you'll need to say Merry Christmas to them all. That's why we've provided you with these example Christmas wishes for colleagues to write in a card. Or if you are unsure of what you write in a Christmas card to your colleagues and need some help then this is the guide for you.
It's not a surprise to become very close to colleagues. We spend a lot of time with them and form strong bonds.
That's why at Christmas you should be showing them how much they mean to you. And in order to help you find the perfect words we've put together some of the best Christmas wishes for a colleague.
Writing Christmas messages can be trickier than you light first think. Expressing those happy and celebratory thoughts to a coworker isn't quite the same as a friend or family member.
You might be worried whatever you say will sound awkward.
So use the colleague Christmas messages and quotes below to find the perfect words to let your coworkers know just how happy a Christmas you hope they have!
Christmas Wishes for Colleagues
These wishes are perfect for greeting your colleagues with and wishing them a Merry Christmas before you all head off to your families for the holidays.
Merry Christmas to my best work buddy! I hope you have a wonderful Christmas filled with joy and happiness
After a year of hard work may the holiday season be a time to relax and unwind. Happy Christmas
Wishing you a great Christmas surrounded by friends and family, and a very Happy New Year
Since I joined the company you've been such a good friend to me, and I really appreciate it. Have a wonderful Christmas that is full of love and good times
As my colleague you've taken me under your wing and taught me so much. I don't know where I'd be without you. Merry Christmas and enjoy the holidays
There's no one I like gossiping and enjoy coffee breaks with than you! Have a Merry Christmas and a great New Year
May your holidays be filled with lovely memories and so much happiness. Wishing you a wonderful Christmas
Now is the time to forget about work and let yourself enjoy Christmas with friends and family. Happy Christmas and I'll see you back at the office
I'm not sure I could survive in the office without you to keep me sane! Wishing you a fantastic holiday season and all the best for the New Year
I feel privileged to get to work with someone of your skill and talent. Wishing you a joy filled Christmas
I've already received the best gift I could hope for this Christmas – you as a colleague! Best wishes for a happy Christmas
May your Christmas bring you blessings and happiness for the year to come. Merry Christmas, my valued colleague
Your sensible suggestions and guidance when I've struggled have helped me settle in to my new job so well. It's been so helpful and I am really grateful to you for all you've done. Merry Christmas and have a brilliant New Year
May all your Christmas dreams come true this year. Have a fantastic day and enjoy the holiday season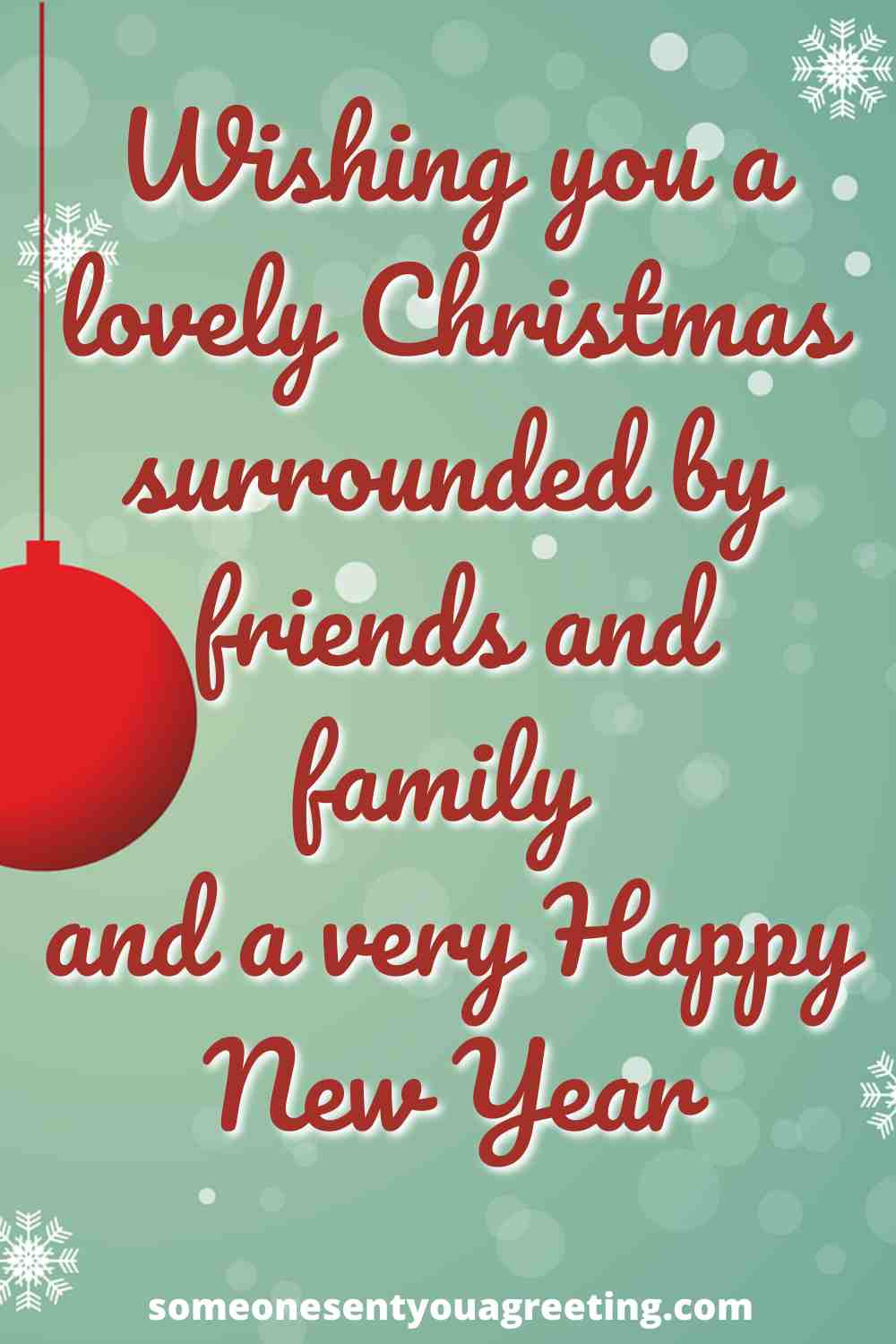 How do you Wish a Merry Christmas to a Colleague?
May you and your family have a Christmas filled with joy and treasured memories. Enjoy the holidays, Merry Xmas
Merry Christmas to someone I'm proud to call my coworker and my friend. Happy holidays
Getting to work alongside someone as amazing as you is a blessing. Merry Christmas my colleague and friend
Work is no fun, but you make it bearable. Enjoy a brilliant Christmas and all the fun it brings
We've become like family with how much time we spend together at work and I'm going to miss not seeing you over the holidays! Happy Christmas though and I hope you and your family enjoy the festive period
Having a colleague like you makes the office such a relaxed and easy place to work. I feel very lucky. Merry Christmas
Wishing each and every one of my colleagues a wonderful and happy Christmas with family and friends. All my love
Working with you is such a pleasure it's almost like I'm not working at all! Merry Xmas
It sucks that we have to with this Christmas but at least I'm spending it working with a true friend. Merry Christmas and here's to enjoying the holidays and festive cheer
Have a sweet and loving Christmas with your closest friends and family and enjoy the break from work
I hope you get to enjoy your Christmas and the holiday season with all those people that mean the most to you. Happy holidays
Festive greetings to my favorite work colleague and friend. Merry Christmas to you and yours!
May the festive spirit brighten your days and bring you nothing but good times and warm memories. Merry Christmas
There is no one as talented as you at work. I'll be honest – I'm a bit jealous of how good you are! Happy Xmas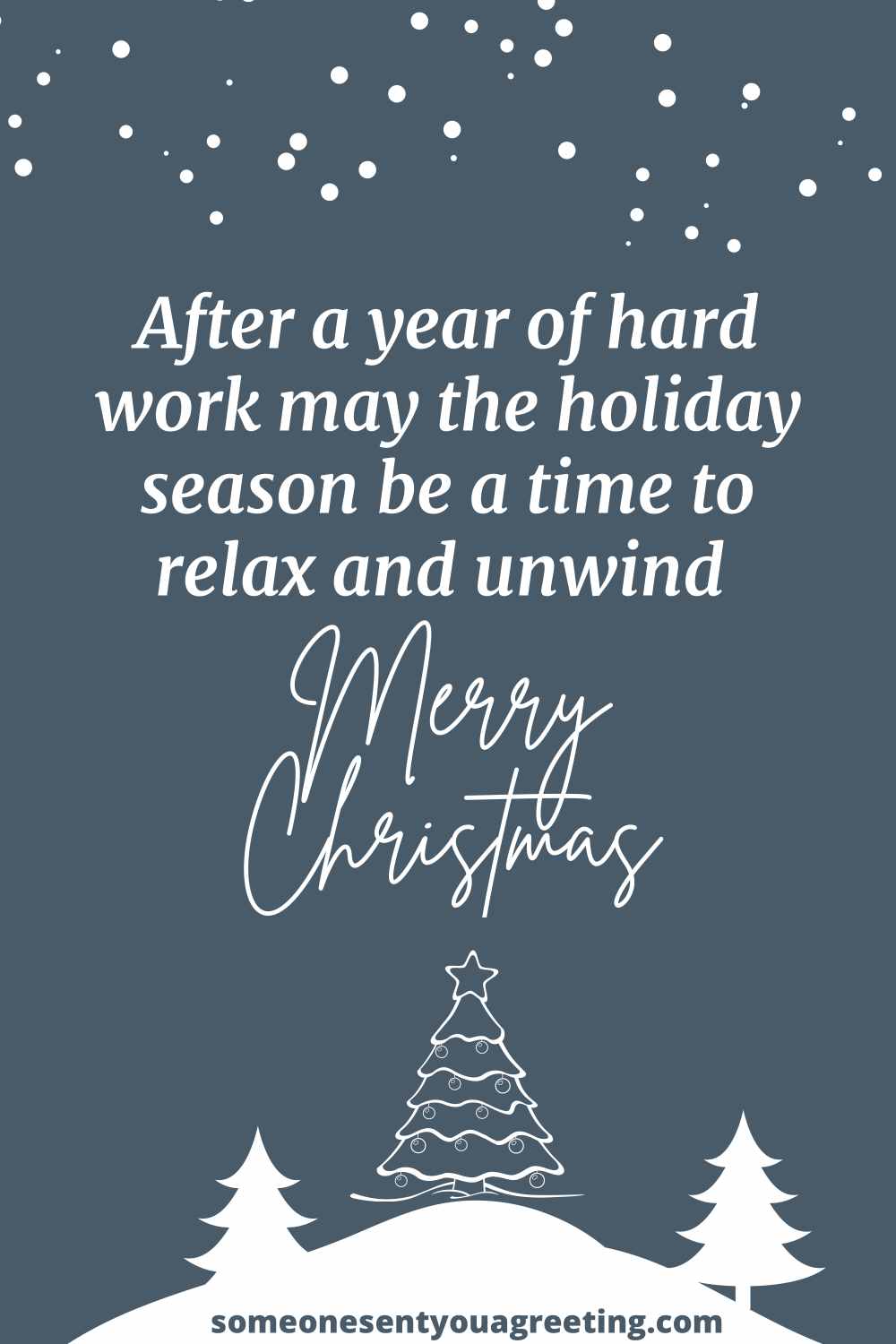 What do you Write in a Christmas Card to your Colleague?
If you aren't sure what to write in a Christmas card for a coworker then these example messages should give you some ideas and inspiration
Merry Christmas and a happy new year to my treasured colleague and friend
Wishing you and your family a happy Christmas and lovely holiday season
You're the person I look forward to seeing most when I come to work every day. Happy holidays
I'm indebted to your support and help, and for all you do at work. Merry Christmas
You always help bring a smile to everyone's face at work. That positivity is priceless and we all appreciate it so much. My best wishes for your this Christmas
Thank you for being a colleague who I enjoy working with and can call a friend. Wishing you a special Christmas this year
My fondest wishes and thoughts for you this Christmas. It's a pleasure to work with you. Merry Christmas
Wishing you a peaceful and relaxing Christmas that you can share with your loved ones. Happy holidays
May the holiday season bring you comfort abs peace after a stressful year at work. Merry Christmas
Merry Christmas to you and a wonderful new year. Thank you for your help and guidance at work, I am grateful for all you do
I don't think I would have made it through this year without you! Sending my best wishes for a Happy Christmas and a wonderful new year!
May you enjoy a heartfelt and loving Christmas surrounded by those dearest to you. All my love and seasons greetings
I will miss you over the holidays! I can't say I'm looking forward to going back to work but I'm looking forward to seeing you again. Happy Christmas, pal
Me and my whole family wanted to wish you a really great Christmas and all the best for the year ahead
If you've felt awkward trying to choose what to say to a coworker at Christmas then you're not alone. It can be difficult expressing how much you appreciate your colleagues.
So hopefully the Christmas messages here will have helped give you some inspiration and ideas for finding those words to wish a colleague a Merry Christmas.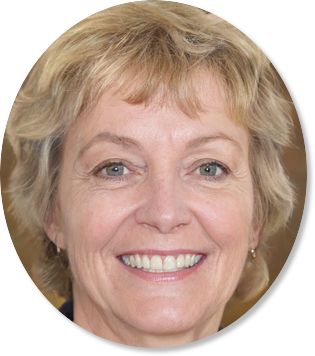 Sally Gibson is the founder of Someone Sent you a Greeting, a holiday/celebration website. Sally's writing work has been mentioned in Woman's World, Yahoo, Women's Health, MSN and more. If you have any questions get in contact with one of the team via the about page.