Saying goodbye is always hard. But it's inevitable. We can't avoid those times when we have to say farewell to people. Life, and people, move on.
New homes, jobs, changes in relationships and unfortunately death all occur on a regular basis. So we are constantly having to wish people farewell from our lives.
But that can be difficult. Often we don't want these people to go. So when saying goodbye we want our words to reflect that. To show how important or special that person is to us.
Most of us won't have the ability to express those feelings in a fitting sentiment though. That's why it can be helpful to use the words of other people.
Famous writers, poets, politicians, celebrities and more have all made famous and insightful farewell quotes and comments.
So if you're struggling with how to say goodbye to a friend, family member or colleague try one of these farewell quotes and sayings. They're perfect for closing a letter, email or even a conversation and showing how much you will miss them.
Hopefully they will help you to get your true feelings out in words that do them justice.
Farewell Quotes
These are general farewell quotes that work well if you're struggling with the best way to say goodbye. They should fit most situations or scenarios.
"Goodbyes make you think. They make you realize what you've had, what you've lost, and what you've taken for granted" – Ritu Ghatourey
"Never say goodbye because goodbye means going away and going away means forgetting" – J.M. Barrie (from Peter Pan)
"If you're brave enough to say goodbye, life will reward you with a new hello"- Paulo Coehlo
"How lucky I am to have something that makes saying goodbye so hard" – Winnie The Pooh
"It's time to say goodbye, but I think goodbyes are sad and I'd much rather say hello. Hello to a new adventure" – Ernie Harwell
"Some people come into our lives and quickly go. Some stay for a while, leave footprints on our hearts, and we are never, ever the same" – Flavia Weedn
"So for now I say goodbye to this chapter of my life and I look forward to what comes next" – Brooke Davis

"Goodbyes are only for those who love with their eyes. Because for those who love with heart and soul there is no such thing as separation" – Rumi
"You and I will meet again, When we're least expecting it, One day in some far off place, I will recognize your face, I won't say goodbye my friend, For you and I will meet again" – Tom Petty
"I don't know how you say goodbye to whom and what you love. I don't know a painless way to do it, don't know the words to capture a heart so full and a longing so intense" – Laura Wiess
"Farewell has a sweet sound of reluctance. Good-by is short and final, a word with teeth sharp to bite through the string that ties past to the future" – John Steinbeck
"Don't cry because it's over, smile because it happened" – Dr. Seuss
"Moving on, is a simple thing, what it leaves behind is hard" – Dave Mustaine
"Promise me you'll never forget me because if I thought you would I'd never leave" – A.A. Milne

"I'll never see them again. I know that. And they know that. And knowing this, we say farewell" – Haruki Murakami
"The two hardest things to say in life are hello for the first time and goodbye for the last" – Moira Rogers
"It's time to say goodbye, but I think goodbyes are sad and I'd much rather say hello. Hello to a new adventure" – Ernie Harwell
"What we call the beginning is often the end. And to make an end is to make a beginning. The end is where we start from" – T.S. Eliot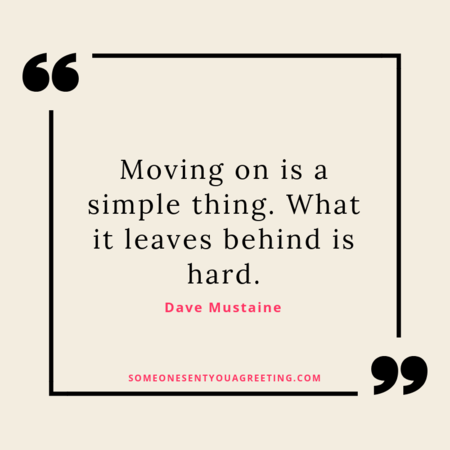 Farewell Quotes for Friends
"Saying goodbye doesn't mean anything. It's the time we spent together that matters, not how we left it" – Trey Parker
"We've shared our happiness and we've shared our fears. We've shared so many things throughout the years. And when the times were hard we were by each other's side. You were there to make me laugh when I cried" – Missy Ulbrich
"Don't be dismayed at goodbyes. A farewell is necessary before you can meet again. And meeting again, after moments or lifetime, is certain for those who are friends" – Richard Bach
"You have been my friend. That in itself is a tremendous thing" – E.B. White (from Charlotte's Web)
"So long as the memory of certain beloved friends lives in my heart, I shall say that life is good" – Helen Keller
"There are no goodbyes for us. Wherever you are, you will always be in my heart" – Mahatma Gandhi
"Remember me and smile, for it's better to forget than to remember me and cry" – Dr. Suess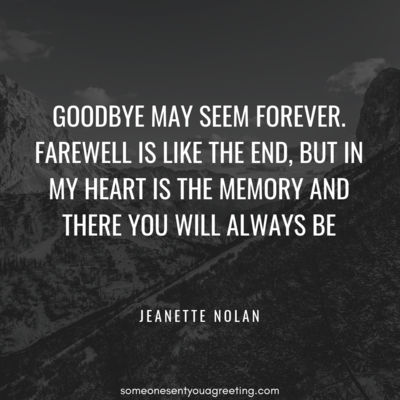 "Though miles may lie between us,
We are never far apart,
For friendship doesn't count miles,
It's measured by the heart" – Unknown
"Yesterday brought the beginning, tomorrow brings the end, though somewhere in the middle we became the best of friends" – Unknown
"May the road rise up to meet you, may the wind be ever at your back. May the sun shine warm upon your face and the rain falls softly on your fields. And until we meet again, may God hold you in the hollow of his hand" – Irish blessing
"A memory lasts forever, never will it die. True friends stay together and never say goodbye…" – Unknown
"True friends don't say goodbye, they just take extended leaves of absences from each other" – Unknown
"No one knows the exact moment when a friendship is formed, but it is this silent forgotten moment that causes the pain when we must say goodbye"
"Yesterday brought the beginning, tomorrow brings the end, though somewhere in the middle we became the best of friends" – Unknown
"Nothing makes the earth seem so spacious as to have friends at a distance; they make the latitudes and longitudes" – Henry Thoreau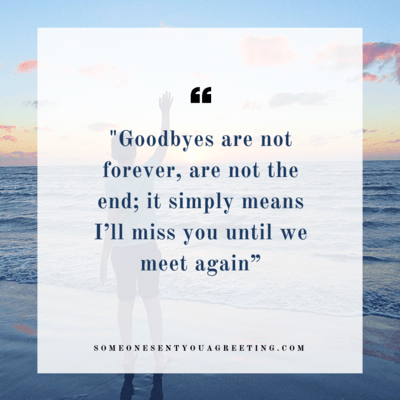 Inspirational Farewell Quotes
Even though saying goodbye is sometimes so hard it can also be a source of inspiration. Use these quotes if you want to find some good in saying farewell.
"Every goodbye always makes the next hello closer" – Unknown
"Someday you'll see the reason why, there's good in goodbye" / Carrie Underwood
"As long as we loved until our last goodbye, then our love had been whole and true" – Unknown
"Great is the art of beginning, but greater is the art of ending" – Henry Wadsworth Longfellow
"The pain of parting is nothing to the joy of meeting again" – Charles Dickens (from Nicholas Nickleby)
"Find the good in goodbye"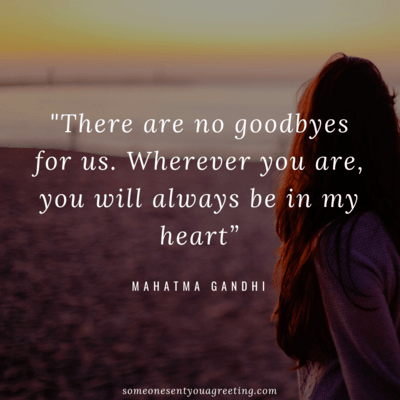 "Goodbyes are not forever, are not the end; it simply means I'll miss you until we meet again" – Unknown
"How lucky I am to have known someone who was so hard to say goodbye to" – Evans Valens
"Oftentimes we say goodbye to the person we love without wanting to. Though that doesn't mean that we've stopped loving them or we've stopped to care. Sometimes goodbye is a painful way to say I love you" – Unknown
Farewell Quotes for Someone you Love
A farewell to someone you love is the hardest goodbye you can have. If you want to show a loved one just what their leaving means try one of these farewell quotes.
"Only in the agony of parting do we look into the depths of love" – George Eliot
"This is not a goodbye, my darling, this is a thank you. Thank you for coming into my life and giving me joy, thank you for loving me and receiving my love in return. Thank you for the memories I will cherish forever" – Nicholas Sparks
"Goodbye may seem forever. Farewell is like the end, but in my heart is the memory and there you will always be" – Jeanette Nolan
"Promise me you'll never forget me because if I thought you would I'd never leave" – A.A. Milne
"When there are no words, simply love them & hold their hand" – Zoe Clarke Coates
"Goodbye is the hardest thing to say to someone who means the world to you, especially when goodbye isn't what you want"
"There are no goodbyes for us. Wherever you are, you will always be in my heart"
"We have known each other our whole lives and now we will go our separate ways. Some will remember and some will forget each other, but we will always have a part of each other inside us"
"Remember me with smiles and laughter, for that's how I'll remember you. If you can only remember me in sadness and tears, then don't remember me at all" – Laura Wilder
"Even if we can't be together in the end, I'm glad that you were a part of my life" – Unknown