A 70th birthday is a really amazing milestone to have got to. At 70 you've had a wealth of experiences, picked up so much knowledge and understanding, and no doubt some amazing memories along the way.
It's the sort of achievement that has earned a big celebration. So if you know someone turning 70, be it a friend, family member or just acquaintance then you are probably thinking of sending them a gift or card.
But what do you say someone turning 70? It's going to be difficult to find something they haven't already heard or seen before. Something that properly does justice to reaching a 70th birthday.
If you're having a hard time we've brought together this collection of 70th birthday wishes and messages. So use the written messages found below and edit or change them to fit your situation or whoever it is you're sending them to.
70th Birthday Wishes
These messages are general and suited for almost anyone you want to wish a happy 70th birthday. For more specific messages for friends and family members then scroll a bit further down.
Congratulations on your 70th birthday! What a truly amazing achievement. Here's to many more!
We are all so inspired by your zest for life. Wishing you many more happy years
Sending my best wishes for a wonderful 70th birthday!
Enjoy your special day and get ready for even more in the years to come.
A 70th birthday really is a massive achievement. When I get there I hope I still look as good as you do!
The saying goes that wisdom is not measured in years. Well you've had 70 years of experience and I think that adds up to quite a lot of wisdom.
I probably don't need to tell you but never lose that passion and desire to try new things. That's what keeps you young. Have a brilliant day.
You're turning 70 today? Ha! You don't look a day over 50! Happy birthday
You have shown us all how to live through your 70 years without any words needed, just by doing. Happy birthday
You have always been a truly inspirational example to me in everything you've done. Congratulations on your 70th birthday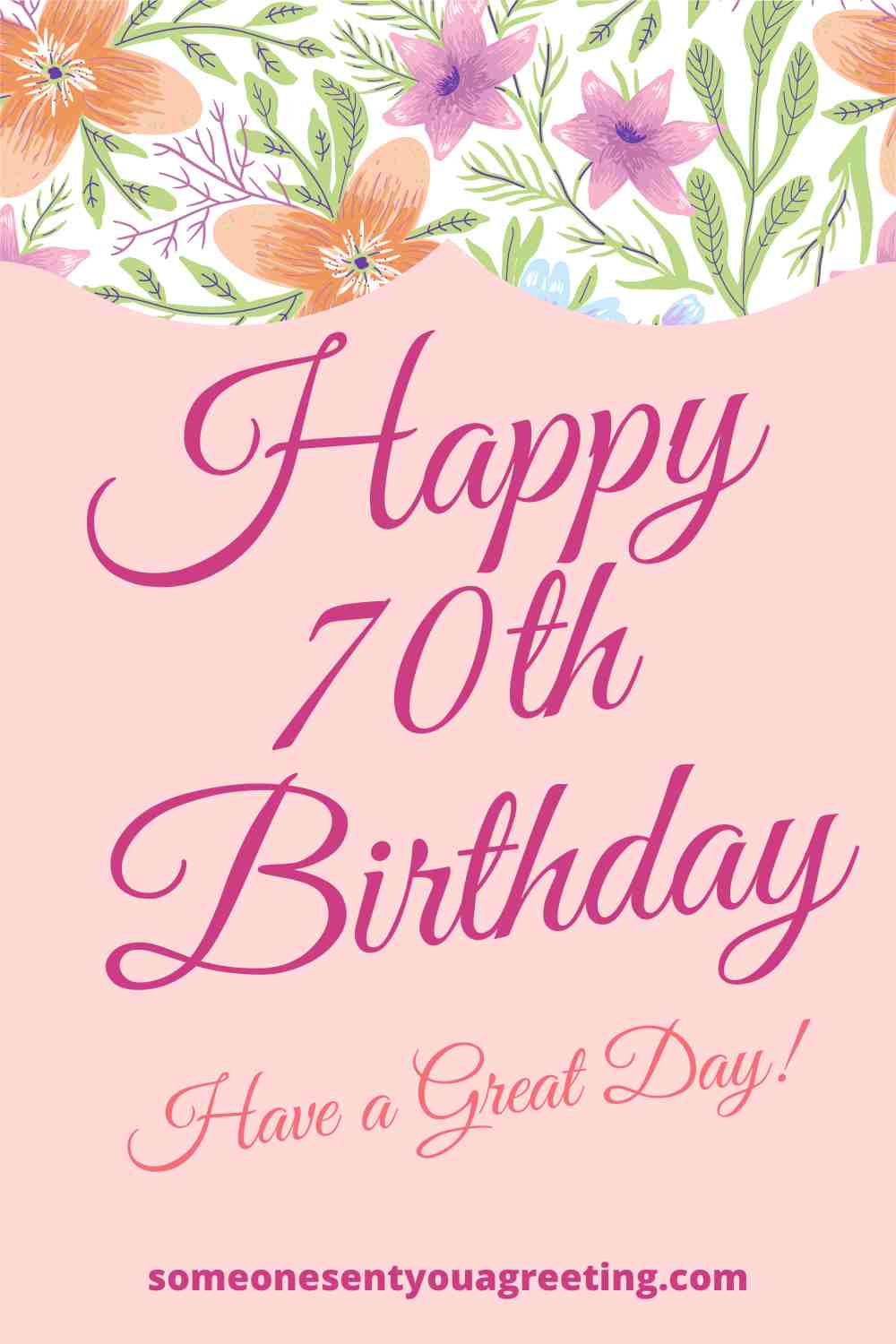 SEE MORE: 80th Birthday Messages and Quotes
For Mom
Your moms 70th birthday means you will be wanting to let her know just how special she is and all she's done for you. Express just how important to you she has been on her birthday.
To the most important and amazing person in my life. Happy 70th birthday mom! Here's to a day surrounded by friends and family.
Thank you for all you do mom. I wouldn't be where I am today without you. Happy 70th birthday!
Wishing that you have a wonderful day and that the coming year is filled with so much happiness. Happy birthday mom!
I am grateful for every special moment I had growing up. Those memories I will cherish forever. You were and continued to be the most amazing mom in the world, Happy birthday.
The whole world is lucky to have someone as kind, honest and caring as you. But I am the most thankful for having such a perfect mom. Enjoy your birthday, you deserve it.
For Dad
Just as you with mom you should let your dad know just how important he has been to you. Use the messages here to show him how you truly feel.
On your 70th birthday I wanted to let you know just how grateful I am for ever hung you've done for me dad. I will be forever thankful for having you as my father. Happy birthday, I love you
You taught me life lessons that have stayed with me for years. Your knowledge and wisdom, as well as love, have made me the person I am. Happy birthday, dad, and thank you for everything.
We have made some incredible memories over the years and will make many more. Happy birthday dad!
70 years is such an amazing achievement and more than just a number. And in all those years you have inspired and taught me just by the way you have lived your life.
Even after all these years I know I still have so much more to learn from you. I'm looking forward to it in the coming years. Happy birthday dad.
For Grandma
There's a good chance the person who is turning 70 is a grandparent if yours. If it's your grandmother then tell her how important she been in your life and how much you appreciate her.
A happy 70th birthday from your favorite grandchild!
I feel blessed to have had you as part of my life grandma. You've been such a source of wisdom and inspiration l. Have a happy 70th birthday!
Having you in my life has brought me untold joy. I hope that on your 70th birthday you have even more fun and enjoyment as you've bright to me. Happy birthday.
I always look up to you and try to reach the amazing standards you have set. Maybe one day I'll get there! Have a wonderful birthday grandma!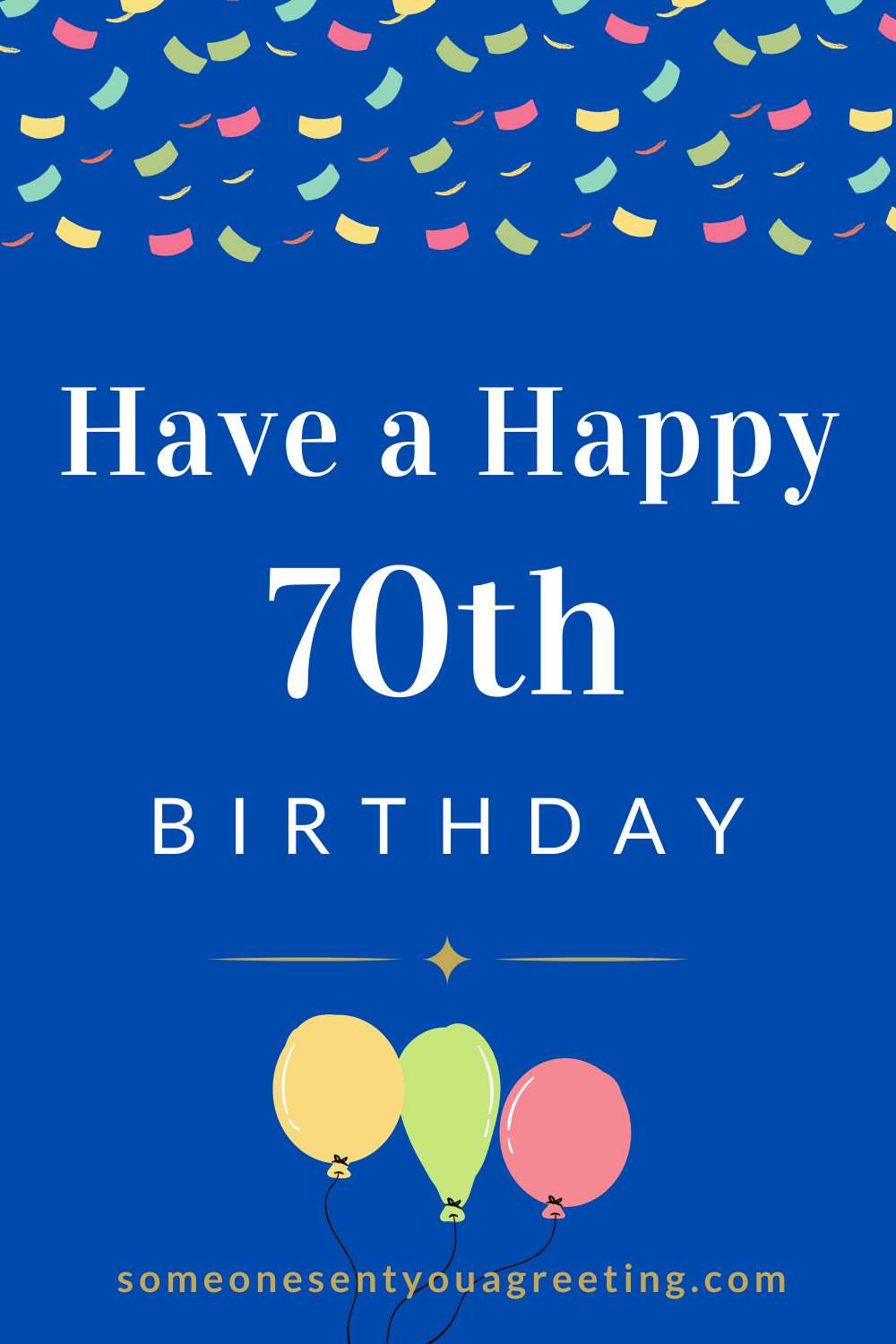 For Grandpa
As with your grandmother you should be aiming to show just how much you care for them with your greeting. Show your grandfather just how special he is on his 70th birthday.
I'm so lucky to have had you as my granddad. Here's to 70 more years with you in my life!
From now on until your 100th I'm going to look forward to wishing you a happy birthday!
Although you may be getting a bit older in years I know you're still young a heart! Have a brilliant day!
Your life has been filled with incredible moments, and so as you reach this milestone I just wanted to wish you a very happy 70th birthday.
Wishing you years more of happiness and good health. Happy 70th birthday.
For Aunt
Happy 70th birthday auntie! Congratulations on reaching such an amazing milestone and I hope you have a lovely day
Wishing you a very happy 70th birthday aunt. May you enjoy a wonderful day surrounded by friends and family
I love you aunt. Happy birthday and congratulations on your 70th. Here's to countless more great days ahead
To my wonderful auntie I am wishing you all my love and best on your 70th birthday
You rock auntie! Happy birthday and best wishes as you turn seventy
SEE MORE: Birthday Wishes for Aunt
For a Friend
If it's your friend turning 70 then celebrations are definitely in order, along with you making sure to congratulate them on reaching a big milestone. These messages should give you some help in doing so.
I am blessed to have a friend like you in my life. Have a great 70th birthday and many more with years of good health and happiness.
Happy 70th birthday to the best looking 70 year old I have ever seen!
Happy 70th birthday to my pal who still acts half their age! May you grieve old disgracefully for many years to come.
Happy 70th birthday! I don't know if you've heard but 70 is the new 50!
We all get older but the important thing to do is maintain that youthful spirit. Happy 70th birthday and enjoy every second of it.
Wishing you a great day with all your birthday dreams coming true. Happy 70ty birthday!
I hope you can look back on your 70 years and remember all the wonderful memories of a life well lived. And then look forward to the countless new memories you're going to make. Enjoy your day
Enjoy your 70th year and let it be the start of a new and exciting chapter in your life. Happy birthday.
You have a fine legacy behind you after 70 years but still so much more to accomplish and enjoy. May your 70th year be the beginning of a new lease of life.
Funny 70th Birthday Quotes
A funny or cheeky message for a 70th birthday works very well. Who doesn't want a laugh or joke on their birthday? So try the funny messages below.
I was going to get you a cake with 70 candles but realised at your age trying to blow them all out might not be a good idea!
Can you remember when you were reaching that big first milestone of 10 years old? I can't. I wasn't even born then.
It seems like you were in your 60's just yesterday! Oh yeah, you were.
I'm sure at 70 you haven't got time to waste reading silly birthday messages.. I mean, you probably haven't got long left, right? So I'll just be quick and wish you a happy birthday!
If it's true and you really do get better with age, then you must be almost perfection!
You have experienced a lot. If there is something to learn, you have learned it. The key now is trying to remember it all!
At your age, you no longer want to hear, "You look good for your age." That's not saying much at 70!
70th Birthday Poems
A poem is a really lovely way to celebrate someone's birthday. You can easily fit them in a card or send them via email. So try one of the 70th birthday poems here to show how special they are in a different way to the usual message.
Your decades run,
From one to seven.
Lived with joy,
Straight from Heaven.

By Debbie Christie

It's amazing you're seventy
You look really young.
There's lots to explore
And adventures not done.

Set the calendar today
To have plenty of fun.
A cruise you should take
And a race to be run!

The seventy adventure:
To fish in the sun.
A hike through the woods,
Your life's just begun!

Slice the birthday cake
And touch off the cannon.
Show the whole world
That life's not a lemon!

So Happy birthday to you
We know you're a hellion!
Go tackle the world
You're one in a million!

By Mary

You've lived now for seventy years,
known happiness, known also tears,
but do you know the joy you bring?
To me, my love, you're everything.

by Cathy Bryant

Happy Birthday my dear, you are now seventy!
You've reached the the age of the 21st century.
Well done young lady, you've got lots to tell.
You've taught the young of this century well.
You know much wisdom and you've got lots to say!
Happy Birthday my love and have a wonderful day.

By Tansy
70th Birthday Inspirational Quotes
Using a quote and the words of someone else can be a great way to celebrate a 70th birthday. An inspirational quote like the ones below can help with summing up turning 70.
"Your 40s are good.  Your 50s are great.  Your 60s are fab.  And 70 is f*@king awesome!" – Helen Mirren
"You don't get older, you get better" – Shirley Bassey
"Growing old is mandatory, but growing up is optional!"- Walt Disney
"Count your age by friends, not years. Count your life by smiles, not tears" – John Lennon
"Anyone who keeps the ability to see beauty never grows old" – Franz Kafka
"God gave us the gift of life; it is up to us to give ourselves the gift of living well" – Voltaire
"It matters not how long we live but how" – Philip James Bailey
"The more you praise and celebrate your life, the more there is in life to celebrate" – Oprah Winfrey
"Age is an issue of mind over matter. If you don't mind, it doesn't matter" – Mark Twain
Hopefully the examples and wording ideas here will have helped with you getting the ideal message. All you have to now I'd wish your special friend or family member a happy 70th birthday!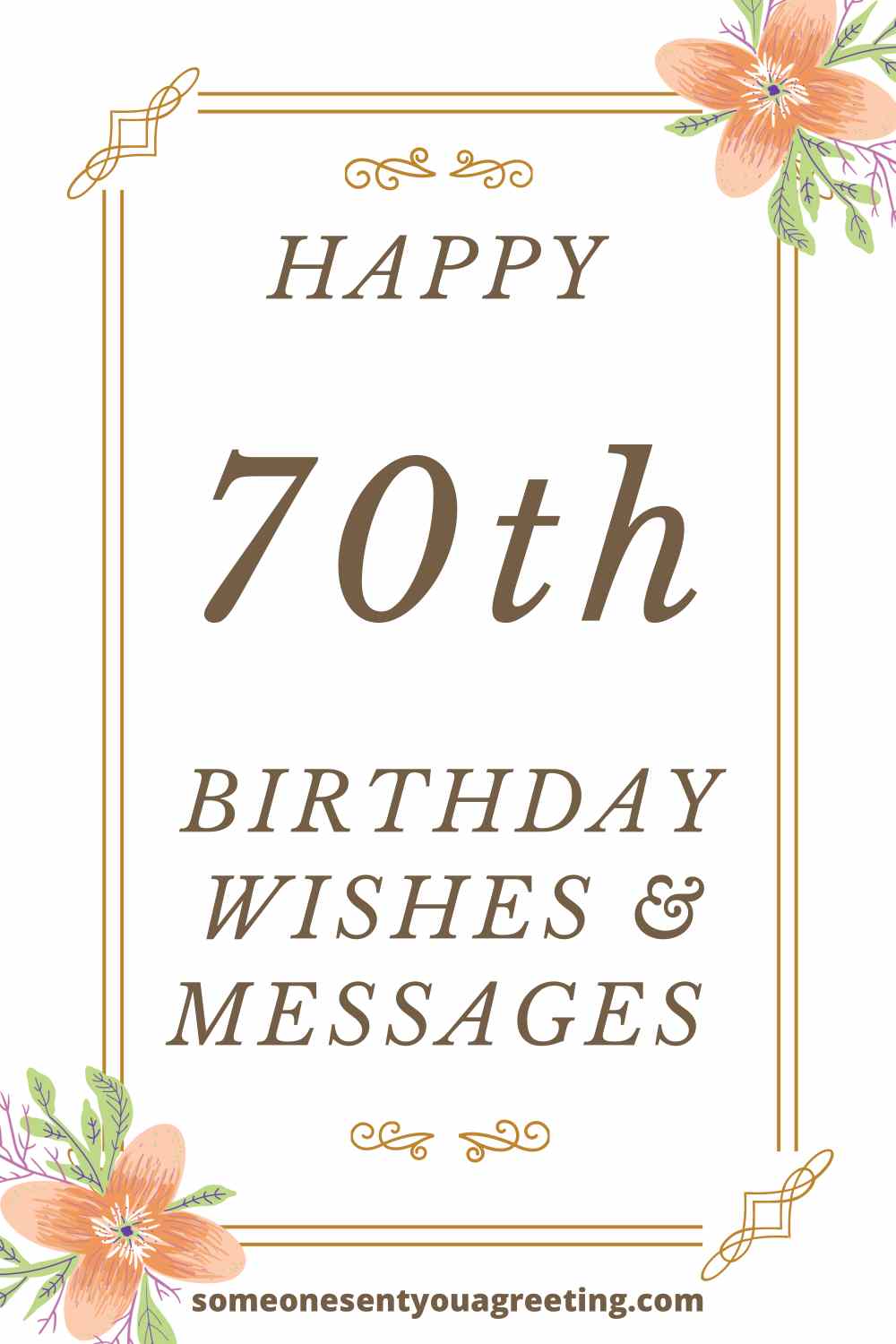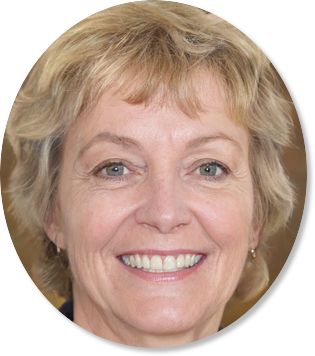 Sally Gibson is the founder of Someone Sent you a Greeting, a holiday/celebration website. Sally's writing work has been mentioned in Woman's World, Yahoo, Women's Health, MSN and more. If you have any questions get in contact with one of the team via the about page.