If we're lucky we get some teachers who are just amazing. They really help us learn and inspire a passion in their subject.
So when a teacher retires many students and parents want to wish them a happy retirement and all the best for the future.
But finding the right words and knowing what to say to a teacher when they retire can be tricky. If they really meant a lot to you and have inspired your learning you will want what you say to be meaningful.
Your retirement wishes should come from the heart and express how much you have enjoyed having them as a teacher.
So use the retirement messages for teachers here to help you find the right words to wish them a very happy retirement.
Retirement Messages for Teachers
We are so grateful to have had such a wonderful teacher. You were so dedicated to our learning and always there to help when we needed it. Thank you for everything and we wish you a very happy retirement- from Class 6C
To the worlds greatest teacher – wishing you an amazing retirement!
No one has inspired me like you did. It's down to you I have my passion for learning and have reached the heights I have. Thank you for being such an amazing teacher, and have a fantastic retirement
We will always remember how kind and hard working you were for us. Especially when we were naughty! Enjoy your retirement
Dear teacher, you have inspired me to achieve so much and do things I would never have had the confidence to. I appreciate you more than I can say and will really miss you. I hope you have a very happy retirement
Your dedication to children and their learning has helped so many to go on and achieve their dreams and given them such a good start in life. But now you deserve some time to put yourself first. I hope your retirement is restful and filled with happiness
No one will ever be able to replace the amazing teacher you are. You will always hold a very special place in our hearts. Happy retirement
Thank you for inspiring and guiding us through our lessons. We will miss you. Good luck with your retirement
I'm really going to miss being taught by you, but also because of how good a friend I made. Congratulations and happy retirement
Even though you're retiring you can be assured your legacy will continue on after you and the kids you taught will grow from your wisdom. Congratulations and best of luck
SEE MORE: Retirement Messages for Boss
Retirement Wishes for Teachers
You've had an incredible career and one you should be very proud of. We will all miss you
I just wanted to thank you for being such an understanding and patient teacher. I feel lucky to have had someone to teach me like you. Enjoy your retirement
You've been the best teacher and such an inspiration to us all. I'm going to miss you more than words can say. I hope you come back and see us. Happy retirement to my favorite teacher
A great teachers is responsible for turning students who had given up or were struggling into achievers. You were there for so many students like that. Wishing you a happy retirement
I know this is where I wish you a happy retirement but I will miss you so much I don't think I can! You won't forget me, will you?
You always had the most fun and interesting lessons. I hope your retirement is just as fun and interesting! Congratulations
It's the teachers like you that help lost children find the path back to learning. I feel blessed to have been your student. Happy birthday
I'm not exaggerating when I say you have had such a big impact on the person I've become. Your teaching has been key to me growing up and your patience and willingness to never give up on me is something I shall never forget. Thank you and have a happy retirement
The entire school has so much respect for you. You are going to be missed greatly. But we hope you have a lovely retirement
Your care and dedication to your students is so admirable. You deserve to retire on the best terms and have a restful and enjoyable time thereafter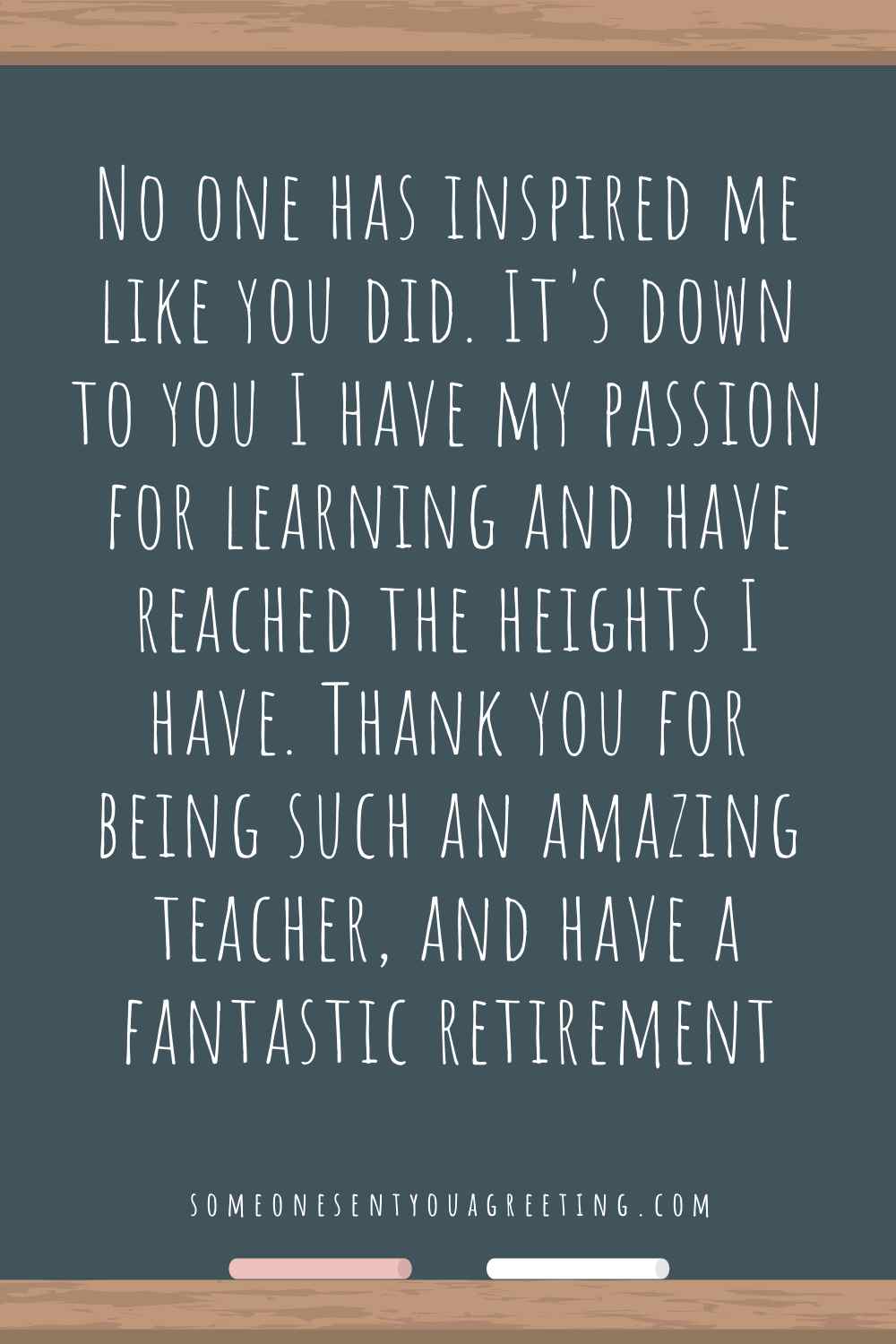 SEE MORE: Retirement Wishes for Coworkers and Colleagues
Funny Retirement Messages for Teachers
"I'm not just retiring from the company, I'm also retiring from my stress, my commute, my alarm clock, and my iron" – Hartman Jule
You were always our favorite teacher and that's why we were so well behaved. Your replacement better watch out though! Happy retirement!
If you thought that dealing with crazy students was the hardest thing you had to do in your life, wait till you have to deal with grandkids after retirement! Good luck
Your retirement is a celebration of the patience and tolerance you showed in putting up with such annoying students all your life! Congratulations
To my teacher, enjoy your retirement – or as it's also know – a permanent vacation. Happy retirement
Welcome to a new phase of your life when you will no longer associate numbers with grades, bells with classes and a marker pens with a whiteboards. Have fun!
Congratulations on retiring and getting away from annoying kids and whingeing parents!
I wish I could become the President of this university, if only for a day… I would cancel your retirement, and for a longer tenure pave the way
Now Fridays aren't the best day of the week anymore – they all are!
Retirement adds 5 days to your weekend! Enjoy it!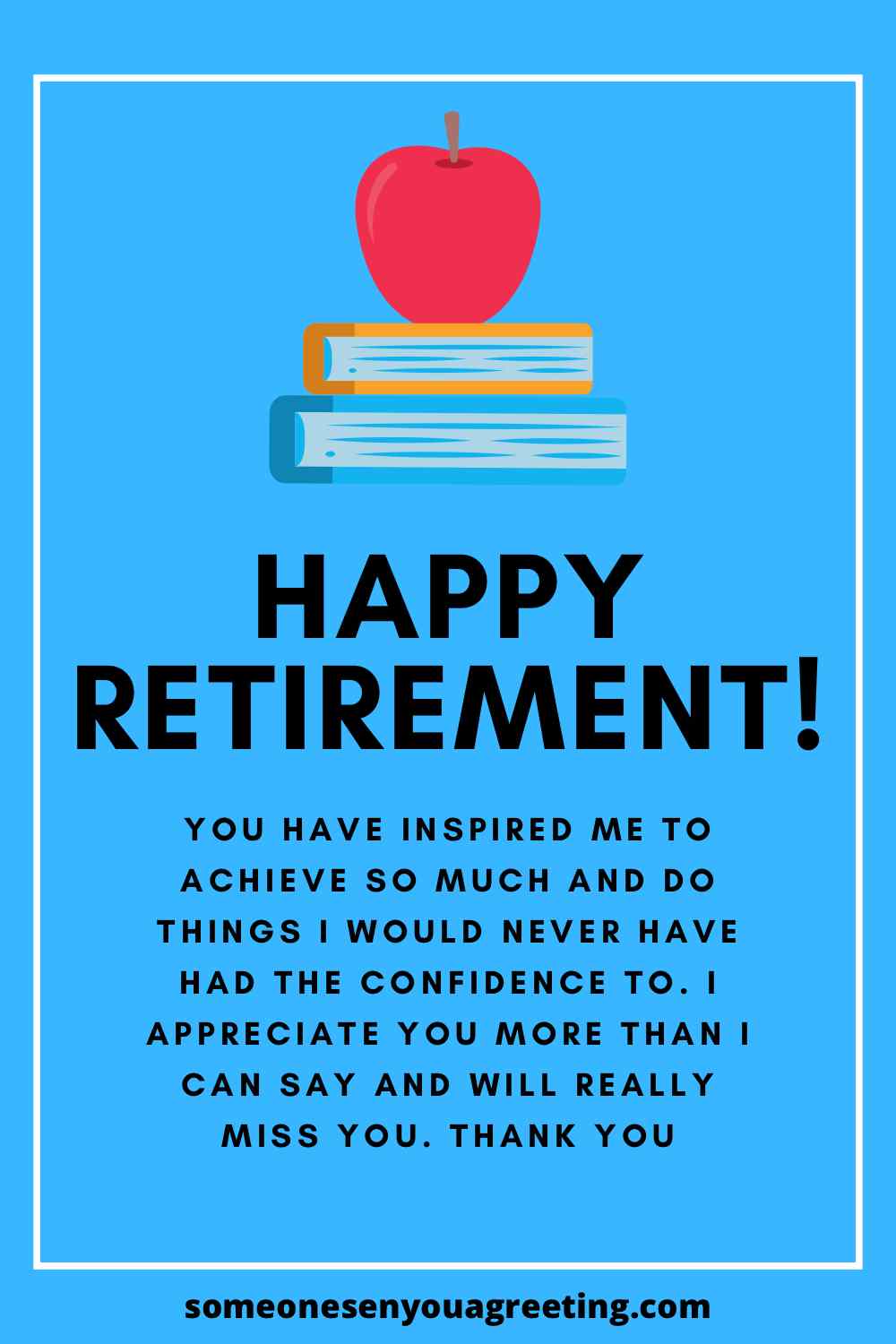 SEE MORE: Funny Retirement Messagess
Retirement Wishes for Teacher Colleague
We are sad to see you go. You have been an incredible teacher and the school will not be the sane with you. Have a great retirement and best of luck for the future
Thank you for your years of service. You have been an amazing colleague and I know the students have loved you as their teacher. Have a wonderful retirement
You should be immensely proud of how much you changed your students lives. Congratulations on a wonderful career, and have a brilliant retirement
Your commitment to helping your young students achieve all they can is so admirable. You have been one of the best teachers I've taught alongside and I feel lucky to have done so. Congratulations on your retirement
We say farewell to a colleague who has been a fantastic teacher but also a great friend. Both the children and staff will miss you greatly. Best of luck with your retirement
The school will feel very different without you as a part of it. We will all miss you, from the students through to the other teachers. You've enjoyed amazing success as a teacher and earned a rest
It has been an honor teaching beside you. I wish you all the best for the future and whatever you decide to do next in retirement. Farewell
When a teacher retires you can feel like you're losing someone very special. But you should also celebrate their amazing career.
So hopefully these retirement messages for teachers will have given you the help you needed to wish your teacher all the best as they retire.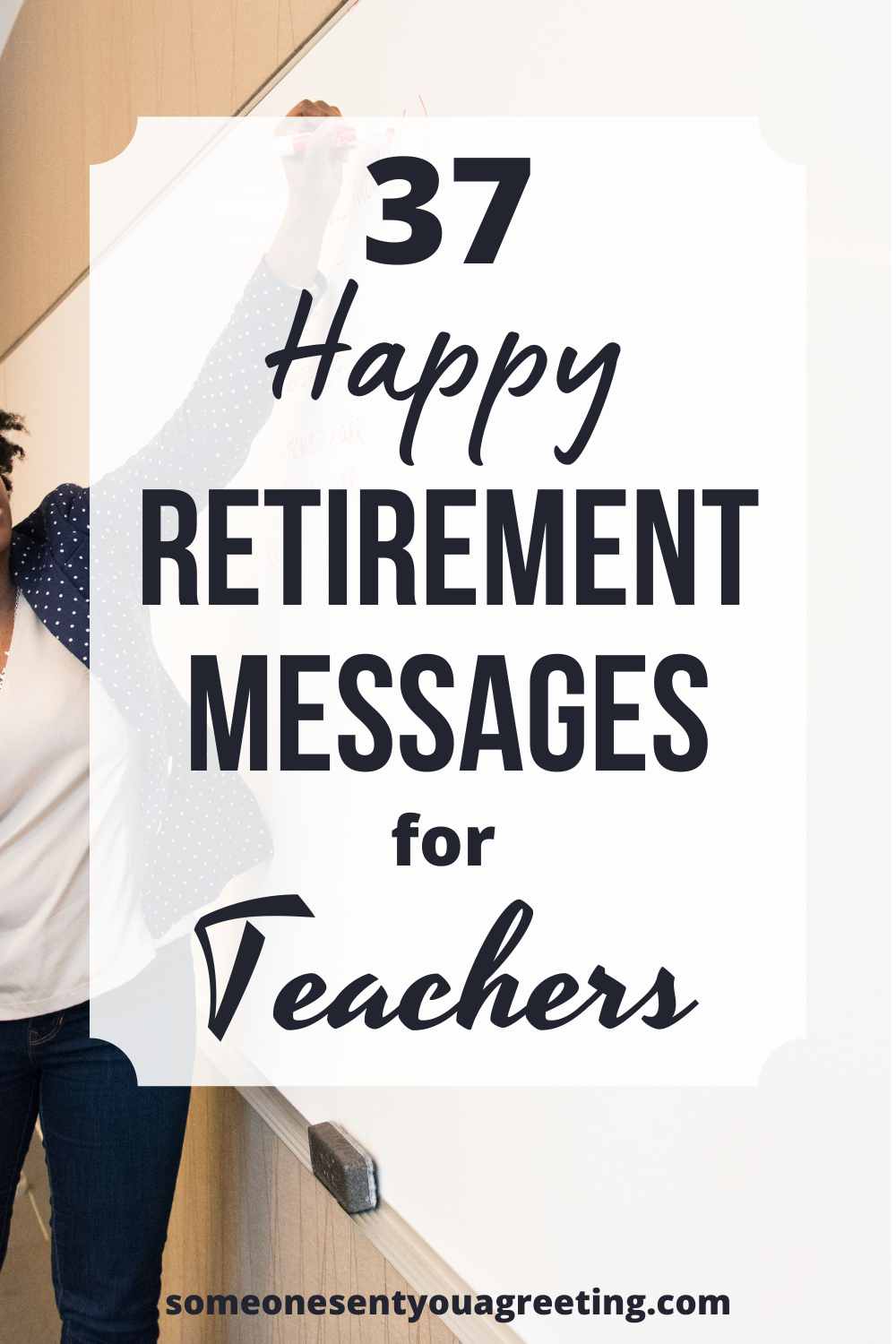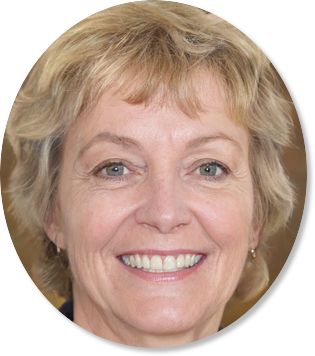 Sally Gibson is the founder of Someone Sent you a Greeting, a holiday/celebration website. Sally's writing work has been mentioned in Woman's World, Yahoo, Women's Health, MSN and more. If you have any questions get in contact with one of the team via the about page.