Is someone at your workplace having a baby and you want some baby shower wishes for a coworker to write in a card? Need help finding the right words for what to write in a baby shower card for a coworker?
A coworker having a baby is a real joy. It's a time for celebration and that means a baby shower.
That's why you should congratulate them in a baby shower card. In order to help you find the right words we've compiled the best baby shower wishes for coworkers.
Writing a baby shower message is harder than it might first seem. It's not easy to express how happy you are to a coworker about their new baby.
So use these baby shower messages for coworkers to help you let a colleague know just how delight you are they are expecting a new child.
What to Write in a Baby Shower Card for a Coworker
If you just want examples of what to write then keep scrolling down for our sample messages. But if you prefer to write the entire baby shower card message yourself then the steps below will help you to come up with a lovely message all by yourself.
Start your card with a greeting. Most times your card will be for the mom only but couples do sometimes hold baby showers together. If that's the case then simply address both the mom and dad as a couple. You can use something as basic as "Dear _______".
Follow this with a few words congratulating them on the pregnancy – "wishing you all the best with your pregnancy".
If it's just a quick note then it's fine to finish it there. But you can also expand it a bit more and include something a little more personal. Perhaps a small joke or anecdote, maybe something only you share between each other. Or just talk about motherhood in general – "I can't explain how excited I am for you! You're going to make such an amazing mom!"
End your message by signing the card or note from yourself or you and your partner/family: "with lots of love _______"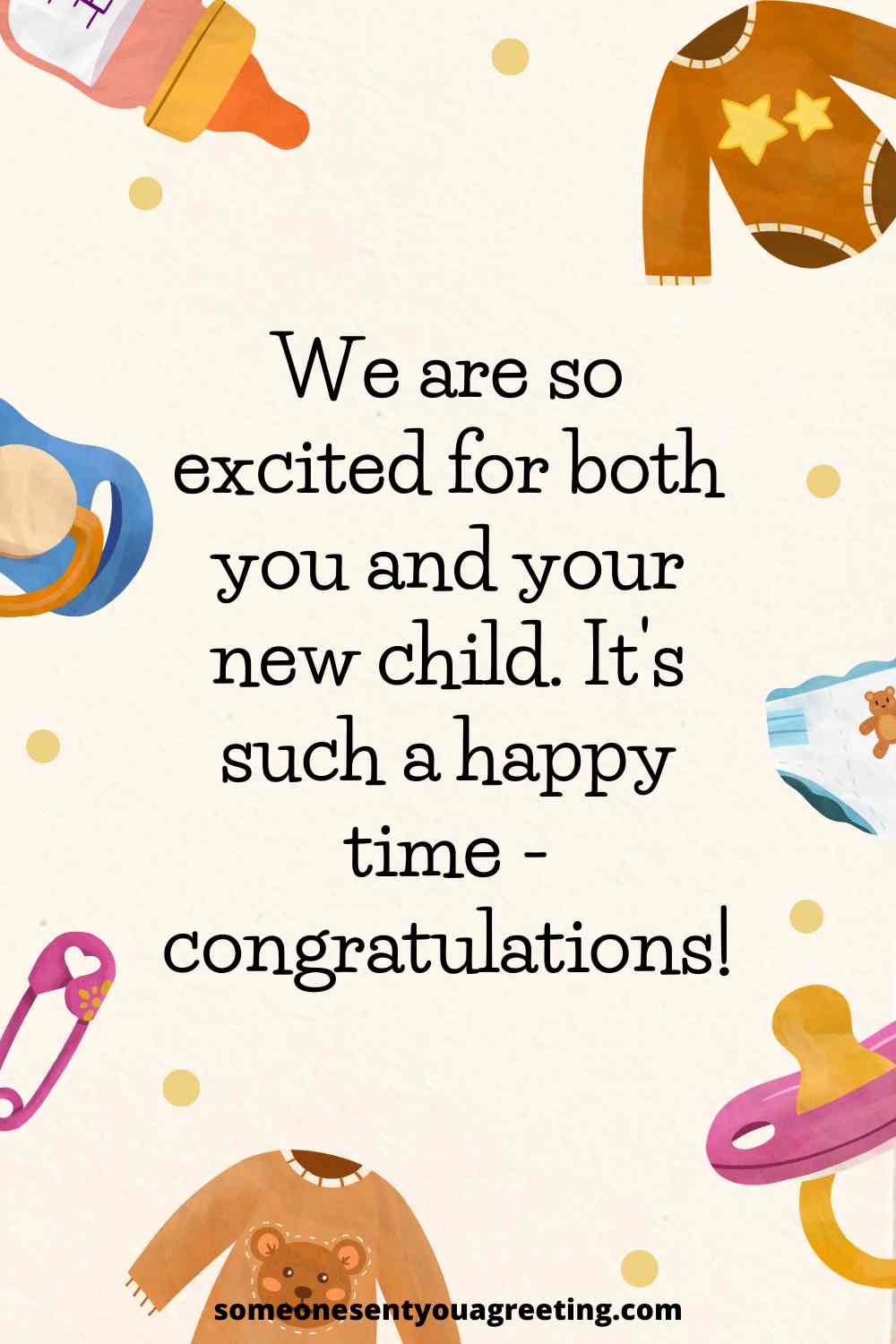 READ MORE: More Baby Shower Wishes
Baby Shower Wishes for a Coworker
Congratulations on the wonderful news! Wishing you all the best on the upcoming arrival.
You are about to embark on one of the most amazing journeys – enjoy everything parenthood brings!
Congratulations and best wishes for a very healthy pregnancy.
Wishing you and your baby happiness, laughter and most of all love.
What a blessing a new baby is! Congratulations!
You were destined to be a mom and will take to it like a duck to water! Wishing you all the best.
We are so excited for both you and your new child. It's such a happy time – congratulations!
May the arrival of a new baby bring you a joy and love you could never imagine. Congratulations.
Congratulations and wishing you love and good health as you begin your new journey as a mom.
We all can't wait to meet your new addition to the family!
READ MORE: Congratulations Messages for a New Baby
Funny Baby Shower Messages for a Coworker
Use these funny quotes and sayings as your baby shower message for a coworker and put a give them a laugh on such a happy occasion.
Hello, Baby! Goodbye, Sleep!
Congratulations! You now live in a madhouse run by a tiny army you created yourself.
Welcome to parenthood where going to the grocery store by yourself is now considered a vacation.
When you're choosing names for your baby, don't forget about the important people in your life… like me!
Raising kids is a walk in the park. Jurassic Park that is.
Here's to 18 years of pulling out your hair, putting out fires and fixing scraped knees. Here's to babysitters!
Hitting the bottle is going to take on a whole new meaning!
Babies are like a math equation. They're an addition to the household, they subtract your time you use to sleep, and they divide you patience in half! Good thing they add a whole lot of love. Congrats!
Parenthood: the scariest hood you'll ever go through.
"When your first baby drops her pacifier you sterilize it. When your second baby drops her pacifier, you tell the dog, "Fetch!" – Bruce Lansky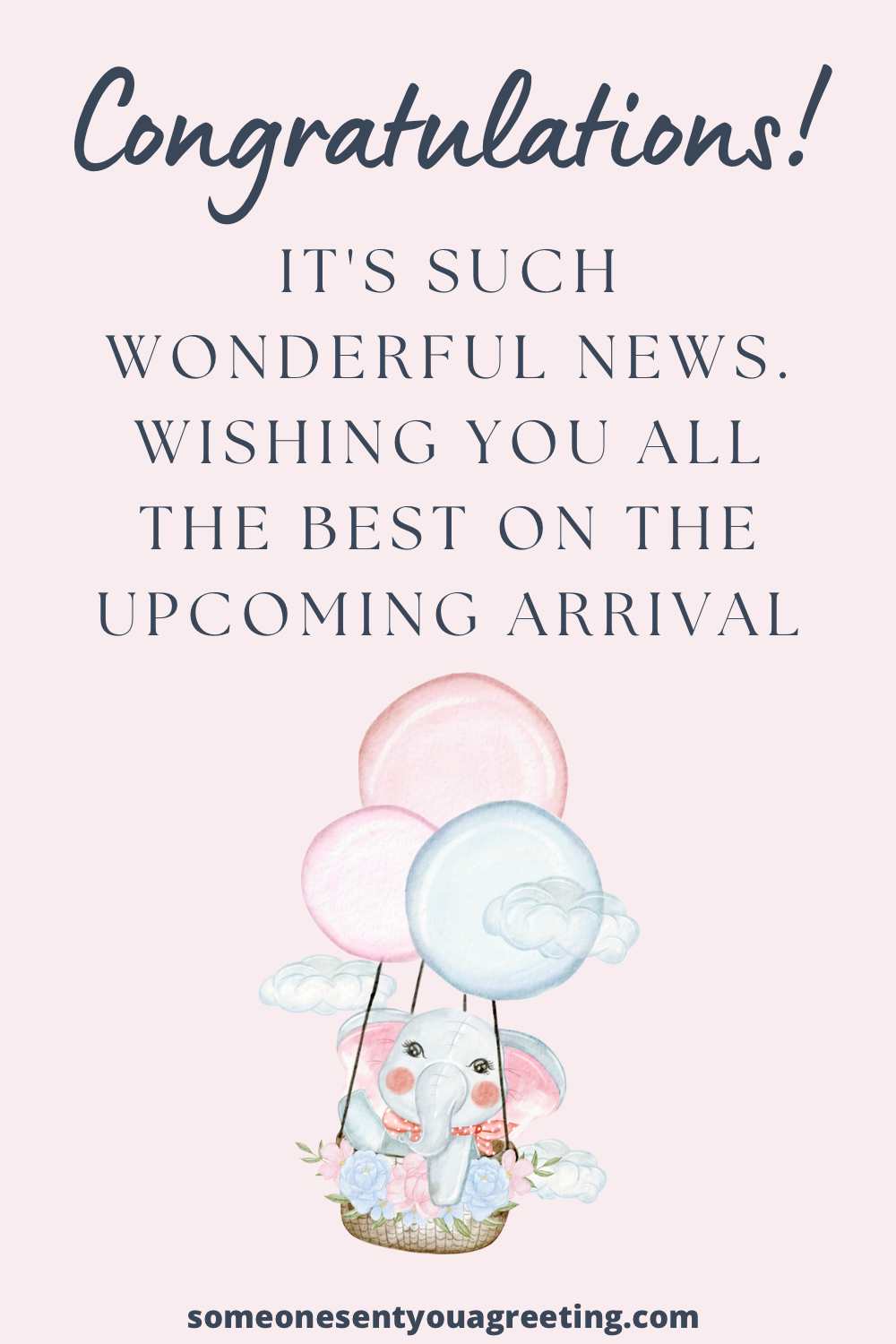 Baby Shower Congratulations for Colleagues
Huge congratulations on the amazing news! You're having a baby and we couldn't be more excited!
A new child will bring joy to your life that nothing else ever could. Congratulations.
Sending so much love as you experience the joy that a new addition to your family will bring.
At the first opportunity we are desperate to meet the new bundle of joy! Congratulations.
Everyone in the office is sending congratulations and can't wait to see the new arrival.
You are going to enjoy being a mom so much! It will just complete your world. Congratulations.
May the joy of a new baby fill your heart with a love so pure.
Congratulations and here's to a healthy and happy new member of your family.
READ MORE: 90+ Baby Shower Cake Sayings
Best Wishes for Colleagues Baby Shower
Best wishes as you celebrate your upcoming new member of the family.
May this exciting time be just the beginning of endless happiness for your family.
Enjoy all the joy that you find as you become a parent. Congratulations.
"Having a baby is like falling in love again, both with your husband and your child." – Tina Brown
We wish you a wonderful baby shower and a new bundle of joy you can love forever.
"A new baby is like the beginning of all things wonder, hope, a dream of possibilities" – Eda J. Le Shan
Congratulations my friend! As a mother I can tell you having children is the best thing in the world.
"Babies are bits of stardust, blown from the hand of God." – Barretto
We hope these baby shower wishes for coworkers have helped you to find the right words to say to a colleague. A new baby is such a joy so even if you aren't sure what to what to write in a baby shower card you should make the effort and know that the new mom (and dad) will appreciate you reaching out to congratulate them.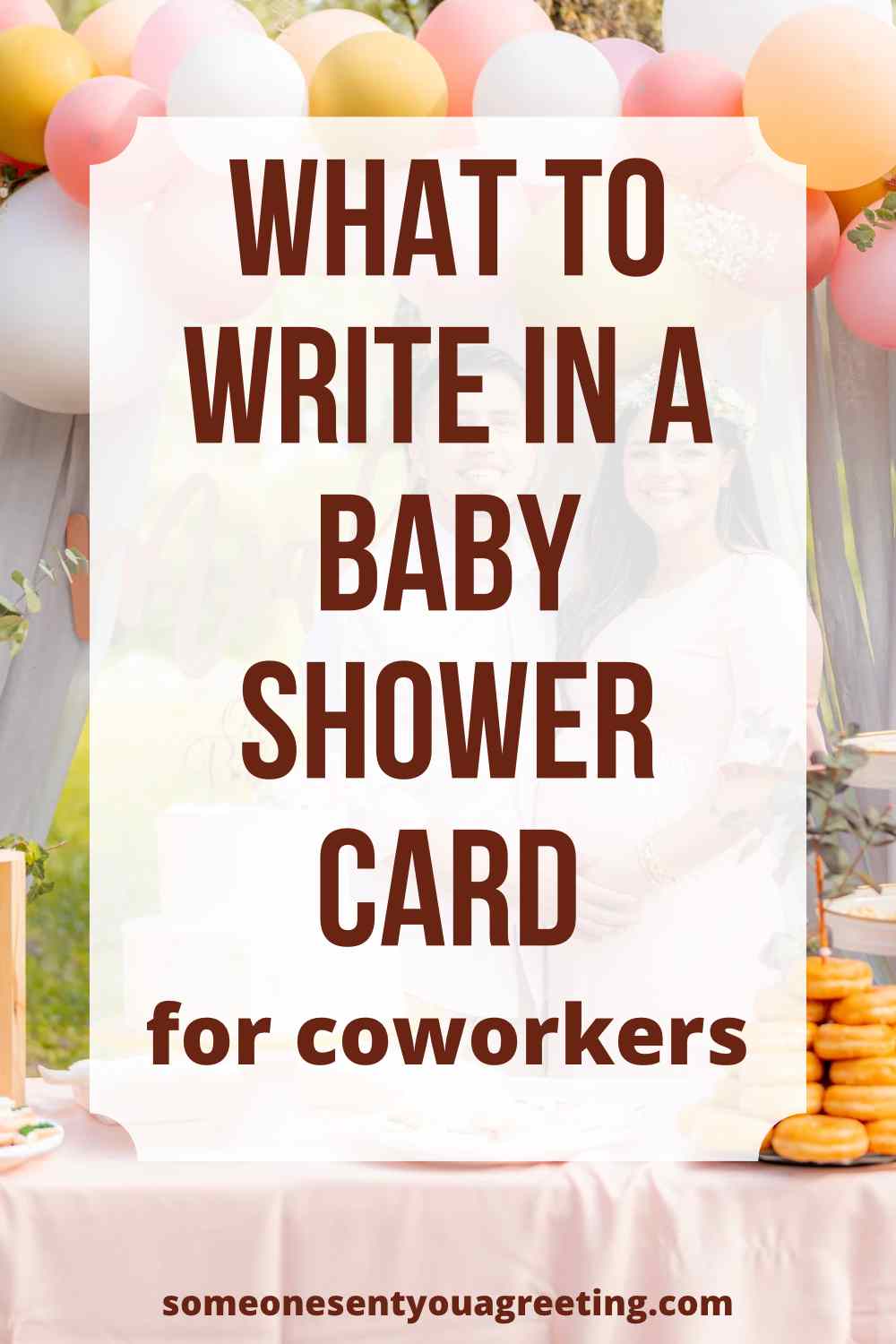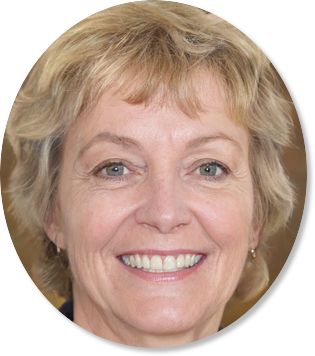 Sally Gibson is the founder of Someone Sent you a Greeting, a holiday/celebration website. Sally's writing work has been mentioned in Woman's World, Yahoo, Women's Health, MSN and more. If you have any questions get in contact with one of the team via the about page.