Turning 13 may not have the significance of something like a sixteenth birthday but it's undeniably a big deal. Why? Because thirteen is the first year of becoming a teenager!
Teenagers are known for being moody and surly. So wishing one a happy birthday isn't easy. In fact getting them to do more than mope around the house, lie in until midday and be glued to their phones is pretty much impossible!
So finding the right thing to say to them is a lot trickier than with most people. What do you say to a teen on their 13th birthday?
Well if you aren't sure then that's what this guide is for – to help you get the best 13th birthday wishes.
So if you're struggling with what to say or to write in a birthday card for a 13 year old then try the heartfelt and funny birthday messages below.
Birthday Wishes for a 13 Year Old
Happy 13th birthday! I've watched you grow since you were just a tiny baby and it's incredible to see the impressive young man/woman you've become
I hope you have a great day and enjoy eve thing about your 13th birthday
Congratulations on turning 13. All the best with school and exams this year – I know it's a big deal
Big birthday wishes and hoping you have an awesome day! Congratulations on turning 13
Happy birthday! Turning 13 means it won't be long until you're driving and doing you're own thing
Wishing you a happy birthday that is filled with all the laughter and fun you could hope for
I send my best wishes and hoped for you to have a really great birthday. You deserve a lot of fun and some awesome gifts!
Congratulations on your 13th birthday. You're officially a teenager!
Have a brilliant and amazing 13th birthday!
Sending my love and best wishes for a great 13th birthday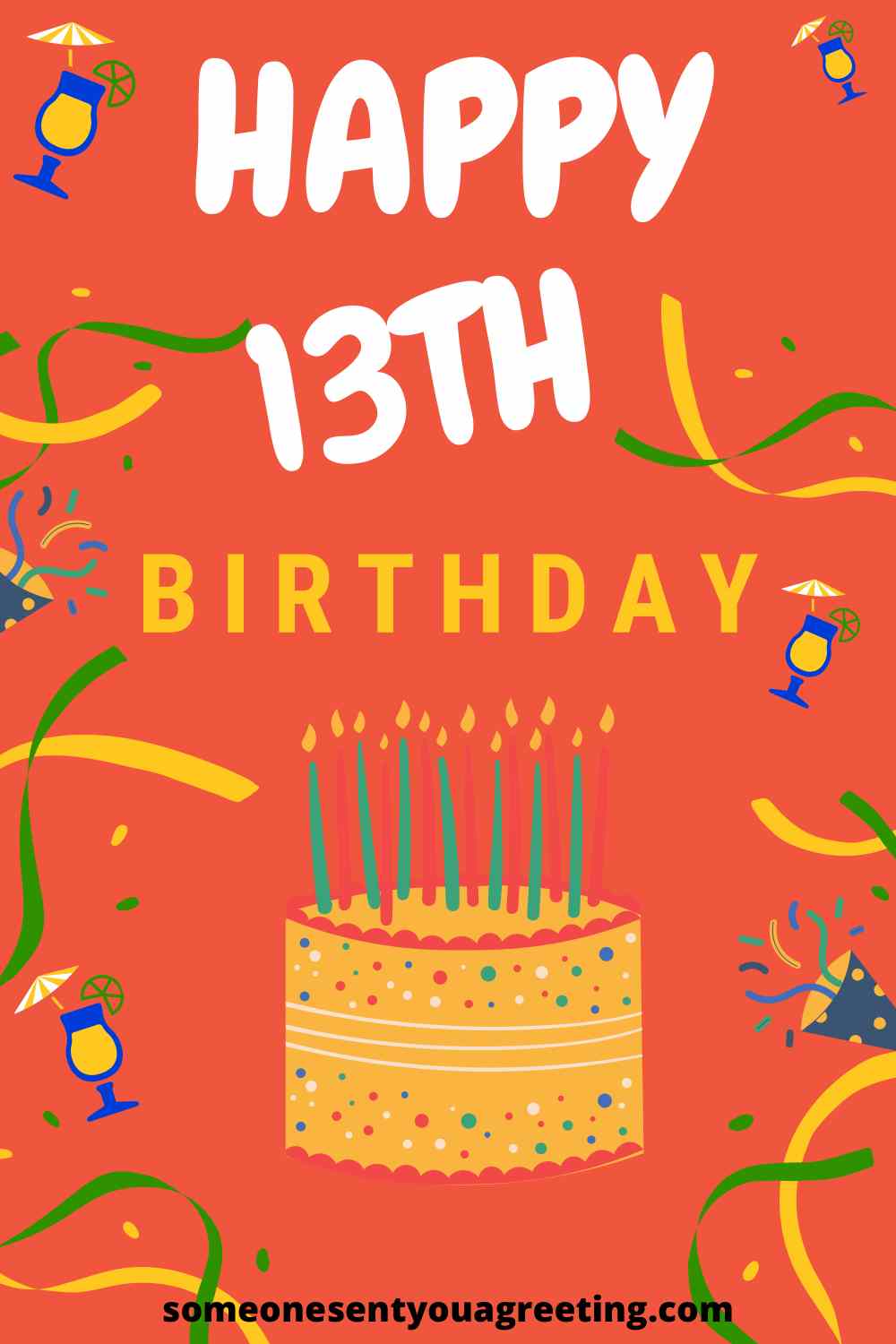 13th Birthday Messages for a Boy
Congratulations to 13 years of being amazing! You get better each year
Happy birthday. You are on the cusp if manhood and no longer a boy. Enjoy the responsibility and freedom that comes with becoming a teenager and have a wonderful day
You've become a really impressive young man and one that I'm glad to call a friend. Have a very happy birthday
It feels like you've had a big growth spurt as you're so big now! It won't be long until you're towering but over us all. Happy 13th birthday
Happy 13th birthday. Enjoy an Brest day and even better year
For a Girl
Congratulations on becoming a teenager! Don't break too many boys hearts!
Happy birthday to a lovely and beautiful girl. Enjoy your day
You are the sweetest and most adorable 13 year old in the world. Have a wonderful birthday
Happy birthday to a fantastic girl who is growing up into an even more amazing young woman
On the day you turn 13 remember to stay true to yourself and put your heart and soul into everything you do
For Son
It's been a joy seeing you grow and become the impressive young man you are today. I hope you have a great birthday
Happy birthday to my darling son. You mean so much to me I can't find the words to express it, just know how much I love you
To our perfect son, have a happy 13th birthday, love mom and dad
You may be getting older but you're too old yet for us to say how much we love you! Happy birthday son
To my beautiful boy – you are the best thing to ever happen to me. Have a wonderful 13th birthday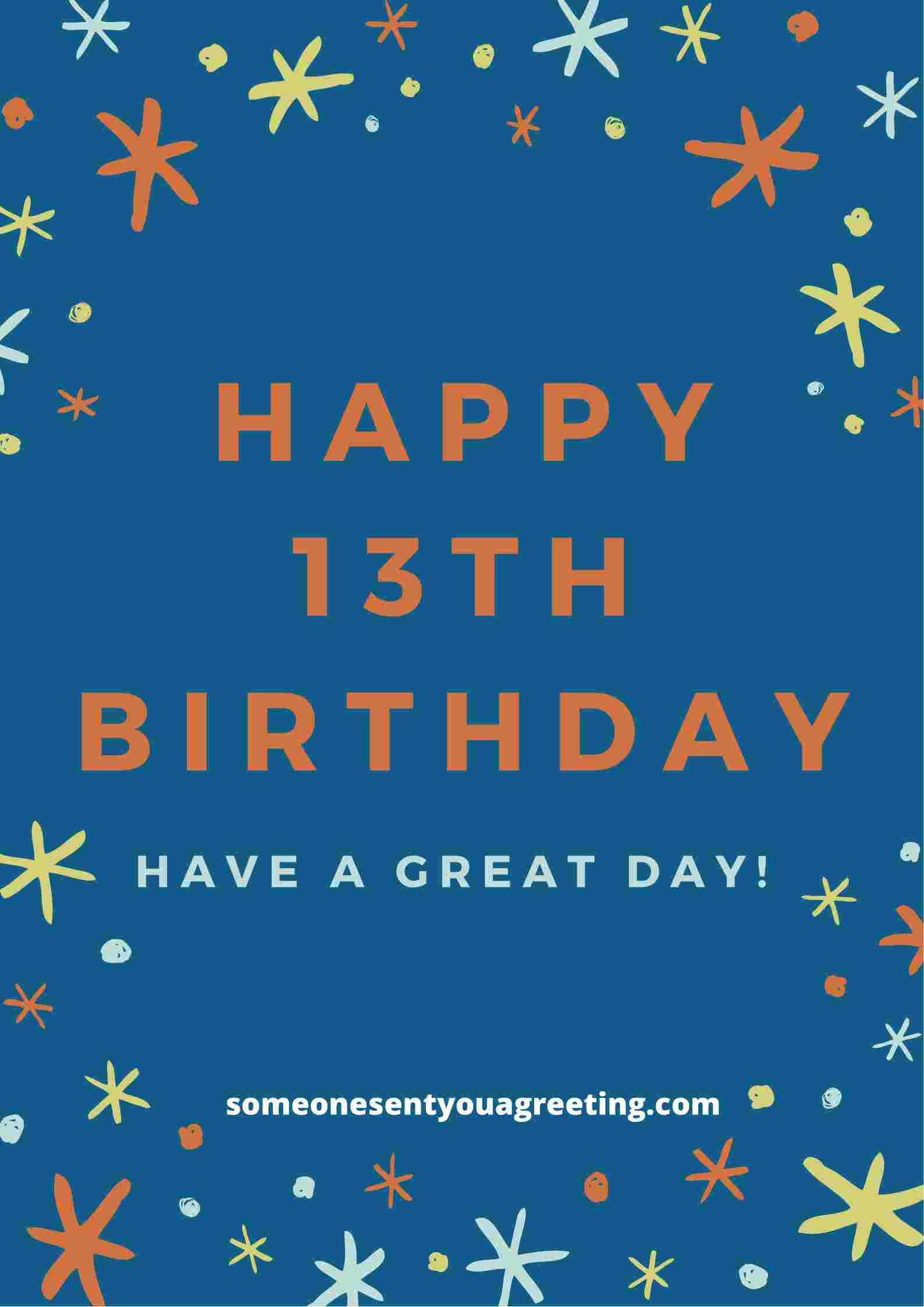 For Daughter
To our perfect daughter – have a happy 13th birthday
There is no one who makes us as proud as you do. Happy birthday to a daughter that makes our whole world complete
You have been a blessing to our life and we count ourselves so lucky to have you. Happy birthday
May your birthday be a joy filled and fun day that you remember forever. Enjoy our lovely daughter!
After 13 years you are still the most important thing in my world. To my daughter on her birthday – I love you so much. Have a great day
For Grandson
Happy Birthday to my grandson. I hope you enjoy your day and it will be wonderful to see you again
We are sending big birthday wishes to your in your 13th. We hope you have a great and get all the presents you deserve!
Our grandson means so much to us and getting to be a part of your life as you grow up is such a joy. Enjoy your birthday
Happy birthday to the best grandson in the world!
To a smart and funny grandson, sending you birthday wishes as you turn 13
For Granddaughter
To a perfect and beautiful granddaughter, enjoy your 13th birthday
We love you more than anything else. You are such a bright light in our lives. Happy birthday
Now you're a teenager you'll come under all sorts of pressure to fit in, but try to always stay true to yourself. Have a great birthday
May turning 13 be just the beginning of a year filled with excitement and laughter
Everything you do makes us the proudest grandparents. Have a truly great birthday
For Nephew
Happy birthday to my fantastic nephew. I hope you have a brilliant day and enjoy turning 13
Happy 13th birthday to a truly amazing nephew. As you grow up I have some advice for you – try to be just like you're Uncle!
It's awesome having such a cool nephew like you! Happy birthday
I'm going to make a real effort to get to see you more now you're growing up. I don't want to miss out on the best years of my nephews life! Happy 13th birthday
Happy birthday! I hope you have a really fun day!
For Niece
Happy birthday to my little niece who is perfect in ever way!
As you grow into the impressive young woman I see today never forget to chase down all your dreams. Happy birthday to my niece
Happy 13th birthday. Hoping you have a really good year
May your 13th birthday bring you a day of fun and laughter
You make me proud to have a Niece as great as you are. Happy bday
For Brother
For 13 years I've had to put up with you as a brother.. I hoped you're not so bad! Happy birthday bro
Happy 13th birthday to my brother. Promise as you get older you'll become less annoying!
As it's your birthday I'm going to give you a free pass to be as irritating as you like to me today. Enjoy!
Happy birthday bro! Congratulations on turning 13 and hope it's a good year for you
Happy birthday to my big bro. You've really inspired me over the years, and I will always look up to you
For Sister
Happy birthday to my little sister. Have an awesome day
Happy birthday sis! Don't grow up too fast and try to enjoy every moment
To my big sister – have a brilliant 13th birthday
Happy 13t birthday to my amazing sister. We are going to party non stop today!
My sis is growing up so fast and becoming such an impressive young woman. Happy birthday girl!
SEE MORE: 15th Birthday Quotes and Messages
Teenagers are moody and awkward so trying to get through to them on their birthday isn't easy. But that doesn't mean you shouldn't be trying.
The 13th birthday wishes and messages provided here should have helped you to find the right words for whoever's 13th birthday it is. Just try your best to be as positive and upbeat about their big day and you're sure to get at least a smile out of them!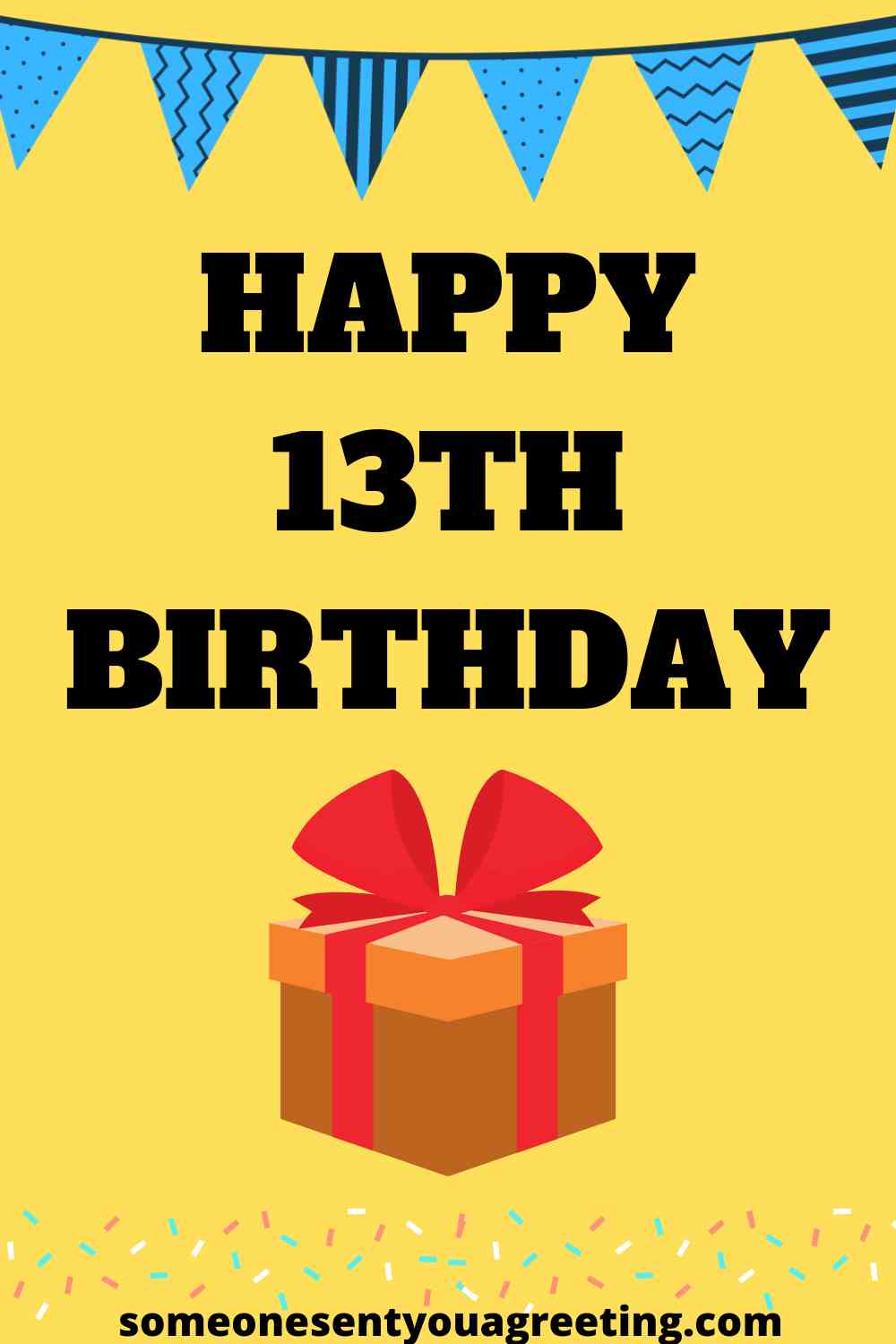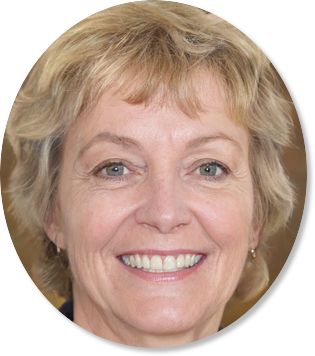 Sally Gibson is the founder of Someone Sent you a Greeting, a holiday/celebration website. Sally's writing work has been mentioned in Woman's World, Yahoo, Women's Health, MSN and more. If you have any questions get in contact with one of the team via the about page.