Lots of your friends may have or be about to retire but when it's one of your closest or best friends it's all that more special. As retirement is such a big change and event in anyones life it requires acknowledging and celebrating.
So if a close friend is retiring you'll want to celebrate with them and let them know how delighted you are about it. But knowing what to say to a close friend when they retire is tough.
When you know them so well and have so much history it makes it even more difficult. You need to say something thoughtful and touching that reflects your closeness. A regular retirement message won't cut it.
So if you're struggling then these retirement messages for a close friend should help you find the ideal wording for a card or to say in person when they retire.
Retirement Messages for a Close Friend
It's a pleasure to see my good friend retiring after so many years of hard work. Congratulations and all the best to you
Over the years of working together we have become such good friends and so as you retire I am really going to miss you. All my best for the future and I'm sure we'll still be seeing a lot of each other just away from work
Congratulations to my close friend! Enjoy the retirement that you so richly deserve
To one of my best friends, I hope you have a wonderful retirement and we get the chance to spend much more time together
You have always been there for me when I needed it most and I count you as one of my closest friends. As you retire I wish you all the happiness in the world for your golden years
Happy retirement day my friend! Enjoy the rewards for your years of hard work and have a long overdue rest
You and me go a long way back and our friendship has seen many ups and downs. But today I am delighted for you as you retire and get the chance to appreciate different things in you're life away from work. May it be all you hoped for and more
My biggest and best wishes for your retirement. Savor that freedom from work and do everything you have always wanted
Relish the prospect of your retirement and the amazing times ahead of you. You're such a good friend and I'm really pleased for you although I won't deny I'm a little jealous too!
The wonderful time that you will have now that you're retired should be treasured and used to enjoy reconnecting with friends and family. I'm going to make a real effort to make sure we see each other far more often now. Congratulations
Wishing you a truly amazing retirement my friend. May you be blessed with a happiness that last forever as you enjoy your new life free of work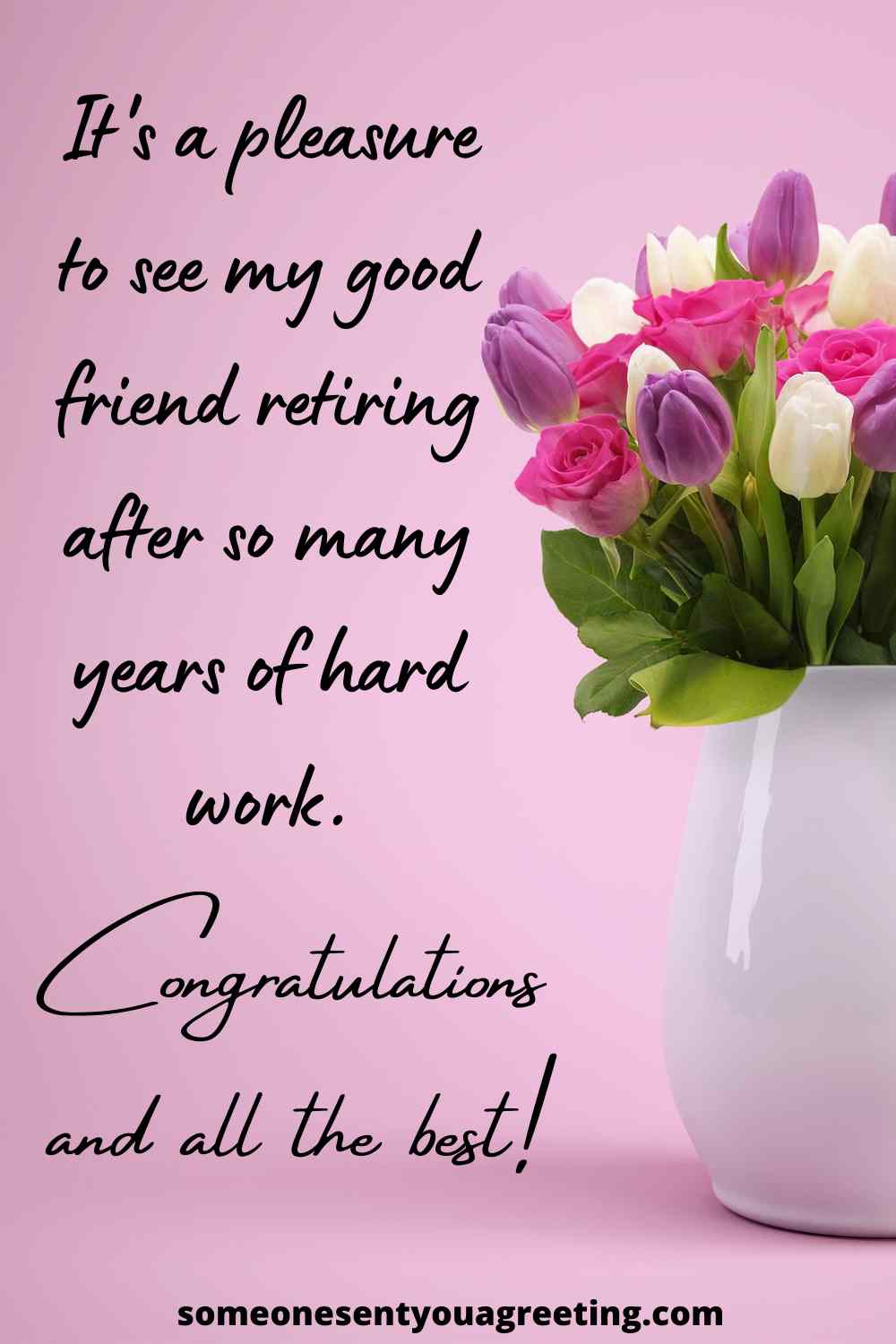 SEE MORE: Retirement Messages for Friends
Retirement Wishes for Best Friend
You are my best friend and I am so happy for you as you retire. May you enjoy all the rest and relaxation you so deserve
Wishing my best friend a wonderful retirement that gives you the chance to spend time with those you love and treasure the most
Happy retirement to my best friend in the world. I just know you're going to revel in all your time off and enjoy the lie-ins you'll have every day. And frankly no one deserves it more than you!
Congratulations to my best friend! I know you've been waiting for your retirement for a long time and now it's come around I couldn't be happier for you
We have been best friends for as long as I can remember and as you retire I wanted to let you know how much you mean to me and how happy I am for you. Enjoy your retirement my friend
Retirement will give us the chance to do all the things we've wanted – the fishing trips, getting on the golf course – and I'm really looking forward to it. Congratulations to you my best friend
My best friend, may your retirement be as sweet and amazing as you are! Enjoy it!
To my best friend – happy retirement and all my love as you start an exciting new phase of your life
Best wishes to you my dear friend. I know retirement may be scary but I'm sure you're going to enjoy all the freedom you get… and spending more time with your best friend – me!
Congrats to you as you retire! May it bring you more time with friends and family and a well deserved rest from the stress of work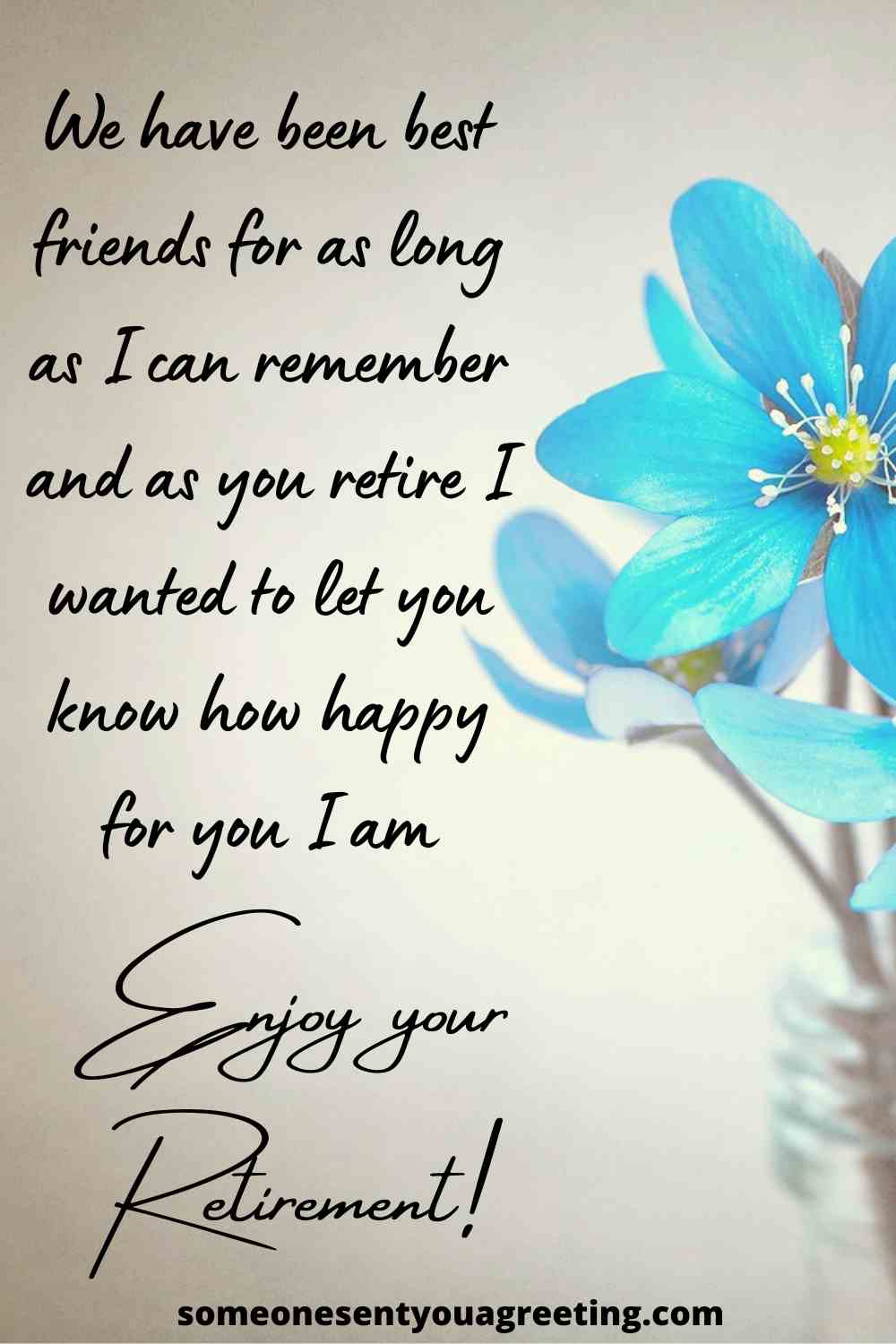 SEE MORE: Retirement Wishes for Coworkers and Colleagues
Emotional Retirement Messages for Friends
Seeing you retire today brings up all sorts of emotions. I'm delighted for you but sad to see you leaving, and I find myself remembering all the amazing times we had together. It'll be disappointing to see you go but I hope you have a happy retirement
Retirement is such a big event and I feel quite emotional about it. Knowing you are moving on to a new chapter in your life is really exciting and I am so pleased for you. May it be some of the best years you have, congratulations
I can't promise you I won't cry when you leave! You've been such a good friend to me and I'm going to be so sad after you've retired. But I hope you enjoy the rest from work and get to enjoy yourself from now on
When we say farewell to someone so close to us emotions can run high. So you retiring is going to be a moving day for so many of us. Best wishes for the future and please keep in touch
I don't want to get all mushy but you've been an amazing friend to me and I really do hope your retirement is a truly brilliant time for you. Wishing you all the best
My best friend is retiring and I am overwhelmed. It only feels like a few years ago we were starting work and now we are about to retire! Wishing you a fantastic time that is filled with fun and good memories
Sending you my best wishes as you retire. May you enjoy the love of family and friends as you embark on an exciting new path. All my love and congratulations
As you retire I'm filled with mixed emotions. It won't be the same without you around the office but you deserve to finish work after the career you've had.
Wishing one of my dearest friends a happy and healthy retirement. I hope all your dreams come true
All your years of hard work have paid off. May you have the happiest of retirements and enjoy everything it brings you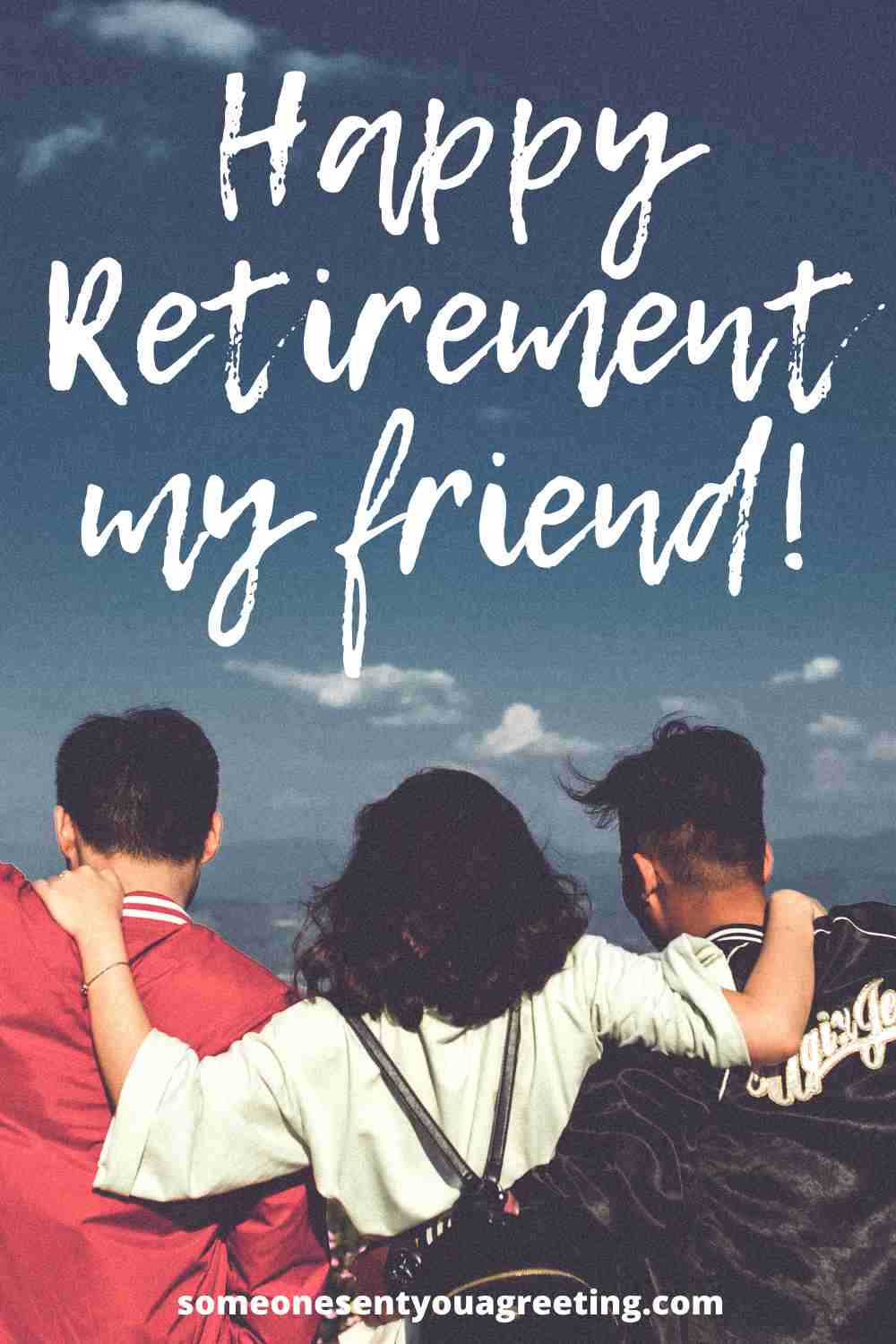 SEE MORE: Retirement Messages for Brother
Anyone you know retiring is a major event but when it's a close friend it's even more of a big deal. Seeing your closest or best friend retire will bring up a lot of emotions.
So hopefully these retirement messages for a close friend will have helped you to wish them a very happy retirement and let them know just how special they are to you.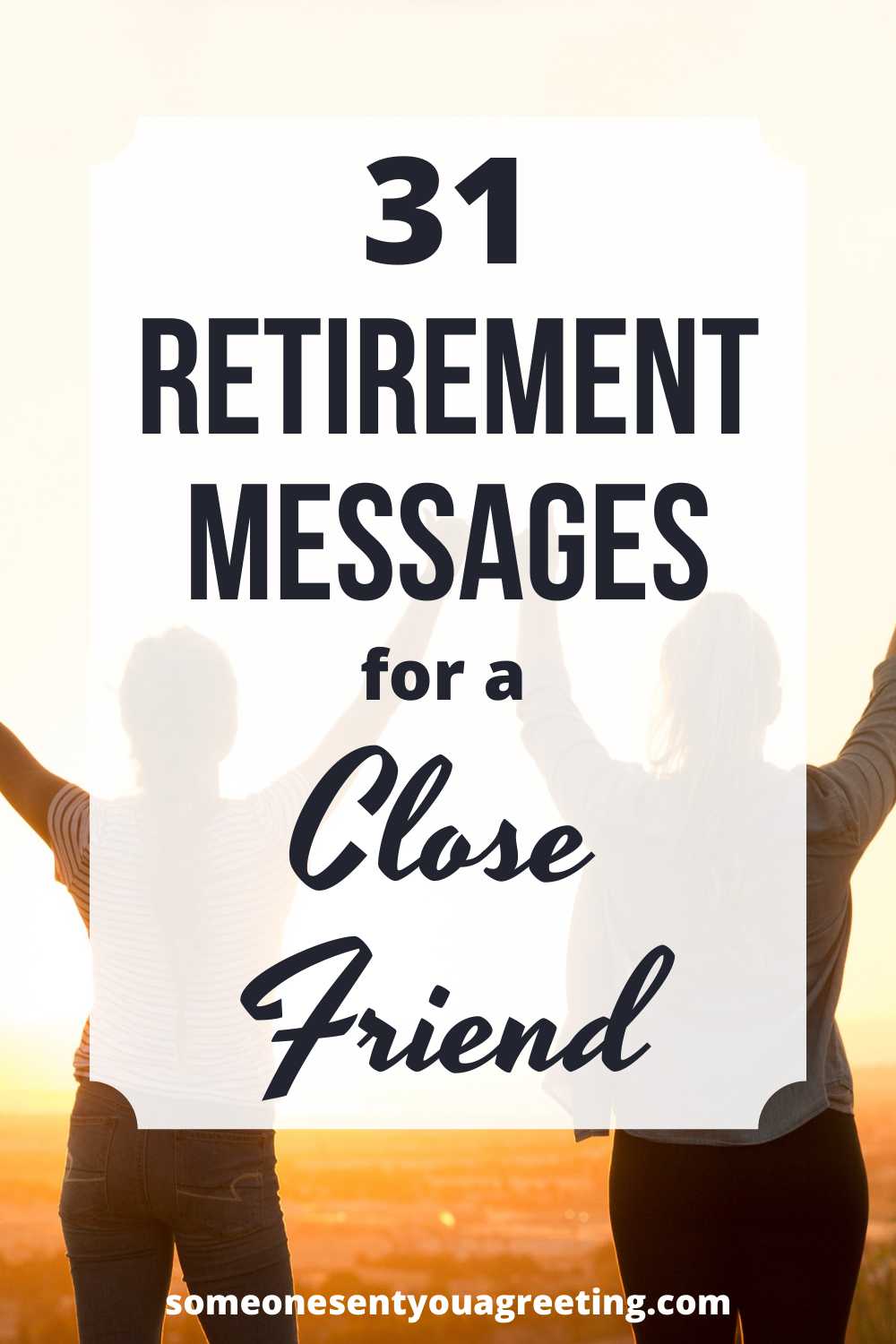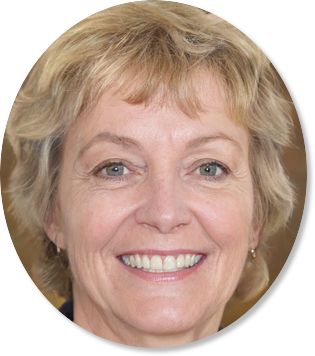 Sally Gibson is the founder of Someone Sent you a Greeting, a holiday/celebration website. Sally's writing work has been mentioned in Woman's World, Yahoo, Women's Health, MSN and more. If you have any questions get in contact with one of the team via the about page.