Any member of the family retiring is a cause for celebration. So if your brother is about to retire you should be doing all you can to wish him well for the exciting new chapter of his life that's about to begin.
But when it's a close family member who is retiring like your brother it can be difficult to know what to say. With a bond as strong as siblings have and such a big event like a retirement it's no surprise that you might be struggling with expressing just how you feel.
So if you're having a hard time finding the right words for a retirement message for your brother then the example retirement wishes below should help you.
Retirement Messages for Brother
Happy retirement to my brother! Wishing you all the best for the future
After so many years hard work you've earned a nice, long rest. Enjoy your retirement, bro!
Congratulations are in order! You've made it through a lifetime of work and are rewarded with your freedom. I'm really pleased for you brother
You've had an amazing career and deserve a fantastic retirement. Enjoy all that time off!
I'd like to lie and say I'm not jealous of your retirement but the truth is I'm really envious! Congratulations to my big brother, you've earned it
As you retire I hope you know just how pleased for you the whole family and I am. We know you will enjoy the freedom retirement brings and are looking forward to spending lots more time with you
Congrats to you bro! Retirement is going to be a big change but I'm sure it will be one you love and embrace. All my love
Have an amazing retirement. As your little sister I've always looked up to you and hope you get to have some fantastic moments now you're free from work
To my brother – happy retirement. You deserve to enjoy every single moment you now have and get the chance to do anything you want to
Congratulations and lots of love as you retire. You can now kick back and do whatever you want!
Happy retirement and all my love to my brother. Your hard work has taken you so far and now you get the rewards with years of happiness and freedom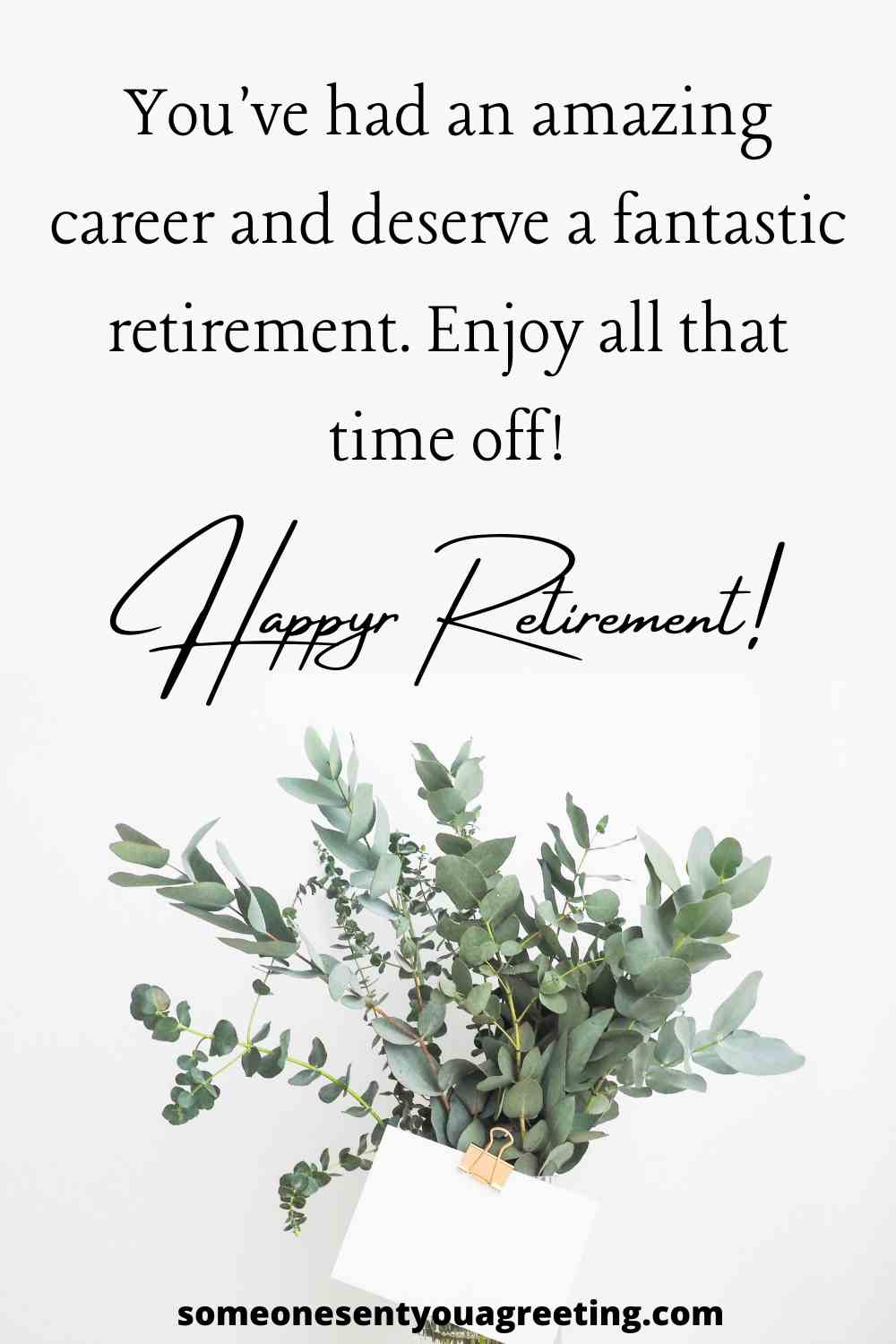 SEE MORE: Retirement Wishes for your Dad
Retirement Wishes for Brother
Best wishes to my brother as you retire. May you blessed with many years of happiness and fun
As you head off on an amazing new chapter of your life I want to send my loving wishes for your retirement
As you embark on the exciting new adventures retirement will lead to I wanted to wish you all the best. Enjoy everything retiring brings you
Congratulations and lots of love to you as you retire. I'm sure it will be filled with happiness, laughter and many wonderful new memories
As my brother we're supposed to argue all the time but I just want you to have the best retirement possible. Treasure the freedom to do what you want
You have worked so hard and deserve a truly brilliant retirement bro. Here's hoping it's everything you've dreamed of
Best wishes brother. Retirement is a time of change but I know you'll enjoy all it brings you
To my awesome brother – happy retirement and best wishes for the future
Big hugs and wishes to my big brother as you retire. You're going to have lots of free time to spend with me now!
Sending you all my best for a fantastic retirement. Wishing you lots of love, luck and excitement for the future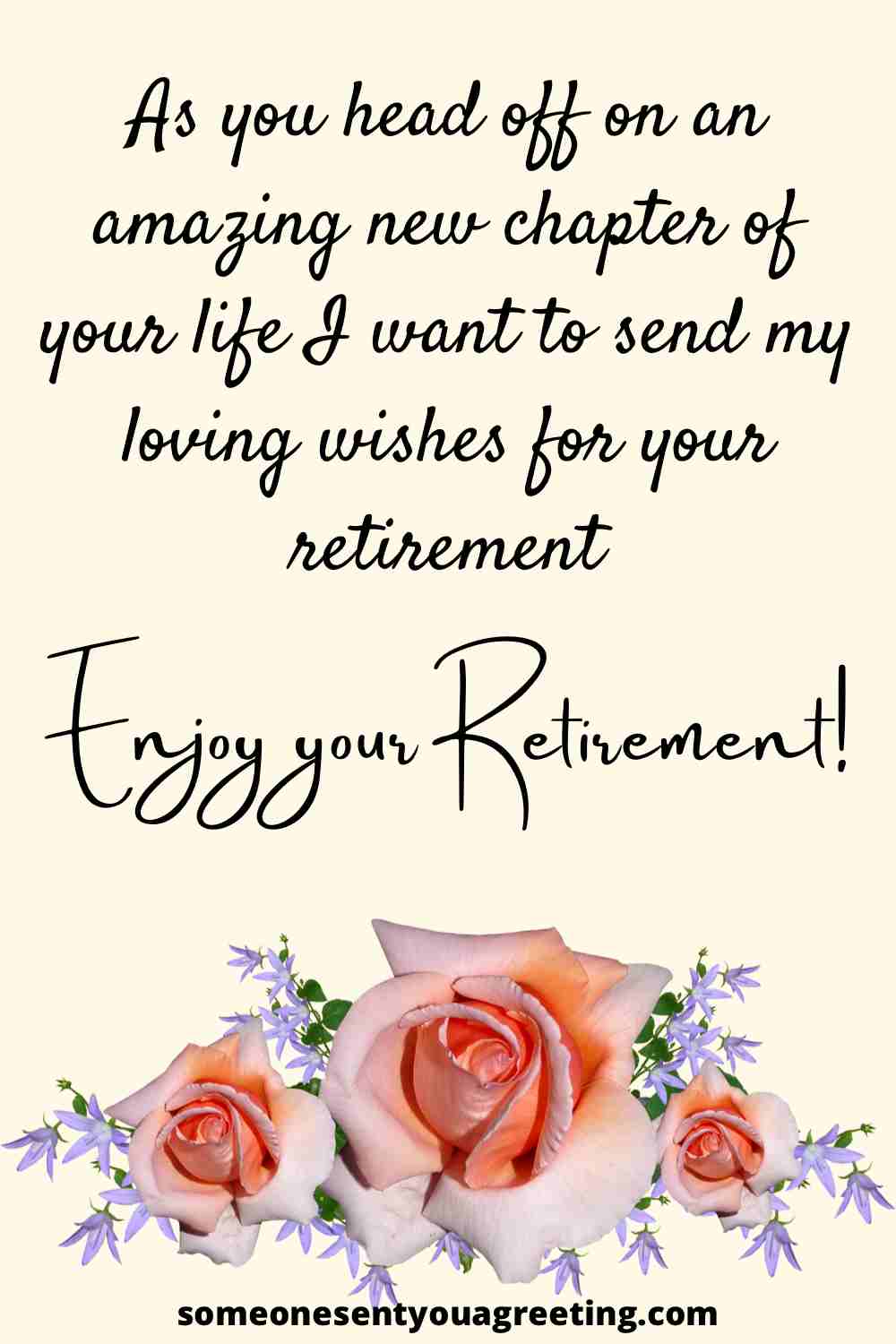 SEE MORE: Loving Retirement Messages for Mom
Retirement Wishes for Brother in Law
Happy retirement to my amazing brother in law. Enjoy your freedom!
To my beloved brother in law, I wish you years of happy retired living away from the stresses of work
Congratulations to my brother in law as you take those first steps into retirement. I hope you enjoy all the new and interesting things that will come your way now
Retirement is going to be incredible and you my brother in law are going to find it the best time of your life. Enjoy!
You have worked unbelievably hard all your life and your retirement is the reward. I know you're going to enjoy your golden years resting and relaxing
Big wishes to my brother in law on your retirement. Your dedication to your career has been so inspiring and now as you head off into the sunset you can feel proud of all you achieved
I am so happy to be able to wish you an amazing retirement. May you get to do all the things you've been planning to for years. Congratulations
No one deserves a happy retirement more than you! Enjoy it bro!
Congratulations on reaching retirement. You can now look forward to lie-ins and no more traffic jams!
Your brother retiring is a really big day for him but also for the family. Whenever someone close to you retires it a significant event that should be celebrated.
So hopefully these retirement messages for a brother will have helped you to wish your brother a happy retirement.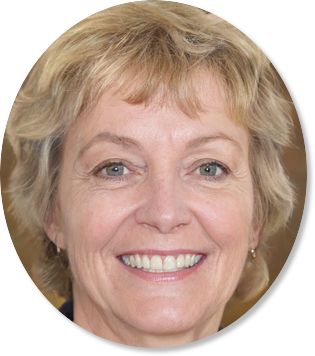 Sally Gibson is the founder of Someone Sent you a Greeting, a holiday/celebration website. Sally's writing work has been mentioned in Woman's World, Yahoo, Women's Health, MSN and more. If you have any questions get in contact with one of the team via the about page.