When someone retires it's always nice to wish them a happy retirement. It might be a coworker, friend or family member that is embarking on a new life after work and you want to wish them good luck on their retirement years.
But knowing what to say when someone retires can be hard. You want to let them know how pleased you are for them and wish them all the best in the next chapter of their life.
For some though retirement may cause anxiety and fear. Not knowing what happens next, what they're going to do with themselves and even feelings of being 'past it' and not needed anymore are all common.
So you also want to keep that in mind and maybe make your message reassuring.
If you're struggling with what to say to someone retiring or what to write in a card then try the example retirement wishes below and show them how happy you are to see them taking those next steps into a more relaxed phase of living.
Short Retirement Wishes
These are very quick and short happy retirement messages that are perfect to write in a card or say in person.
Happy retirement! Wishing you all the best for this exciting new phase of your life
Congratulations and all the best for a fulfilling retirement
Enjoy the golden years! Happy retirement
Wishing you years of relaxation and enjoying all that free time. Congratulations
Here's to your retired years being the best of your life
Enjoy the exciting new journey you're about to embark on and embrace all the new things you can now do
Best wishes for a long and satisfying retirement
Hoping you have a very happy retirement!
Sending my congratulations to you as you retire. May you enjoy all the good that comes with a life free from work
We will miss you in the office! Enjoy your retirement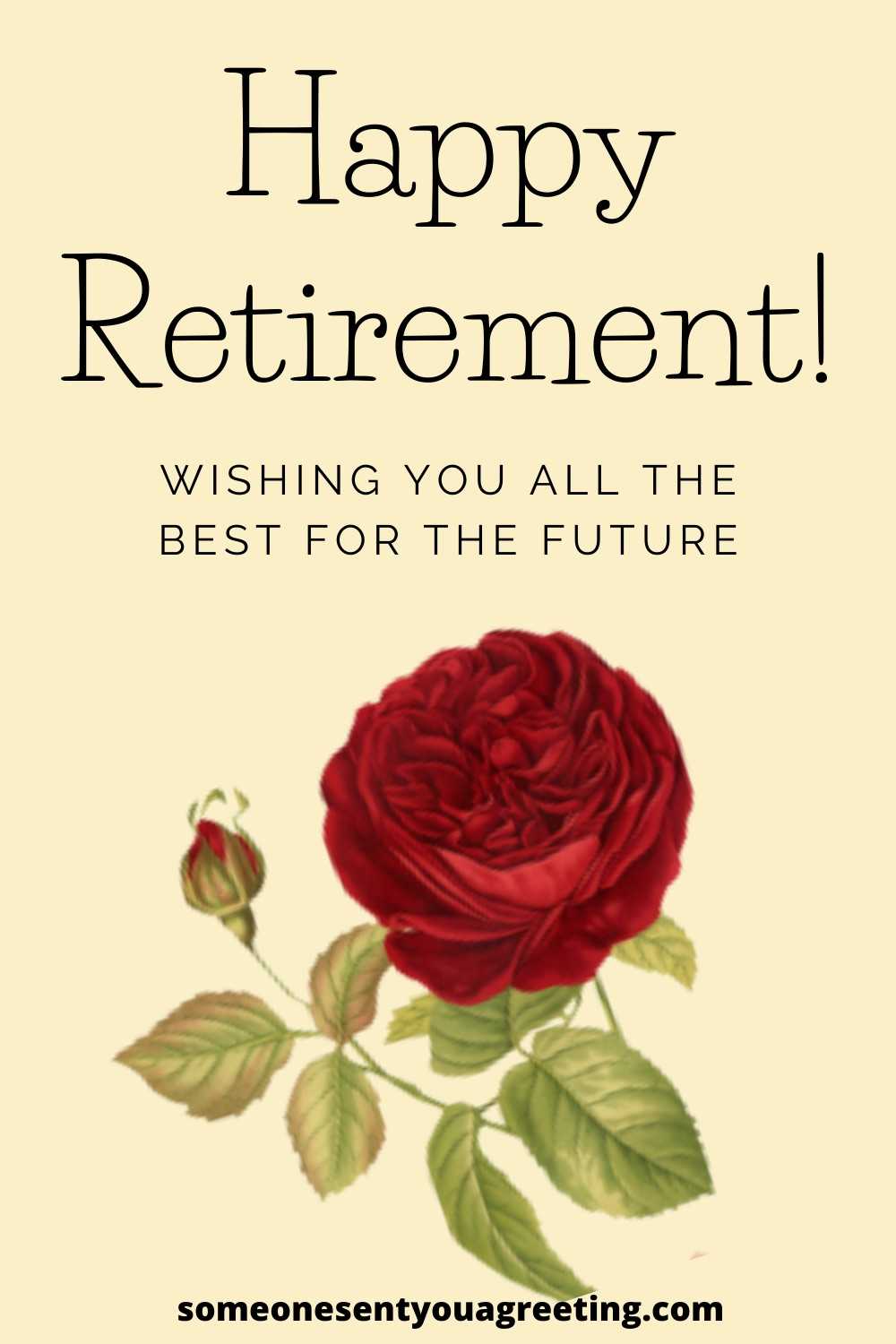 Inspirational Retirement Quotes
There have been many famous people who have talked about retirement. Choose from these happy retirement quotes and the profound or insightful words spoken about such a major life change to offer comfort and inspiration to someone retiring.
"Retire from work, but not from life" – M. K. Soni
"Retirement may be an ending, a closing, but it is also a new beginning" – Catherine Pulsifer
"Don't simply retire from something; have something to retire to" – Harry Emerson Frosdick
"The key to retirement is to find joy in the little things" – Susan Miller
"There are some who start their retirement long before they stop working" – Robert Half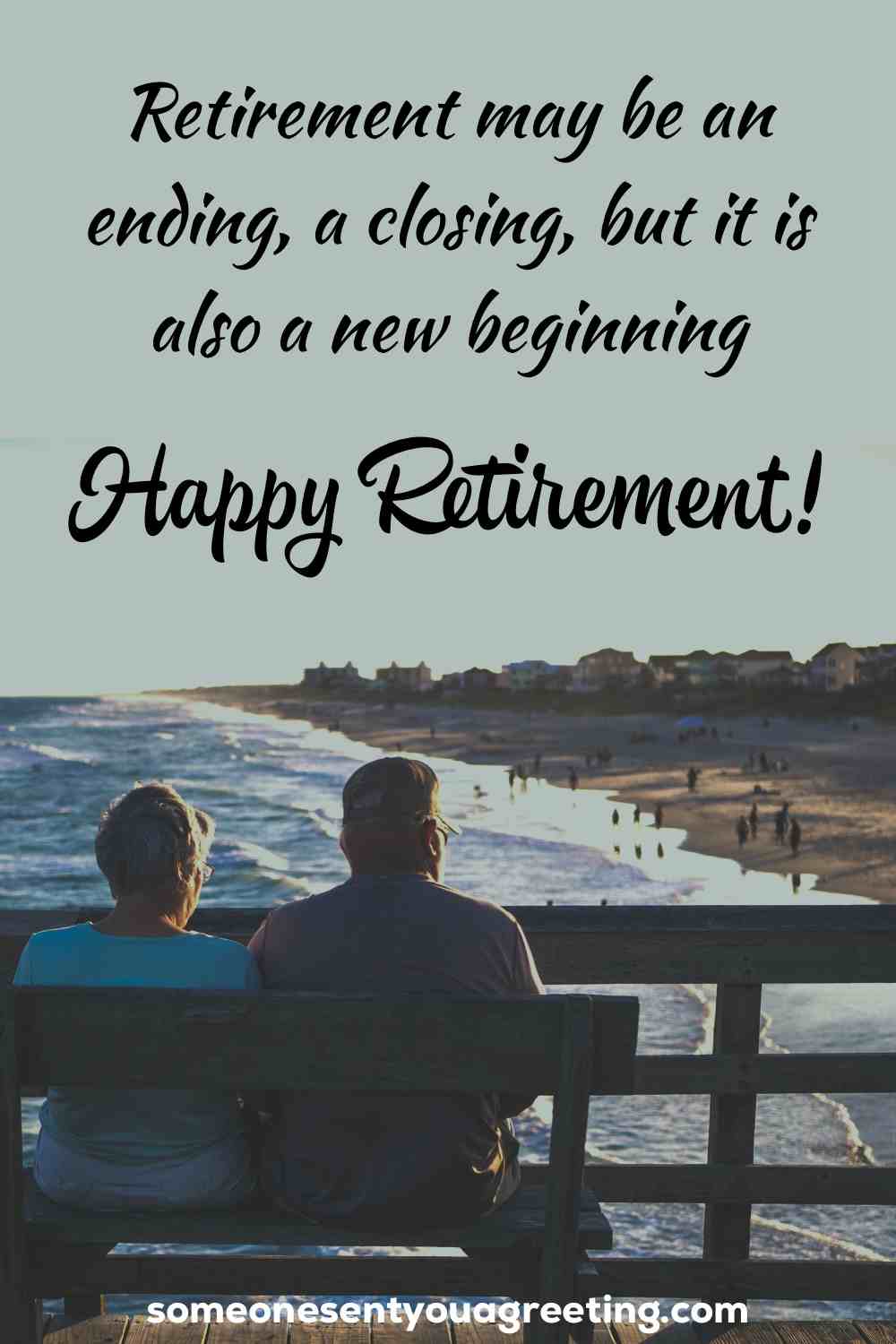 SEE MORE: 40+ Inspirational Retirement Quotes
Funny Retirement Wishes
Giving someone a laugh or putting a smile on their face is always going to go down well. So try one of these funny retirement quotes and messages.
"Retirement is wonderful. It's doing nothing without worrying about getting caught at it" – Gene Perret
Enjoy your permanent weekend!
"In retirement, every day is Boss Day and every day is Employee Appreciation Day" – Terri Guillemets
Now Fridays aren't the best day of the week anymore, they all are!
A retired husband is often a wife's full-time job!" – Ella Harris
SEE MORE: Funny Retirement Messages
Retirement Messages for Friends
Send a happy retirement message to a friend with these wishes. Let them know how happy for them you are.
I am delighted to see you retiring my friend and hope you can look forward to years and years of doing exactly what you want. Congratulations
Wishing my good friend a very happy retirement and all the best for the future!
Good luck and all the best for a happy retirement and many days of just doing nothing!
May you enjoy every day of your retirement and the wonderful relaxation it will bring
To my amazing friend – congratulations on your retirement. I hope you can now live out all your dreams without having to worry about the stress of work. All my love and best wishes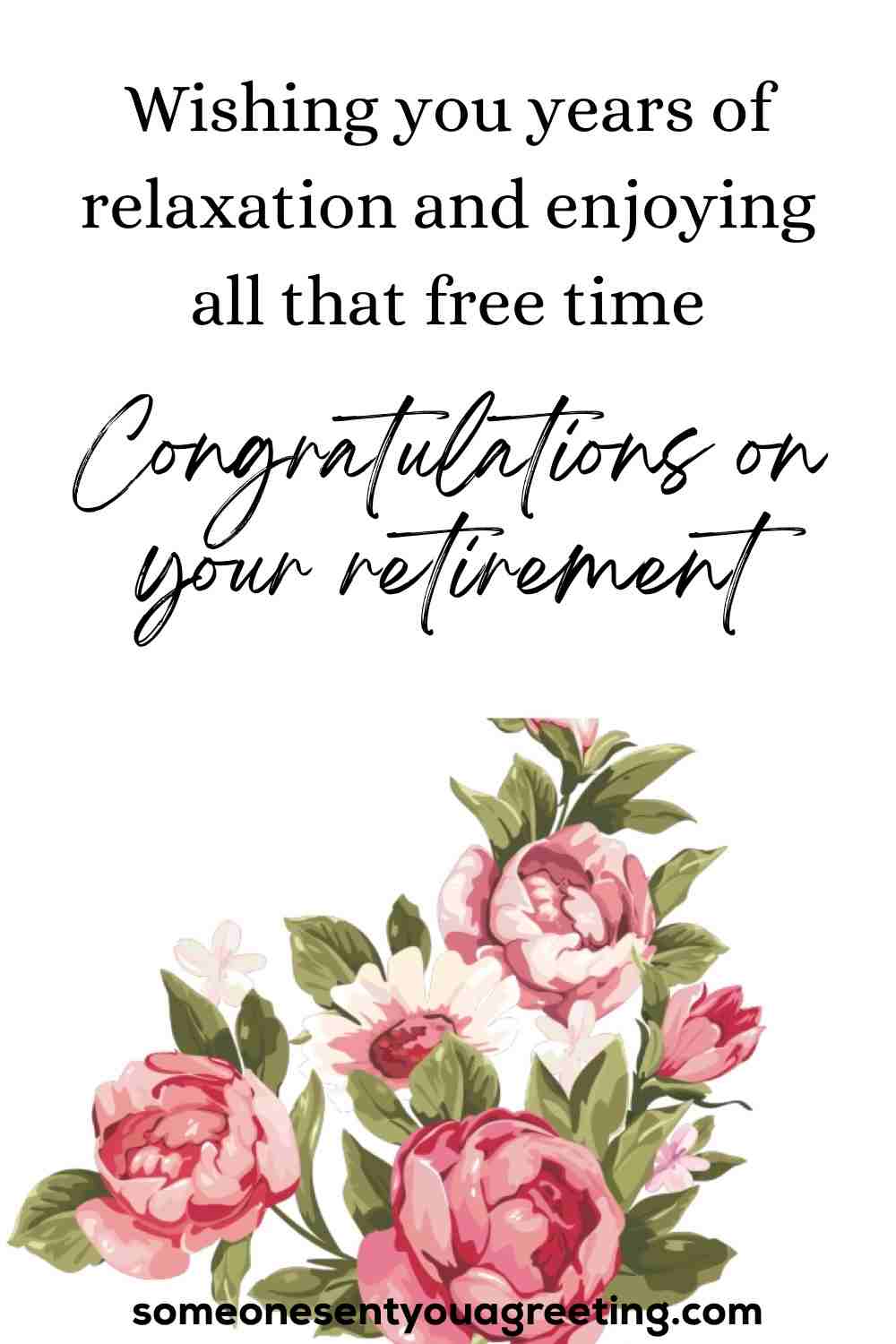 SEE MORE: Retirement Messages for a Close Friend
Retirement Messages for Coworkers
Offer a coworker your best wishes for retirement with a few words about how you enjoyed working with them. Talk about their achievements, how they'll be missed and all the value they brought.
Congratulations on your retirement. It's not going to be the same without you in the office! We're really going to miss you!
Retirement is the reward for having to deal with coworkers like us! Happy retirement
It has been an absolute pleasure to work with you. I hope you have a wonderful retirement
I know I'm speaking for everyone at work when I say you will be missed so much. Come back and see us from time to time!
Your experience and guidance has been invaluable to us all and we are going to miss you every day. Wishing you an amazing retirement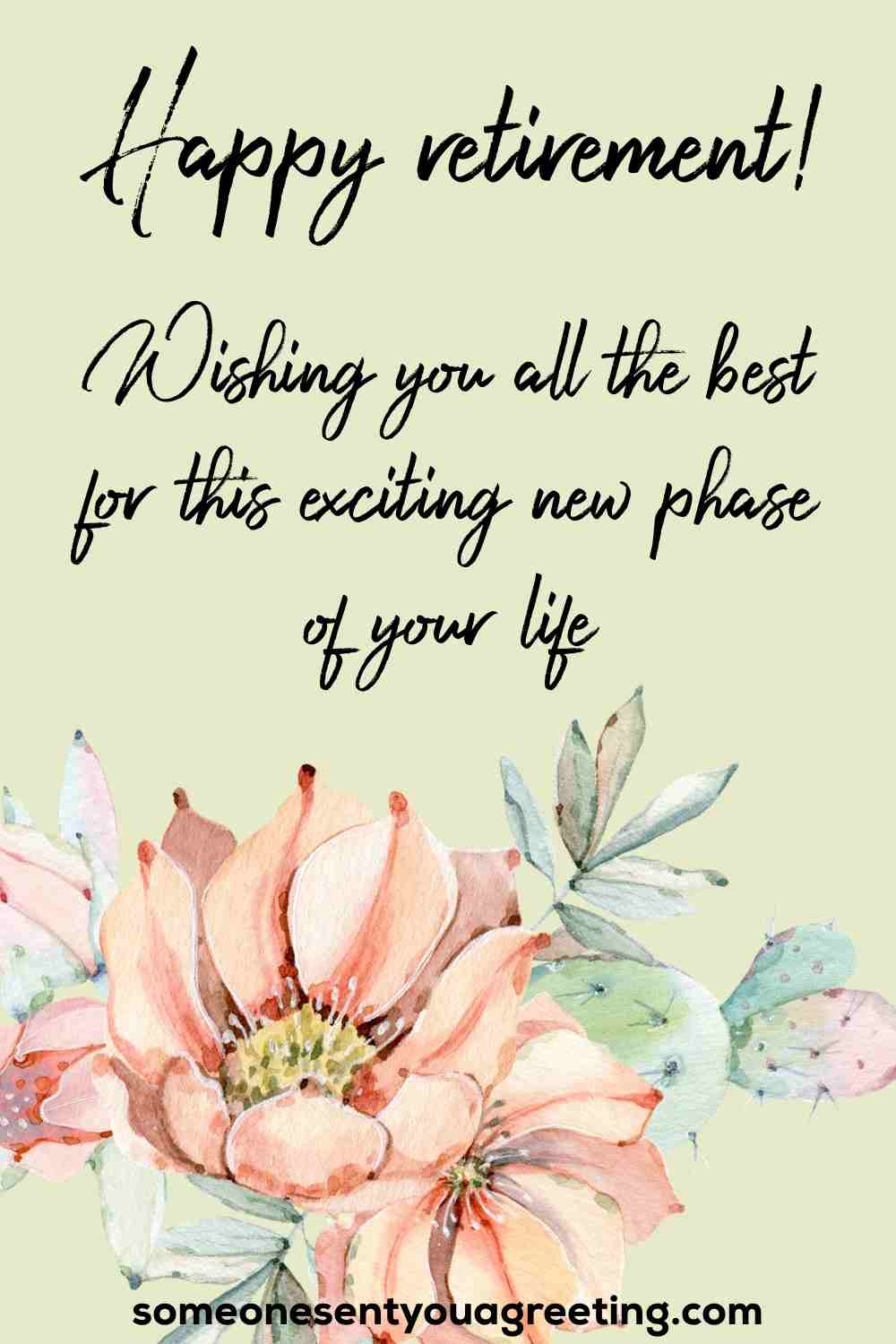 SEE MORE: Retirement Messages to an Employee
Retirement Messages for a Boss
Give your retirement congratulations to your boss even if you didn't like them much! And if you did then even better – you can mention how good at their job they were and how everyone will miss working for them.
Thank you for being such a fair and kind boss. I'm going to miss you around the office. Enjoy your retirement
We will miss you as a boss but also as a friend. Have a really great retirement
Here's to your many years of service. You've had an amazing career, congratulations and all the best for a relaxing and restful retirement
Wishing you the very best for whatever you decide to do next. May your retirement be one full of excitement and happiness
You were always my favorite boss and it's going to be sad not having you around. But you deserve a rest! So enjoy retired life and all this new chapter brings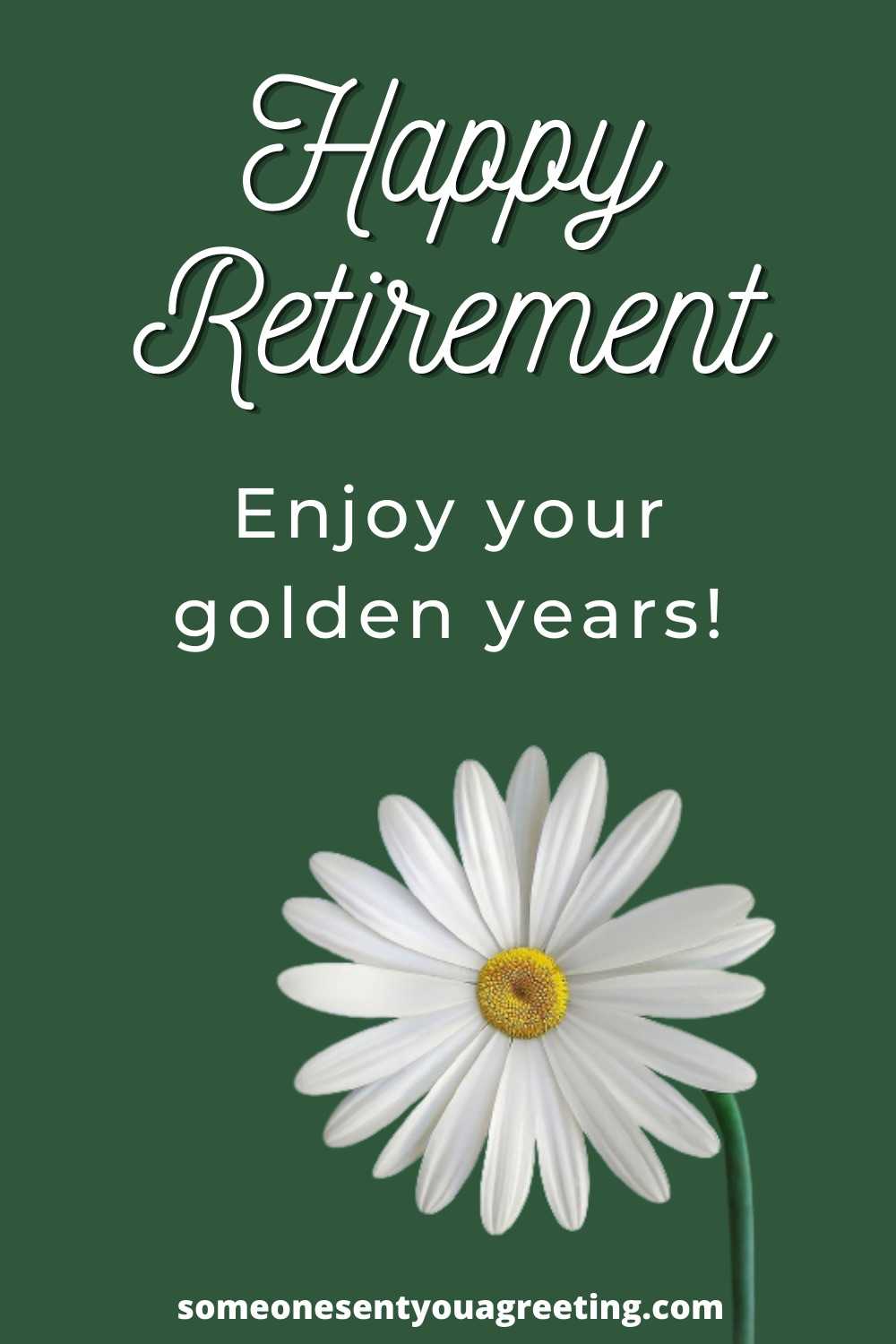 SEE MORE: Retirement Messages for a Boss
Retirement Messages for Dad
Send your dad a message for retirement with one of the examples below. Let him know how much you care and how proud you are of him.
Happy retirement dad! Enjoy the best years of your life!
You've provided for us all your life and now you have earned a long rest. We will do everything we can to make your retirement as fun and enjoyable as we can
Congratulations dad! After a lifetime of hard work a long and happy retirement is the reward. I know you're going to love doing whatever you choose to from now on
Loving wishes to you dad. No one deserves a happier retirement than you
From the whole family we are overjoyed you get to retire from work and begin a new phase of your life
SEE MORE: Retirement Messages for Dad
Retirement Messages for Mom
Use these retirement day wishes to show your mother how excited you are for her. Show her how much she achieved and make it clear there is still so much left for her to do.
Mom, after all your sacrifices it's now your time to enjoy life. Make the most of your retirement and do all the things you've always wanted
To my amazing mom, I have been lucky to have someone that gave her all for our family. Now you're retiring I wanted to tell you how much I appreciated all you did, and how much I hope you're retirement brings you happiness and more importantly a rest!
Congratulations mom! Enjoy every second of your well earned retirement
You are the best mom in the world and I hope you have the best retirement ever
I love you mom and hope that you embrace your retirement and seize all the new opportunities with both hands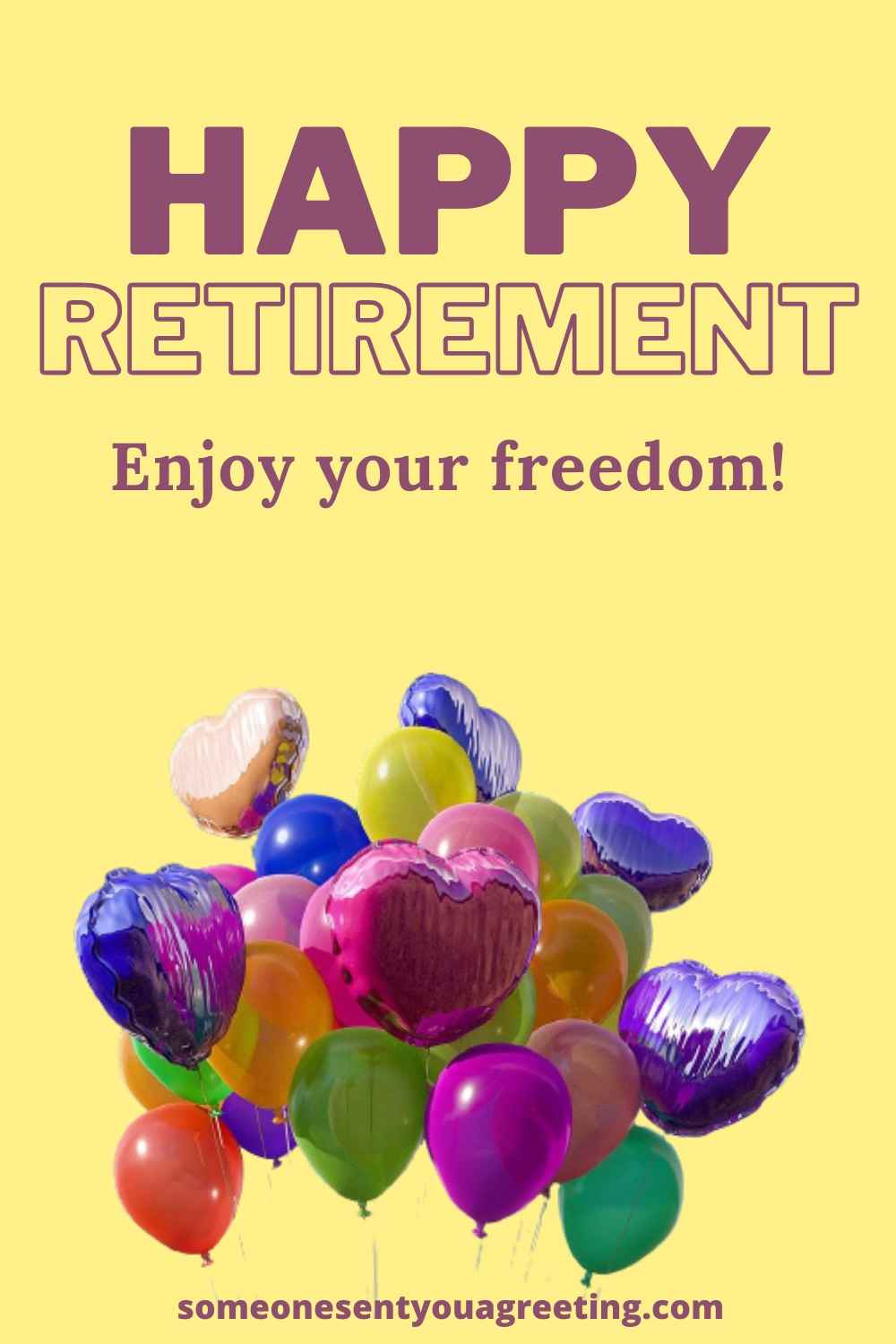 SEE MORE: Happy Retirement Wishes for your Mother
Retirement Wishes for Police Officers
Thank you for your service and your dedication to protecting the community. You retire with so much love and goodwill. Congratulations and all the best
Sending our best wishes to you as you retire from the force. You've given many years in service of others and it's time to put yourself first
Happy retirement! Thank you for all you've done to protect us. Have a wonderful time enjoying your golden years
We are so grateful for your commitment to our safety. You should be proud of all you achieved. Congratulations and enjoy your retirement
Best wishes for your retirement. Everyone on the force will miss you. But you've done your bit and now you can have a rest and enjoy some time with your friends and family
SEE MORE: Retirement Messages for Police Officers
Retirement Wishes for Teachers
To my favorite teacher – I'm going to miss you! Have a happy retirement
Thank you for being such a wonderful teacher and inspiring me. I will miss the passion and energy you brought to every lesson. Have a brilliant retirement
Congratulations and all the best for your retirement. Everyone in our class will miss you and all the hard work you've put in to teach us
Your dedication to teaching and the way you have inspired all your students is incredible. You can be proud of all you've achieved and look forward to a well deserved retirement
From the whole of class 7B – happy retirement to our number one teacher!
SEE MORE: Retirement Wishes for Teachers
Retirement Messages for Doctors
You have always been such a kind and caring doctor. I'm really going to miss you. Congratulations on your retirement
Our whole family is going to be sad to see you leave. You've treated all our problems – from minor colds to the more serious – and done so with kindness and love. Have a wonderful retirement
Congratulations doc, and all the best as you take a break from germs and sick people! Enjoy retirement
All the other doctors and nurses will miss you and your dedication to helping those who are sick. You've been an amazing doctor and we are losing someone very special
Happy retirement to my doctor! You have treated so many people over the years you are deserving of a very long and healthy retirement
SEE MORE: Retirement Messages for Doctors
Retirement Quotes for Nurses
Congratulations to you as you retire! Your warmth and the care you show your patients will be missed
You have always been so committed to the health and care of everyone and we will be very sad to see you go. But you have earned your retirement so we hope you enjoy it to it's fullest
No one has been a better nurse than you. After many years you can retire knowing you always did your best for your patients and that they couldn't have had anyone more dedicated to their wellbeing. Congratulations
Though we are sad to lose one of our best nurses we wish you a long and healthy retirement
I was lucky enough to be under your care and know what an incredible nurse you are. As you retire I hope you are aware of how many patients felt blessed to have someone as reassuring and kind as their nurse. All my love and best of luck for the future
SEE MORE: Retirement Wishes for Nurses
Retirement Wishes for Firefighters
You have demonstrated such bravery as a firefighter and now you deserve a long and happy retirement. Congratulations
To a man who has put the safety of others before his own – we owe you a great debt for all you do. Thank you and happy retirement
We are grateful for having wonderfully brave men and women like you to protect and help us during fires. You retire with the love and best wishes of the entire community
It is going to be hard to find a someone to replace you. Your bravery and courage are second to none and we will miss you. Thank you for your service and all the best
You are a true hero. Congratulations and best wishes for your retirement
SEE MORE: Retirement Messages for Firefighters
More Retirement Resources
We hope you have found these retirement wishes helpful in letting someone know how happy you are to see them retire.
Be it a relative like a husband, wife, brother or sister, or even someone working in a profession like a doctor, nurse or police officer, wishing the important people in your life a happy retirement is a lovely gesture that won't go unnoticed.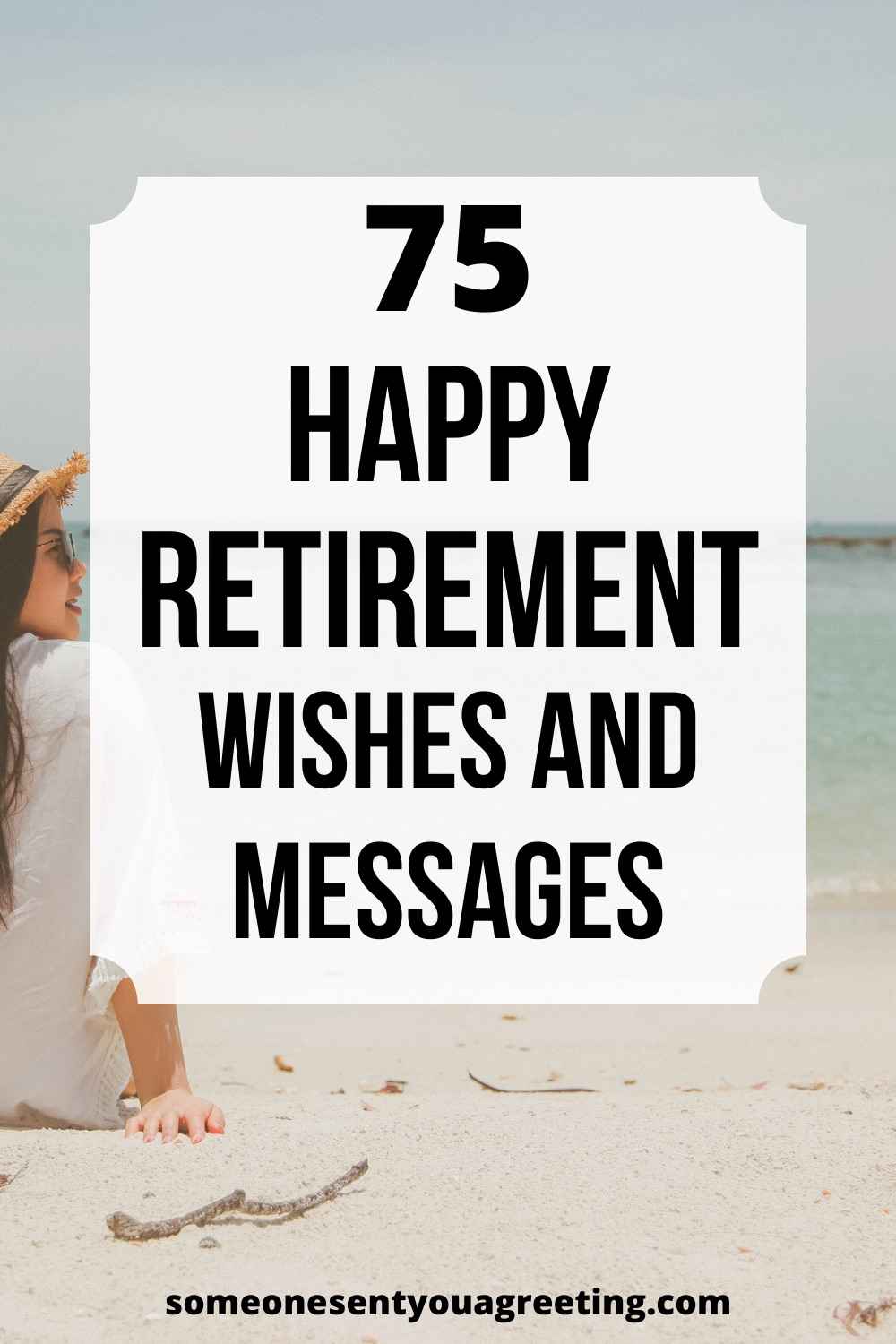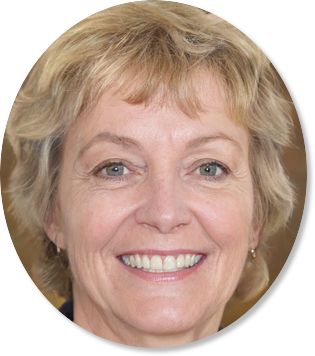 Sally Gibson is the founder of Someone Sent you a Greeting, a holiday/celebration website. Sally's writing work has been mentioned in Woman's World, Yahoo, Women's Health, MSN and more. If you have any questions get in contact with one of the team via the about page.