We are protected by the brave men and women who make up the police force. Police officers risk their lives for us every day. So when they finally reach retirement age it's a small gesture to wish them a happy retirement.
If you know a police officer that is approaching or about to retire then you may be thinking about reaching out and sending your best wishes. But it can be hard to know what to say.
When it's someone as important as a policeman or policewoman that is retiring finding the words to express how much you appreciated all they've done isn't easy. For putting their life on the line a few bland pleasantries probably doesn't seem enough.
So if you're struggling with a retirement message for police officers then these examples should help you with an inspirational message.
Retirement Messages for Police Officers
Thank you for your service and for the protection you provide us. We are in debt to you for everything you do. Have a wonderful retirement
Your bravery has kept us safe and your service helped to make our community better. I am grateful for your dedication. Thank you and the best of wishes for your retirement
May you find retirement makes up for the sacrifices you made while protecting all of us. Wishing you all the best
Best wishes to a man who has given his life to protecting and serving others. You deserve a very happy retirement
You have helped so many people throughout your career and as you retire we wanted to thank you for your service. If we had more police officers like you it would be a better world. All the best for the future
Your incredible work has left an amazing legacy for those following in your footsteps. Congratulations on an inspiring career and your retirement
As you return to civilian life I wish you a happy retirement filled with friends, happiness, laughter and no criminals!
You will always be a hero to me. Have a wonderful retirement and thank you for your service
You have protected and served us for so long, it's now time for others to protect you. Thank you and congratulations for an amazing career
Your have shown a dedication to the badge and a desire to protect us civilians like few others. That professionalism has helped the entire community and we wish you all the best as you retire and begin a new phase of your life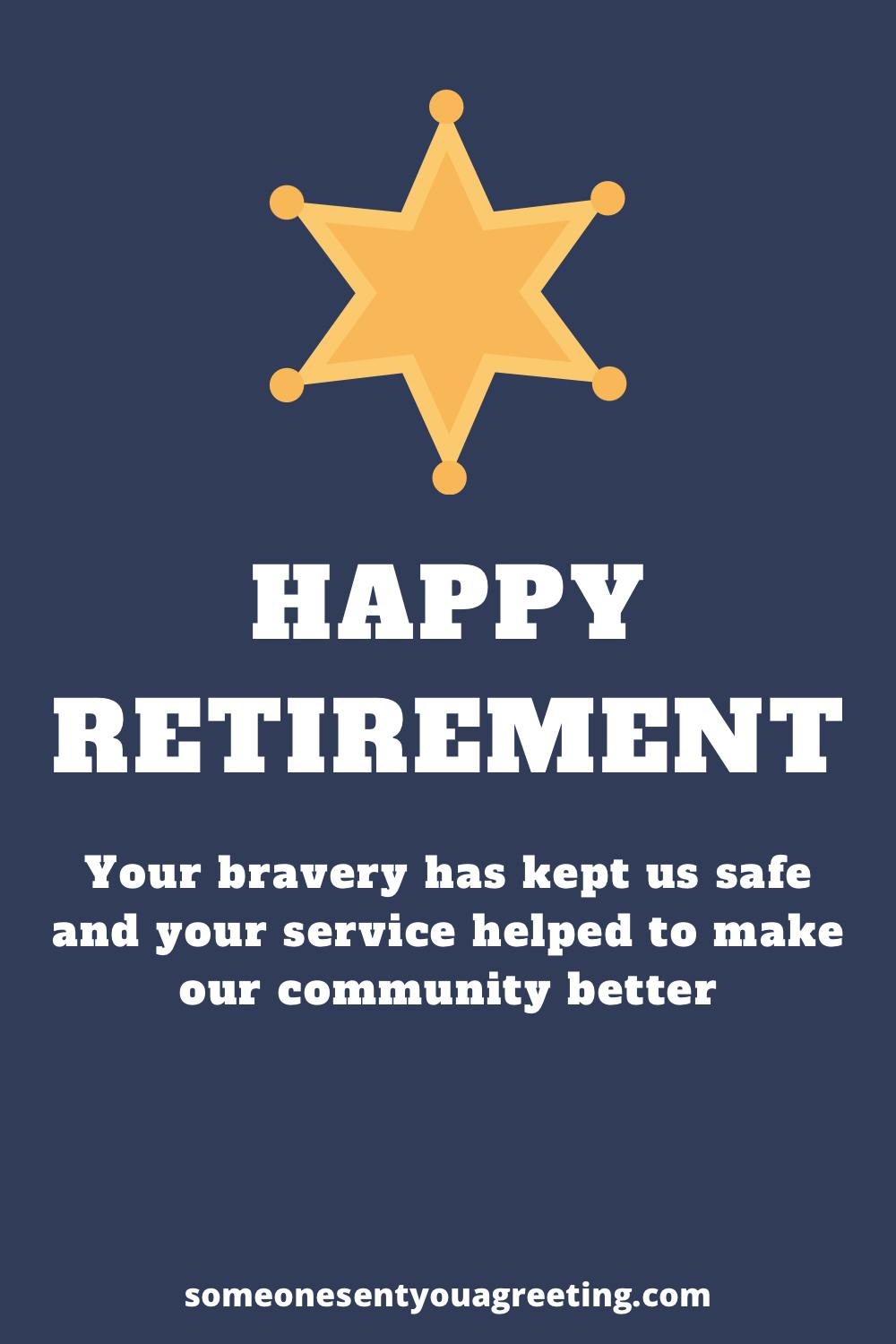 SEE MORE: Inspirational Retirement Quotes and Sayings
Retirement Quotes for Policemen
Congratulations as you become a civilian again! Wishing you a very happy retirement
We are indebted to police officers such as yourself who keep the law and order and us all safe. We appreciate all you have done enormously. Best wishes as you retirement from the force
I can only imagine how dull civilian life will be after years of being a policeman! Although maybe you're looking forward to the peace and quiet retiring brings. Whatever you choose to do though you deserve all our best wishes and congratulations on an outstanding career
You no longer have to always be ready for anything. No more emergency calls to attend. Just enjoy the peace and relax as you retire. Enjoy yourself now!
Now you're retired take the time to see family and friends again. Police officers sacrifice so much you now have the opportunity to make up for those lost years. Congratulations and enjoy your freedom
You chose a profession that was dangerous and a risk to your own safety. But you protected us all and made us feel secure. We can't thank you enough and as you retire want to say how grateful we are to all you did. With all our love have a wonderful retirement
Congratulations on your many accomplishments. Your career has been truly inspiring and as you retire you should be very proud of everything you've achieved. Enjoy you well earned retirement
You have worn your uniform and badge with pride and as you retire you can look back on the service you gave with honor. Have a happy retirement and enjoy being a civilian again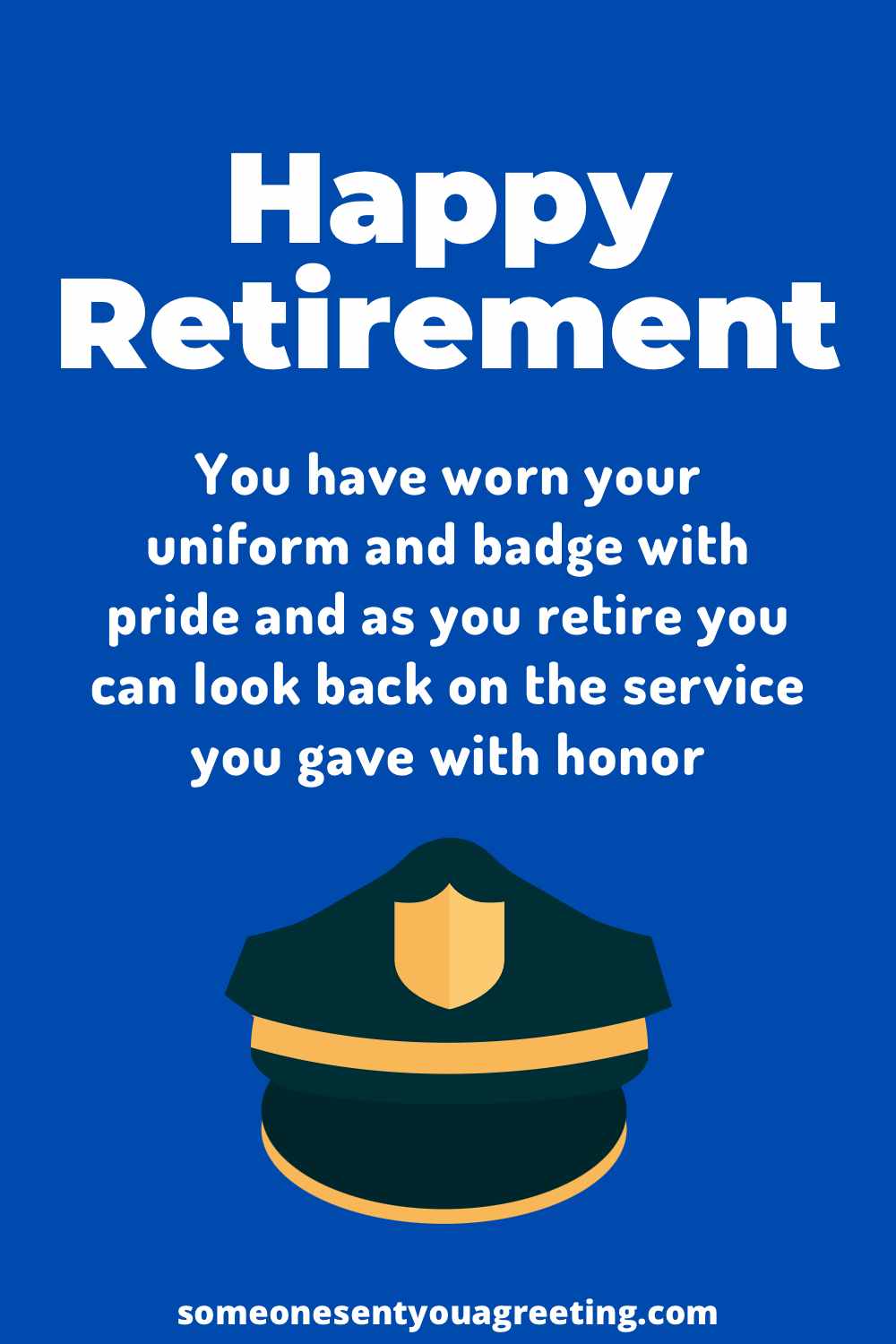 SEE MORE: Retirement Wishes for Coworkers and Colleagues
Retirement Wishes to a Police Officer from Colleagues
No matter what you do, as a former officer you will always be part of the brotherhood in blue. Happy retirement
You have served with such distinction we are going to be sad to see you leave. But you can go in the knowledge that you did your duty and protected the community from any and every threat. Congratulations
We wish you all the best for the future. You have been an important member of the team and we will find it hard to replace you. All our best, officer
Everyone at the department is sad to see you go. You have been our trusted colleague but our friend as well. You will always be welcome back though. Good luck and have a happy retirement
Thank you for your dedicated service and desire to help others. It made you a top police officer and we are very sad to have to say goodbye to you. Enjoy retirement
You have been an amazing officer to work under and I have learned so much. Thank you for your guidance and inspiration. I hope you have a fantastic retirement
Congratulations on your retirement and all the best as you go back to being a civilian. We will miss you
You have shown such passion for policing and been a real inspiration for the junior officers. Thank you and congratulations for your service
It is a sad day to lose one our most outstanding officers but we wish you so much success for the future. Enjoy your retired life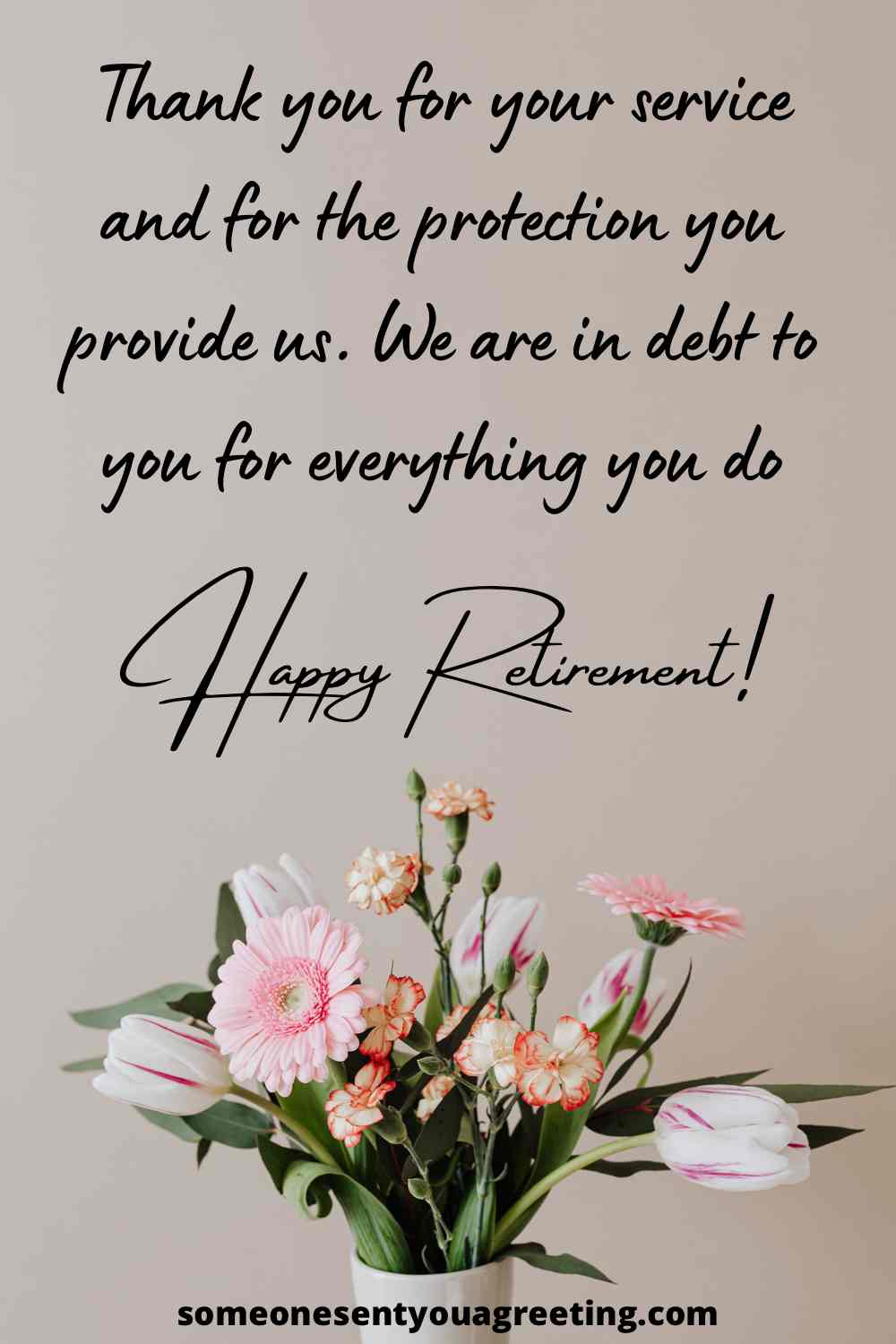 SEE MORE: Retirement Messages for Friends
Funny Retirement Messages for Police Officers
You've served and done your hard time, now you can enjoy freedom!
You've got a new assignment officer – enjoying your retirement!
Congratulations! You're no longer cuffed to a job. Enjoy your freedom!
I hope you like the new precinct you've been transferred to – the couch! Enjoy your lie-ins and lazy days
The best thing about your retirement – no more paperwork!
SEE MORE: Funny Retirement Messages and Quotes
Retirement Wishes for a Sheriff
Enjoy your retirement sheriff and thank you for your years of keeping us safe
Happy retirement, sheriff. You have earned a rest after years of committed service and policing. Congratulations
You can look forward to a much more sedate pace of life now! No more chasing and dealing with criminals. Instead you can relax and take it easy – which is the least you deserve!
Congratulations on your retirement, sheriff. Enjoy your new found freedom and time off with friends and family
You've always been there to protect us when we needed you. That service has been so important to the whole community we are very sad to see you leave. But you deserve a long and happy retirement and we are pleased to see you getting that break from the stress of policing. Good luck
Wishing our sheriff many years of happy and healthy retirement. We are grateful for your amazing service
Please accept this gift as a thank you for all your years of hard work and protecting us. It has been an honor to have you as our sheriff. Enjoy your retirement
Congratulations sheriff. You can now move on to new things knowing you served your community with distinction. Thank you and best of luck as you retire
SEE MORE: Retirement Messages for Uncle
Police officers do such important an important job that when they retire they deserve a big send off and all our congratulations.
Wish them all the best with these retirement quotes for police officers and show them just how much you appreciate the service they gave.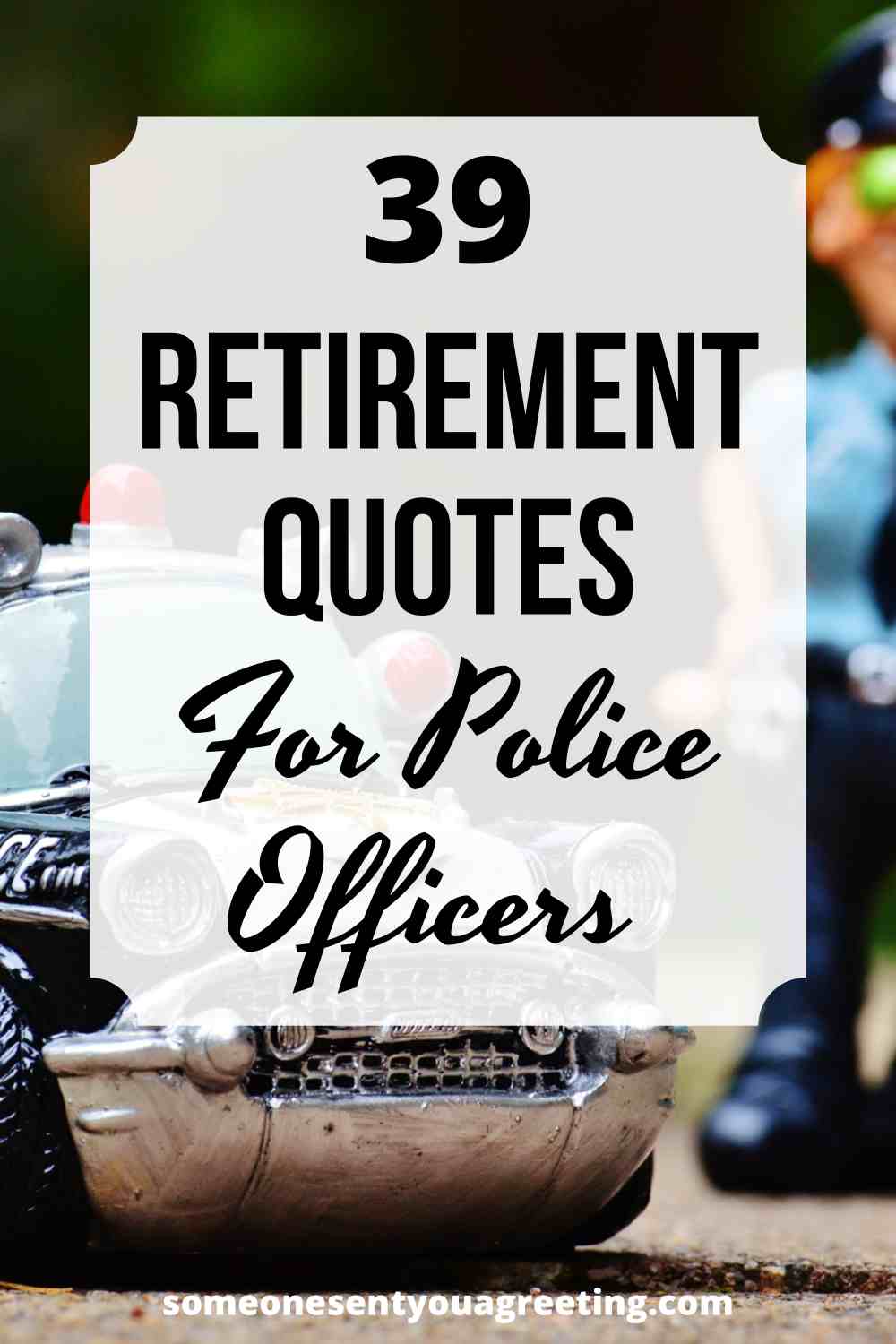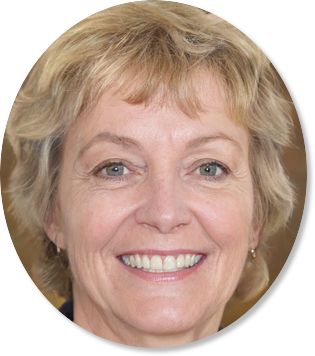 Sally Gibson is the founder of Someone Sent you a Greeting, a holiday/celebration website. Sally's writing work has been mentioned in Woman's World, Yahoo, Women's Health, MSN and more. If you have any questions get in contact with one of the team via the about page.