Firefighters are often under appreciated. The bravery and courage it must take to do their job is amazing. So when a firefighter retires they deserve all the thanks and best wishes you can give them.
After years of saving lives and fighting fires it only seems right that they are given a proper send off before retiring. Very few people will have earned a happy retirement more than a firefighter.
But you might not be sure what to say to a fireman or woman when they retire. Expressing what they have meant to yourself and the community isn't easy.
So if you're struggling then these retirement messages for firefighters should help you find the words to express how much they have meant to you.
Retirement Quotes for Firefighters
Thank you for your bravery and the service you provided to the community. We are so grateful for everything you did. Happy retirement
It takes a special kind of courage to go into a burning building and save lives. You have that courage and we are so thankful that you do. Congratulations on your retirement
The word 'hero' is used too often but it couldn't be more apt for you. The lives you've saved is truly remarkable. You really are a hero and as you retire you should be celebrated as one. All my best for the future
The fact that you put other people's safety before your own every day for your entire working life is testament to the sort of person you are. As you retire we pay tribute to the amazing job you did and how much we all owe you. Congratulations and enjoy your retirement
There are few braver people than firefighters. You are an inspiration and I am so pleased you get to retire now and enjoy your golden years
You have proven what an incredible person you are by the job you've chosen. And after years of saving lives you have earned this retirement. Use it to relax after all the danger you've seen. All the best
No one could possibly deserve a happy retirement more than you. What you have done to protect and rescue those in danger shouldn't be overlooked. You are a real hero and your retirement should reflect that. Congratulations
You have been one of the best firefighters we have seen and will be sorely missed. As you leave remember just how much we and the community are grateful for all you've done. Enjoy your retirement
Congratulations on a truly deserved retirement. You have given your all in the service of others. It's your time to rest and relax now. Enjoy
For all the years you've risked your life for others you deserve a long and happy retirement. My best wishes
You've seen it all and done it all, and should be very proud of it too. Congratulations on your career as a fireman and your retirement
SEE MORE: Retirement Wishes for Colleagues and Coworkers
Retirement Wishes for Firefighters
Best wishes on your retirement. You will be missed by all of us in the fire service and we want to commend you on an amazing career
To our colleague – you've always led us with such bravery and determination. We would follow you anywhere. That's why we're so sad to see you retire. But you have given everything to the fire service so should be about ready for some time off! Enjoy the peace and rest of retirement and all the best
Congratulations to you as you retire. You can take pride in the work you've done saving lives. Now enjoy your days doing what you want and not having to think about fighting fires
After facing deadly fires for so many years it's time to let some steam off and enjoy being retired.
May your nights be undisturbed and your days be long and without any call outs! Happy retirement
Congrats on your retirement. I would wish you a peaceful and relaxing time but knowing you you'll be out finding more excitement in only a few days!
You are so deserving of a happy retirement and I hope your future is filled with lots of laugher and fun after what must have been a very stressful career
Today we honor your incredible service and dedication to protecting lives. You leave behind an inspiring legacy and one you should be very proud of
You never gave any less than 100% and the best for those who needed you. And we wish you that in return as you retire. Congratulations
I am still astonished by the inspirational work you have done throughout your career. To go to work every day and save lives is absolutely mind blowing. You deserve one hell of a retirement!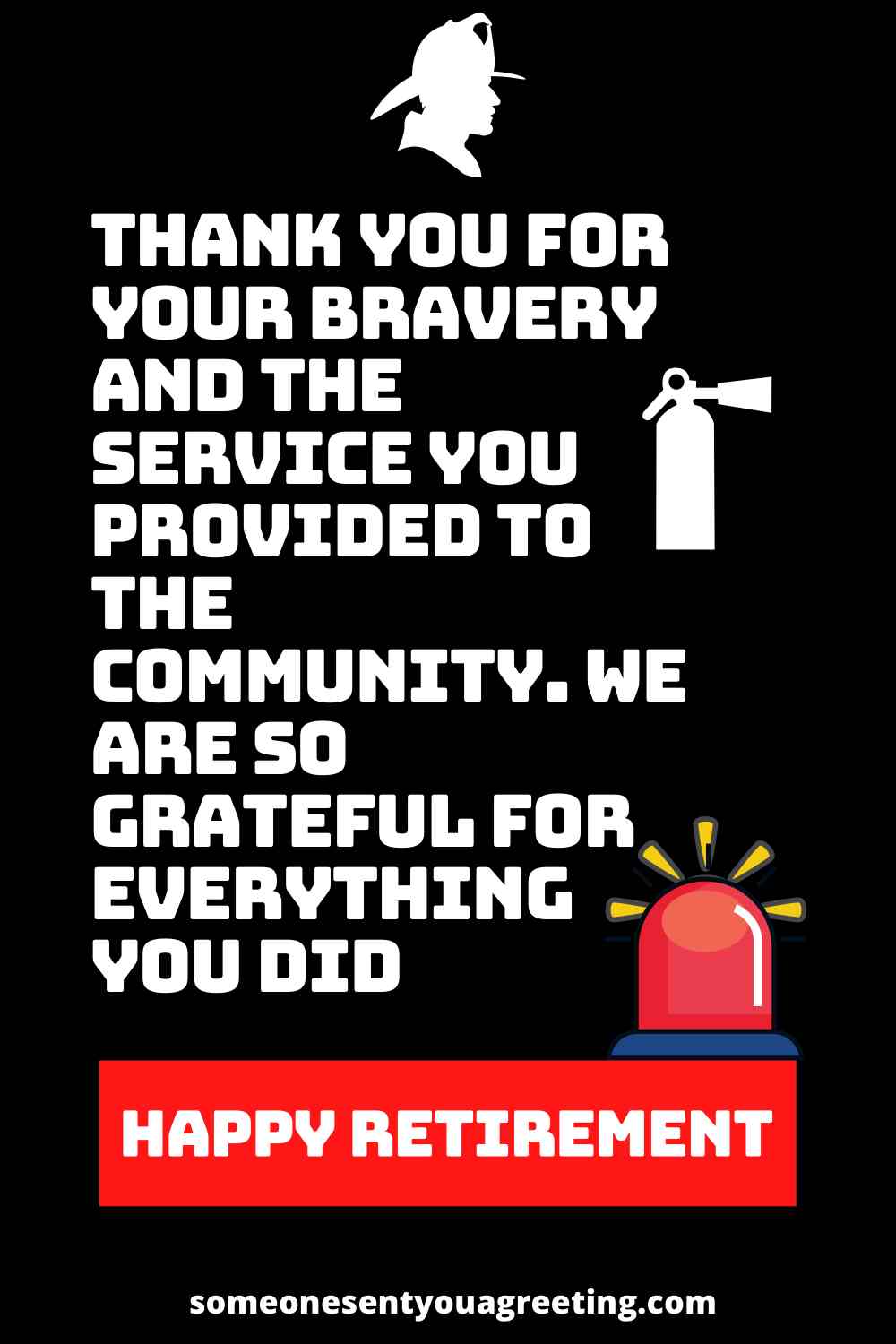 SEE MORE: Inspirational Retirement Quotes
Retirement Wishes for a Fireman
You can retire in the knowledge that you really made a difference. The lives you saved and the families you kept together will be forever grateful to you. Congratulations on your career as a fireman and have a fantastic retirement
I am immensely proud of the career you've had as a fireman. It is an honorable and selfless job that requires such courage. May your retirement be all you've hoped for
It will be virtually impossible to replace you. You have been a courageous fireman who never shrank from the challenges you faced. Have a great retirement
You have always shown such professionalism and led by example. You're an inspiration to anyone thinking of joining the fire service and even after retirement I know that will still be the case
You will find that you receive so many best wishes as you retire. The impact you've had on so many lives will be apparent and I know I speak for the whole community when I say how much you will be missed. All our best for the future
To an amazing fireman – have a very happy and long retirement. You've definitely earned it!
Congratulations on an outstanding career and the contributions you made to the safety of the people around you. Enjoy your retirement
We can't express how much we appreciate all you did. Now you should put yourself first and have the chance to do everything you love. Make your retirement your best years
I'm going to be sad to see you go but I do so knowing you have so much to look forward to. Stay in touch and have a brilliant retirement
You have inspired, grown and truly become a fireman of the highest order. Your retirement leaves a hole that will be near impossible to replace. But we hope you enjoy your retirement and promise to come back and visit us at the station
SEE MORE: Retirement Wishes for Friends
Firefighters are some of the bravest people around doing an extremely dangerous job. So when a firefighter retires they deserve every bit of praise they get.
So use these retirement wishes for firefighters to wish the courageous firemen and women a very well earned retirement and thank them for their service.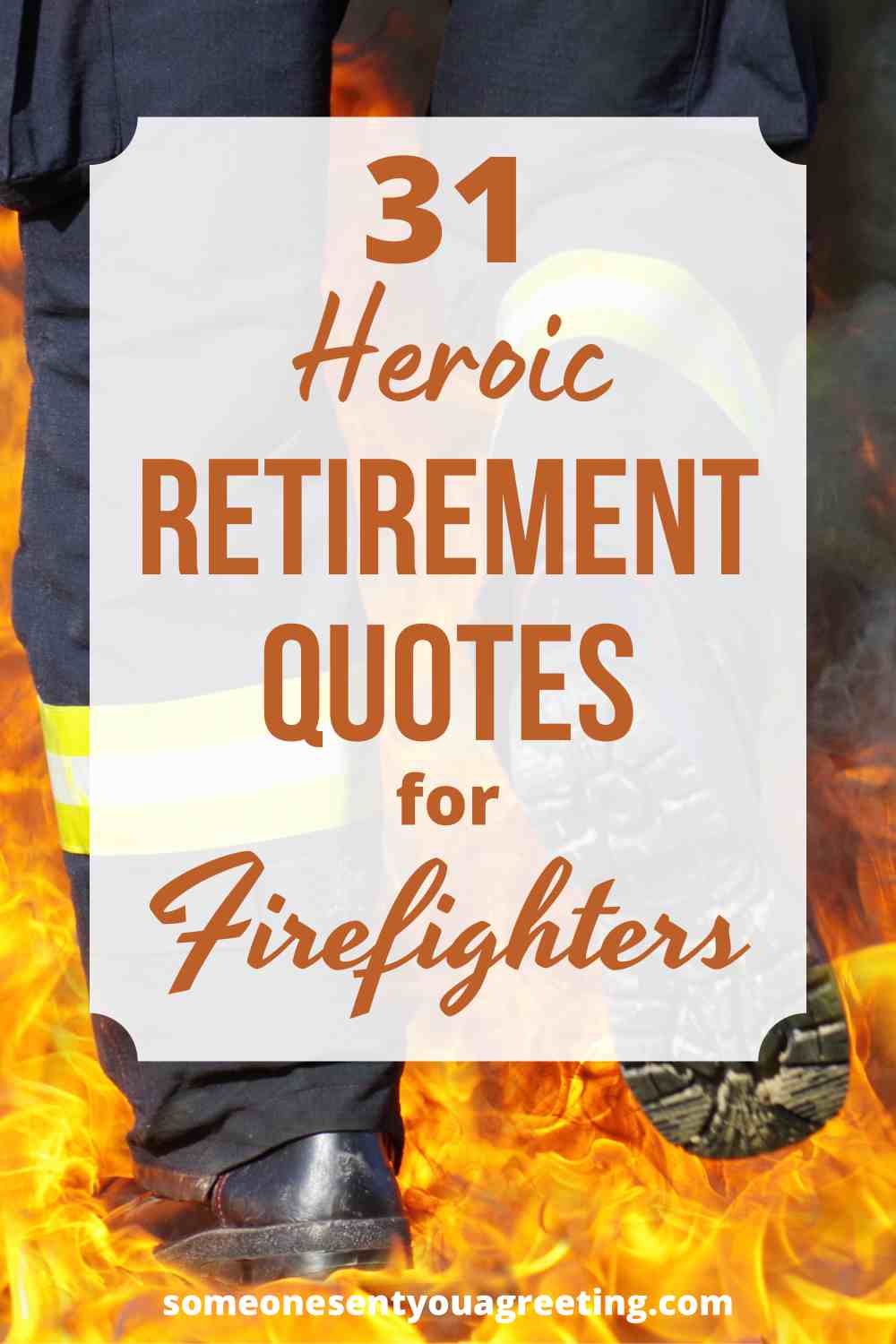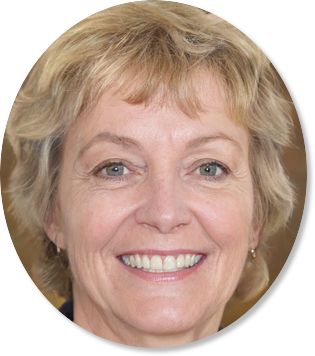 Sally Gibson is the founder of Someone Sent you a Greeting, a holiday/celebration website. Sally's writing work has been mentioned in Woman's World, Yahoo, Women's Health, MSN and more. If you have any questions get in contact with one of the team via the about page.