Going into labor and delivering a baby is both exciting and scary. All those months of waiting to finally see and hold the new born. The anticipation of having and being able to love your new child is almost overwhelming.
But labor and delivery can also be a time of anxiety. Will it all go to plan without complications? Will it hurt? Will everything be ok? These are just a few things that can be on the minds of expectant mothers.
That's why having friends and family offering encouraging words and best wishes can be so helpful. Knowing your loved ones are there for support and thinking of you during such a turbulent time is so important.
So, what do you wish someone who is about to have a baby?
Well if you're struggling with how to wish someone pregnant good luck or what to say to someone going into labor then these wishes for a safe delivery and birth should give you all the inspiration or guidance you need.
What to say to Someone Going into Labor
I'm so excited and happy for you!
What an amazing time! Best wishes for a healthy birth
Good luck and hope it all goes well
Congratulations for the miracle that is happening
You're going to be meeting your sweet little baby very soon!
You're going to make a wonderful mom. Congratulations!
We're going to be celebrating the arrival of a tiny bundle of joy soon!
I am so happy for you! Congratulations and best of luck with everything
This is it! Don't be nervous you're going to do amazing! And you'll soon be holding what is about to become your whole world
You've got this girl!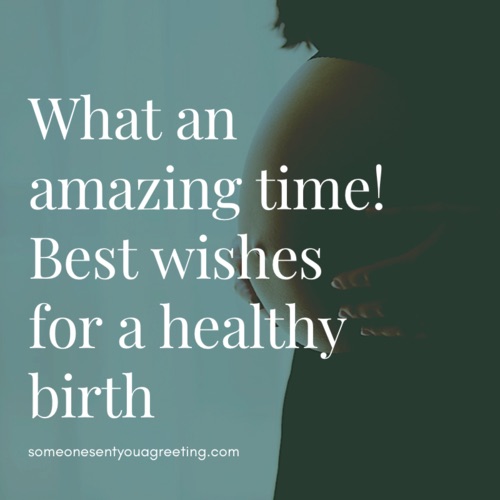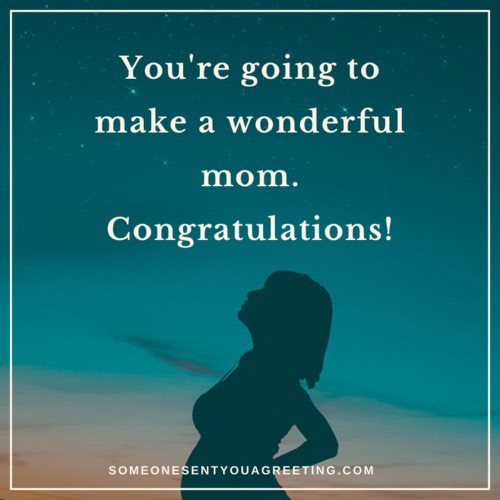 ---
What to Say During Labor
Labor and giving birth can be both good and bad. What you say and the words you use may well have an impact on how your partner remembers their labor. So here's a few ideas of what to say and why it should help to make the whole experience smoother for her.
I love you so much and you're doing so well!
You're doing an amazing job!
I couldn't be more proud of you and what you're doing
I'm here for you and not going anywhere. Whatever you need I'm right here
You're going to make the most incredible mom!
You're doing it, and you're almost there! Just hang in there
Just keep thinking of the baby and how this is all for him/her/them
I love you my darling
You're doing such a good job!
You're got this honey. Just a bit more and it will all be over
You Might Also Like
If you're attending a baby shower then we have a great range of
baby shower wishes
.
Safe Delivery Messages
Wish a soon-to-be mom and her new baby well with these safe delivery wishes and quotes.
Wishing you all the best for a smooth and safe delivery
Best wishes for a healthy and safe delivery
Hoping your delivery is as safe and happy as it can possibly be
Wishing you a safe and smooth delivery
I'm sure you're going to have a brilliant delivery and nothing to be anxious about
Have faith that your little one will be just fine and your delivery will be as routine as possible
Congratulations and all the best for a safe and healthy birth
Your delivery will be fine and over in no time leaving you with a healthy and happy new baby
You're about to begin the greatest adventure there is. Sending my best wishes for a safe delivery
You will be in my prayers for the safe delivery of your new baby boy/girl
Good Luck on your Labor Quotes
If you aren't sure how to wish a pregnant women good luck for her labor then the good luck birth wishes and quotes below will give you some examples of how to say good luck giving birth to the expectant mother.
I hope you have a normal, textbook birth without any complications. Best of luck!
Hoping you have a fast, safe and healthy delivery
Good luck and best wishes for a painless and quick delivery
Best of luck for a smooth labor and quick recovery!
Here's to a routine labor with no surprises. Best of luck and thinking of you and your baby
Good luck! Can't wait to see your little bubba!
Wishing you a swift and uneventful labor
Thinking of your and sending good luck vibes for a healthy and happy labor
Good luck!! Although you don't need it as I'm certain everything will be absolutely fine
Good luck to my best friend. Your labor will be perfect and you have nothing to be worried about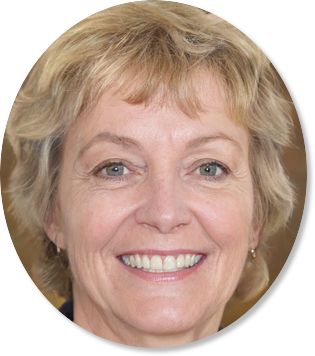 Sally Gibson is the founder of Someone Sent you a Greeting, a holiday/celebration website. Sally's writing work has been mentioned in Woman's World, Yahoo, Women's Health, MSN and more. If you have any questions get in contact with one of the team via the about page.