Christmas is such a magical time. It's filled with wonder, fun and happy memories for most of us.
So what better way to add to the celebrations and enjoy the festive season than with some Christmas quotes.
You can find some amazing Christmas sayings that sum up the entire holiday spirit in just a few words. And they're perfect for sharing with your friends and family, including in a Christmas card message or putting on Facebook and using as Instagram captions.
So use this wide selection of Christmas quotes and sayings to enjoy the holidays even more.
Christmas Quotes
"Christmas isn't just a day – it's a frame of mind." – Miracle on 34th Street
"Christmas isn't a season. It's a feeling." – Edna Ferber
"Christmas works like glue. It keeps us all sticking together." – Rosie Thomas
"There's a certain magic that comes with the very first snow. For when the first snow is also a Christmas snow, well, something wonderful is bound to happen." – Frosty the Snowman
"Christmas is a season not only of rejoicing, but of reflection." – Winston Churchill
"Christmas is doing a little something extra for someone." – Charles M. Schulz
"Christmas is like candy; it slowly melts in your mouth sweetening every taste bud, making you wish it could last forever." – Richelle E. Goodrich
"Even as an adult, I still find it hard to sleep on Christmas Eve." – Carrie Latet
"Christmas is the season for kindling the fire of hospitality." – Washington Irving
"If you want to experience the true meaning of Christmas, give something to someone who can offer nothing in return." – Toni Sorenson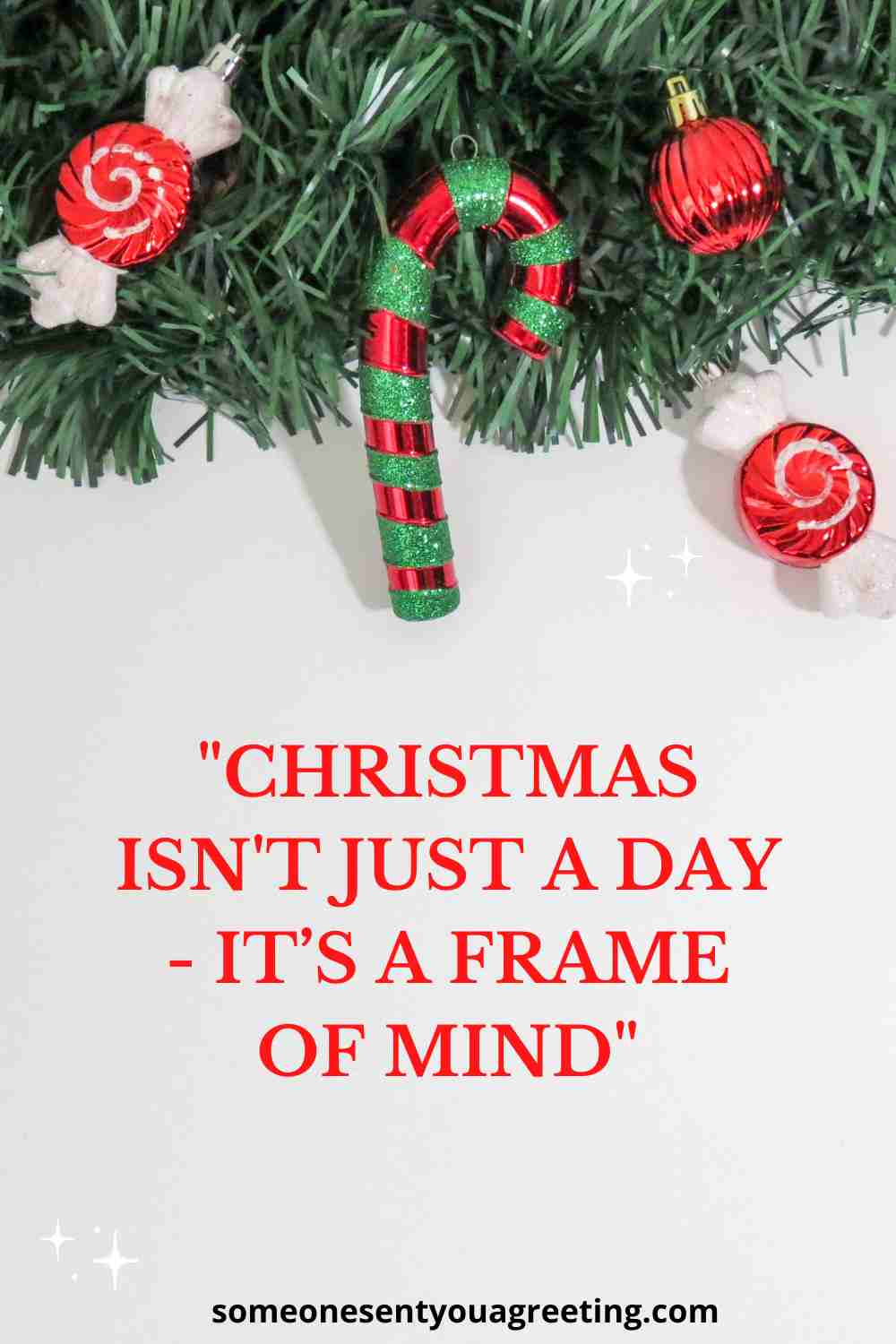 Traditional Christmas Quotes
These are some of the most famous and well known Christmas quotes from movies, songs and more. They are synonymous with Christmas and it's likely you will be familiar with many of them. Use them as an Instagram caption or share them with friends and family.
"Joy to the world, the Lord is come, let earth receive her King." – "Joy to the World"
"I'm dreaming of a white Christmas, just like the ones I used to know." – Irving Berlin
"City sidewalks
Busy sidewalks
Dressed in holiday style
In the air
There's a feeling
Of Christmas…" – "Silver Bells"
"Oh the weather outside is frightful,
But the fire is so delightful,
And since we've no place to go,
Let it snow, let it snow, let it snow." – "Let it Snow"
"T'was the night before Christmas, when all through the house, not a creature was stirring, not even a mouse." – Clement Clarke Moore
"I'm dreaming of a white Christmas, just like the ones I used to know. Where the treetops glisten and children listen, to hear sleigh bells in the snow." – White Christmas
"Walking in a winter wonderland." – "Winter Wonderland"
"Have yourself a merry little Christmas. Let your heart be light. From now on your troubles will be out of sight." – "Have Yourself a Merry Little Christmas"
"May your days be merry and bright." – White Christmas
"He sees you when you're sleeping, he knows when you're awake. He knows when you've been bad or good, so be good, for goodness sake!" – "Santa Claus is Coming to Town"
"Tis the season to be jolly!" – "Deck the Halls"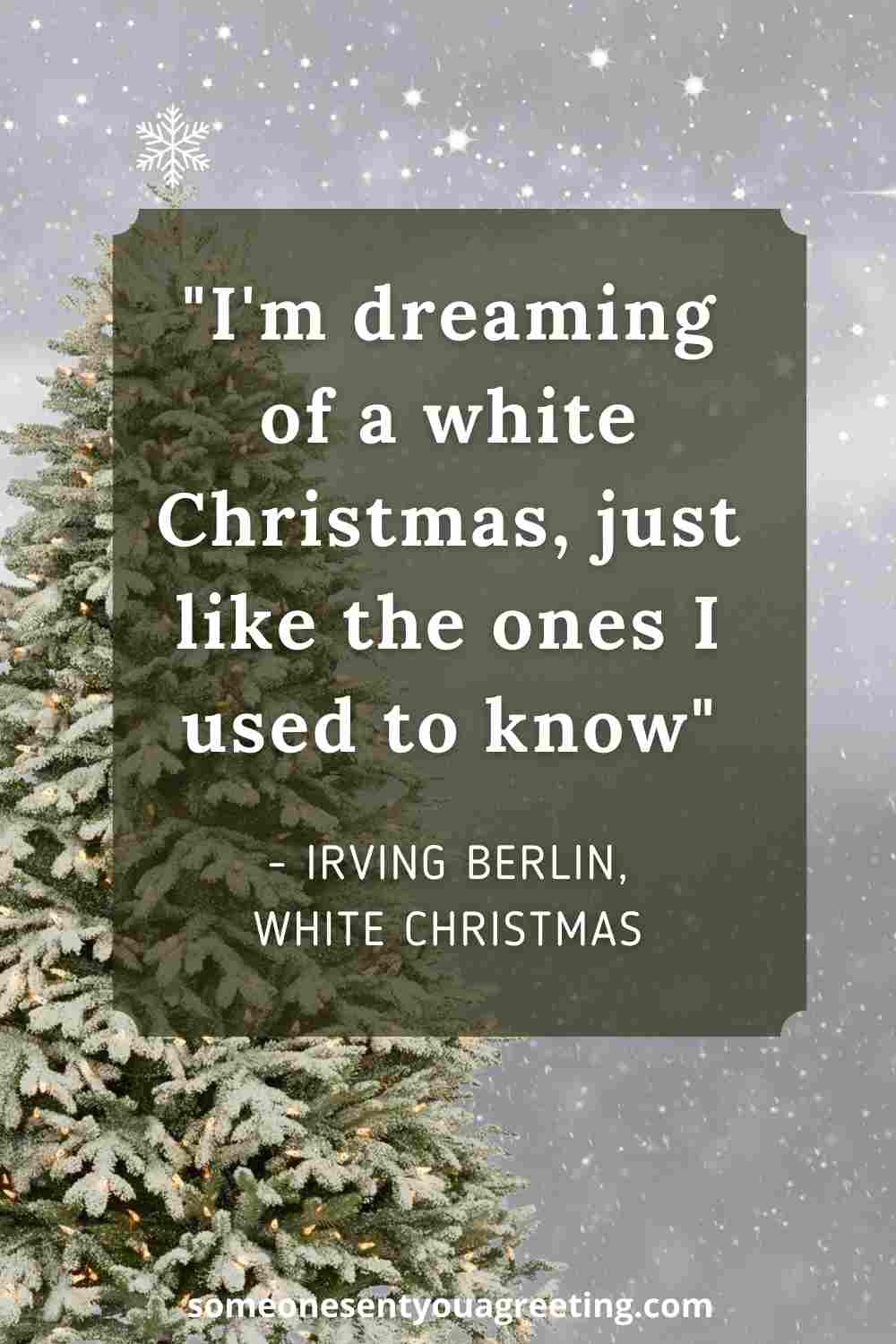 Inspirational Christmas Quotes
These are inspirations Christmas quotes to really show what the holidays are all about. They embody the spirit of Christmas in just a few short words and will bring a warmth to anyone who reads them.
"What is Christmas? It is tenderness for the past, courage for the present, hope for the future." – Agnes M. Pahro
"Christmas magic is silent. You don't hear it – you feel it. You know it. You believe it." – Kevin Alan Milne
"The way you spend Christmas is far more important than how much." – Henry David Thoreau
"Christmas and the holidays is the season of giving. It's a time when people are more kind and open-hearted." – Gisele Bundchen
"Christmas waves a magic wand over this world, and behold, everything is softer and more beautiful." – Norman Vincent Peale
"When we recall Christmas past we usually find that the simplest things, not the great occasions, give off the greatest glow of happiness." – Bob Hope
"I like to compare the holiday season with the way a child listens to a favorite story. The pleasure is in the familiar way the story begins, the anticipation of familiar turns it takes, the familiar moments of suspense, and the familiar climax and ending." – Fred Rogers
"At Christmas, all roads lead home." – Marjorie Holmes
"Peace on earth will come to stay, when we live Christmas every day." – Helen Steiner Rice
"Christmas is most truly Christmas when we celebrate it by giving the light of love to those who need it most." – Ruth Carter Stapleton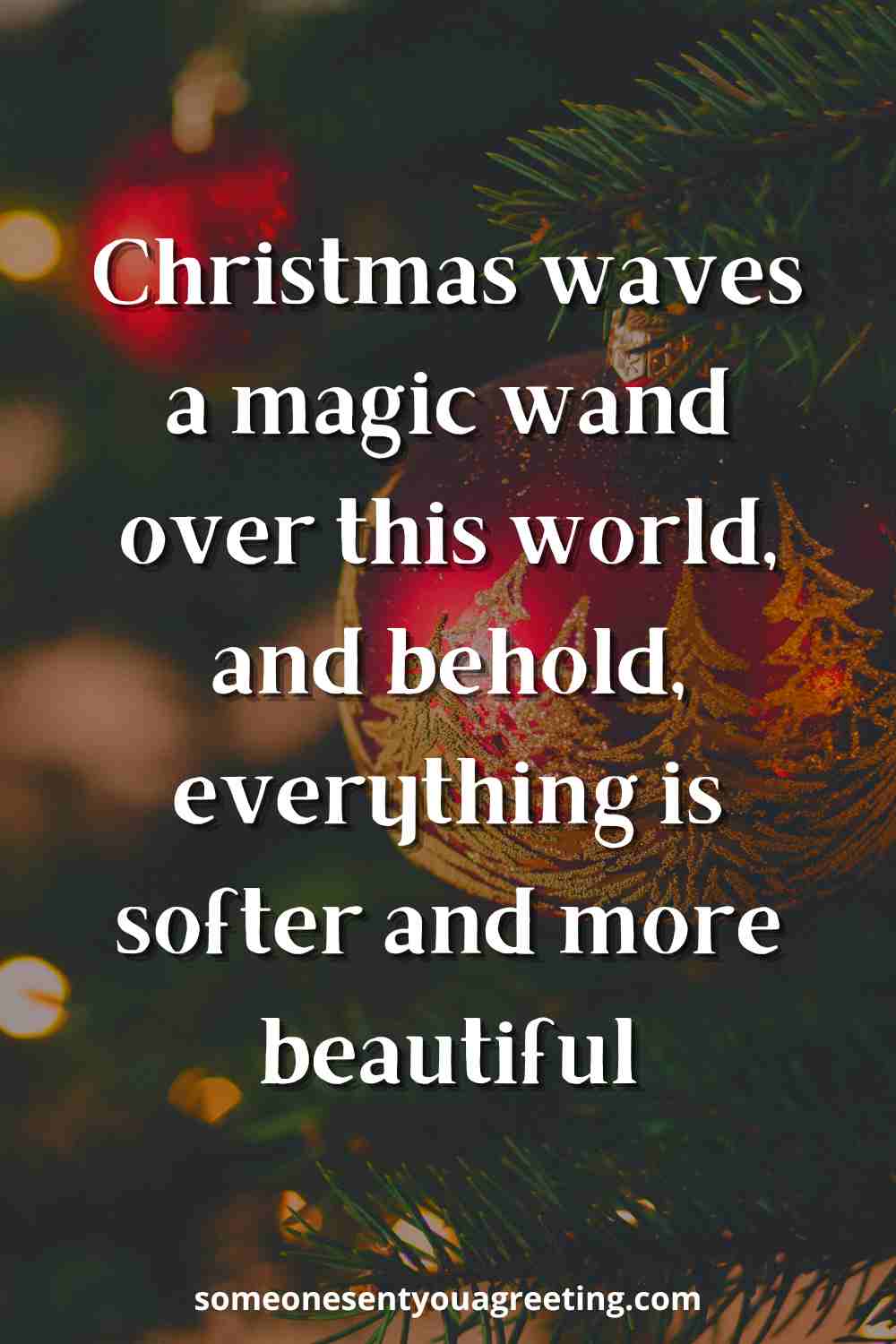 Religious Christmas Quotes
Christmas is a religious celebration and so send a religious Christmas quote or message to friends and family this year. Perfect for Christians and those who prefer to remember the faith background of the holiday season.
"Bless us Lord, this Christmas, with quietness of mind; Teach us to be patient and always to be kind." – Helen Steiner Rice
"Good news from heaven the angels bring, Glad tidings to the earth they sing: To us this day a child is given, To crown us with the joy of heaven." – Martin Luther
"We saw his star when it rose and have come to worship him." – Matthew 2:2
"God never gives someone a gift they are not capable of receiving. If He gives us the gift of Christmas, it is because we all have the ability to understand and receive it." – Pope Francis
"For to us a child is born, to us a son is given…" – Isaiah 9:6-7
"Christmas is joy, religious joy, an inner joy of light and peace." – Pope Francis
"The great challenge left to us is to cut through all the glitz and glam of the season that has grown increasingly secular and commercial, and be reminded of the beauty of the One who is Christmas." – Bill Crowder
"Faith is salted and peppered through everything at Christmas. And I love at least one night by the Christmas tree to sing and feel the quiet holiness of that time that's set apart to celebrate love, friendship, and God's gift of the Christ child." – Amy Grant
READ MORE: Religious Christmas Wishes and Quotes
Cute Christmas Quotes
These cute Christmas quotes are a reminder of the childlike wonder that Christmas can inspire. They will take you back to those holidays you remember most fondly.
"The smells of Christmas are the smells of childhood." – Richard Paul Evans
"It's Christmas in the heart that puts Christmas in the air." – W. T. Ellis
"At Christmas play and make good cheer, for Christmas comes but once a year." – Thomas Tusser
"It's not what's under the Christmas tree that matters, it's who is around it." – Anonymous
"The best way to spread Christmas cheer is singing loud for all to hear." – Will Ferrell, "Elf"
"Christmas isn't about candy canes or lights all aglow, it's the hearts that we touch, and the care that we show." – Mickey's Once Upon a Christmas
"Christmas is not as much about opening our presents as opening our hearts." – Janice Maeditere
"Christmas will always be as long as we stand heart to heart and hand in hand." – Dr. Seuss
"As long as we know in our hearts what Christmas ought to be, Christmas is." – Eric Sevareid
"Christmas can't be bought from a store. Maybe Christmas means a little bit more." – Dr.Seuss
Funny Christmas Quotes
Bring a smile to someone's face at Christmas with these funny Christmas quotes and jokes. Use them in a card or send them in a text or email.
"Aren't we forgetting the true meaning of Christmas? You know, the birth of Santa." – Bart Simpson
"I'm dreaming of a white Christmas. But if the white runs out, I'll drink the red." – Unknown
"Christmas: the only time of year you can sit in front of a dead tree eating candy out of socks." – Anonymous
"Do give books – religious or otherwise – for Christmas. They're never fattening, seldom sinful, and permanently personal." – Lenore Hershey
"Nothing's as mean as giving a little child something useful for Christmas." – Kin Hubbard
"A Christmas tree, the perfect gift for a guy. The plant is already dead." – Jay Leno
"Santa Claus has the right idea – visit people only once a year." – Victor Borge
"Let's be naughty and save Santa the trip." – Gary Allan
Sending Christmas cards is a good way to let your friends and family know that you think they're worth the price of a stamp." – Melanie White
"Santa is very jolly because he knows where all the bad girls live." – Dennis Miller
READ MORE: Funny Christmas Wishes, Quotes and Jokes
Christmas Quotes for Family
Share these touching Christmas quotes with your family and show them just how much they mean to you at this time of the year.
"The best of all gifts around any Christmas tree: the presence of a happy family all wrapped up in each other." – Burton Hillis
"Christmas is a time when you get homesick – even when you're home." – Carol Nelson
"From home to home, and heart to heart, from one place to another. The warmth and joy of Christmas, brings us closer to each other." – Emily Matthews
"Christmas Eve, a perfect night to express affection for your family, to forgive those who failed you, and to forget past mistakes." – Unknown
"Probably the reason we all go so haywire at Christmas time with the endless unrestrained and often silly buying of gifts is that we don't quite know how to put our love into words." – Harlan Miller
"Blessed is the season which engages the whole world in a conspiracy of love." – Hamilton Wright Mabie
"I will honour Christmas in my heart, and try to keep it all the year." – Charles Dickens
"For centuries men have kept an appointment with Christmas. Christmas means fellowship, feasting, giving and receiving, a time of good cheer, home." – W. J. Tucker
READ MORE: Christmas Wishes for Family
Santa Quotes
Christmas isn't Christmas without Santa! These Santa Claus quotes are a fun way to talk about Santa and share with others in the lead up to Christmas.
"There are three stages of man: he believes in Santa Claus; he does not believe in Santa Claus; he is Santa Claus." – Bob Phillips
Me: "I want a magical Unicorn for Christmas."
Santa: "Be realistic."
Me: "Okay. I want 5 minutes to myself each day to drink my coffee hot and pee in peace."
Santa: "What color Unicorn would you like?"
"You know you're getting old when Santa starts looking younger." – Robert Paul
"It's all fun and games until Santa checks the naughty list." – Anon
"Dear Santa, Before I explain, how much do you know already?" – Anon
"Alas! How dreary would be the world if there was no Santa Claus! There would be no childlike faith then, no poetry, no romance to make tolerable this existence." – Francis P. Church
"The greatest thing is not to believe in Santa Claus; it is to be Santa Claus." – Pat Boone
"Bells are ringing, children singing, all is merry and bright. So hang your stockings and say your prayers, 'cause Santa Claus comes tonight." – Gene Autry
"An ounce of goodness everyday, can soothe the heart in many ways. An ounce of goodness 'just because,' don't wait until Christmas to be Santa Claus." – Charmaine J. Forde
"All the world is happy when Santa Claus comes." – Maud McKnight Lindsay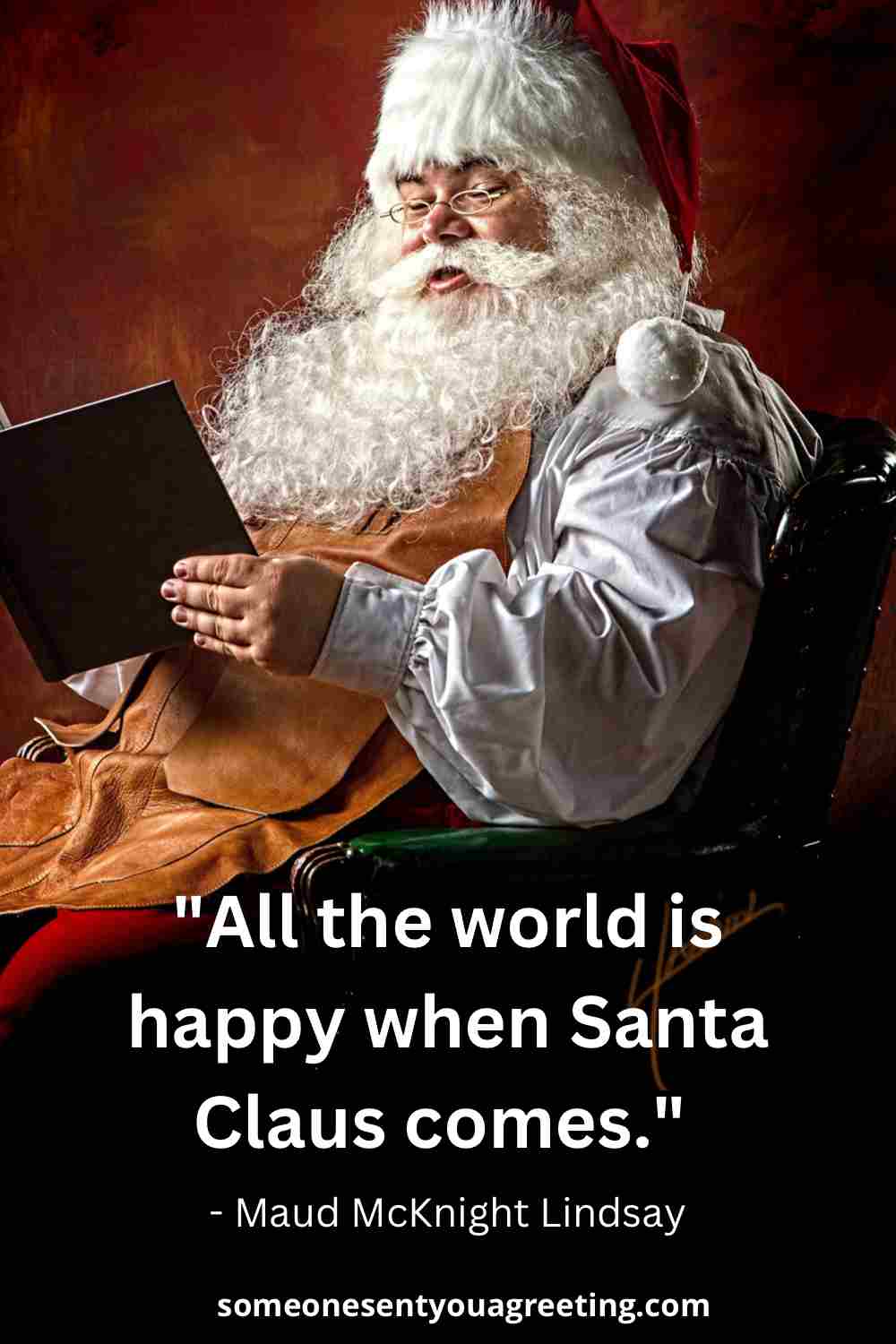 Christmas Tree Quotes
A huge part of Christmas is the tree. Every house has a Christmas tree at the center of the celebrations and where the presents go. These quotes about Christmas trees remind us of their importance in the holiday celebrations.
"You're a lot like some of my Christmas tree ornaments. Bright, colorful. and a little bit cracked!" – Unknown
"Freshly cut Christmas trees smelling of stars and snow and pine resin – inhale deeply and fill your soul with wintry night." – John Geddes
"Never worry about the size of your Christmas tree. In the eyes of children, they are all 30 feet tall." – Larry Wilde
"The best of all gifts around any Christmas tree: the presence of a happy family all wrapped up in each other." – Burton Hillis
"Christmas: the only time of year you can sit in front of a dead tree eating candy out of socks." – Anonymous
"Some Christmas tree ornaments do more than glitter and glow, they represent a gift of love given a long time ago." – Tom Baker
"O Christmas tree, O Christmas tree,
How lovely are thy branches!" – Traditional German Carol
"It's not what's under the Christmas tree that matters, it's who is around it." – Anonymous
"The perfect Christmas tree? All Christmas trees are perfect!" – Charles N Barnard
"The Christmas tree is a symbol of love, not money. There's a kind of glory to them when they're all lit up that exceeds anything all the money in the world could buy." – Andy Rooney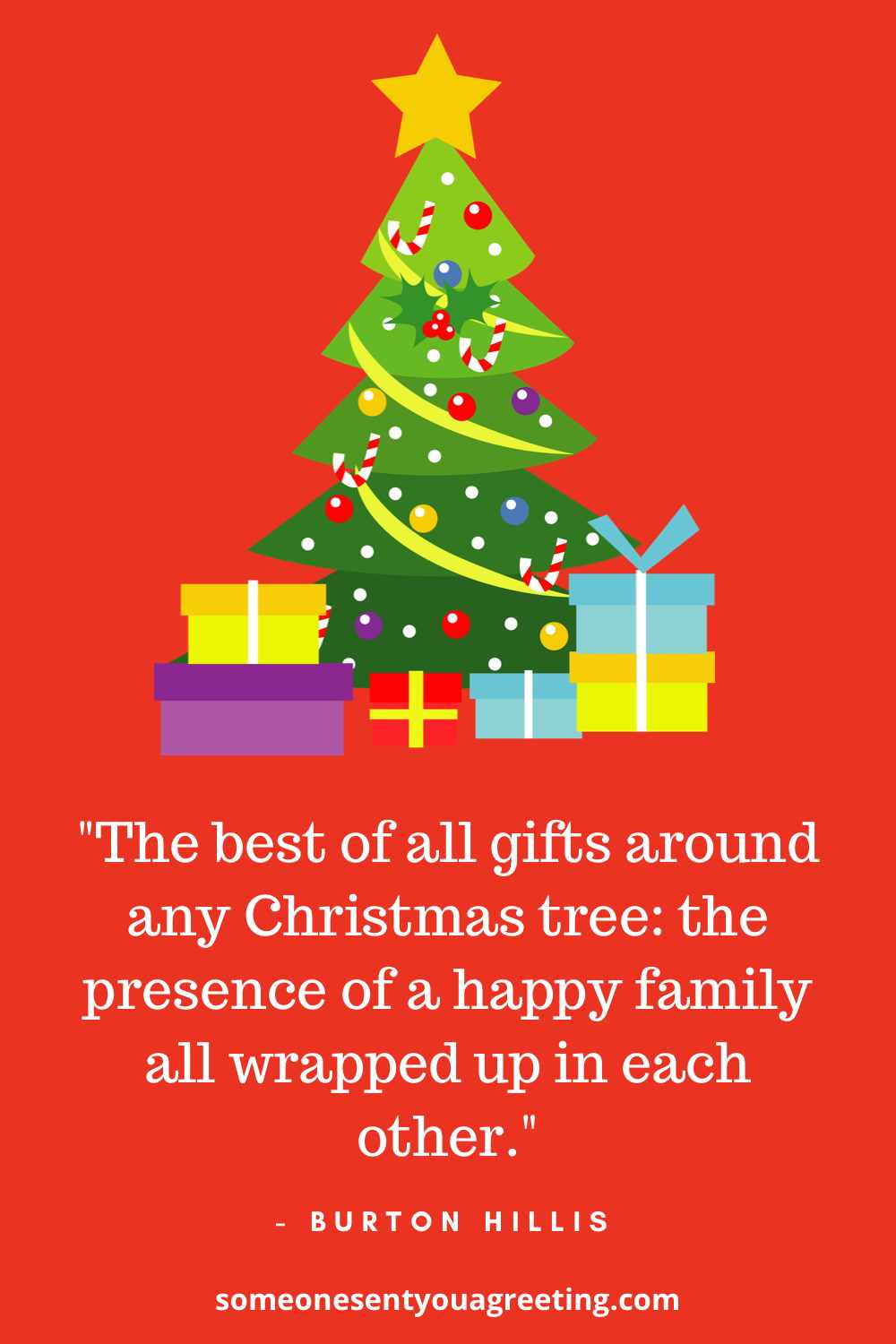 We hope you have enjoyed this selection of the best Christmas quotes and sayings. Enjoy the holidays and celebrate with your loved ones by using these quotes to be reminded of how special Christmas really is.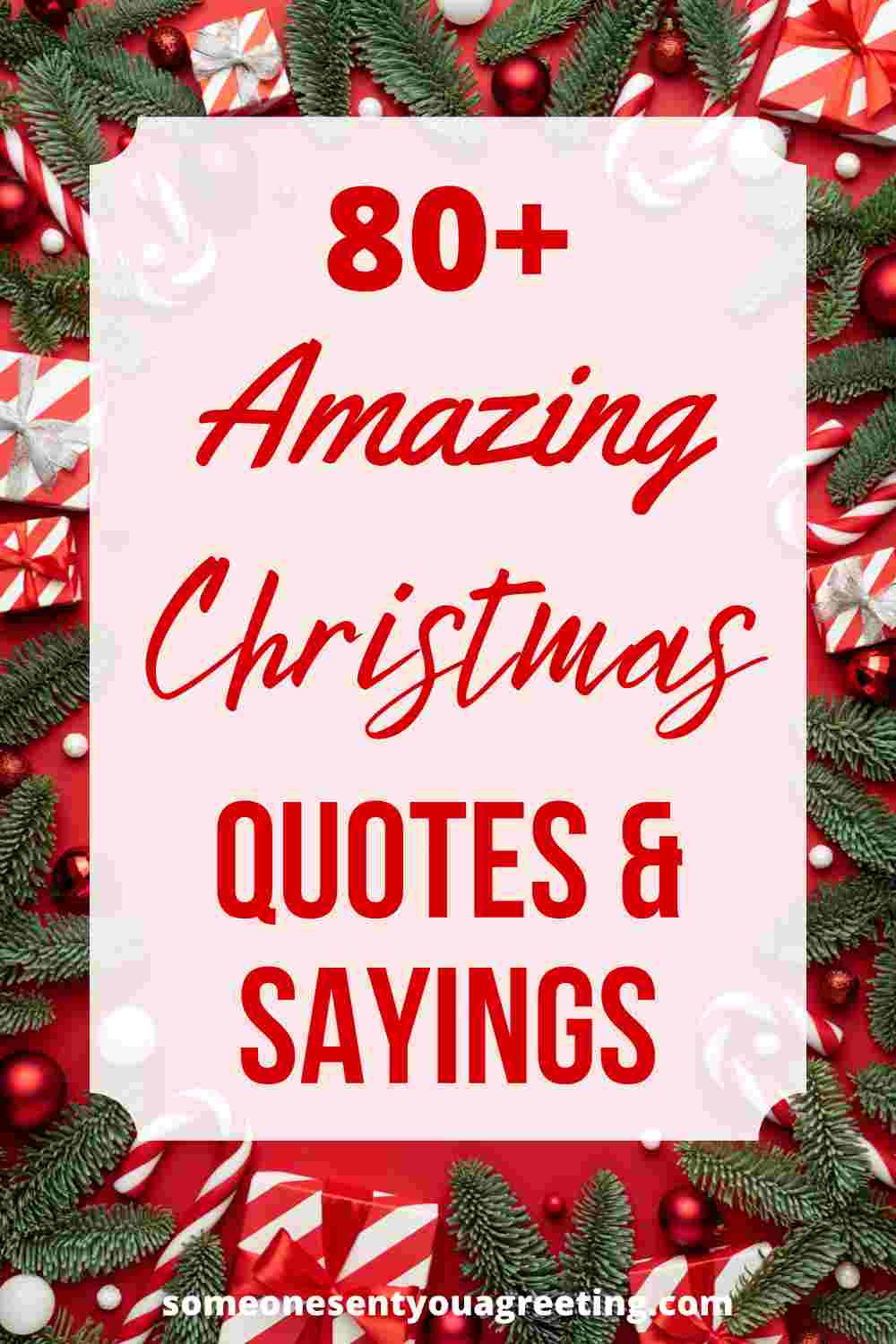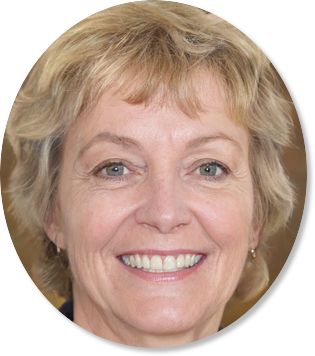 Sally Gibson is the founder of Someone Sent you a Greeting, a holiday/celebration website. Sally's writing work has been mentioned in Woman's World, Yahoo, Women's Health, MSN and more. If you have any questions get in contact with one of the team via the about page.