If you want a get well message for a child you may be struggling. It can be hard to find the right words to wish a child a speedy recovery.
And kids get sick a lot. From the every day colds, bugs and earaches they inevitably pick up through to more serious illness, children have a habit of being unwell.
And in those cases you will probably want to send them a card or note to wish them a quick recovery and to feel better soon.
So use the get well quotes for kids found here to cheer up a child who is sick and offer them and their parents a few words of comfort.
Get Well Wishes for Kids
Hope you get well soon little buddy! Be brave!
I'm missing my brave little guy! You'll feel setter soon and when you do we will take you out and spoil you rotten! Love your granny and grandpa
Sending the biggest hugs to my special girl. Feel better soon my darling
It's horrible being sick but if you rest and do what the doctors say you'll feel better very soon
You're a tough little soldier and will beat any illness that tries to stop you! Looking forward to see you full of energy again
When you're feeling better I promise I will take you out to do whatever you want. Keep your chin up
Sending big hugs and kisses to my special little guy/girl. Hope you get well soon
From everyone of us in class 4B – wishing you well! Miss you!
We are going to get you the biggest present when you get well for being so brave and well behaved whilst sick!
I'm thinking of you my perfect grandson/granddaughter. Listen to your parents and rest as much as they say and you will get all better. Love you!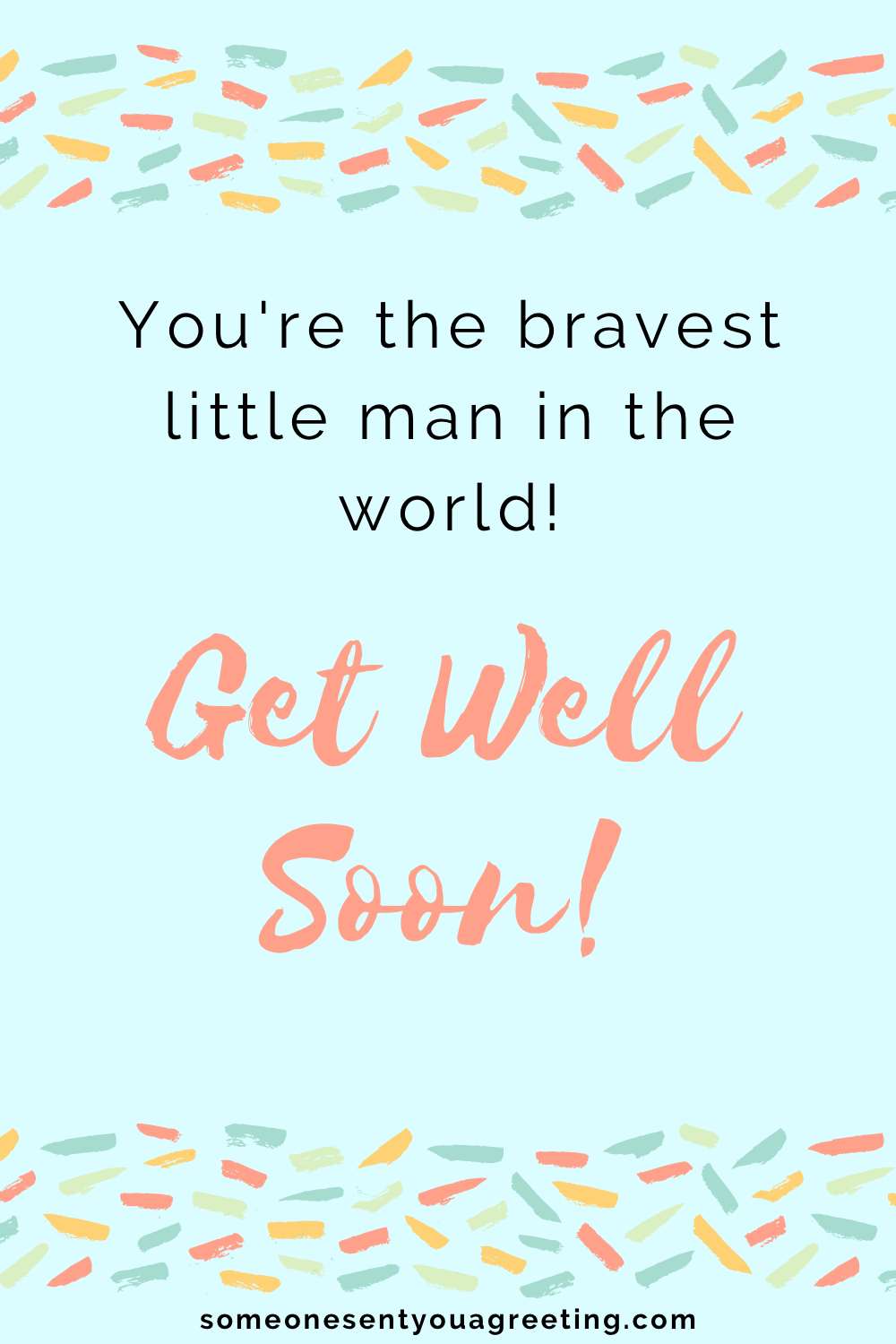 SEE MORE: Get Well Messages for Friends
Get Well Messages for a Little Boy
You're the bravest little man in the world! It's awesome to see you starting to get better!
You're a little trooper who's had to put up with so much. I'm really happy you're getting better
To our little superman – wishing you a speedy recovery!
Get well soon, kid! There's no one like you!
It'll be wonderful to see your lovely smile again, little man. Hoping you get well extra fast!
Sending happy thoughts to a little boy who deserves to be well again
Hoping you are feeling better soon and have all your energy back to cause lots of mayhem and mischief
My loving wishes to you my little man as you get better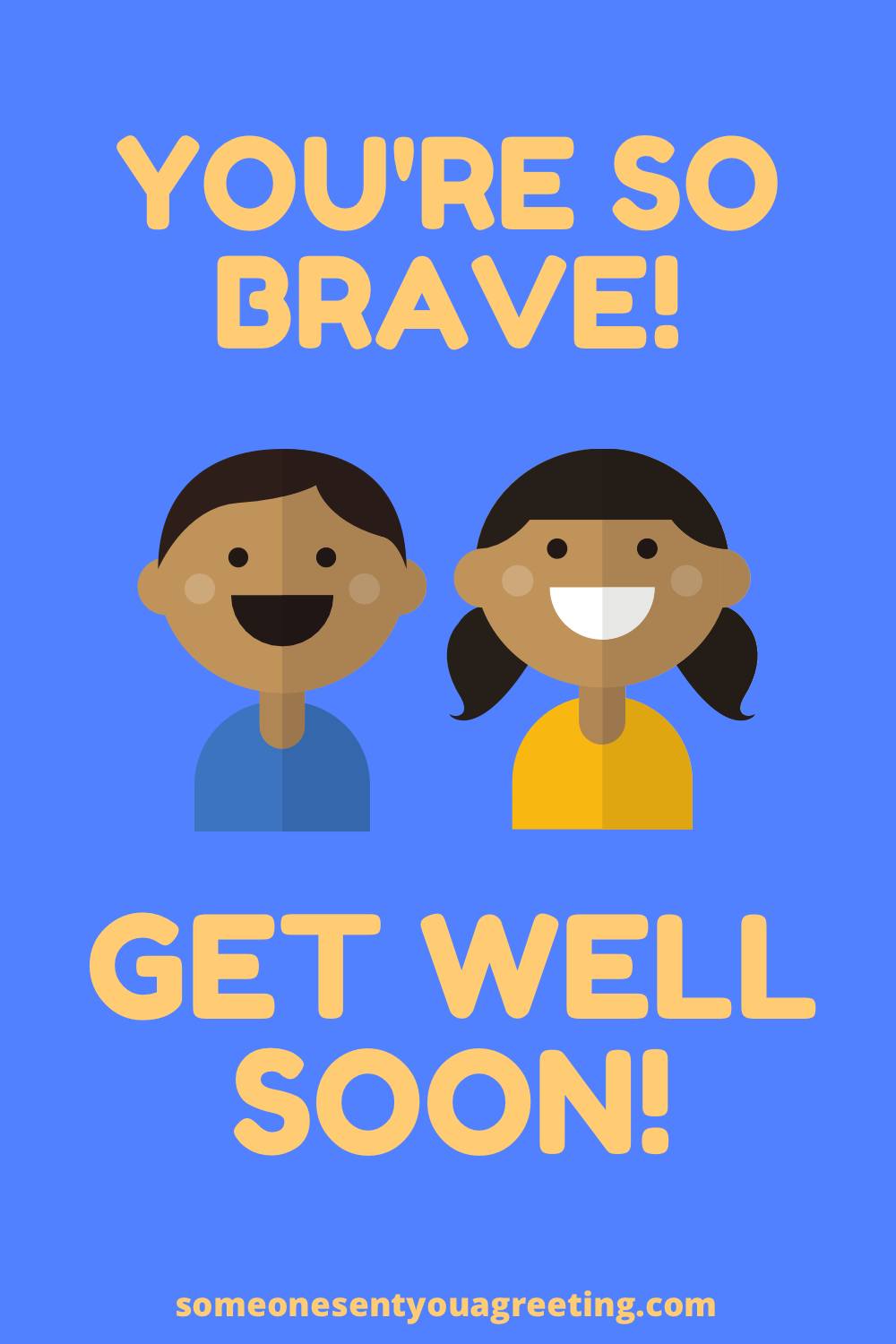 SEE MORE: 39 Funny Get Well Wishes and Messages
Get Well Soon to a Little Girl
You are a little angel and I hope we see your beautiful smile soon as you feel much, much better
I'll be sending angels to watch over and keep you well. Feel bette my darling
I want to see your beaming smile again. Please get well soon you little angel
Keep resting my little princess and everything will be right again soon
We love you so much little girl and hope you are going to be up and enjoying yourself soon
When you're well again we will take you out and let you do whatever you want! A little treat for being so brave
You've got such courage little one. It won't be long until you're well again
Sending you lots of love and kisses for a speedy recovery
SEE MORE: Get Well Wishes for Cancer
Get Well Wishes for Child after Surgery
To our little superhero – you did so well! I hope you're recovering well from the surgery and will be able to come home very soon
I know you are probably still feeling sick after the surgery but you're through the worst of it and can now start to get better. We will have lots of presents for you when you come home!
We can't wait to see you back at school! We miss you! Well done in your surgery
Congratulations! No more hospitals or horrible surgery! You can enjoy being well again, and you deserve it
No one is more special to me than you and I'm so happy you're getting better after your surgery
It won't be much longer now. Just a little more resting and you'll be able to come home and enjoy playtime again
Now you're through your surgery you can come home and see all your friends again. It's going to be so much better now!
Sending my love, kisses and hugs for how brave you were!
I know how hard it's been for you but after your operation you're going to feel much better and get to have lots of fun again. You did so well, kiddo!
You are the strongest little guy/girl I know! Well done on getting through your surgery
SEE MORE: Get Well Wishes for After Surgery
Get Well Wishes for Parents of Sick Child
I can't imagine how hard this is for you but know you are in our thoughts and we are wishing your baby girl all the best for her recovery
Wishing you better days ahead and for ______ to feel better soon
Sending our love and letting you know we are here if there is anything you need. We will have our fingers crossed for good news
Our prayers are for you during this time. We hope your son makes a full recovery
Absolutely delighted that your little boy/girl is on the mend and starting to feel better. Give them my love
You are in our thoughts and prayers during such a terribly difficult time. I know how strong your little boy/girl is and I'm sure they're going to be fine
We send our love and best wishes to you and your whole family. May better days be just around the corner
I hope you're coping during an incredibly difficult time and if you need someone to talk to or listen then I'm here for you
May your child feel better soon and make a full recovery
I am thinking of you and praying for your babies recovery. I know she/he is a real fighter
When a child is sick it can be harder to communicate with them. But they will still respond to a get well card or message.
Hopefully these get well messages for kids will have helped you find the right words to let wish a child well and a speedy recovery.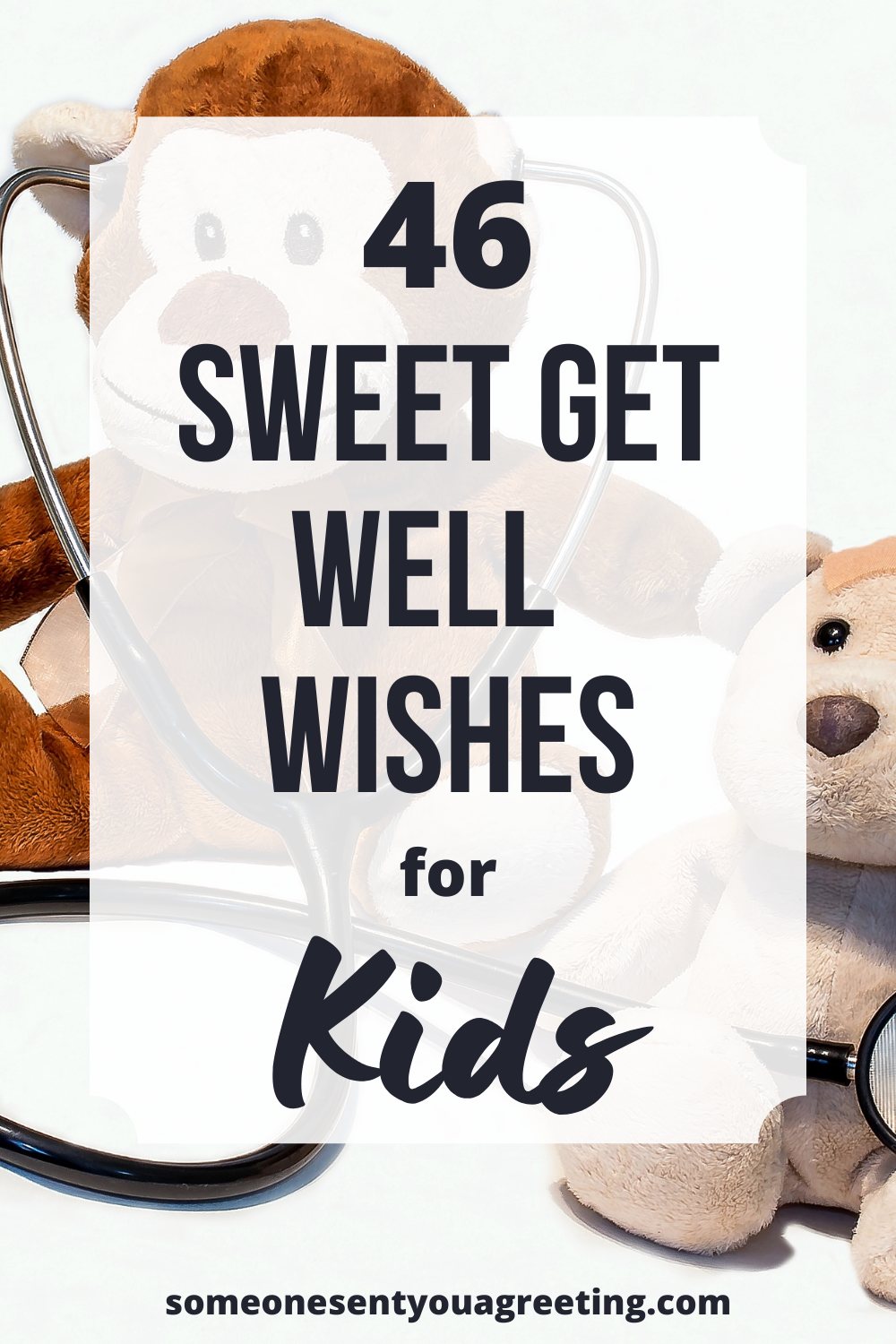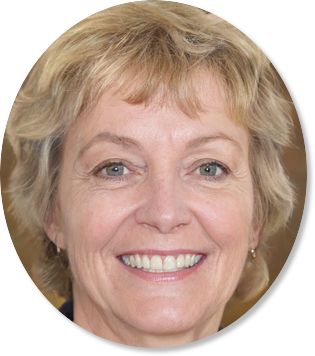 Sally Gibson is the founder of Someone Sent you a Greeting, a holiday/celebration website. Sally's writing work has been mentioned in Woman's World, Yahoo, Women's Health, MSN and more. If you have any questions get in contact with one of the team via the about page.