Is someone you know sick or injured and you want some get well messages for a friend to write in a card? Or do you need help finding the perfect words for a get well soon message to friends?
Then keep reading!
A friend who is sick can be a worrying time. Depending on how unwell they are of course. If it's just a cold then not so much! But either way it is nice to wish them well and a speedy recovery.
But in order to help you find the right words we've put together this list of the best get well wishes for friends.
Writing get well messages are harder than they might first seem. It's not easy to truly express how you're feeling or find words to comfort a friend whilst they are sick.
When someone is feeling unwell receiving a get well card or gift can be a real boost and bring some needed cheer to a miserable situation.
So use the friend get well messages and quotes below to help you let a pal know how sorry you are they're feeling sick and to wish them a full and speedy recovery.
Get Well Messages for a Friend
I'm really sorry you're feeling sick. You're in my thoughts all the time and I'm wishing you a speedy recovery. Get well soon my friend!
To my best friend – wishing you a quick recovery and increasing strength as every day passes. I'll always be here if you there anything you need
I checked your doctor's prescription and it was missing the most important medicine of all – the company of your best friend! Get better soon!
True friends are there for each other when they need them, and I'm here for you now and always will be. Get well soon
Sending my loving best wishes for you to keeping feeling that little it better each day. Get better soon!
Remember that you aren't alone. Everyone, including me, are thinking of and praying for you to get well soon. All my love
I may not have a medical degree but I do have friendship's healing touch. Get well soon!
Wishing you healthy thoughts and sending my love for you to fight your sickness and be back to your old self as soon as you can
Everyone is missing you and hoping for a pain free recovery. We all send our love and can't wait until you're back on your feet again. Get better soon!
I know being sick is no fun but keep resting and you'll be feeling much better soon, I promise. Until then I'll make sure to stop by to see how you're doing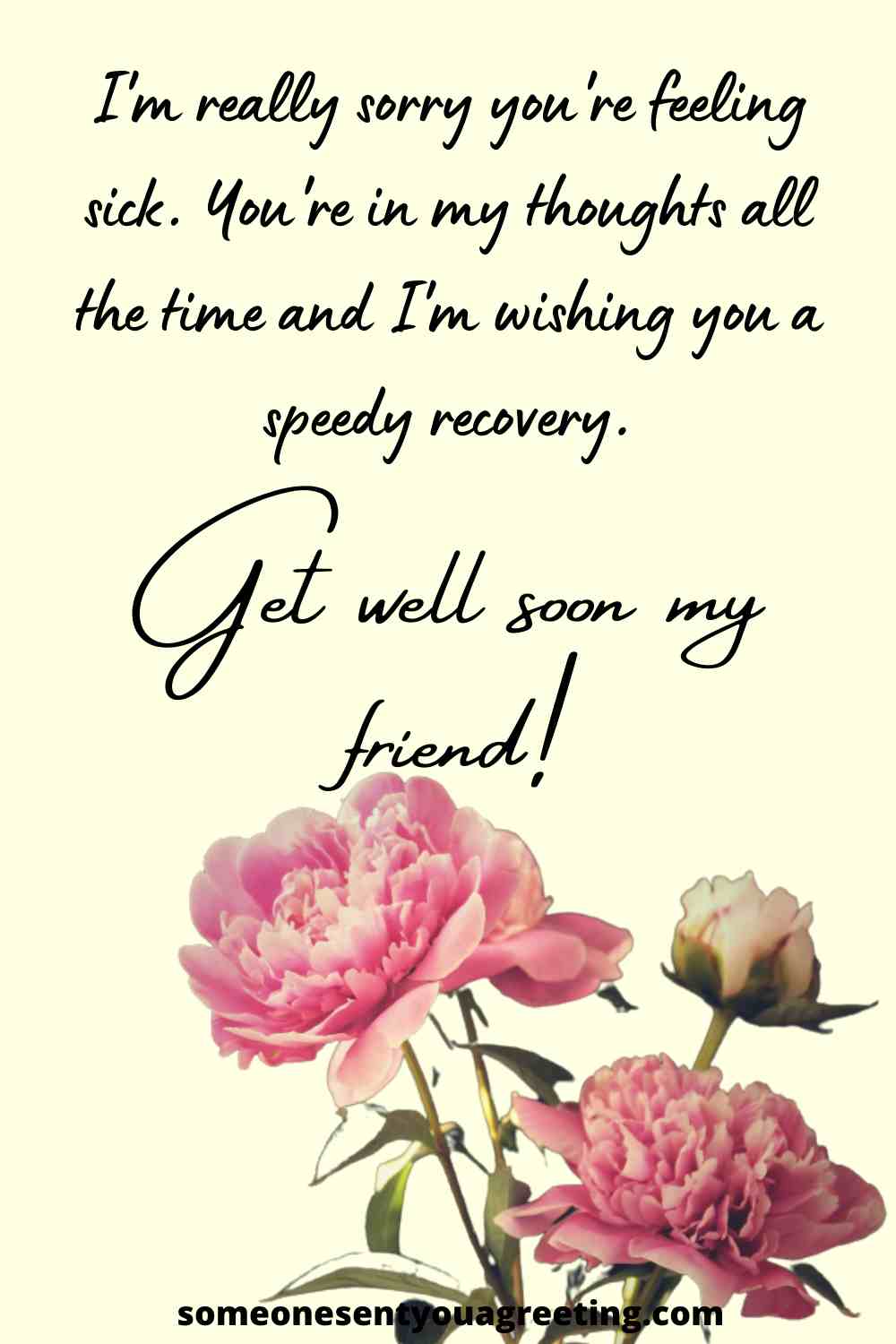 SEE MORE: Get Well Wishes for Coworkers
What do you Write in a Get Well Card to a Friend?
Big hugs and wishes for you to get well soon
Hoping you start to feel better real soon and enjoy a speedy recovery
Take each day as it comes and it won't be long before you're feeling your old self again
I'm really sorry you're feeling so sick. You are in my thoughts and wishing you well
You've always been there for me and I will always be there for you. Get better soon, pal
Sending you sunshine to brighten your day and warm wishes for a quick recovery
Wishing you healthy thoughts for a full and fast recovery
This is just a quick note to let you know how much I cherish you and hoping you get well soon
I hope these flowers will cheer you up and help you feel better soon
I care about you so much and wish you improved health in the coming days and weeks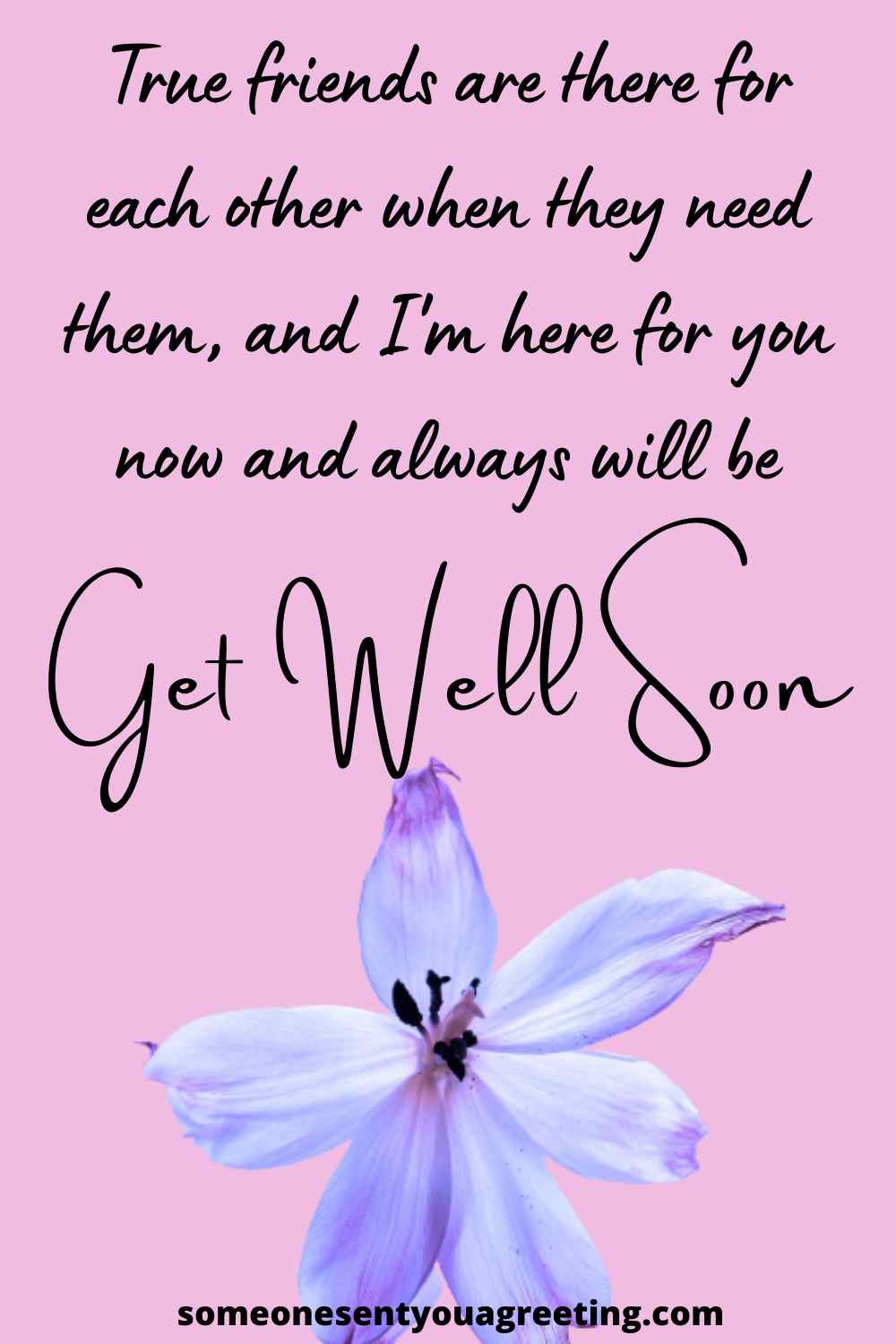 SEE MORE: Get Well Wishes for Cancer
Recovery Wishes for a Friend
As you make your recovery may you feel the love and compassion from all your friends. Wishing you better health and getting back to doing all your favorite things soon
Your strength is so impressive and I know you will be making a full recovery and feeling fighting fit again very soon
Very sorry to hear you're not feeling well. Hoping you get your spark back again as soon as possible
Every day brings you closer to a your recovery. Just keep going and you'll be well again and enjoying life in no time!
We care about you so much and will be thinking of you as you're under the weather. Wishing you all the best as you get well
Use the love and strength of your family and friends for comfort and healing. May you feel better very soon
Recuperating isn't a fast process. Take your time, rest and listen to your body. We'll all be looking forward to seeing you soon
I hope knowing your friends are thinking of you will bring you some comfort whilst you're feeling sick
Thinking of you and sending my love for a fast recovery
Missing my good friend and counting down the days until we can get together again. Get well soon!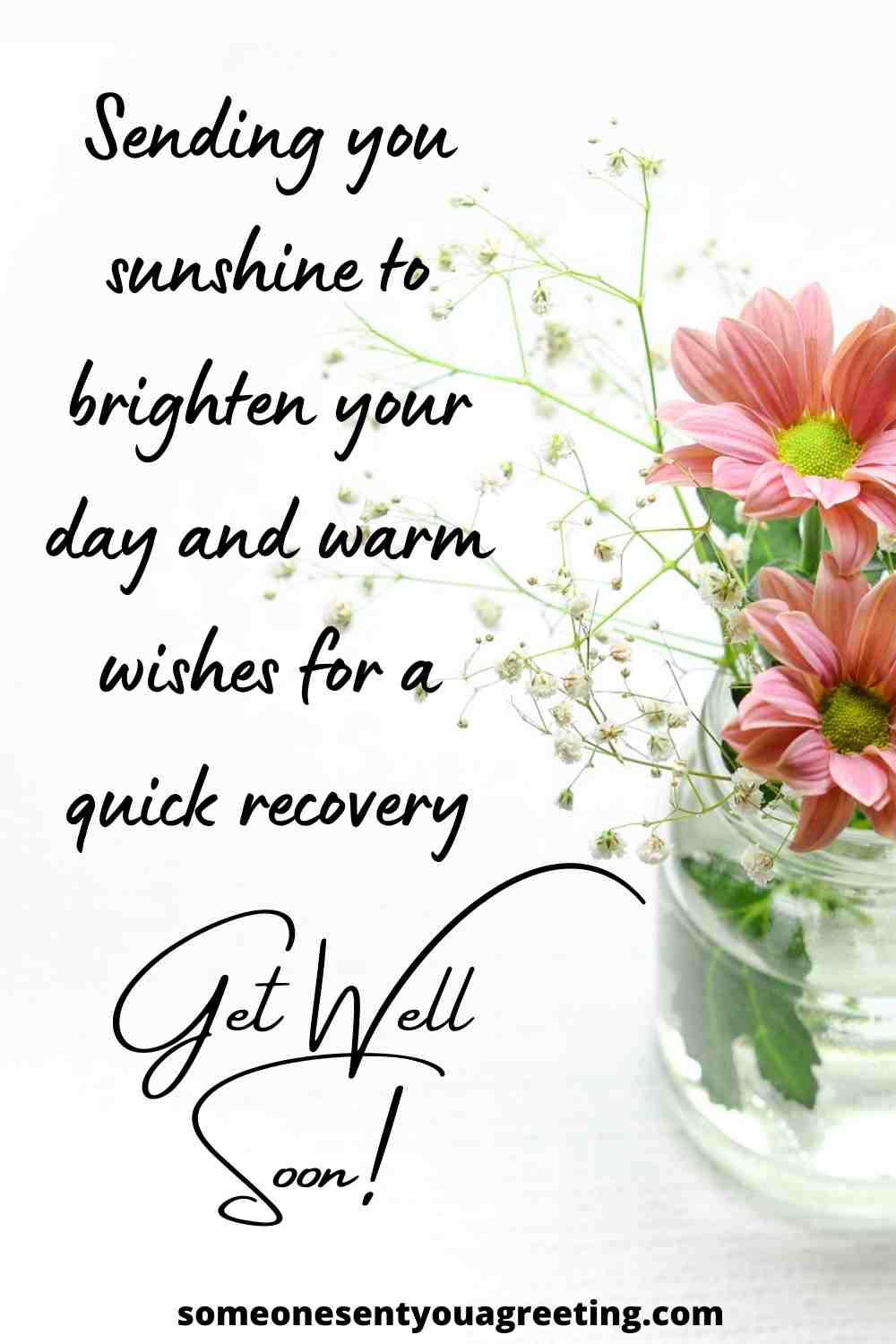 SEE MORE: Get Well Wishes for Teachers
Get Well Wishes for Best Friend
To my best friend in the world – hopping you feel better really soon! I'm missing you loads
You mean the world to me and remember that you're not alone. I'm always going to be here for you. Get well soon
Sending my bestie big hugs and wishing you a very quick recovery! Love you!
We've known each other for years and always stood by one another's side. Together we'll get through this and I know you'll be well again soon
Wishing my best friend in the world lots of love and healthy thoughts. I hope you better really soon
I hope a message from your best friend (me!) helps you to feel a bit better and brings a smile to your face
All you need is the comfort of the warmest blanket known to mankind – Friendship. I'll always be here, get well soon
I'm lost without you and sending all my best wishes and positive vibes for you to be on the mend really soon!
Wishing and praying for your swift recovery. We'll celebrate you getting better with a big get together
SEE MORE: Get Well Wishes for Boss
Inspirational Get Well Messages for Friends
You can beat this! Stay strong and it will only be matter if time before you're feeling better again
I can't begin to understand how hard being sick is for you but I know you will get through this and come out the other side stronger
I understand you're probably feeling a bit down but all your friends are thinking of you and wishing you healthy thoughts. Sending my love
You will beat this. You can overcome anything. Just stay positive and you'll be feeling better in no time
Keep your chin up and let your friends be there for you when you need us. It won't be long before you're back to full health
You are an inspiration. Your bravery and the courage you show fighting this is so amazing. I am always thinking of you. Get well soon
You have the strength to beat anything that comes your way. With a spirit like yours no illness can stop you. Get well soon, pal
I wish I was a magician so I could make you fit and healthy with the wave of a wand! Get well soon
It's just a matter of resting and time. Healing doesn't happen instantly but I know it won't be long until you're fighting fit once more
The way you have dealt with being sick is so inspiring. We all wish you a speedy recovery and to feel better very soon
SEE MORE: Get Well Wishes for After Surgery
Funny Get Well Messages for Friends
I'm so lucky to have a friend like you. So please get better soon, it would be a nightmare to try and replace you!
I don't want to boast but I can give you something the doctor can't – warm hugs and precious smiles. Get well soon
Please get well soon. I can only be nice to you for so long!
I hope you like this get well card. And I definitely didn't get you it so I wouldn't have to shake your hand or give you a hug while you're still sick
Your stupid illness is robbing me of attention! Get well soon
I know you wanted some time off work but this was a bit extreme!
Germs, just like everyone else, find you irresistible!
Get better soon. I would visit… but I really don't want what you have
Studies have shown that those who receive get well cards have an 80% faster recovery rate
I hope you feel better soon! But until then please keep a safe distance!
SEE MORE: Funny Get Well Wishes and Messages
When someone you're close to is sick it can be a hard tune for them. So the support and love of friends become really important.
Hopefully these get well wishes for friends will have give you some ideas of how to wish your friend a speedy recovery.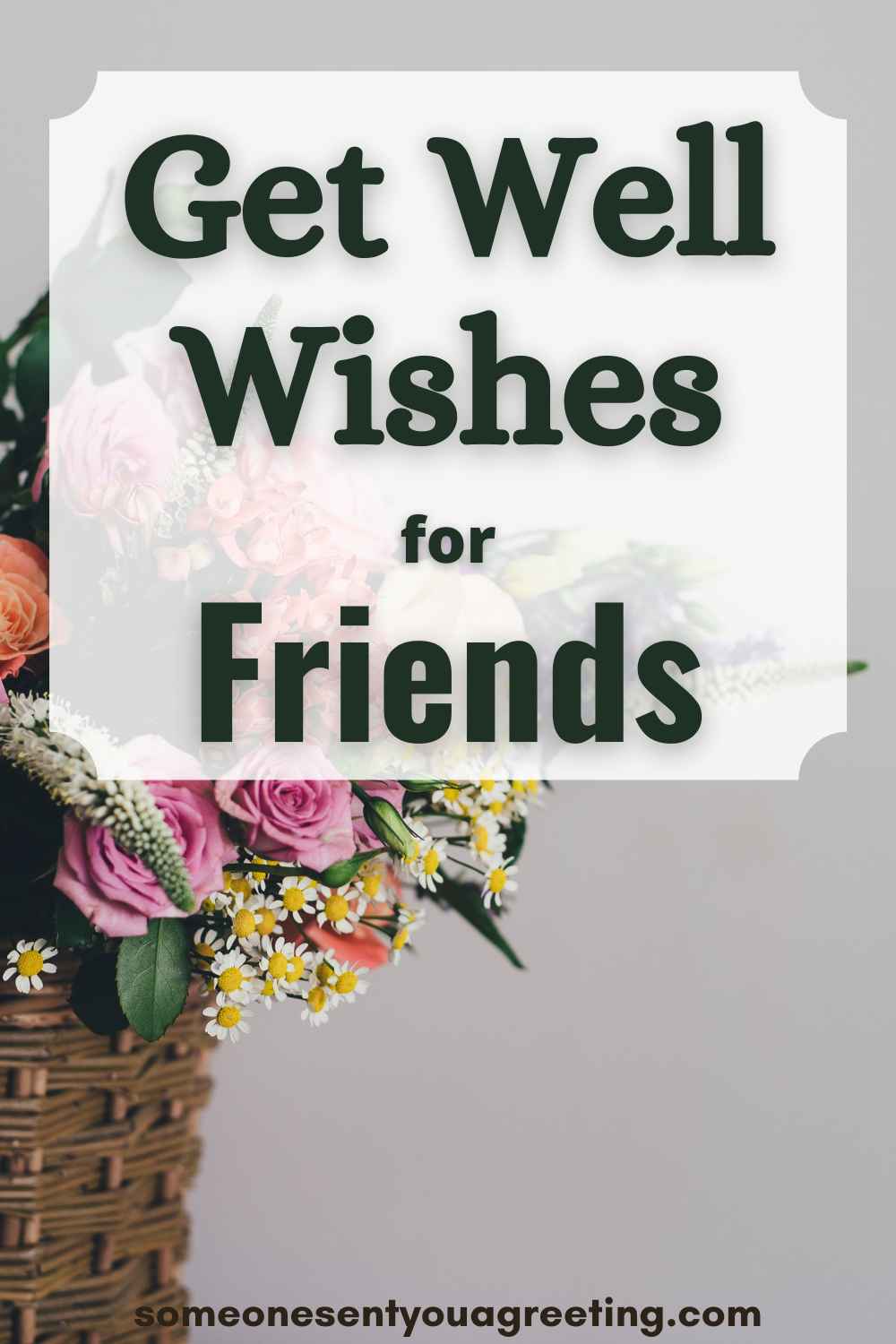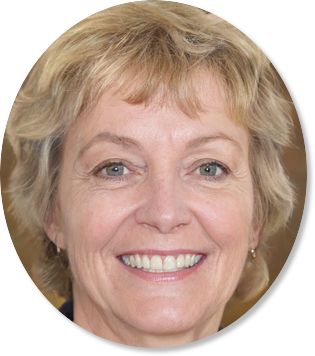 Sally Gibson is the founder of Someone Sent you a Greeting, a holiday/celebration website. Sally's writing work has been mentioned in Woman's World, Yahoo, Women's Health, MSN and more. If you have any questions get in contact with one of the team via the about page.