When we're sick or injured it's nurses and doctors who come to our aid. So we owe them a lot. And the least we can do to show our appreciation is wish them a happy retirement when they retire.
If you know a nurse who is about to retire then you may be looking to send your best wishes or offer your congratulations. After a long career of nursing and helping people they deserve a relaxing and happy retirement.
But what do you say to a nurse who is retiring? It can be tough finding the right words to wish a nurse a happy retirement.
So if you're struggling then these retirement messages for nurses should give you some ideas and inspiration for coming up with your own retirement wishes.
Retirement Messages for Nurses
Your devotion to your job and the kindness you show your patients is a testament to the wonderful person you are. You deserve a long and happy retirement
Nurses are often unsung heroes who don't get the credit they deserve. You have been so inspiring and I hope you get to enjoy your retirement with friends and family
Wishing you a happy retirement. No one deserves a break more than you after so many years of putting others ahead of yourself. May your retirement be a very happy time for you
Congratulations on your tremendous career as a nurse. Thank you for the years of tireless and selfless service helping those who needed it the most. Wishing you all the best for the exciting new chapter of your life. Happy retirement!
You have been so brave and hard working throughout your years as a nurse. Not many could do what you do and I know we are all so proud of you. Congratulations on your retirement and may you find only happiness in the next phase of your life
Everyone at the hospital is going to miss you so much. But we're really happy for you and hope you enjoy your retirement and the chance to spend tune with family and friends
We will be hoping you'll come back and visit us at the clinic from time to time! Don't forget your old colleagues! After so many years of hard work you really do deserve your retirement. Congratulations!
I just wanted to thank you for the amazing care and compassion you showed your patients over the years. I wish you nothing but love and happiness in the years to come. Enjoy your retirement
Saying farewell is always hard but as you retire today after spending so many years looking after those less privileged than yourself I know you've done more than most to make a difference. You will be missed
Good luck in the future with whatever you choose to do. You will be deeply missed and very hard to replace. Enjoy your retirement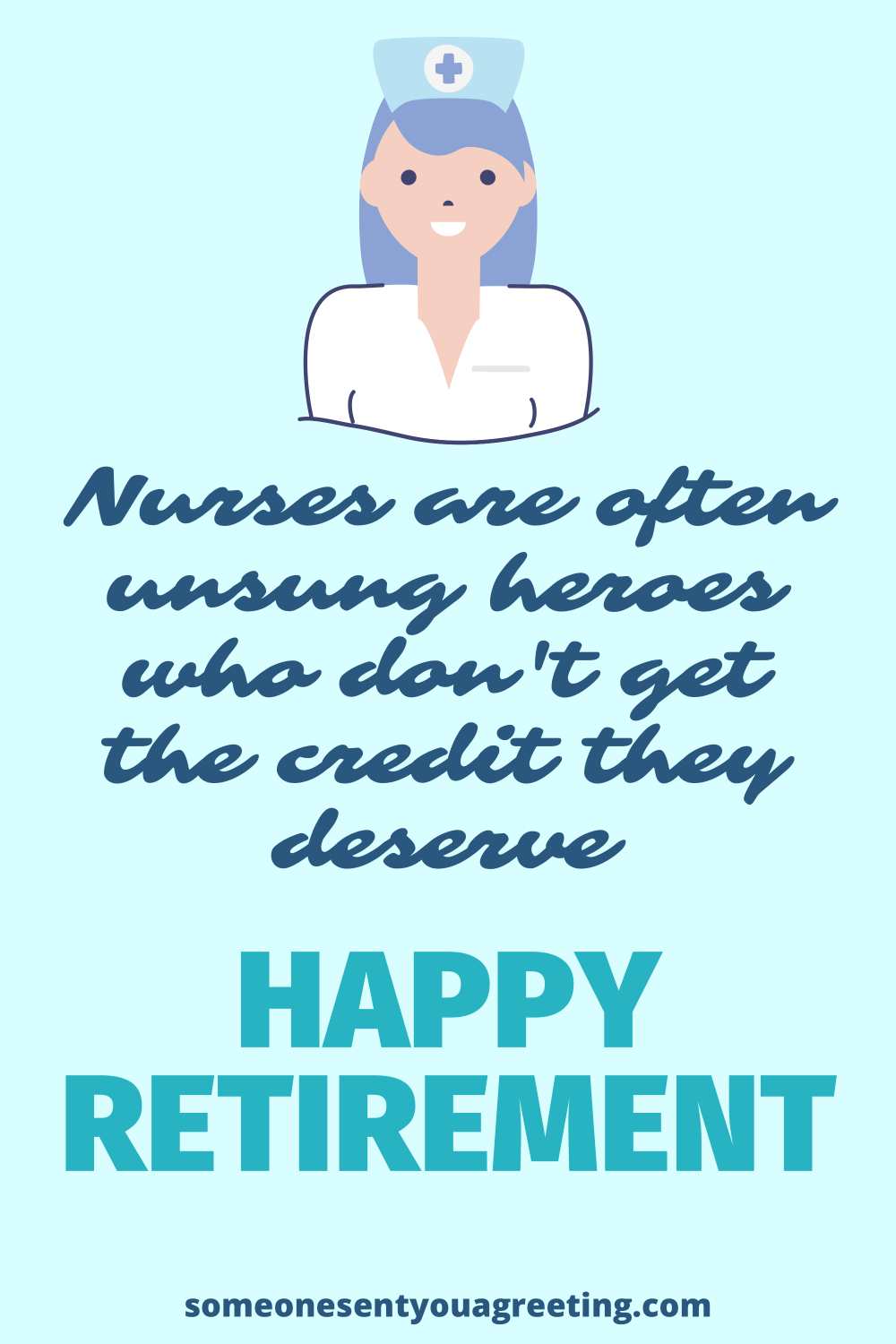 SEE MORE: Retirement Wishes for Coworkers and Colleagues
Retirement Wishes for a Nurse
We are celebrating the major milestone that is your retirement. Wishing you all the best as you enjoy some hard earned time off. Congratulations!
I wish you a very long and happy retirement. Thank you for all the time and effort you gave that went above and beyond when looking after patients. Enjoy your freedom and a lovely rest
You have been and are still such a caring and diligent nurse. I know your patients will miss you. Congratulations on your retirement though and all my best wishes for whatever comes next
I know we haven't worked together for long but in just a short space of time I've seen what a wonderfully caring nurse you are. You are going to be missed deeply by all of us. I do wish you a very happy retirement though, and hope you get to enjoy some time to yourself
Sending my best wishes for a really great retirement and hoping you get to enjoy the free time it brings with it
I wish you the peace and happiness retirement brings lasts forever and you are free to do as you please from now on. Enjoy yourself
May retiring and the major milestone of life it represents bring you many more adventures. Congratulations and good luck
Congratulations! I hope this new journey you're about to embark on is filled with fun and good times. Wishing you a fantastic retirement
As you finish your final days nursing I hope your retirement turns out just how you have always imagined it. You are a hero to me and so many others. We all wish you a very happy retirement
Sending my love and best wishes for you to have a wonderful retirement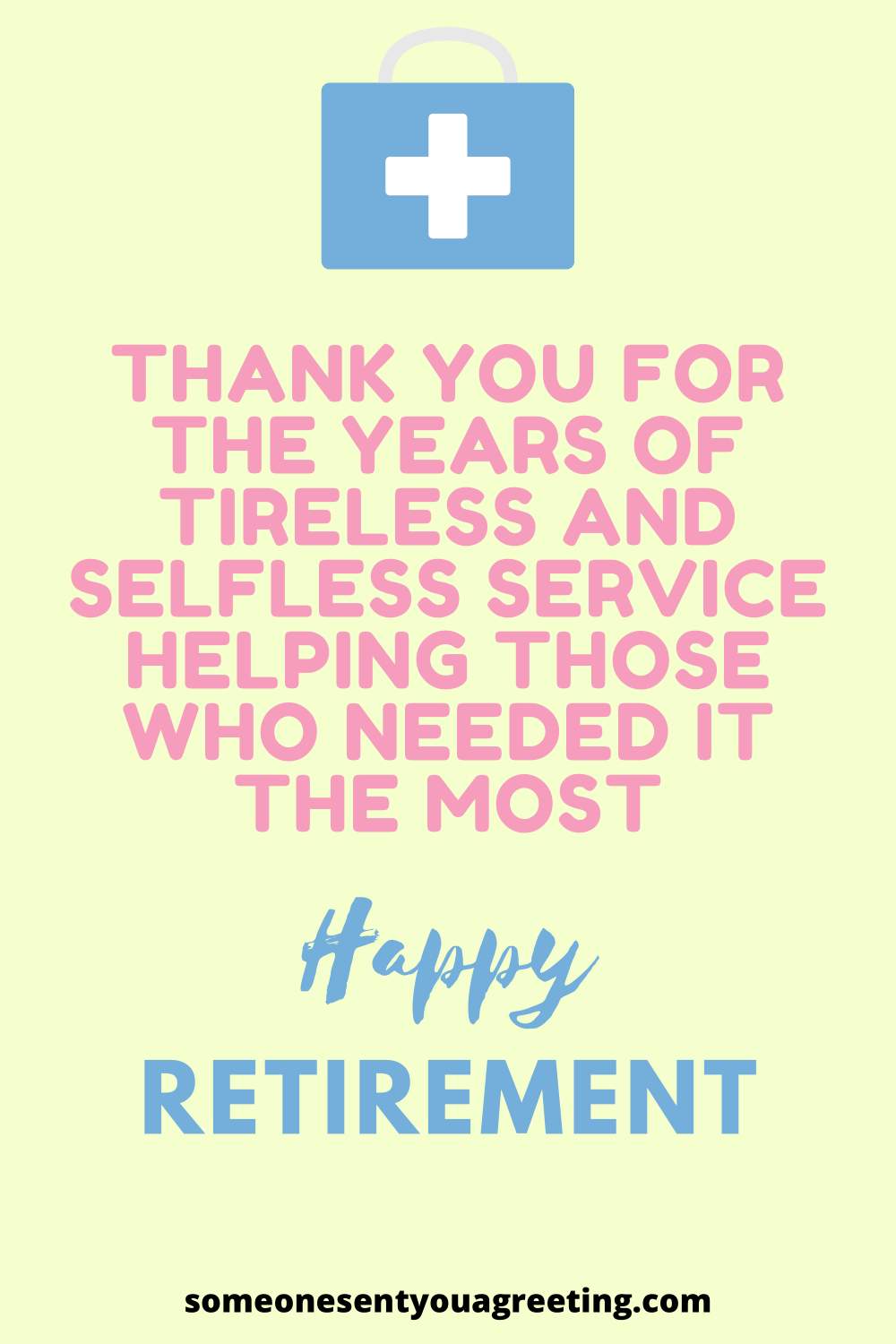 SEE MORE: Retirement Wishes for Friends
Funny Retirement Quotes for Nurses
Retirement is just a never-ending vacation! Lucky you!
I would like to extend my condolences to your employer for the devastating loss. Happy retirement!
This place won't be the same without you. In case you're wondering, that's a compliment
Can you say Senior Discount? Hope you enjoy all the perks of retirement
Retirement adds 5 days to your weekend! Enjoy it!
SEE MORE: Funny Retirement Messages and Quotes
Retirement Wishes to Nurses from Employers
Thank you for the sacrifices you have made to treat others and your help in keeping the clinic running. We wish all the best and good luck for the future. Enjoy your retirement!
We are immensely proud of all the nurses we employ and you are no exception. As you finish your service you can retire knowing you helped many lives and brought comfort to those who needed it. You were an outstanding nurse and we are sorry to see you go. Have a happy retirement
Thank you for your embodying what we wanted to achieve at this hospital and always representing us with honour. We say goodbye with the utmost respect and wish you all the best for wherever life takes you next
Your dedication and commitment to our nursing home has been second to none. You leave with our warmest wishes for a happy retirement
As you retire we wanted to commemorate what an inspiring employee you have been. We can't think of anyone more dedicated to nursing than you have been. You can retire knowing you made such a difference to your patients lives. Congratulations and we hope you enjoy what retirement brings
We wish you well for your retirement and thank you for your unwavering service. We won't forget you and the amazing care you provided
It is with great distinction you retire. Your legacy as a nurse is clear for all to see and your patients will remember you with fondness for your warmth. We wish you well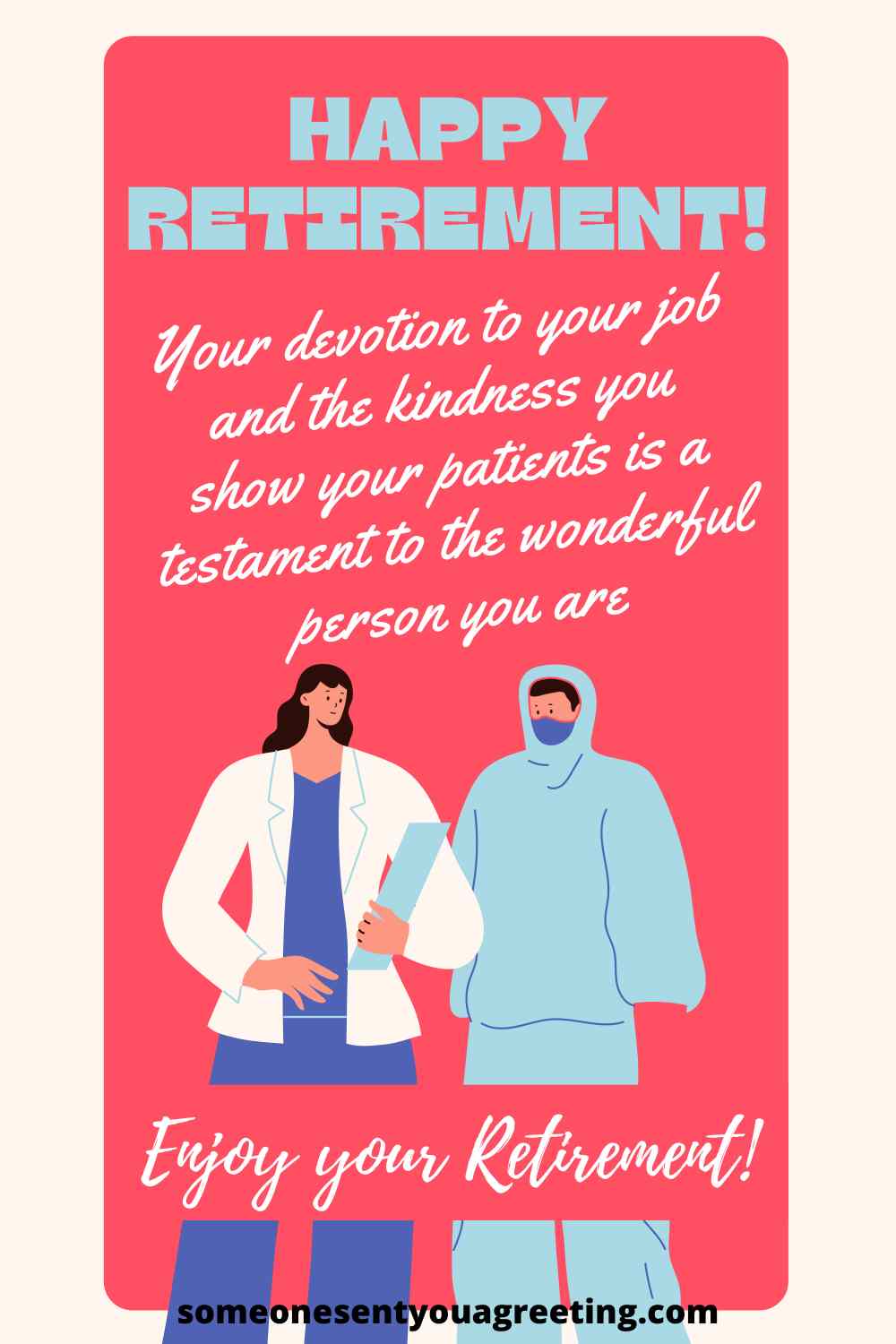 SEE MORE: Retirement Messages for Employees
Nurses are so beloved and special to us for all they do that when one retires you it's right to pay tribute to all they did.
Hopefully these retirement messages for nurses will have helped you to offer your best wishes and thanks for their care as they retire.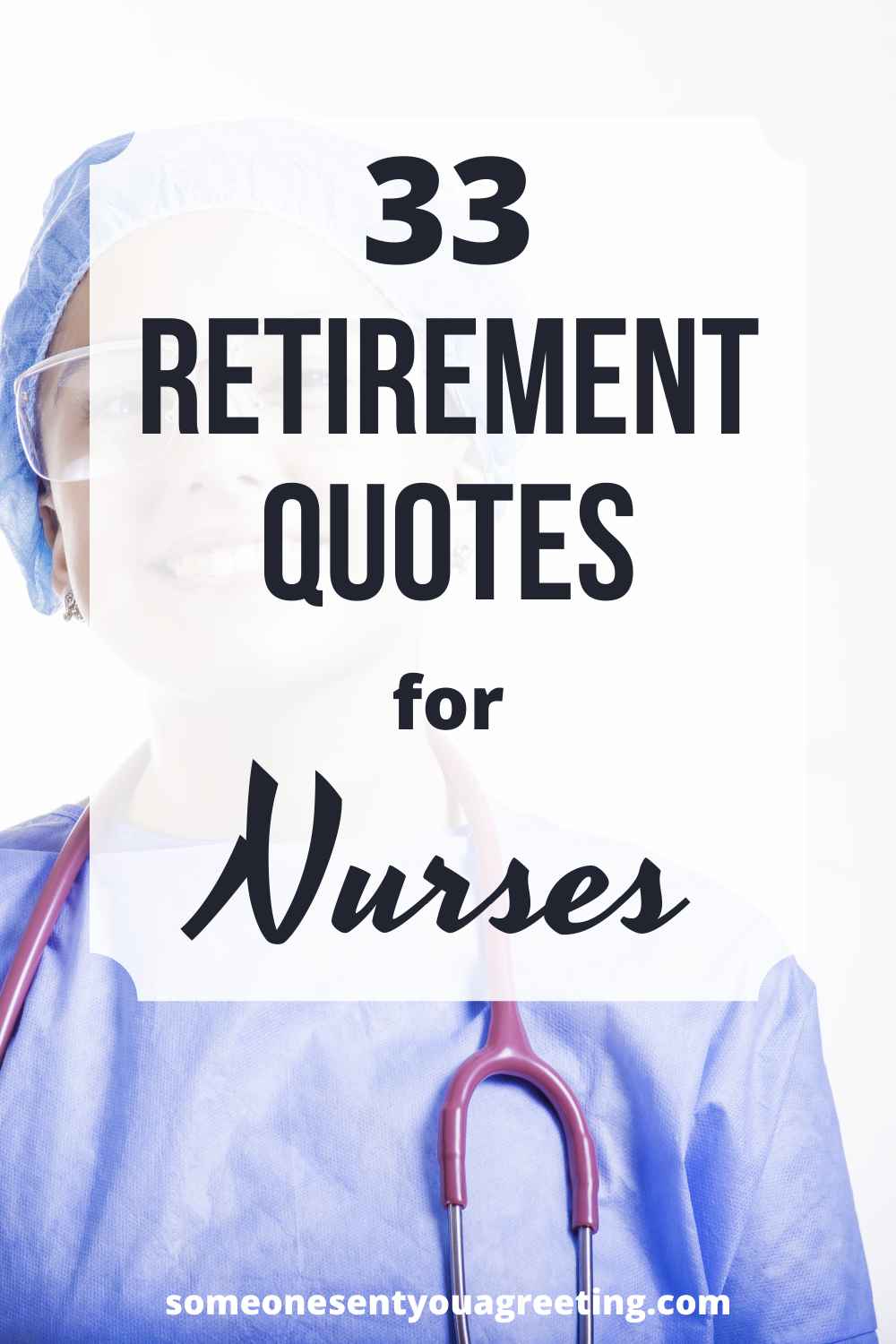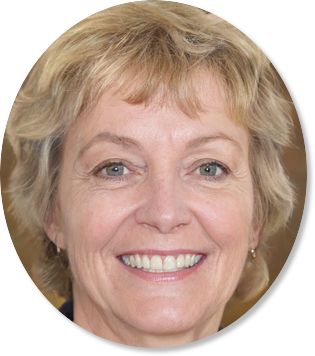 Sally Gibson is the founder of Someone Sent you a Greeting, a holiday/celebration website. Sally's writing work has been mentioned in Woman's World, Yahoo, Women's Health, MSN and more. If you have any questions get in contact with one of the team via the about page.