Broken bones from an injury or accident are not that uncommon. But that doesn't mean they aren't serious, and the person suffering from them will be dealing with the pain and recovery involved.
When you're recovering from a broken leg, for example, it's nice to receive get well messages or cards from friends and family. Everyone likes to know they're being thought of us whilst sick or injured.
And getting some touching or sweet get well soon wishes can help to make the recovery period not seem quite so bad.
So if you know someone with broken bones then you are probably going to want to send them a get well soon message. Just to show you're thinking of and care about them.
If that's the case then use these example get well wishes for broken bones to let whoever is recovering know you're thinking of them and want them to have a speedy recovery.
Get Well Wishes for Broken Bones
Really sorry you've suffered a broken bone. Do what the doctors say and rest. It'll be healed in no time
You always were accident prone! Get well soon my friend and be more careful next time
I know how painful a broken bone can be so understand how you're hurting. It gets better though and and as long as you rest it'll heal and be as good as new
If there's any help you need whilst you're healthy don't hesitant to ask. I'll always be here. Get well soon
I was really worried when I first heard about your accident. I'm so relieved you're alright, but do the right thing and take it easy to let those broken bones heal
You've had a nasty injury and now need to take some time to heal. I'll be here for support and help when you need it. Get well soon
The pain will fade and the bones will heal. Just take it easy and let your body recover. Hoping you feel better soon
I have never broken any bones so I can't understand what you're going through but I do know you will need your friends to help you get better. Lean on us for support.. both figuratively and literally!
May your bones heal quickly and you find the strength to overcome your accident. Feel better soon
Get better soon you clumsy fool! You scared me half to death when you injured yourself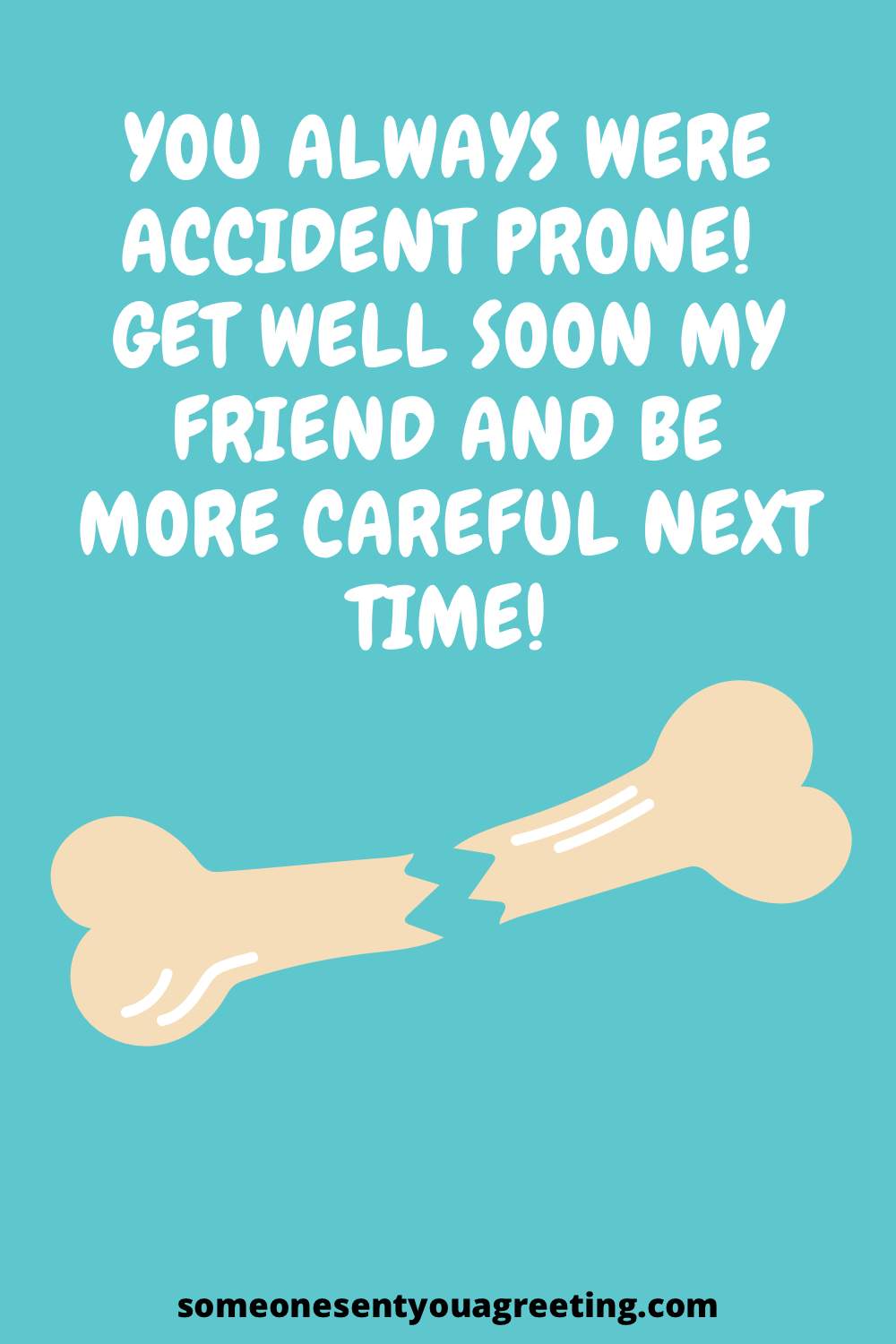 SEE MORE: Get Well Wishes for After Surgery
Get Well Soon Messages for a Broken Leg
So sorry to learn of your accident and broken leg. I hope it heals quickly and you're up and about again as soon as you can be
I'm praying for your leg to heal very soon! Keep resting!
Try not being so clumsy and things like this wouldn't happen! I hope that leg gets better soon
Sending positive thoughts for a speedy recovery from your broken leg
Hoping those leg bones knot together cleanly and quickly! Get better soon
Really sorry you've broken your leg but glad to hear it's healing well. Enjoy the rest and take it easy until it's all healed!
I was really worried when I learned of your broken leg. It's good news it isn't too serious though, but that doesn't mean you shouldn't rest as much as you can so it will heal properly. Get well soon, pal
Wishing you and your broken leg and speedy recovery!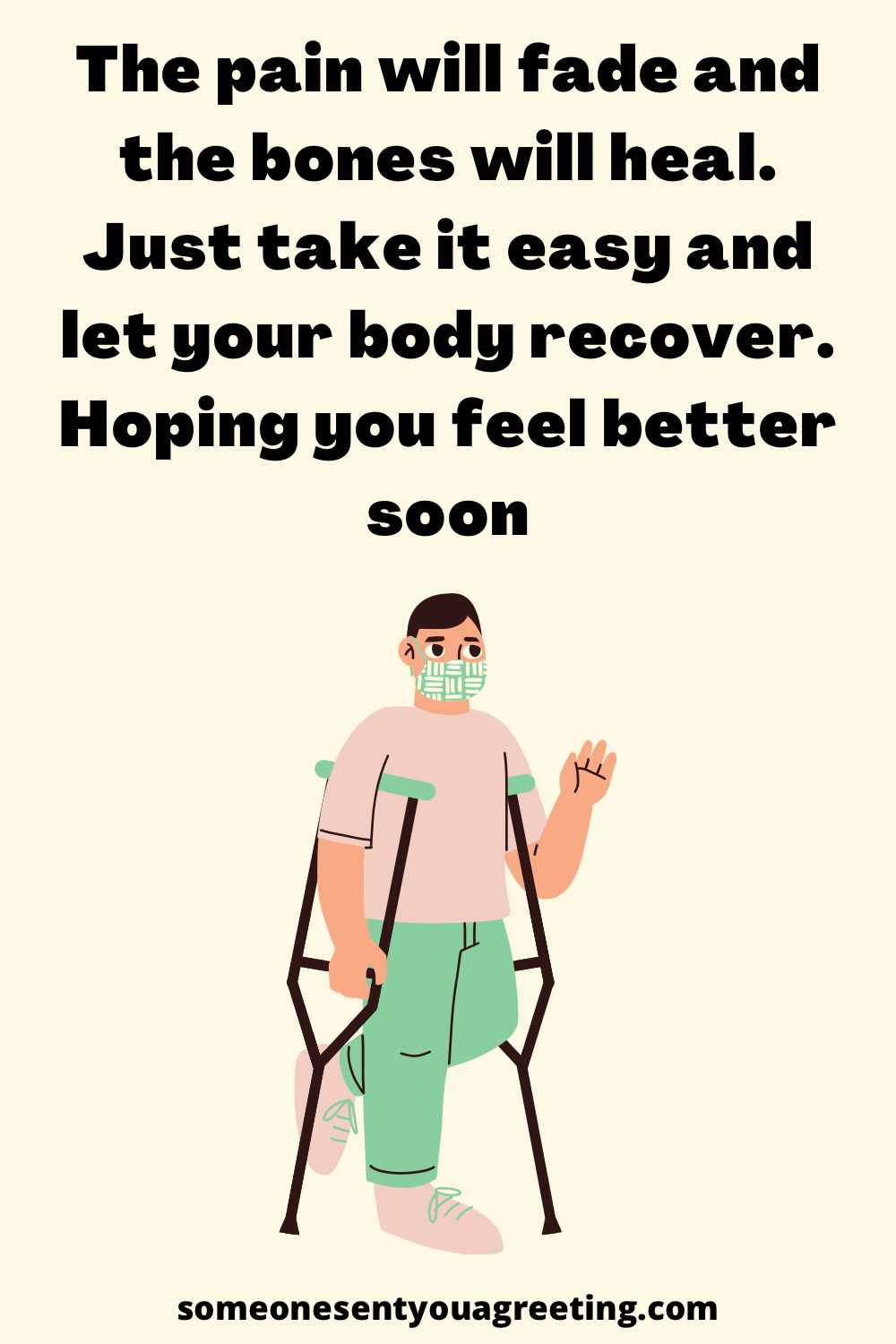 SEE MORE: Get Well Wishes for Friends
Get Well Soon Wishes for a Broken Arm
I guess we won't be high fiving much for the time being! Feel bette soon
Wishing you better days ahead as you recover from a nasty fall and broken arm
If you fall off your bike there's a good chance you'll hurt yourself! A broken arm will always be a reminder to pay more attention. Hope it gets bette quickly
May your broken arm heal well and cause you no pain. Get well soon
Don't worry, just avoid using your arm and it will heal and be as good as before. Hope you feel better soon
My prayers and thoughts will be for your broken arm and it's fast recovery. Take care
Sending you my best wishes for your arms quick healing. Get better soon friend
Rest your arm and let it heal! That means no arm wrestling, playing tennis, or push ups!
SEE MORE: Get Well Wishes for Kids
Get Well Soon Message for a Broken Foot
I was going to say rest but I don't see you going many places on a broken foot! Get better soon
I can only imagine how painful a broken foot is. I hope it heals quickly and you're feeling better soon
I'm feeling sad you've injured your foot but glad to know it's healing and you're getting better. Don't rush it and take as long as you need
Hoping your foot gets better soon and your recovery is pain free
No more soccer for you! Get well soon and keep off that foot
I hope this get well soon card cheers you up a bit as your foot heals
Here's to your foot and all it's broken bones healing fully. I hope you feel better very soon
Dancing might be off the table for a few months! Keep resting that foot and it'll be healed soon, I'm sure
SEE MORE: Get Well Wishes for Grandfather's
Get Well Wishes for a Broken Wrist
I really do hope your wrist heals well and doesn't take too long. Wishing you well
I hope your wrist isn't hurting too much and your bones heal in quick time
May your wrist heal and give you no more pain or problems. Get well soon
I must remember not to wave to you at the moment! Get well soon
Wishing you and your wrist a full recovery and no more pain
I hope your wrist isn't hurting too much and it is starting to heal and get better. Wishing it and you a speedy recovery
Get well soon pal and don't use that wrist for a while, if you can!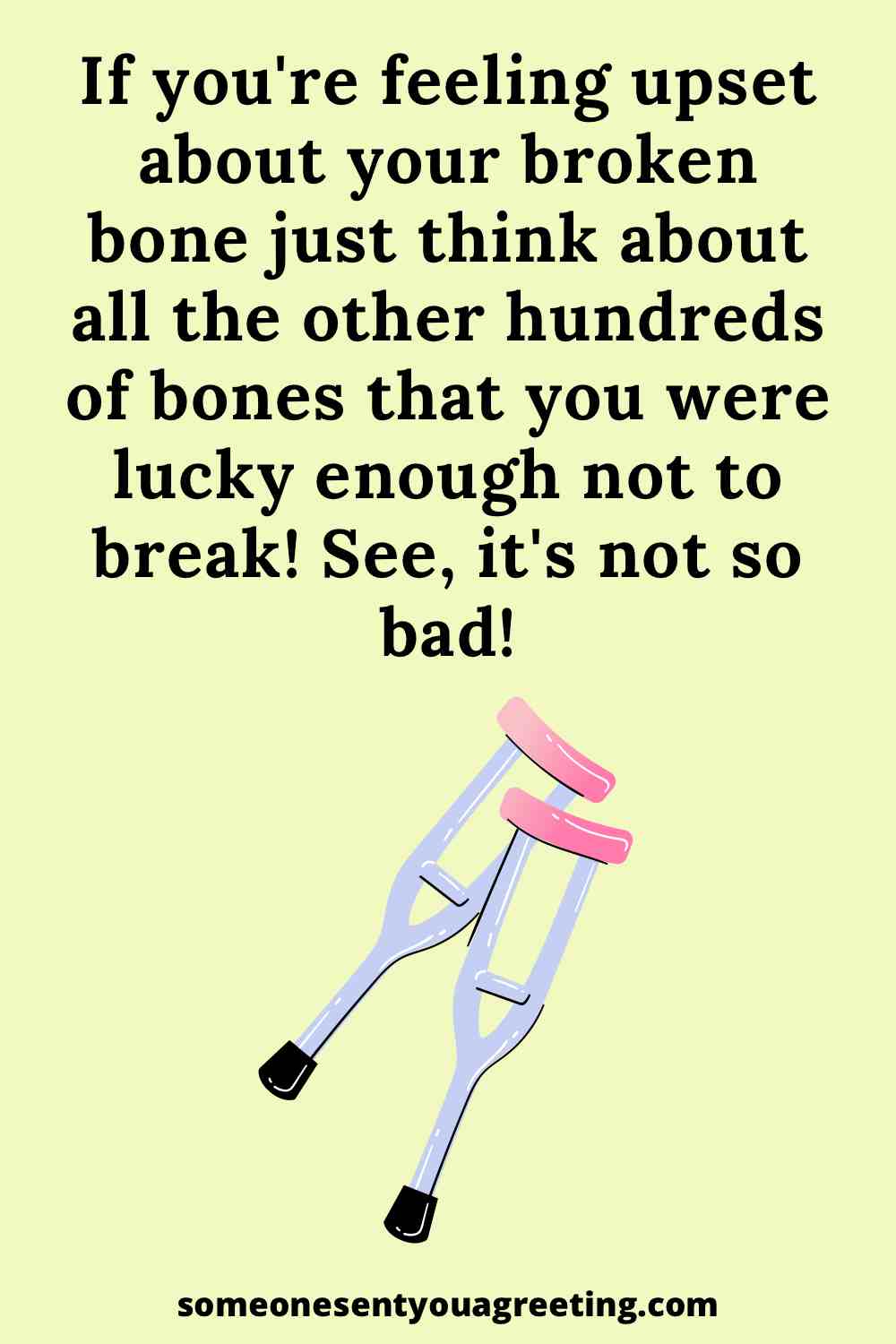 SEE MORE: Get Well Wishes for Grandmothers
Funny Get Well Wishes for Broken Bones
If you're feeling upset about your broken bone just think about all the other hundreds of bones that you were lucky enough not to break! See, it's not so bad!
Don't forget to drink lots of milk! Get well soon
I'm not a doctor but I'm sure duct tape will work on bones!
I was going to write 'break a leg' in your card but considering the circumstances I guess I'll have to come up with something else
I think we've firmly established that you aren't invincible. It might be time to take a few less chances!
You are a great example to everyone that your bones matter and shouldn't be taken for granted
'Break a leg' is just an expression! You aren't actually supposed to do it!
Your bone told me to give you a message: "Ouch!"
You know that when a broken bone heals it is stronger than it was before? So with the amount of bones you've broken it means you'll be virtually indestructible!
If you stay still long enough, your bone will heal. And if you keep it still for a really long time, it'll turn into a fossil
A broken bone can be very serious but usually heals without any problems. But it's still painful and a long term injury, so you should make the effort to wish a friend or anyone you know well.
Hopefully the get well wishes for broken bones found here will have helped you to find the perfect words to wish someone a speedy recovery.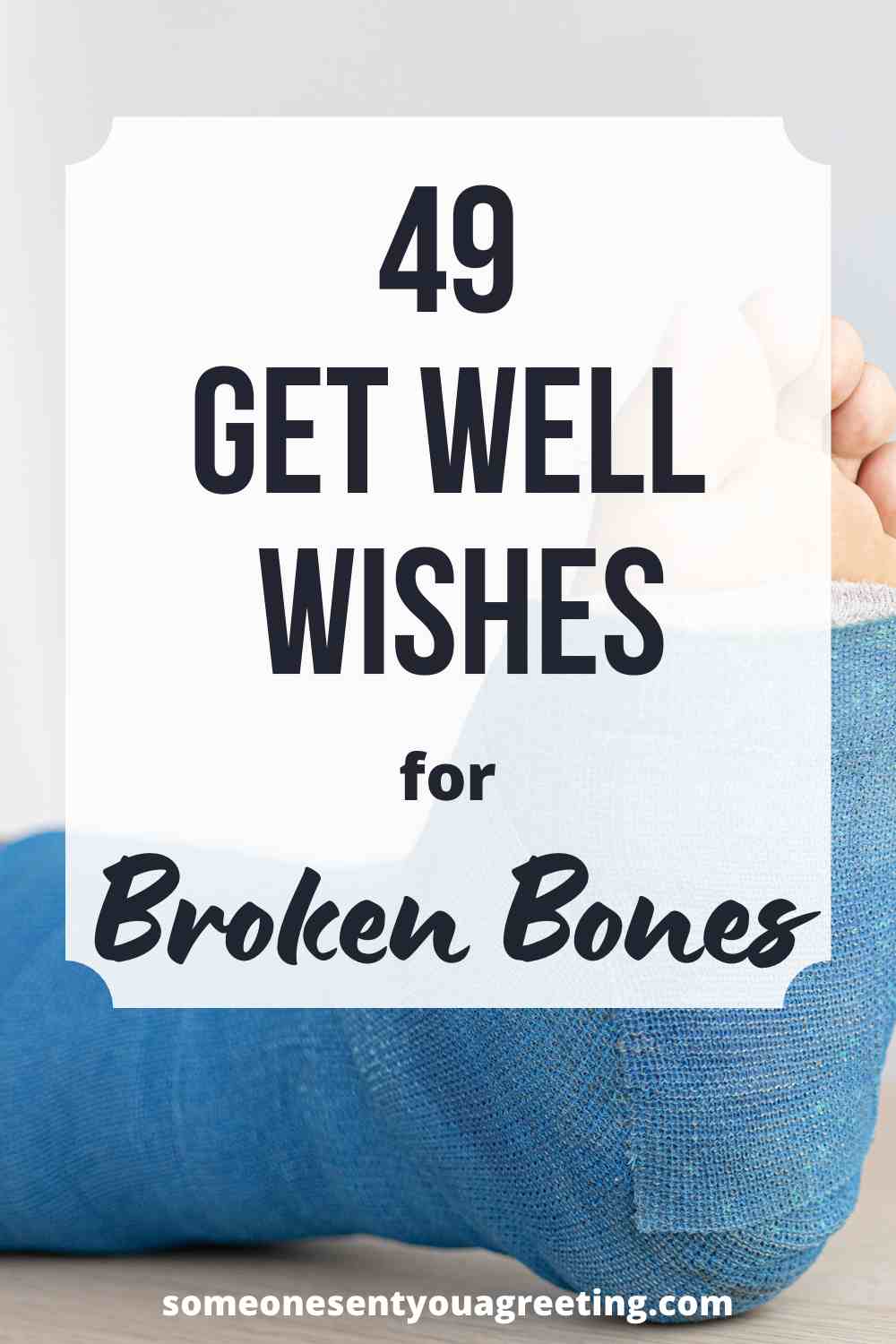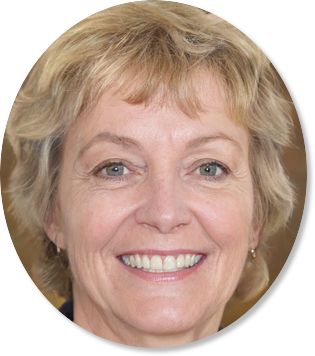 Sally Gibson is the founder of Someone Sent you a Greeting, a holiday/celebration website. Sally's writing work has been mentioned in Woman's World, Yahoo, Women's Health, MSN and more. If you have any questions get in contact with one of the team via the about page.